Today we're are continuing our tour of Sandi's beautiful 1833 home. Sandi shared a fascinating fact about her home with me yesterday. She said the home was originally built about 15 miles down the road. In 1895 it was taken apart, all the pieces/parts numbered and then rebuilt on it's current location. Sandi said, "The reason it was because Mr. Willis asked for his lady's hand in marriage and she said she would not live that far from town-so he loved her enough to have the house moved. You have to remember that 15 miles by horse and buggy was a very long ride in the 1800′s!!!" How romantic is that! I wonder what it cost to move a house in those days!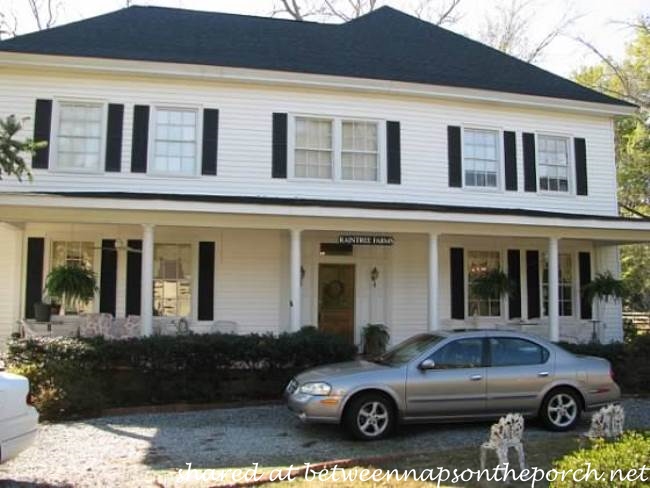 When Sandi sent over these pics of one of her guest bedrooms, I couldn't help but smile. I love, love, love a blue and white color scheme and after looking a bit closer, I'm pretty sure we have the same bedding.
Here's a picture of my guest room below with a Ralph Lauren bedding called "Porcelain" I found many, many years ago. Don't they look the same? It's kind of fun seeing it used on two different type beds and with two different wall colors. Anyone else have this bedding in a room in their home? If so, send me a photo (betweennapsontheporchatgmaildotcom) and if I get enough pics, maybe I can create a post showing it in all the different rooms. Wouldn't that be fun?!
Sandi said, the "Queen size four poster rice bed is a reproduction bought 20 years ago in Hickory N.C. through the great discount stores they have there. The chest of drawers is from my Great Aunt Lynne"
This photo is a bit blurry but I wanted to post it so you can see how dramatically the look of a four-poster bed can be changed by just draping fabric in soft, flowing way.
Here's yet another look I found in an old Country Living magazine I have back from December 2004. Love this for Christmastime!
Sandi has a sweet iron daybed in this room, too. What a great room for when she has lots of company visiting. Sandi said, "The white twin, iron bed used as a day bed, is from my Aunt Lynne. It came from the Army Hospital set up during World War 2 at Wofford College in Spartanburg, S. C."
This bedroom has its own bath, right through those doors. Sandi said, "The glass doors to the bath were given to me by an antique dealer friend. I spent weeks scrapping the old alligatored paint off and re-glazing the windows but they are wonderful for letting light into the bath."
I love the wood plank walls in this wonderful old home. Folks are now trying to imitate this look for their own newer homes. Isn't it funny how the ways of the past like higher ceilings, deep moldings, plank walls, porches, to name just a few, have all been coming back into vogue over the last few years.
Sandi said, "The marble counter top in the bathroom was bought at a Habitat Restore for $60. It was a broken tabletop and I had it retrofitted for the new bath. The blue and white vessel sink I bought on line and it matches the Ralph Lauren linens in the bedroom which were purchased at the Outlet Store in West Point, Ga." The shower curtain was made from a Ralph Lauren twin sheet. The Roman shades were made from the same thing. All from the Outlet store.
Love this beautiful sink. It looks like a gorgeous blue and white bowl that just happens to be sitting on the counter. The only thing that give away that it's a sink, other than the faucet, is the silver stopper.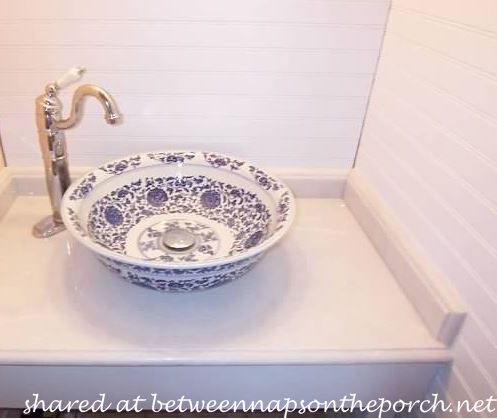 Sandi said, "The shelving in the bathroom was added after we found we could not fit the toilet for the other bathroom in that space."
Sandi, thanks so much for sharing these two beautiful rooms with us!
To see more of Sandi's wonderful historic 1833 home, check out these posts:
Master Bedroom and Bath in Historic 1833 Home
Mardi Gras Table Setting and Decorations
Update: Several folks have asked about Max. I'm cautiously optimistic. He is doing well so far with his treatments and is in no pain. He's eating better and is acting very much like his old self today. I so appreciate all your prayers for him…you are a blessing!
*If a post is sponsored or a product was provided at no charge, it will be stated in post. Some links may be affiliate links and as an Amazon Associate, I may earn from qualifying purchases. *