Welcome to the 438th Tablescape Thursday!
Please Note: I'm using the latest version of InLinkz for today's Tablescape Thursday party. If you have trouble seeing the links (or the button to link up to the party) please check to make sure you are using the latest version of your browser. You may have trouble seeing the links or linking up if your browser is an older version.
Thanks so much for all your caring comments on yesterday's post! I had been planning on scheduling an eye appointment soon because I would love to get some new glasses before I visit Morocco next month. I don't think contacts and the desert sand are going to mix too well. 😉
Since so many of you were concerned, I went ahead and scheduled an appointment. My primary care doctor told me to see my eye doctor so that's who I scheduled it with. Please don't worry, I'm really sure I was just experiencing a "silent" migraine the other night. My vision has been totally normal since then. But I'll be sure and mention it to the eye doctor when I see him.
Tablescape Thursday
It was raining and gloomy much of yesterday, then dark by the time I was able to take photos of this week's table. I'll capture some today in natural light and add those to the post later in the day.
Photo with the sun streaming in–such a gorgeous day out today!
I've used this silverplate ornament tree (found in Ross-Simons about 16+ years ago) in Christmas table settings. Today it's covered in little, pink, mercury-glass hearts.
You may remember seeing the hearts in this previous Valentine's Day table setting. (See more of this table here: Valentine's Day Tablescape)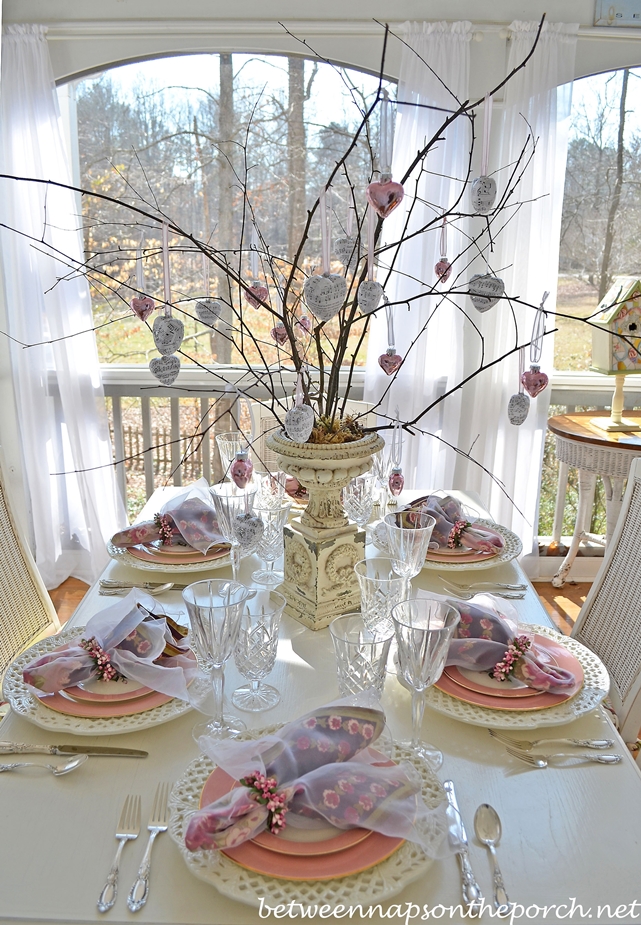 Or, when I used them on my feather tree one year. The feather tree was a find in Michaels many years ago.
I've also used the little silver tree for winter tablescapes to hold snowflake ornaments. (Table can be viewed here: Winter Table, Tablecloth by Mother Nature)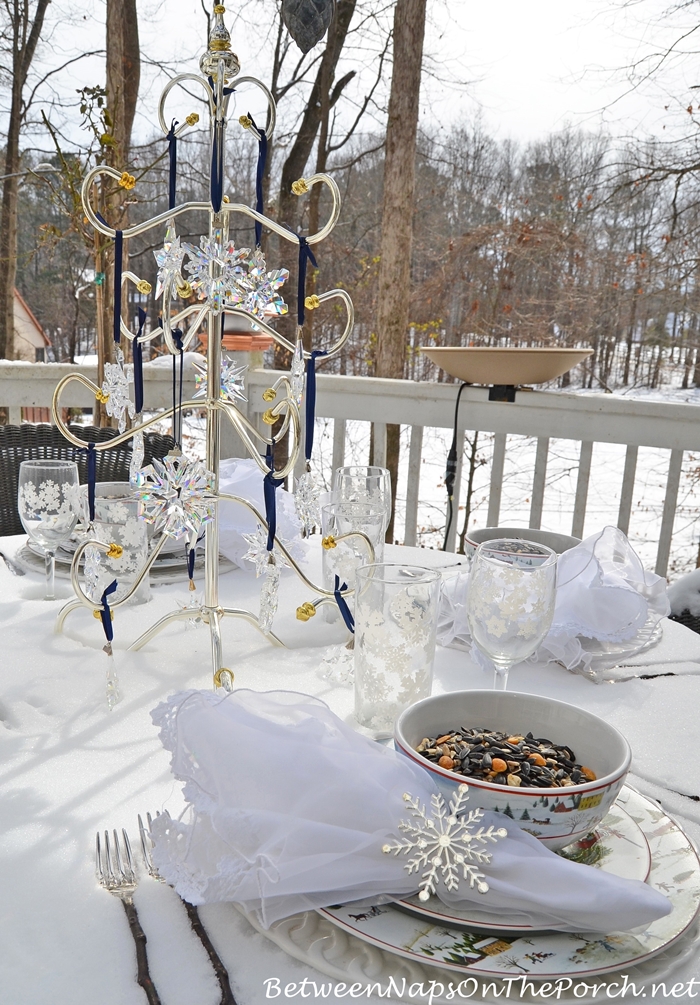 I've even been known to hang home-made Shamrock cookies on it. I wish I had one of those to eat right now! 🙂 (See that table setting here: St. Patrick's Day Table with 4-Leaf Clover Napkin Fold )
Beaded dragonflies have landed on our eyelet napkins. (Beaded edge red napkins are from HomeGoods (I think) and eyelet napkins are from Pier 1 a few years back. The glasses were a gift.
I chose a simple but elegant flatware. I love this flatware and have it three other colors: black, blue and ivory. The one in this table setting is their white version. You'll find this flatware available on sale in 5 colors here: Flatware. It's available for a slightly better price in black and ivory here: Flatware.
The dishware I chose for this Valentine's Day table is very old and dates back to the 1920's. It has the old Copeland Spode mark and the pattern is, Tower. I purchased it many years ago on eBay.
The cream-colored, pierced chargers are from Horchow online. I purchased a dozen of these and a dozen white chargers in a swirl design back in 2008. I wasn't blogging then, but was doing a fair amount of entertaining. I thought having chargers in both white and cream would be helpful since those two colors would work with almost any of my dish patterns.
In the sunlight the next morning…
Without the napkin…
Here's a better photo of this pattern from a previous table setting.
After dinner, we'll be stirring our coffee with peppermint-covered, chocolate spoons. 🙂
Found these in Marshalls a while back. They are delish from the little crumbles I've tasted!
Hope you enjoyed this Valentine's Day table! I'm looking forward to viewing all the other tables linked for this week's Tablescape Thursday!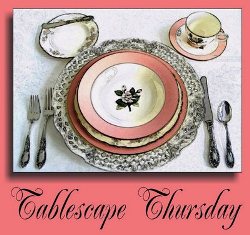 If you are participating in Tablescape Thursday, please be sure to add your permalink below, and not your general blog address.To get your permalink, click on your post name, then copy and paste the address showing in the address bar, into the "url" box when you link up. You'll need to include a link in your post back to the party to link up and participate.
That's so visitors to your blog will be able to find the party and the other Tablescape Thursday participants. Requiring a link back also prevents businesses and scammers from linking up to sell their products. (Yes, that really happens, unfortunately.)
*If a post is sponsored or a product was provided at no charge, it will be stated in post. Some links may be affiliate links and as an Amazon Associate, I may earn from qualifying purchases. *