Welcome to the 419th Metamorphosis Monday!
A few weeks ago when I was replacing all my surge protectors around the house for new ones, I discovered an outlet in my office wasn't working. I called in an electrician to fix it. While he was here we started talking master bathroom renovations.
During our discussion, he told me something really surprising. Did you know that some folks who are renovating master bathrooms these days are choosing to leave out the bathtub, instead opting to have just a really large, walk-in shower? I knew large showers were popular now, but I didn't know folks were actually doing away with the tub altogether when renovating their master bath. I never watch HGTV anymore. If you're a regular HGTV watcher, have you seen any mention of this new trend in master bathroom renovations there?
My electrician is also a builder/contractor and he said a lot of his customers, especially those who live in older homes where the master baths aren't that terribly big (like mine) feel a bathtub is a waste of space because they only take showers these days. He said no one really has time for soaking in a tub anymore and many felt having a bathtub in the master bathroom was just a waste of space that could be used for something more important–like additional vanity/cabinet space or a larger shower. He said that they keep the bathtub that's near the children's bedrooms, but often eliminate the one in the master bath.
I'm not sure how I would like a nice, deep, soaking tub because I've never had that. The tub in my master bathroom is pretty shallow, too shallow for a good soak. Also, the water tends to slowly leak out through the little "over-flow" holes when filled to the top. The water also gets cold really fast, so unless you keep adding more hot water every five minutes, you can't soak very long.
I'm pretty much the last person in the universe to jump on anything that's considered a new decorating or design trend. In fact, I don't even like the word "trend." When I hear the phrase, "on-trend" I instantly think: fad and everyone's doing it, so don't! If something is an improvement that adds beauty or functionality, I want to hear about it. Whether it's on-trend or not, I could not care less.
As I stood listening to my contractor encourage me to go the no-tub route for my master bath renovation, all I could think about were all the folks who installed carpeting over hardwood flooring years ago when wall-to-wall carpeting was the new, great thing. What's the first thing most folks do these days when buying an older home with carpet-covered hardwood flooring? Yup, rip out the carpeting to reveal those pretty hardwood floors.
Then there were all the builders who decided porches were no longer needed with the advent of air conditioning. See where I'm going here? Is there going to be a new "trend" of folks renovating master bathrooms in a few years in order to add a tub back?
I also wonder what effect it has on resale when it comes time to move. I can't help but think it eliminates some potential buyers who still enjoy a good old-fashioned bath. Any real estate agents out there reading this? I would love to know what you're finding with your house-shopping clients.
I'm hoping to expand the size of my shower which is currently a tub/shower combination. I was also thinking about not having a door on the shower, but I'm wondering if it gets cold when showering without a door. Does it feel drafty without a door, or are shower heads so great these days, you don't even notice it? I certainly like the idea of no door to keep clean, but I don't want to be any colder than necessary while taking a shower. Comfort and being warm is high on my list of priorities when showering! lol
After thinking about it, I've pretty much decided I don't want to give up having a tub in my master bathroom, even if it would add more space for other things. I feel like I would ultimately miss it, and since I'm not sure how much longer I'll be living here, (I've already lived here for 25 years) I don't want to do anything that could possibly discourage potential buyers when the day comes to sell.
Tub-wise, I don't want or need a humongous "you-could-throw-a-party-in-that-tub" bathtub, just something simple and fairly sleek. I was thinking about something along the lines of a tub like the one in this beautiful bathroom. It doesn't appear to take up that much space, perhaps because it's in a corner.
This bathroom has two other features I would love to include in a master bath renovation if the budget allowed: heated flooring and a heated towel rack. If I could only have one of those two, I'd choose the heated floor. For this girl who hates being cold, that would be a dream.
So what do you think about this latest trend of only having a large shower in the master bath and doing away with the tub for the extra space?
If you're planning a master bath renovation, would you consider it?
Do you think it makes a home harder to sell down the road, or does that not really matter in the making of your decision?
Have you renovated your master bath and eliminated the tub and now regret it? Or, do you love the extra space it created for things you deemed more important, like double sinks or a bigger shower?
Would love to hear what you think about this latest trend in master baths!
Looking forward to all the fabulous Before and Afters for this Met Monday!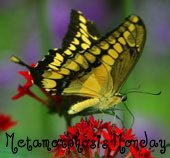 Metamorphosis Monday
Metamorphosis Monday is a party that's all about Before and Afters. If you are participating in Met Monday, please link up using the "permalink" to your MM post and not your general blog address.
To get your permalink, click on your post name, then just copy and paste the address that shows up in the address bar at the top of your blog, into the "url" box for InLinkz.
In order to link up, you'll need to include a link in your MM post back to the party so the other participants will have an opportunity to receive visits from your wonderful blog readers.
Please observe these few rules:
Please link up Before and After posts that are home, gardening, decorating, crafting, painting, sewing, cooking, fashion or DIY related.
Be sure to include a link back to the party in your post, so your readers will be able to find and visit the other bloggers who are participating.
Do not link up to the party if you're doing so to promote or sell a product.
To those who are linking up: If you notice a shop or store linking up to sell products (yes, unfortunately that does happen) please let me know so I can remove their link from the party. No one wants to click a link expecting a Before and After, only to find a spam link to an online business/store.
Thanks for participating in this week's Metamorphosis Monday!



*If a post is sponsored or a product was provided at no charge, it will be stated in post. Some links may be affiliate links and as an Amazon Associate, I may earn from qualifying purchases. *