Happy Weekend! Yesterday, I headed out to do a little shopping in some of my favorite homeware stores and I snapped some pictures to share. Before I share those, if you were one of the dearhearts who contacted me after I shared this Lady Dior handbag that I purchased a couple of years ago, I noticed recently that the shop where I found mine has gotten another one back in stock. You rarely see them available now since Dior made this style bag about 3-4 years ago and they never repeat their special edition styles.
This is the Lady Dior in the beautiful studded design. Every year, Dior produces their regular Lady Dior bags along with a few special designs. This special edition sold out quickly and I always regretted that I didn't purchase it when I first saw it in a Dior Boutique. I was thrilled when I found one in Excellent pre-loved condition a couple of years ago, plus I saved a lot by buying it preloved.
The reason this style bag is called the Lady Dior because it's one of the bags Princess Diana frequently carried.
I mostly carry this bag in the summertime, but as you can see in the first picture of this post and this picture below, it works great for winter, as well, since it's a soft, cream-white color, not a stark white. The feel of the leather is amazing, you can absolutely feel the quality of this bag when you hold it and run your hand across the surface.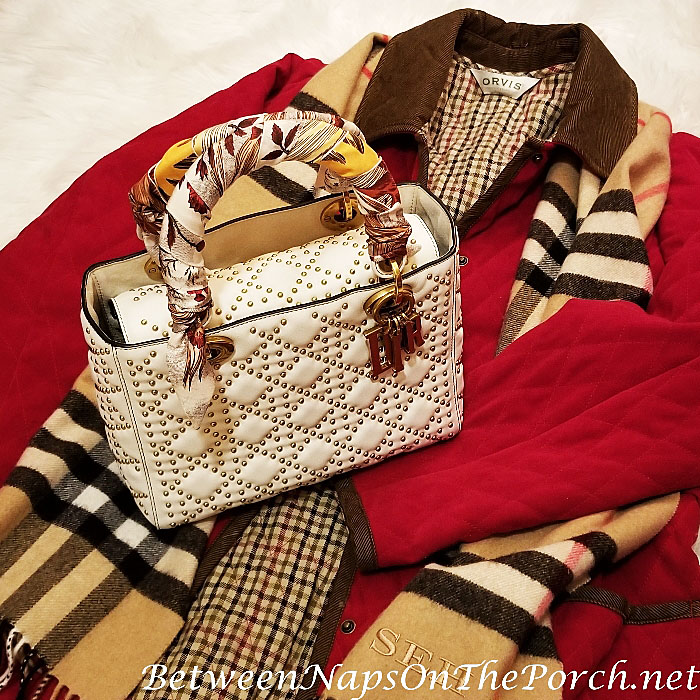 If you've always dreamed of having a Lady Dior, this one is currently available in excellent condition here: Medium, Studded Lady Dior. The price is almost half of what the bag would cost if it were available in a Dior Boutique today. You can see all the Lady Dior bags they have in stock here: Lady Dior Bags. For comparison, check out the regular prices at Dior online here: Lady Dior.
One thing to know, this bag is a little heavier than a regular Lady Dior bag due to the beautiful studding. If I'm wearing mine out to go shopping for several hours, I wear it with the shoulder strap and it's fine. I don't even notice it. If I'm just going out to dinner, I often just hand-carry it. I love it and it's a bag that will never leave my collection! (See how a Lady Dior Bag is made by hand here: Lady Dior Bag.)
Shopping the Summer Dishware
I stopped into Williams Sonoma during my day out shopping and the first thing I saw was this beautiful Sicilian maiolica-style dinnerware. They designed it in scratch-proof melamine so it's worry-free for either indoor or outdoor dining.
I love the lemon design! You'll find this dinnerware available here: Italian Style Dinnerware for Dining Outdoors.
They had so many great nautical tables set up! I was in beach heaven drooling over all the designs!
Love this nautical table runner!
This was my favorite of all the dishware I saw. I kept thinking what a fabulous table this would set for our 4th of July celebration! The colors are perfect! What are you doing for the 4th? Are you having friends or family over for a cookout?
Love the lobster plates!
This dinnerware is all porcelain. Wouldn't this be perfect for a 4th of July Lobster Bake?
Or, how about a Low-Country Boil! The special crackers and mallets they had out on display all look so professional–much nicer than most of the ones I've come across in the past. Those are all available here: Lobster/Seafood Crackers and Mallets.
Beautiful designs, I love them all! You'll find all this red, white and blue nautical dinnerware available here: Crab, Lobster Dinnerware in Red, White, and Blue.
This collection below was really pretty in person, I kept reaching out to feel the plate—the colors were so pretty! It's also Melamine, so great for outdoor entertaining. I love the design, it makes me think of the ocean and the waves crashing in on the sands. It's available here: Outdoor Dinnerware.
They had the coordinating napkins, too. (See those here: Napkins.)
Okay, I'm off to put something together that was just delivered today. I hope to share it for Metamorphosis Monday! Have a wonderful weekend, dear Friends!
*If a post is sponsored or a product was provided at no charge, it will be stated in post. Some links may be affiliate links and as an Amazon Associate, I may earn from qualifying purchases. *