So, I really, really worry about myself sometimes. Usually at some point during the day, I'll fix myself a big Tervis mug of iced coffee with a good helping of milk mixed in. If I'm not in a coffee/milk mood, the other drink I'll sometimes enjoy during the day is a mug of unsweetened iced tea mixed with a small amount of cranberry juice. Just now, I went to the fridge, poured iced coffee into my Tervis mug, and apparently added cranberry juice on top. I didn't even realize what I had done until I got halfway up the stairs to my office and took a big sip. Let me tell ya, coffee and cranberry juice are not a good combo! I should have taken a photo of that yucky-tasting mixture before I poured it out. It was definitely an interesting color! Ha! What the heck is wrong with me?! I really need to start focusing on what I'm doing at that moment, instead of thinking about 40 steps ahead. Please tell me you do dumb stuff like that, too!
Time to share my January favorites before February is outta here. Hard to believe that March is just a week away now! Back in December, I bought both of my grandsons the book, I Spy Christmas.
It was such a big hit with my youngest grandson who insists on reading/looking for the hidden treasures every single night before bed, I ordered I Spy School Days for him in January. I think the Christmas version is still his favorite, but he has definitely enjoyed the School Days one, too. It's still available here: I Spy School Days. (The Christmas version can be found here: I Spy Christmas.)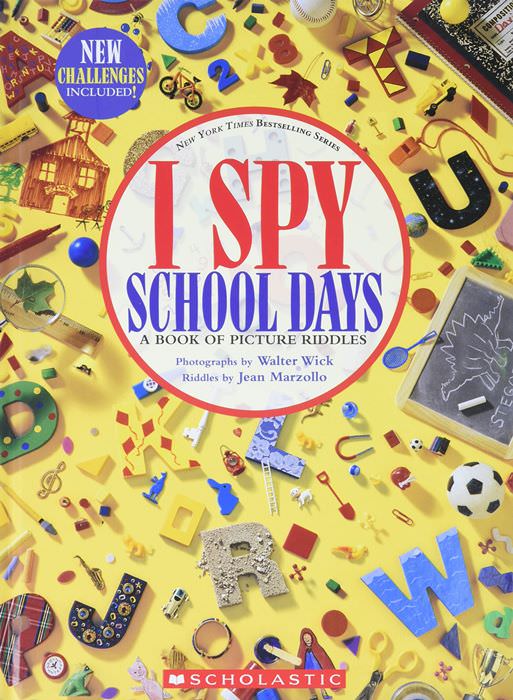 I've mentioned many times before how much I like this Mill Creek Biotin shampoo. (Shampoo is available here: Mill Creek Shampoo.)
I try to alternate the shampoo I use and this is the other that I've been using over the last few months. It's definitely a favorite and is available here: Aveda Rosemary Mint Shampoo.
Have you ever tried Dior Nail Glow? I absolutely love how it looks on my nails! It's super easy to use and fast to apply since it's basically clear with a slight pink tint. It gives your natural nails a beautiful, healthy glow. Dior describes it as making the pinks of the nail pinker and the whites even whiter. If I'm in a rush and heading out the door to go somewhere and suddenly realize my nails look terrible, I will apply two quick coats (it dries quickly) and it makes my nails look so much better! It definitely makes my favorites list for January and I've been using it a lot this month, too. You'll find it available here: Dior Nail Glow AND here: Dior Nail Glow.
I've been searching for a new dishwand because the other wand I was using started leaking. I gave this one a try in January and love how it works. I find it much easier to get the dishwashing fluid to come out and the bristles really help with scrubbing pans and such. Really like it! You'll find this dishwand here: Scotch-Brite Dishwand.
Have to mention the headbands I bought in January–still loving and using them on a daily basis–and they were so much more affordable than others I was originally eyeing online. Most of the headbands below were purchased here: Headbands
This was the headband stand I purchased for storing my headbands and it has been working great! If you wear headbands and have the space for a stand, definitely recommend it for headband storage. It's available here: Headband Stand.
An update on the towel warmer–really love this thing! I am not a person who enjoys showers or baths. For me, a shower is just another boring chore that has to be done. I have noticed lately that when it's time to shower, I now kinda look forward to it because a snuggly warm towel will be waiting for me at the end. I take pretty fast showers, so I try to remember to turn on the towel warmer about 10 minutes before getting in the shower. That way when I'm finished, the towels inside are really warm. Definitely happy with this purchase! Towel Warmer is available here: Towel Warmer.
I've always purchased regular towels but recently a YouTuber I follow was raving about something called, bath sheets. Have you heard of those? A bath sheet is basically just a really large towel, a lot bigger than a regular towel. I was curious so I ordered two that had great reviews. I was happy to see both fit down inside my towel warmer. I do like the extra large-size towel for drying off, but prefer a regular-size towel for drying/wrapping around my hair after a shower. I purchased a set of two bath sheets in this beautiful green color, but you'll find them available in a bunch of different colors here: Large Turkish Cotton Bath Sheet.
Still obsessed with these fleece-lined joggers–most comfortable and warmest pants I've found for errand running or hanging out at home. I just purchased a couple of more pairs for next year–didn't open them arrived, just tucked them away for next winter in case these are no longer available next fall. You'll find these available here: Warm Fleece-lined Joggers.
When I visited my son's home this past winter, insanely freezing temps were projected. I gave them my favorite style of squirrel-proof birdfeeder years ago (Birdfeeder is available HERE) and always love filling it when I'm there visiting because they have such a wonderful abundance of birds in their neighborhood. On this past visit, I took along one of my large suet feeders and some suet. Their birds loved it and were all over it during the bitter cold temps. I left the suet feeder there, but once back home I was missing it. I still had one large suet feeder here at home, but I had filled it with nesting materials for the birds since I had noticed them coming to my front door mat and pulling the coco fibers out of it for their nests. This is the replacement suet feeder I purchased and I really like it! My old suet feeder is still currently stuffed with nesting materials (purchased HERE) and the new one is now being used for suet. I need to visit my local birding store and buy more suet–the birds have really been going through the suet this winter.
You'll find this large suet feeder that is designed to hold two cakes of suet here: Suet Feeder with Long Tail Prop. Pileated Woodpecks love these types of suet feeders since the longer tail prop on the bottom gives them a place to brace themselves while they are eating and the larger woodpeckers really need that support.
I've been doing so many puzzles over the past two months, I think I've done 5 just during the month of February so far, and I just started a new one last night. I absolutely LOVE doing puzzles on this adjustable puzzle board. It's the only way I work a puzzle now because it's such a back saver! Highly recommend this puzzle board if you're a puzzle enthusiast or know someone who is and you're looking for a gift idea. Puzzle board is available here: Puzzle Board.
I'm sure I'm leaving some things out so I may add more to the end of this post later today. Happy shopping!
*If a post is sponsored or a product was provided at no charge, it will be stated in post. Some links may be affiliate links and as an Amazon Associate, I may earn from qualifying purchases. *