Welcome to the 648th Metamorphosis Monday, a blog party sharing fabulous Before and Afters!
Ages ago, I ordered three Billy Bookcases for my home office. FYI: I don't recommend the Billy for book storage unless you are 1. Storing only paperback books or 2. Will be mixing in lots of tchotchkes on the shelves with your books. The shelves can't handle a lot of weight and bow easily when loaded down with hardback books.
Wish I could just flip the bowing shelves over every so often, but the way the shelf is designed, that isn't possible. I'm also using the Billy "extension" shelf on top that takes the shelves all the way to the ceiling.
A couple of years ago, I drove into the Atlanta Ikea and purchased a Billy Oxberg shelving unit. The Billy Oxberg is nothing more than a Billy Bookcase with the addition of glass doors. It's perfect for storing items you would like to be able to view but wish to keep dust-free. I love it for handbag storage!
The added doors take the Billy Bookcase up like 10 notches! No kidding! Billy Bookcases look (and feel) so much nicer/high-end with the added doors. The door design is slightly beveled and super sleek. They really feel nice when you run your hand over them. Plus, they work great for handbags–no bowing shelves!
I do recommend replacing the tiny wood knobs that come with the Billy Oxberg with something nicer, though!
Much better! I purchased these knobs at Target but they don't appear to be available now. You'll find a lot of pretty glass/crystal knobs here: Glass-Crystal Knobs.
I have so enjoyed storing my bags this way that I decided to go ahead and order two more Billy Oxberg cabinets. I don't have that many handbags, but I do have quite a few totes that I would love to keep out for easy access. So, where am I going to put two new Billy Oxberg cabinets?
See the antique trunk on the left wall here in the guest room?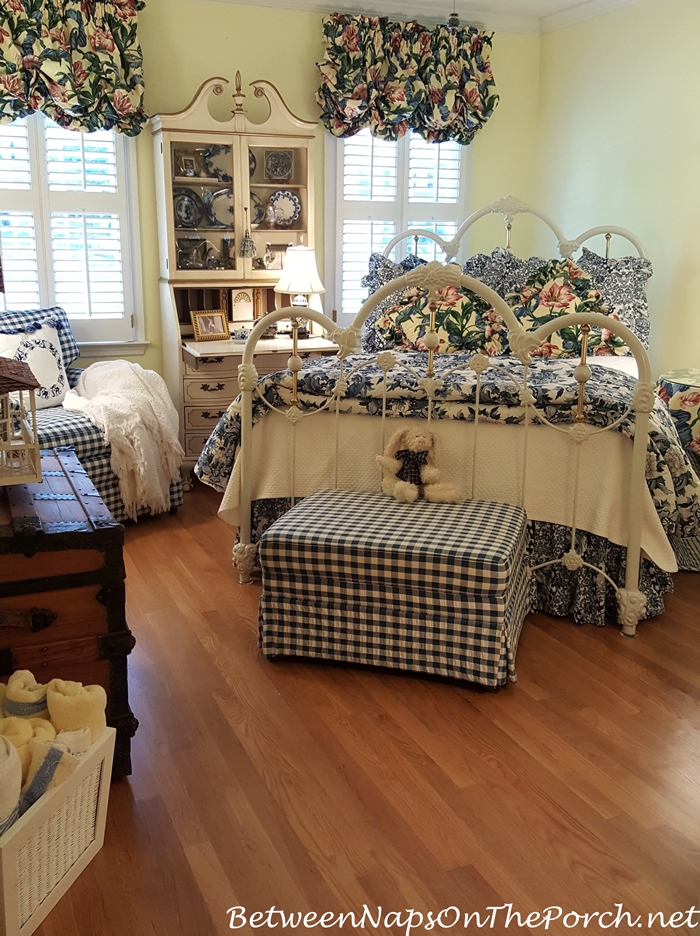 I've moved the trunk (and dollhouse) over to another wall here in the guest room.
I think I'm going to place the Billy Oxberg cabinets here. I measured and there's plenty of space for two cabinets. Also, they will not stick out into the room as far as the trunk did in this spot which will give more space for walking past.
The Billy Bookcases are always out of stock, at least they seem to be here in Atlanta and online for delivery. I stalked the website for a few days and they briefly showed in stock one afternoon. I placed my order but delivery isn't available until August, so it will be a while before they arrive. I'm having them delivered this time because the last time when I drove into ATL and bought a Billy Oxberg in person, absolutely NOONE helped me load it into my SUV, despite the cashier promising they would send someone out to help. Used to, when you purchased something at Ikea, there would be guys out on the loading dock to help. Sadly, those days are gone. So bring a friend or prepare to load everything on your own!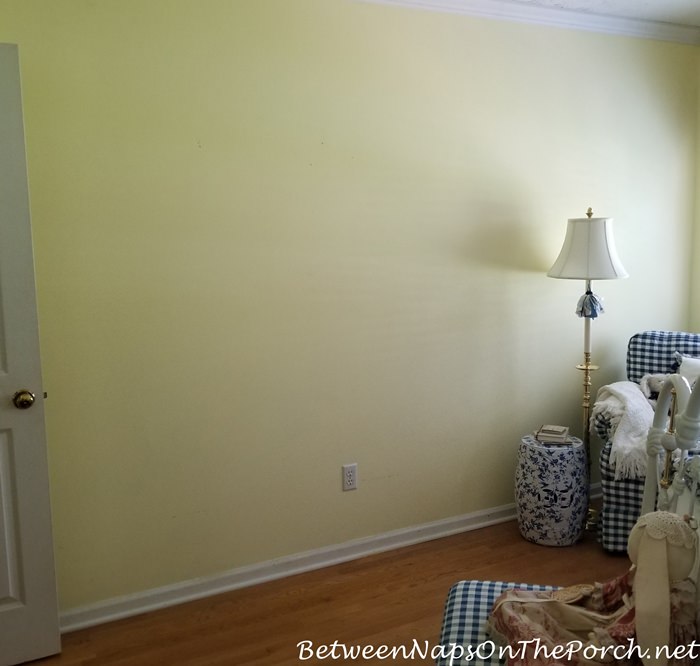 While I await the new Oxberg cabinets, I added an extension to my current cabinet. I'm not sure how I like it, I think the extension looks better when you have three Billy Oxberg units lined up together down a wall. I don't have space to put them all together unless I put them in my upstairs hallway, and I don't want to do that. I do love how the extension gave me one more shelf for bag storage. I was able to get 4 bags on the top shelf and now that I can see them, I will use them a lot more often than when they were hidden away in my closet.
One thing I'm looking forward to when the two new Oxberg units arrive is being able to space out the shelves so that one is high enough to use three of these handbag stands.
You may remember when I ordered the stands (they come in sets of two) so I could properly store my Dior Saddlebag. (Handbag stands are available here: Handbag Stands-Set of Two.)
I just ordered a second set of these stands so my two Frye Heidi Fringe bags that I've had squished onto the bottom shelf for several years, will now be able to hang. When sitting on the shelf, the fringe gets bent and wonky.
I think I like how it looks with the stand lowered a bit, plus that will work out better for arranging the shelves once the new Billy Oxbergs are here.
I love wearing these fringe bags with jeans and my Frye boots! (See all their current bags, boots, sandals, and loafer styles here: Frye Boot, Sandals, and Loafers.)
Reminds me of the leather, fringe jackets everyone was wearing in high school back in the day. Anyone else remember those? 🙂
What are you working on around your home right now?
Looking forward to all the great Before and Afters linked for this week's Metamorphosis Monday!
Pssst: Did you know Between Naps On The Porch is on Instagram? You'll find me on Instagram here: Between Naps On The Porch.
Like to know when a new blog post is up and available to read? Subscribe for email updates, it's free and your email will never be shared.
Subscribe for free post updates via email here: Subscribe.
Metamorphosis Monday
Metamorphosis Monday is a party that's all about Before and Afters. Please link up your Before and After projects like DIY projects, room makeovers, craft projects even recipes. Any Before and After is great! Please do not link up Table Settings, save those for our Tablescape Thursday party on Thursday.
If you are participating in Met Monday, please link up using the "permalink" to your MM post and not your general blog address. To get your permalink, click on your post name, then just copy and paste the address that shows up in the address bar at the top of your blog, into the "url" box for InLinkz when prompted.
In order to link up, you'll need to include a link in your MM post back to the party so the other participants will have an opportunity to receive visits from your wonderful blog readers.
This party has ended, click button below for the links to all who participated.
*If a post is sponsored or a product was provided at no charge, it will be stated in post. Some links may be affiliate links and as an Amazon Associate, I may earn from qualifying purchases. *