Welcome to the 721st Metamorphosis Monday! How was your weekend? I hope you had a fabulous fall weekend! I was busy making the most out of my recently updated storage room. I brought down more centerpieces/decorative pieces that had been stored in my laundry room cabinets so they would all be together in one spot.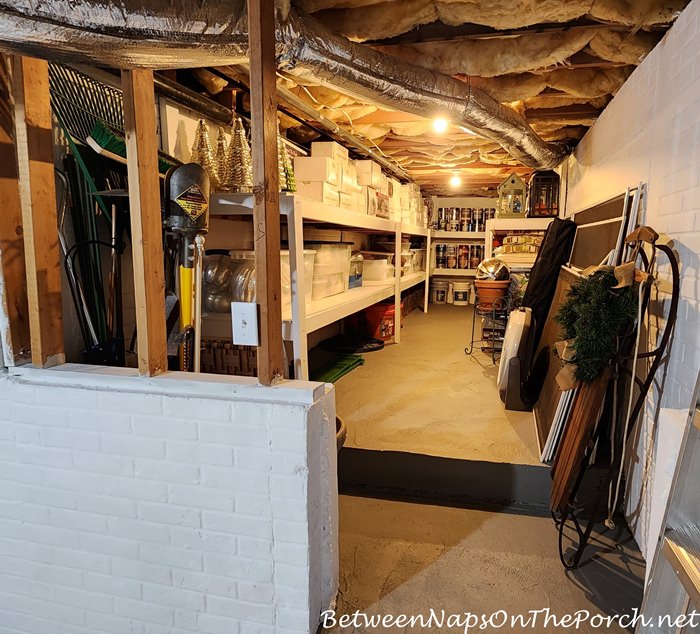 I still had so much available space on the floor below the shelves, the wheels started turning. I ended up purchasing 4 more bins from my local Walmart Market. That's the least expensive place I've found to purchase those. I moved some bins to the floor and brought down all my bunny centerpieces from a closet upstairs where they were stored.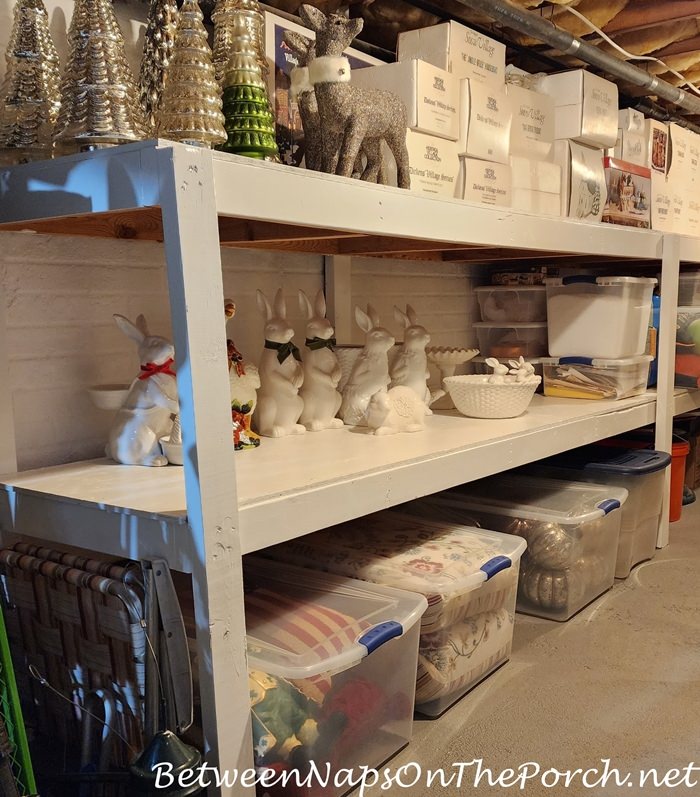 Some of the new bins were filled with seasonal pillows that I had previously stored in bags in a storage space under the eaves of my bonus room upstairs. I really like these clear bins that let you see the contents inside.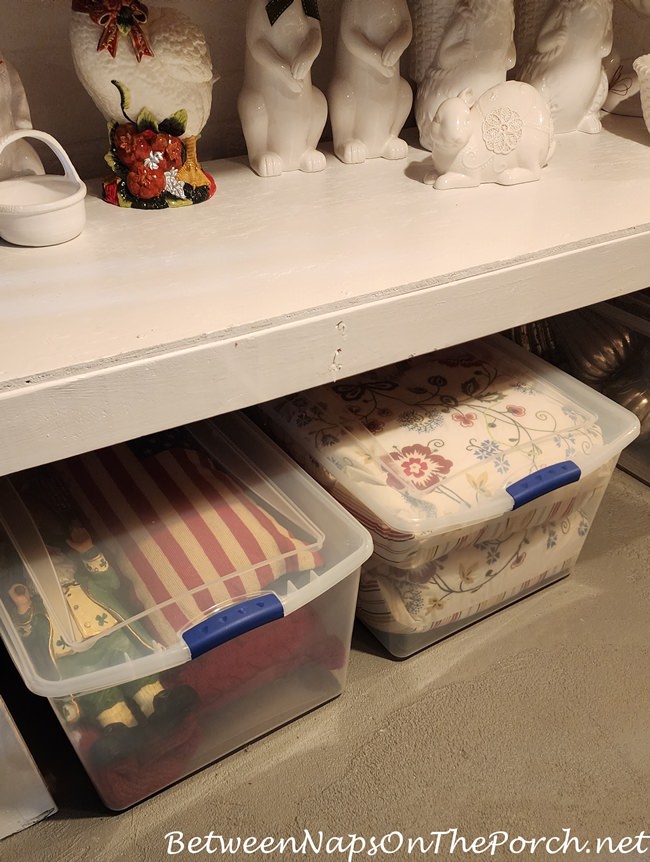 When the finished side of the basement was painted recently, I moved my workbench over here to the unfinished side of the basement.
Remember the towel dispenser I added to the garage when I completed that makeover this past summer?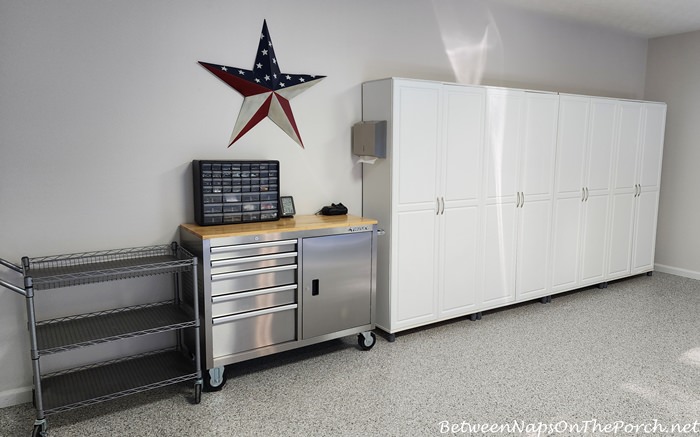 I love this dispenser because it holds a ton of paper towels and doesn't take up any counter space on my tool chest or potting table here in the garage.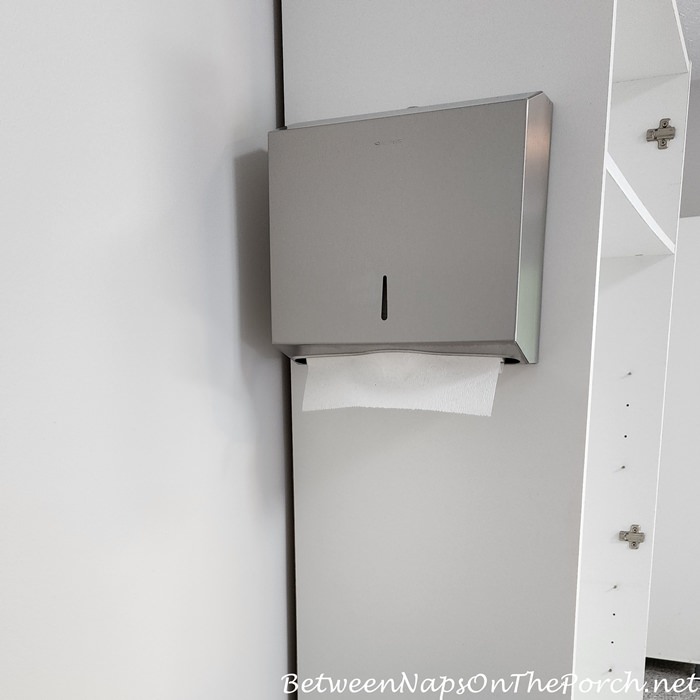 I really wanted to add one here in the basement near my workbench but I didn't want to install it someplace where it would have to be removed when the drywall is added to this area in a few months. I ordered one hoping it would work installed here on the end of the bench, and it does! It doesn't move or wobble at all when I pull a paper towel off. Just wanted to share this in case you have a similar workbench and need a spot for paper towels that won't take up valuable surface space. (Paper Towel Dispenser is available here: Paper Towel Dispenser.)
Sooo, see that big empty space to the right of the workbench? You may remember I mentioned in a previous post that I would like to add a freezer to this space in the future.
I've never owned a freezer but have always wanted one. With all the recent talk in the news of possible food shortages due to a lack of diesel fuel, I thought this might be a good time to go ahead and buy one. Oh my gosh, the mental gymnastics I went through choosing a freezer! First I had to decide if I wanted an upright freezer or a chest freezer. I was leaning toward a chest freezer but liked the frost-free aspect of an upright freezer that would never need to be defrosted. I read an article that stated chest freezers normally last 5-6 years longer than upright freezers, so that pushed me more toward getting a chest freezer.
Once I made the decision to buy a chest freezer, I had to decide on a size. Initially, I was thinking about buying one in the 10 cubic foot range, but then I discovered that bigger freezers only cost a small amount more and barely use any more energy. As I shopped, I was drawn to a couple of different brands. I liked the wheels on some of the Frigidaire freezers, but honestly, I have no plans to ever move the freezer except for when the flooring gets installed on the unfinished side, and that won't be for a few months–probably sometime in the spring.
One of the things that concerned me about a chest freezer is the lack of organization you can run into with those style freezers. It can sometimes be a challenge to find/reach the items you need and some items can get lost down in the bottom and never used–or so I read. Then I discovered something called FreezerMax. Have you heard of it? It's a rail/basket system that helps you organize your chest freezer. From the video I watched on YouTube, it looked pretty easy to install. After learning more about it, I was positive I was going to add this system to any chest freezer I purchased. You know how much I love being organized–it's practically an obsession for me!
Just about the time I had decided to order a Frigidaire chest freezer and the FreezerMax system to go inside, I discovered GE now makes a chest freezer with the rail/basket system built in! What?! I loved the idea of not having to install it myself so decided to go with the GE freezer since it had great reviews.
Here's how the GE chest Freezer I purchased looks from above. It comes with 4 baskets, two for the top rail and two for the second rail. I ordered four additional baskets from GE that should arrive later this week. I may end up only using two of the four baskets that I've ordered, but I figured it would be good to have a couple of extras in case I drop one or damage one in the future. Who knows, maybe I'll want to use all four and have four on top and four on the bottom, just not sure yet. The size freezer I ultimately decided on was the 15.7 cu ft size. Its Energy Star rating shows that it should cost around $33 per year to run. Amazing how efficient freezers are now. This same freezer comes in a 21.7 size, also with the basket and rail storage system.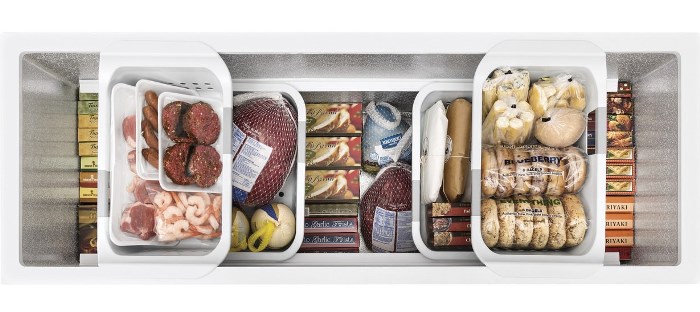 You can see how the double rail system works in this photo below. The freezer is supposed to be delivered this week, supposedly on Wednesday. I'll share photos of how it looks inside once I have it up and running with a few items inside.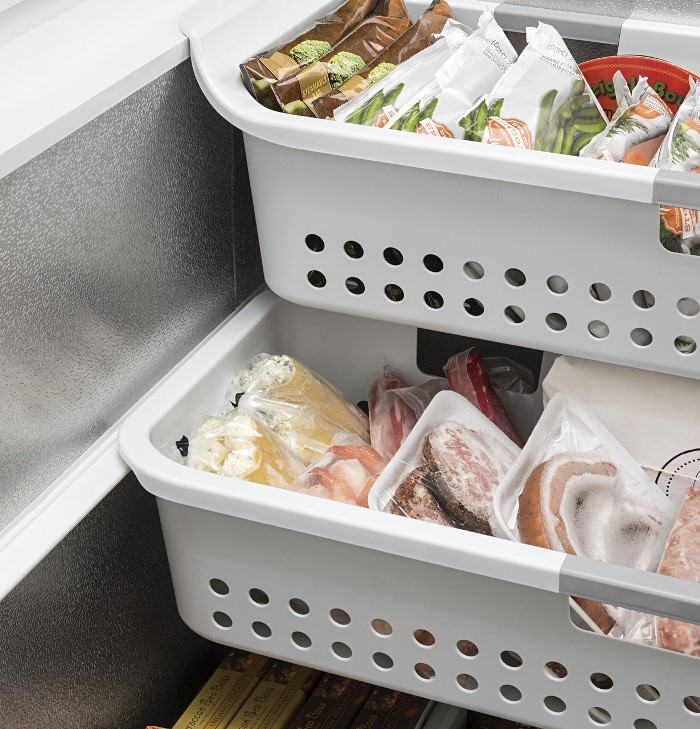 Here's some additional info about the freezer that I purchased. It comes in two sizes and I purchased mine here where it's currently on sale: GE Chest Freezer with Baskets.
Garage ready – GE freezers are tested to perform from 0°F to 110°F
Audible temperature alarm – Alerts you if the temperature rises
Second-level rail – Allows convenient access to sliding baskets at different heights in freezer
LED interior lighting – Automatically illuminates when door is open
Lock with key – Allows you to protect your valuable food items from unintentional entry
Power "On" light – Easily see if the freezer is working without having to open the door
4 sliding bulk storage baskets – Offers flexibility to organize and store favorite foods for quick, easy access
Adjustable temperature control – Easy to use controls to select the temperature for your needs
Recessed handles offers a clean appearance
ENERGY STAR qualified to meet or exceed federal guidelines for energy efficiency
Limted 1-year warranty entire appliance
Once the freezer arrives (hopefully this Wednesday) I'll share some photos of how it looks inside. I've been reading about which foods freeze well. Did you know you can even freeze butter? lol I had no idea. What do you like catching on sale and stocking up on in your freezer?
Looking forward to all the great Before and Afters linked for this week's Met Monday! Pssst: Did you know Between Naps On The Porch is on Instagram? You'll find me on Instagram here: Between Naps On The Porch. Like to know when a new blog post is up and available to read? Subscribe for email updates, it's free and your email will never be shared. Subscribe for free post updates via email here: Subscribe.
Metamorphosis Monday: Metamorphosis Monday is a party that's all about Before and Afters. Please link up your Before and After projects like DIY projects, room makeovers, craft projects even recipes. Please do not link up Table Settings, save those for our Tablescape Thursday party on Thursday. If you are participating in Met Monday, you'll need to link your post to the party using the "permalink" to your MM post and not your general blog address. To get your permalink, click on the name of your post, then copy and paste the address that shows in the address bar at the top of your blog, into the "url" box for InLinkz when prompted. NOTE: Please do not link up more than 3 posts from your blog. In order to link up, you'll need to include a link in your post back to the party so visitors to your blog can find the other party participants. When linking up to the party, give the InLinkz system time to find the link in your post to avoid having your link held for moderation/approval. Thanks!
This party has ended, click button below for the links to all who participated.
*If a post is sponsored or a product was provided at no charge, it will be stated in post. Some links may be affiliate links and as an Amazon Associate, I may earn from qualifying purchases. *