Welcome to the 755th Metamorphosis Monday! How was your weekend? I hope you had a great one! If you've been following along with my recent washing machine saga, you may remember my 43-1/2-year-old GE washing machine recently started having issues. The appliance repairman I've used in the past when my icemaker acted up, confirmed that parts are no longer available, so it was time to go washing machine shopping.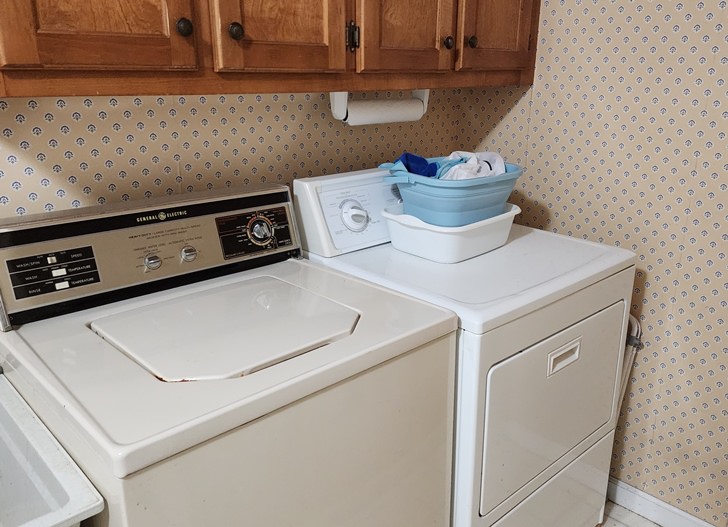 My first attempt at buying a new washing machine was a big, fat fail. You can read about that here: Why I Returned My Brand New Washer And The Washer I've Chose To Replace It. Fortunately, I realized that washing machine wasn't what I wanted within the 48-hour return period, and called for a return. After that disappointment, I decided to bite the bullet and buy the washer I had originally been leaning toward but was a good bit more expensive. Everything I'd seen online about Speed Queen washers had made them sound like the washer that would best meet what I wanted from a washing machine.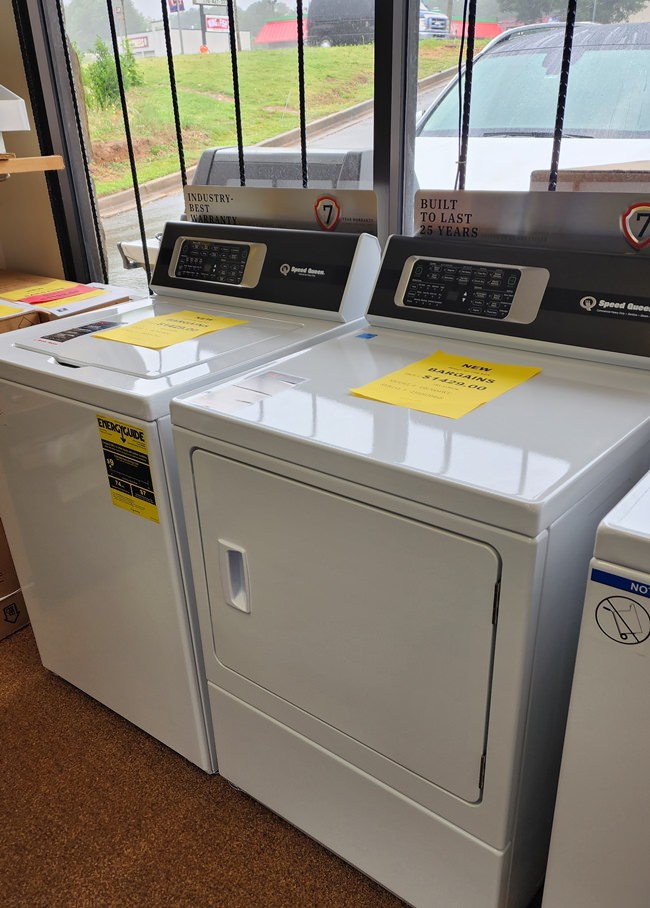 Speed Queen makes quite a few washers, from the old-school style with an agitator that actually washes like the agitators of yesteryear, to their newer washers with agitators that actually rotate with the wash basket itself, thus sloshing and pushing water through the clothes which is an effective but much more gentle way to wash clothes. The three Speed Queen models I considered were the TR3, the TR5, and the TR7. After watching quite a few videos online to learn about the various features of each model, I decided to go with the TR7.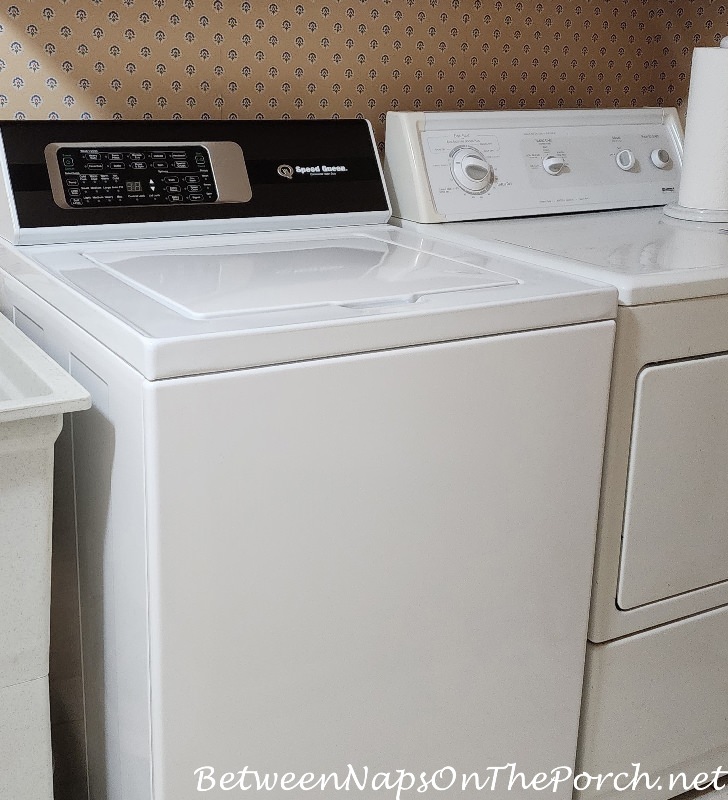 By the way, if you prefer a front-loading washer, Speed Queen makes those, too. My sales guy said that he has never heard of any issues or complaints with mildew/mold with those machines. Do your own research on that topic, but just sharing in case you prefer a front-loading washer. I decided to stay with a top-loader at this point.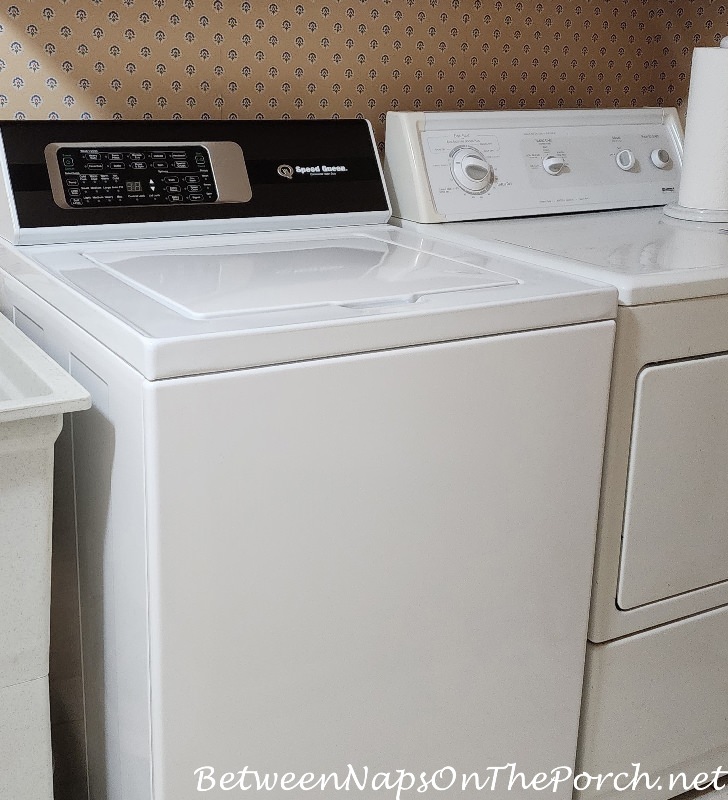 The main features I wanted in a washing machine were the ability to control the water level, the water temperature, and the vigor or strength of the washing action. My old GE washer had a fabulous handwash basket that I used almost every single time I washed clothes. It was perfect for washing my shirts and other items that I wanted to be washed in a more gentle way. The only time I used the main tub was for larger, sturdier items like towels, sheets, socks, and tablecloths. That handwash basket was one of the main reasons I'd held onto my washer for so many years.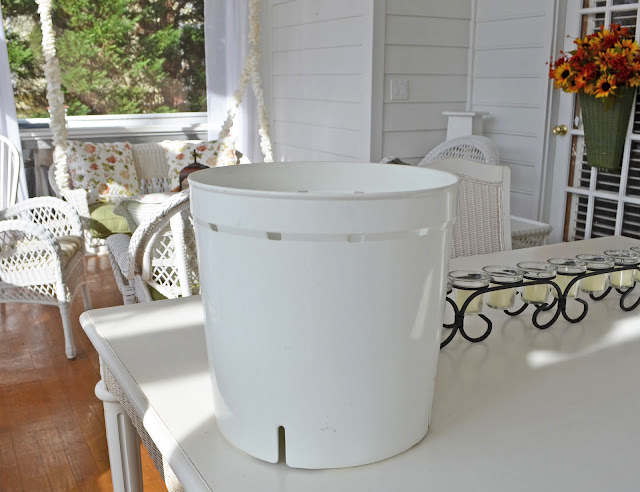 So how did that first washing experience work out? I'm happy to report that my Speed Queen washer is definitely a keeper! For that very first wash, even though I was just washing a bunch of towels and cotton poplin pajamas, I wanted to see if I could completely control those elements previously mentioned: water level, temperature, and the vigor/gentleness of the wash. Even though I was washing towels and pajamas, I chose the "Delicate" wash to see how it worked. I thought it would be a good test before I actually trusted it with anything truly delicate. There's also a "Handwash" option that's even more gentle than the Delicate option.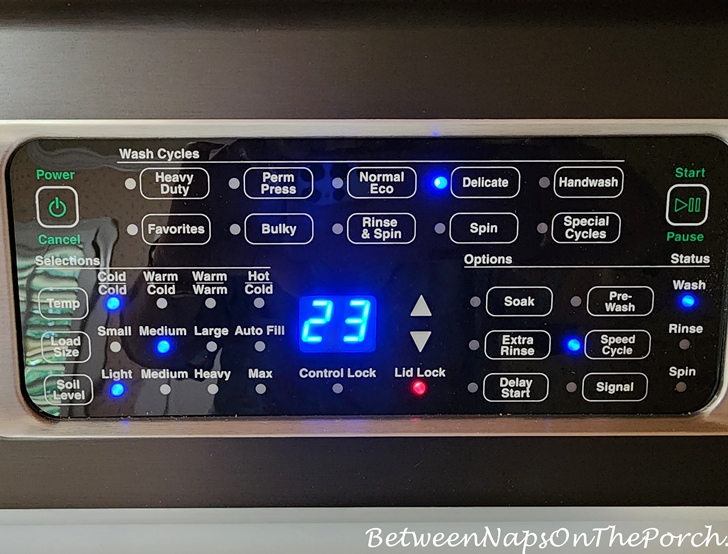 When I first pressed the "Delicate" option, I panicked a bit. The machine automatically selected a "Medium" soil level. Nope. That wasn't what I wanted. Fortunately, I quickly realized that I could change that. All I had to do was press the "Soil Level" button and I was able to easily change it to "Light" which is what I wanted. I can't remember now if it defaulted to "Auto Fill" for the Load Size or not, I think it may have. I changed that to "Medium" because I wanted to make absolutely sure the clothes were fully covered in water, especially after my previous experience with the other washing machine I had returned.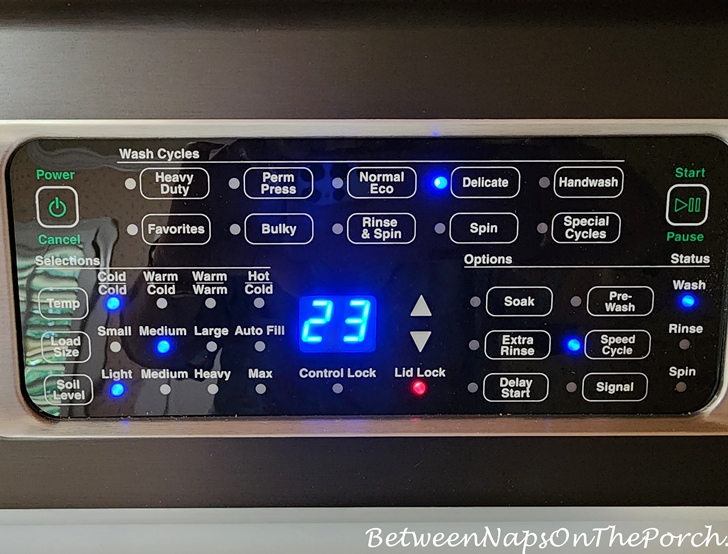 This is one of the reasons why people love Speed Queens, you get back the control of how your clothes are washed! The only element that I can't control directly, but can control indirectly, is the "Time" the clothes wash. I discovered that by selecting a "Delicate" wash, the clothes only washed for 3-4 minutes, which was perfect. Of course, the cycle length was longer but the actually washing time was just a few minutes, which was exactly what I wanted. If I am remembering correctly, I think the entire cycle time that was initially displayed on the panel was for 31 or 32 minutes. Love that! Of course, if the towels had been really dirty, I could have chosen another cycle that would have been much longer.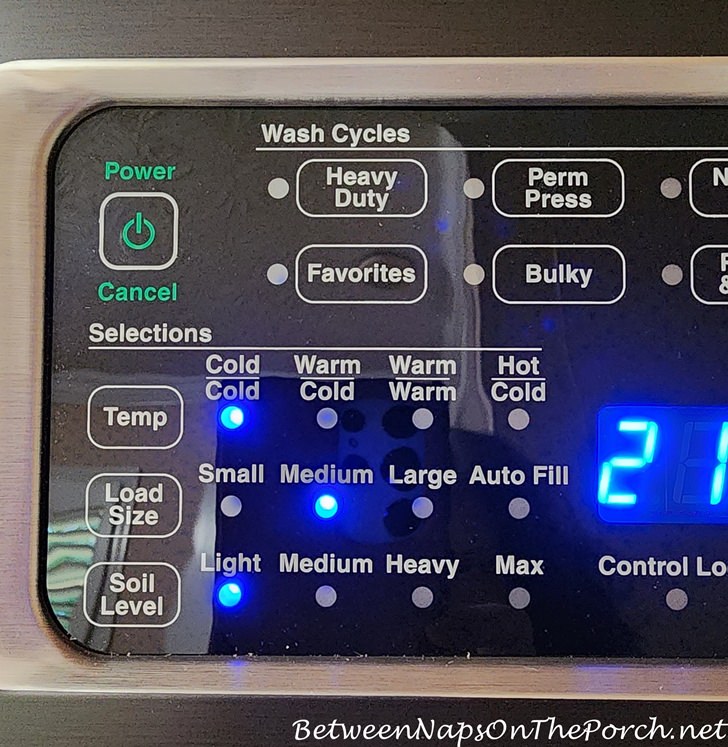 I paused the machine when it had just started to wash because I wanted to see where the water level was. This is what I saw when I lifted the lid. The lighter pajamas had floated up a bit but you can see that on a "Medium" load size, there was plenty of water covering the clothes. I was thrilled to see this after the experience I'd had with the machine I returned that had just made the clothes soggy but never fully immersed them in water. I'll never forget the awful grinding sound the impeller made against those soggy towels–it was so disturbing! No wonder everyone keeps talking about "fast fashion" these days. I would think all clothes would end up becoming fast fashion after being scrubbed to death in a machine that uses almost no water.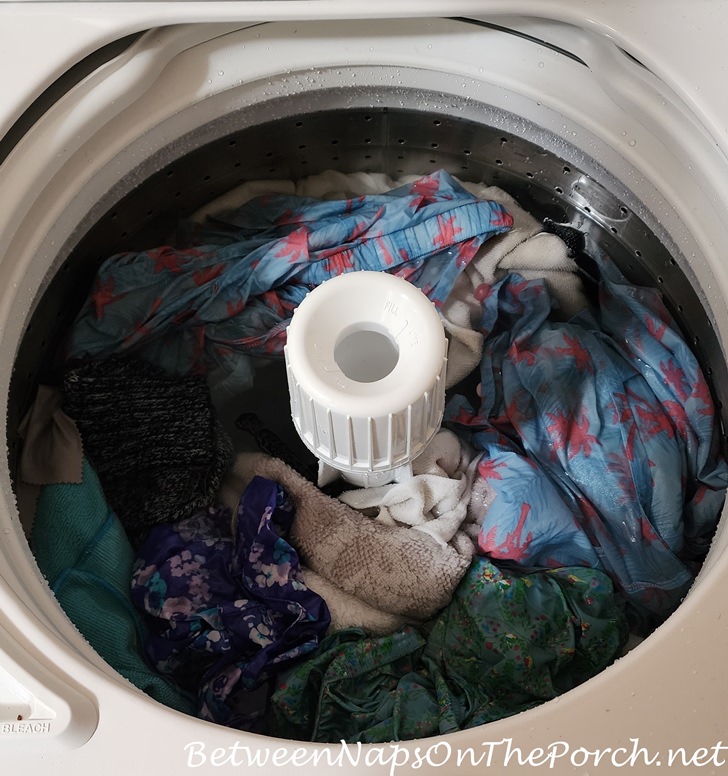 I was happy to discover when I washed my second load of clothes today, the machine remembered what I selected the last time and automatically defaulted to that just in case that's what I wanted to use again. So if you find that perfect combination for your shirts or jeans, it will remember. I noticed there's a "Favorites" button. I haven't taken the time to read up on how that works, but I'm wondering if it's a way to save all your favorite combinations (temperature, water level, soil level) for future use. This machine gives you so many options and I'm looking forward to exploring them all! From what I've read, the cycle that you want to avoid is the "Normal Eco" cycle. Speed Queen had to create/include that cycle to meet the standards required for washers today, but thankfully they gave us lots of other options–options that use enough water to actually get clothes clean!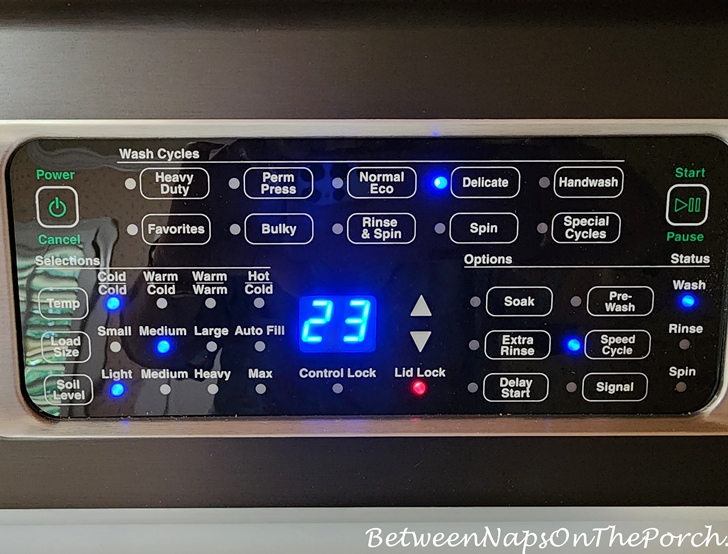 My dryer is still going strong, so I decided to keep it for now. When the time comes to replace it, I will definitely be going with a Speed Queen dryer. I would like to renovate my laundry room sometime in the next year or two–maybe I'll donate my old dryer and purchase a Speed Queen dryer then. In the meantime, I'm so happy and relieved to have found a washing machine that's given me back control of how my clothes are washed! Speed Queen says that you can expect your washer to last 25 years, so hopefully this is the last washer I will ever need to purchase. Love that!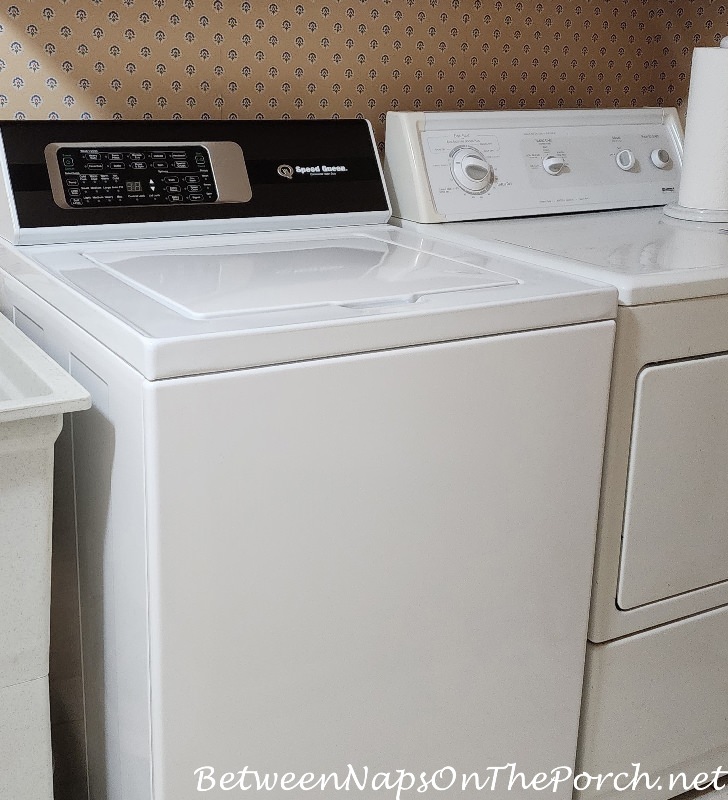 Looking forward to all the great Before and Afters linked for this week's Met Monday! Pssst: Did you know Between Naps On The Porch is on Instagram? You'll find me on Instagram here: Between Naps On The Porch. Like to know when a new blog post is up? Subscribe for email updates (it's free) and your e-mail will never be shared. Subscribe for free post updates here: Subscribe.
Metamorphosis Monday: Metamorphosis Monday is a party that's all about Before and Afters. Please link up your Before and After projects like DIY projects, room makeovers, craft projects even recipes. Please do not link up Table Settings, save those for our Tablescape Thursday party on Thursday. If you are participating in Met Monday, you'll need to link your post to the party using the "permalink" to your MM post and not your general blog address. To get your permalink, click on the name of your post, then copy and paste the address that shows in the address bar at the top of your blog, into the "url" box for InLinkz when prompted. NOTE: Please do not link up more than 3 posts from your blog. In order to link up, you'll need to include a link in your post back to the party so your readers can find the other party participants. When linking up to the party, give the InLinkz system time to find the link in your post to avoid having your link held for moderation/approval. Thanks!
You are invited to the Inlinkz link party!
*If a post is sponsored or a product was provided at no charge, it will be stated in post. Some links may be affiliate links and as an Amazon Associate, I may earn from qualifying purchases. *