Welcome to the 660th Tablescape Thursday, a blog party sharing beautiful table settings for all occasions!
This has been such a beautiful spring here in Georgia. It's felt like a long, full spring–not one of those springs we sometimes have where we get cool, spring weather for a week and then BAM, it's 85 degrees outside. lol No, this spring has been the perfect spring. I would love it if it was this way every year!
Last night was the first night where I was tempted to run the A/C in the upstairs part of my home, but I was able to resist. I have both doors to the porch open right now letting all that delicious, cool, nighttime air inside to help cool the house for the day.
The perfume post I created yesterday took a lot longer than I expected, basically the whole day, so I didn't get to set this table until around 5:30 in the evening. Fortunately, it came together pretty quickly so I was able to get a few daytime views before it became too late for that.
My inspiration for this table was this aqua and white lantern I found recently on a brief shopping trip to Marshalls.
It's such a unique-looking lantern, almost like they were trying to create the illusion that it was filled with white sand. I briefly thought about returning it when I first tried a candle in it because I expected the white bottom portion to be opaque enough to let the light shine through. Instead, the light from the candle I have inside is really only visible through the top half of the lantern.
In the end, I decided I still liked the lantern enough to keep it because I love how it looks during the daytime. Aqua (not so much teal) is one of my favorite colors/shades for summer. It's just sooo oceany and beachy and all those good vibes!
For today's table, I'm using dinnerware purchased back in 2008, just as the screened porch was being completed on the back of my home. At that time I only had a couple of sets of everyday china and none seemed appropriate for porch dining. I loved this pattern the moment I saw it in Kohl's. The information on the back of each plate indicates that it's from the Shoreline Collection Home/studio.
I'm using both the shell and starfish plates in this pattern as salad plates. Another option would be to use the shell plates as a salad plate and the starfish plates for an appetizer or maybe for dessert. Lots of options with this dishware! The woven chargers were displayed with this pattern that day in Kohl's. It's hard to find square wicker/woven style chargers.
The starfish "bubble" glassware was also displayed with this dinnerware so I think it's by the same manufacturer. Trying to remember where I found the fishy glasses now, may have been in Marshalls.
The beaded, shell napkin rings are from Cracker Barrell back in 2018, purchased on one of my drives back home from visiting family. I wonder what goodies they have in for spring/summer this year? I believe the aqua napkins and aqua flatware were both purchased from Kohl's back around the time I added on the porch. The flatware didn't come with salad forks but it did include soup spoons. I'd rather had the salad forks, I think. lol The tan-colored napkins are from Pier 1 back in the day.
A view from overhead…
Do you see what we're having for dessert? 😉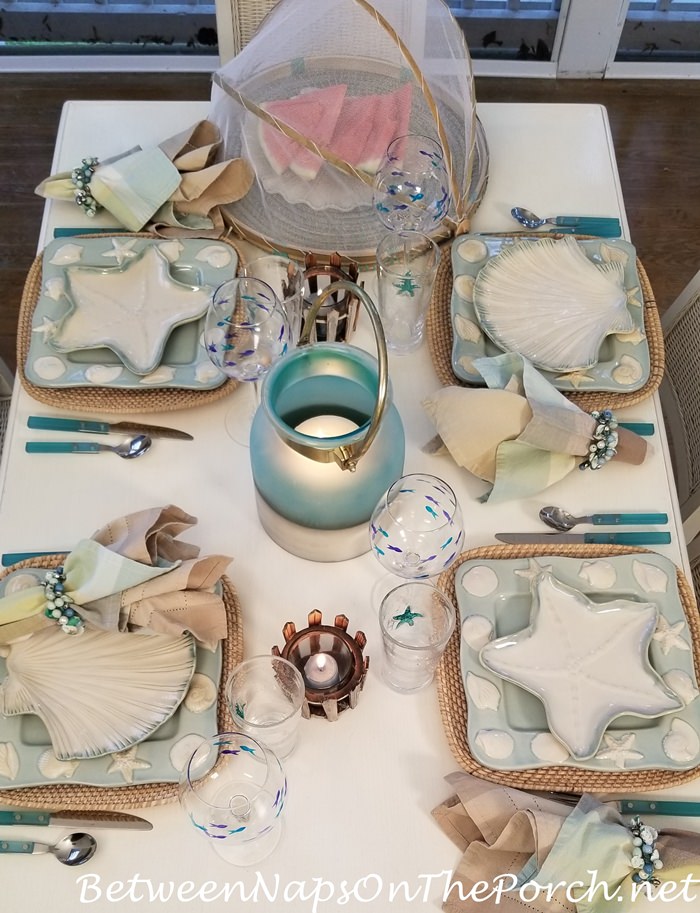 I think I found this cute net-covered, woven platter in Marshalls one year. It's been so long–hard to remember now.
The top just rolls back when you're ready to serve whatever is protected underneath. Not really needed on a screened-in porch, but this would be great when dining outdoors. I don't think I've ever used it in a table setting before and couldn't resist working it into today's table since the color works so well with our beachy table.
I picked up a watermelon the day I made a quick dash into Walmart Market when I was sick recently. I honestly didn't think it would be any good since it's so early in the season. I was wrong! It's insanely sweet and delicious! So if you visit a Walmart Market this week and they have watermelons, you may want to pick one up.
Getting dark out now…
Candlelight dining is the best!
As it was just beginning to get dark, I turned on one lamp here on the porch for these first three photos.
Here's how the table looked with all the lamps turned off.
Happy spring! We have one more month of spring before the first day of summer arrives. It's going fast–enjoy every moment!
Looking forward to all the wonderful table settings linked for this week's Tablescape Thursday! ♥
Did you know Between Naps On The Porch is on Instagram? You'll find me on Instagram here: Between Naps On The Porch.
Like to know when a new blog post is up and available to read? Subscribe for email updates, it's free and your email will never be shared. Subscribe for free post updates via email here: Subscribe for Post Updates.
Tablescape Thursday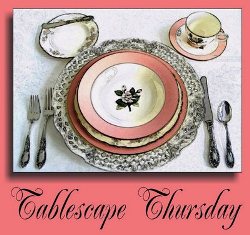 If you are participating in Tablescape Thursday, please be sure to add your permalink below, and not your general blog address. To get your permalink, click on your post name, then copy and paste the address showing in the address bar, into the "url" box when you link up. You'll need to include a link in your post back to the party to link up and participate.
That's so visitors to your blog will be able to find the party and the other Tablescape Thursday participants. Requiring a link back also prevents businesses and scammers from linking up to sell their products. (Yep, that really happens, unfortunately.) If you see a post that's not table setting related, please let me know and I'll remove it.
This party has ended, click button below for the links to all who participated.
*If a post is sponsored or a product was provided at no charge, it will be stated in post. Some links may be affiliate links and as an Amazon Associate, I may earn from qualifying purchases. *