Back in November 2015, almost six years ago now, I shared my small perfume collection with you. I love, love, love perfume and with very little trouble, I could easily become a hoarder of all perfumes. lol If I awake in the morning and find I'm in an okay-whatever mood, with just a few sprays of a favorite scent, my day will suddenly feel sooo much better! Perfume has that effect on me, it's definitely a mood changer! Do you find this, as well–or does perfume have little to no effect on your mood?
Pssst: If you don't like perfume and/or have allergies that prohibit you from wearing or being around someone who does wear a fragrance from time to time, you'll want to skip this post and come back tomorrow for Tablescape Thursday. I totally get it if perfume is not your thing, in which case I'll see you tomorrow for Tablescape Thursday, dear Friend.
Many years ago I was shopping in a Tuesday Morning and I spotted this shelf. It was love at first sight and I knew it HAD to come home with me though I had no idea how or where I would use it in my home. For several years it stayed stored away in the small closet in the upstairs living room/bonus room, the room I shared with you earlier this week.
By the way, a gentleman came out yesterday to measure and give an estimate for possibly installing custom shelving in the bonus room. I don't have the quote yet, but I should be getting that in a few days. I'll let you know what it is and what I decide. Your comments on that post have really given me so much to think about, so THANK YOU for that!
Back to today's topic, once the fragrance bug got hold of me and I started collecting perfume, I needed a way to store and display it, especially since the bottles are so beautiful! I remembered my shelf and installed it here in the vanity area of the master bath.
As you can see, my fragrance collection has definitely grown over the years. This room is kinda the perfect spot for storing my perfumes because the shower/bathtub area is in a separate room, so this room doesn't see any drastic changes in humidity or temperature throughout the year.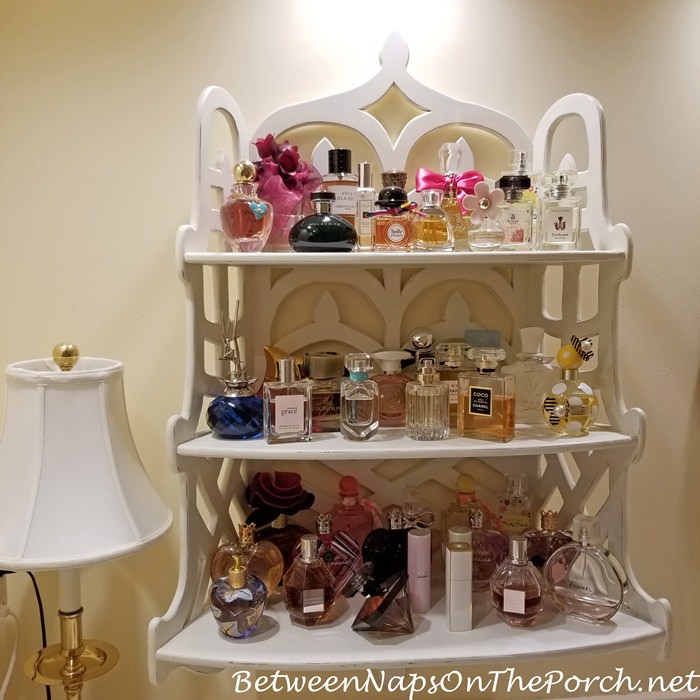 Also, there are no windows in this room. None! That's actually one of the features of this room that I've often thought about changing in a future bath renovation, but that's another story for another day. The lack of natural light and humidity makes this a pretty, perfect spot for storing my perfume. Plus, I just love seeing it here whenever I'm in this room washing my face, brushing my teeth or just passing through to one of the master closets to retrieve shoes or clothes.
Over the years, I have given away a few of the fragrances I purchased back in 2015, giving those to friends and family to enjoy or share with their friends. That's the nice thing about perfume, if you don't like it, chances are you know someone who will. I still have most of the fragrances shown below in this photo from 2015, there are three that I have given away.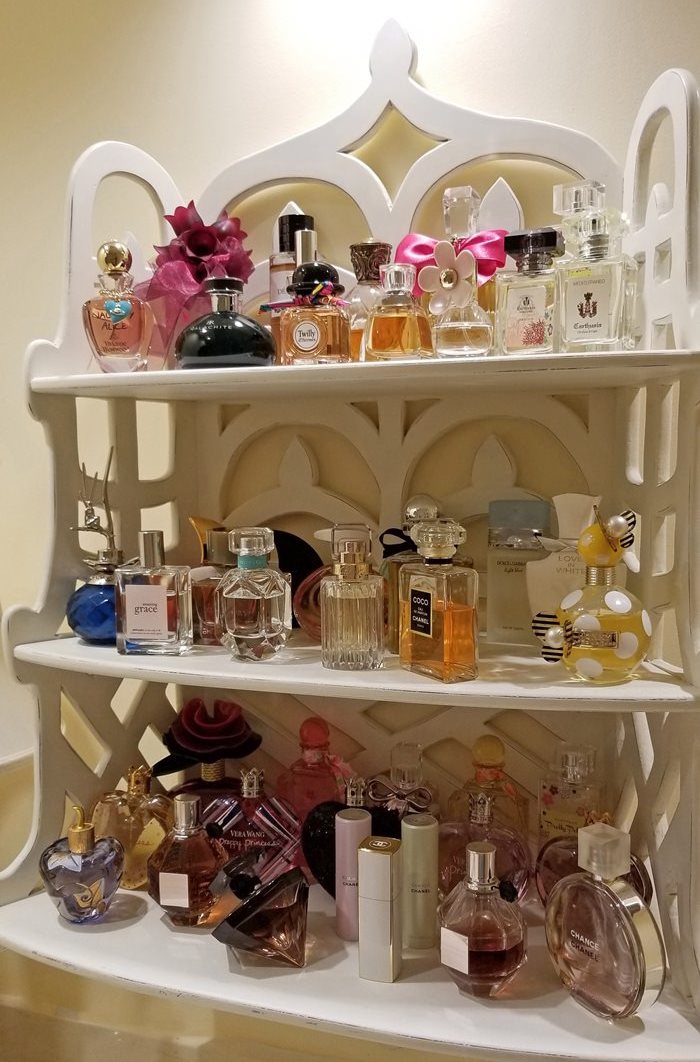 I'm forcing myself to limit my perfume collection to just what fits here on these three shelves. I feel like that's about as much as I can regularly use in a semi-timely manner. If I buy a new fragrance and find space is getting tight, I know it's time to cull something out that I never or rarely wear. Just as our tastes in the foods we like can sometimes change throughout our life, our tastes in fragrance can change, as well. Or, sometimes we just crave a change.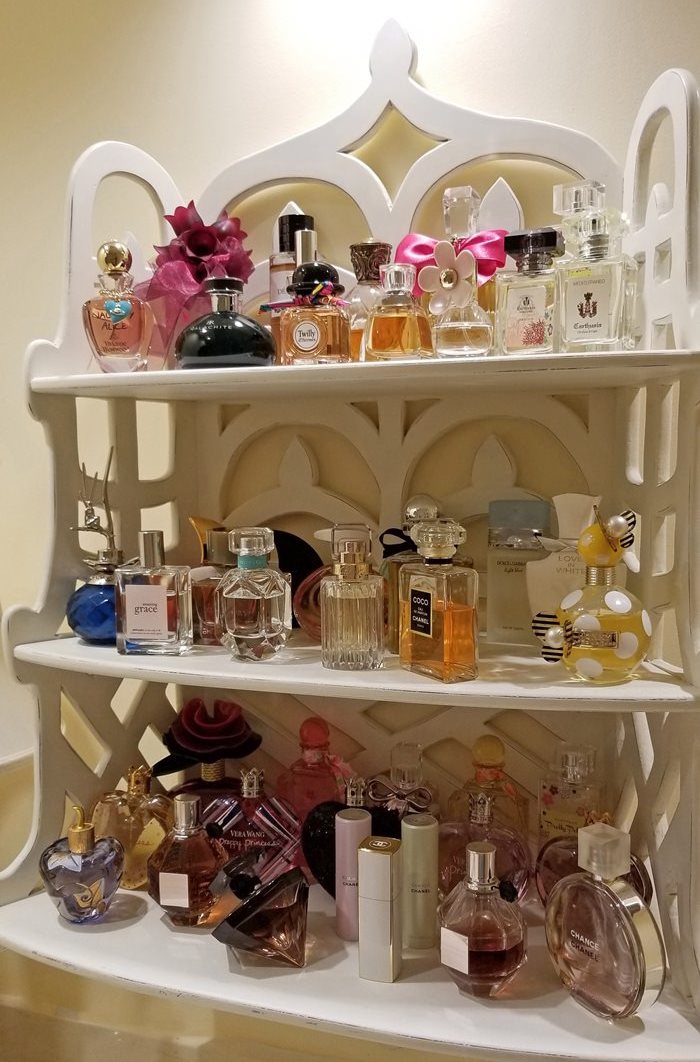 Today I thought I'd share a few of the scents I currently have in my collection and I'd love to hear your favorites, too! Some of my fragrances were bought as blind buys after hearing a rave review on YouTube. I've mostly limited blind buys to those scents that are not too, too expensive, so I didn't mind taking the risk of not liking it.
I do occasionally try less-heard-of/niche fragrances. For example, a few months back I ordered a large sample set from Zoologist after hearing so much about their fragrances from a perfume reviewer I follow on YouTube. I really like some of their fragrances, in fact, I'm thinking of ordering a full-size bottle of their Hummingbird or Nightingale scent. I liked Camel and Squid, too–but not sure I like those scents enough to purchase a full bottle. So yes, I do try less-familiar fragrances from time to time, but the scents I'm sharing today are those that are a bit more mainstream.
Note: If these perfumes are still available for purchase and I can find them online, I'll try to link to them in this post.
Starting on the top shelf, you'll see Naughty Alice by Vivienne Westwood, a blind buy after hearing it reviewed on YouTube. I love the bottle and the perfume did not disappoint. (Can only find it here now: Naughty Alice.)
The perfume in the green bottle is Malachite by Banana Republic. (Currently available here: Malachite.) It was another blind buy that I do very much like!
Hermes Twilly was a gift from my son for my birthday one year. Ironically, I hinted that I would like it when he was asking for gift ideas and sadly, it's not a favorite of mine. I had heard so many good things about it so thought I would love it. I can't part with it for sentimental reasons. I keep hoping one day that it will become a fave. It's available at Hermes online.
The burgundy floral/beribboned bottle in the back is Lovestruck by Vera Wang, another blind buy based on rave reviews. I couldn't resist the beautiful bottle and it turned out to be a keeper! It's available here: Lovestruck.
Back in the day when I was looking for beautiful perfumes to display on my shelf, if a perfume had really great reviews and wasn't overly expensive, I would take a chance and buy it without having ever tried it. For the most part, that has worked out well. Lovestruck is a beautiful scent so it has stayed in my collection.
The bottle to the right of Lovestruck is Feve Delicieuse, a gift from one of the Christian Dior boutiques in Atlanta. I like it, but not as much as many of my other perfumes, so it doesn't get worn a lot. I may eventually give it to my daughter-in-law to try. My small bottle of Jo Malone Honeysuckle & Davana is there just in front and it's a gorgeous fragrance that I can recommend. It's quite potent, only takes a tiny spritz and I do wear it quite often. You'll find it available here: Honeysuckle & Davana.
The bottle you see toward the back that's over half empty is a discontinued fragrance by Jessica McClintock's called, Jess. I had two of her fragrances that I wore for many years and Jess was definitely a favorite. Even though it's very old now, I've kept it for the pretty bottle.
To the right of Jess, the bottle with the bright pink bow is Viva la Juicy by Juicy Couture. It was a super popular scent many years ago. I tend to forget that I have it since it's toward the back of the shelf. I just smelled it again today and really like it so I'm pulling it toward the front so it will get worn more often. Viva a Juicy is available here: Viva la Juicy and here: Viva la Juicy.
The two scents below by Carthusia were bought from their boutique when I visited the Isle of Capri back in 2015. I haven't worn them as much as I should but I do very much like them! You can see more of their scents here: Carthusia Parfum.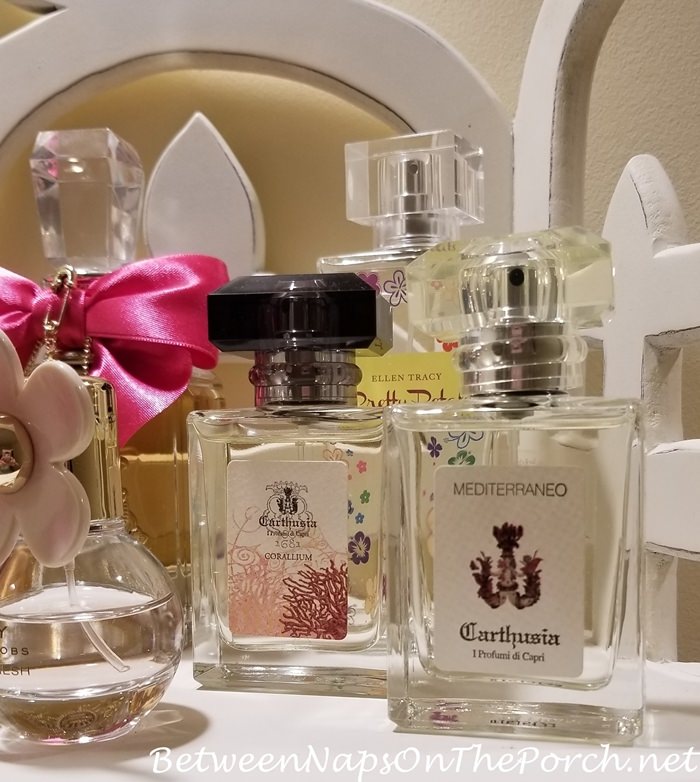 Moving down to the second shelf…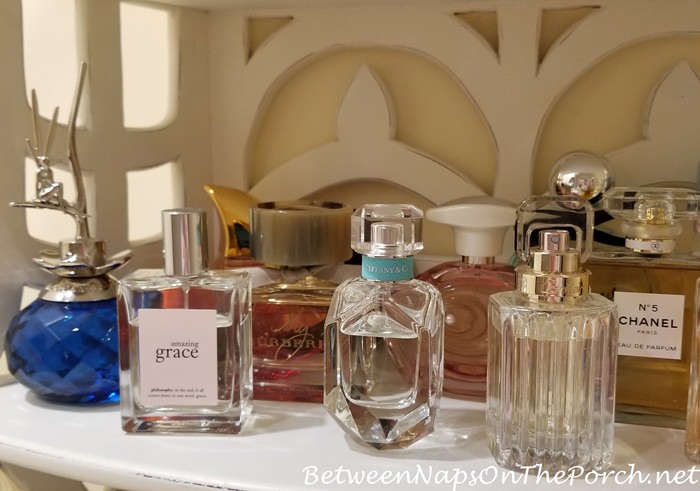 The blue bottle with the fairy perched atop a little branch is by Van Cleef and Arpels. The name of the perfume is Ferrie. I love their jewelry so blind bought their perfume. Unfortunately, I don't care for the perfume but I've kept it because I love the adorable bottle.
Amazing Grace has been a fave of mine for years. It's light, clean, and airy–perfect for spring and summer. You'll find it available here: Amazing Grace.
Just behind Amazing Grace you'll see My Burberry, a perfume by, you guessed it, Burberry. I love My Burberry, consider it one of the best perfume buys I've made. It's definitely a great one in my collection! My Burberry is available here: My Burberry.
Tiffany and Co. produced their own fragrance and I purchased it since I love their jewelry. The perfume is okay but I don't like it as much as some of my others. It's down a good bit since I decanted some out into a travel atomizer.
I've heard they have produced a new perfume, I need to stop by Tiffany in Atlanta and give it a try–maybe I will like it better. I mainly purchased this bottle because I was invited to an event in Tiffany and didn't want to leave without purchasing something. Not a great reason to buy perfume. It did smell good that day in the store, I need to give it another chance.
I am pretty obsessed with Coco by Chanel. I tried Coco Mademoiselle first and though it's nice, I much prefer Coco. Coco, I love! Anytime I'm feeling stressed and feel like I need a big hug or something comforting, I spray on Coco and it calms me. I don't know how it does that, but it does! It a rich scent, maybe better suited for fall and winter, although I wear it year-round. I wear all my scents year-round if the mood strikes. Coco is available here: Coco.
Next to Coco you'll see Honey by Marc Jacobs. It's another fave and also a very comforting, happy scent–perfect for spring and summer! You'll find it here: Honey by Marc Jacobs.
Back behind Coco and Honey you'll see a white bottle. That's Love in White by Creed and it's the most expensive fragrance that I own. I have a story with that scent. I had read an article all about what a beautiful, special scent Love in White is and how so many of our First Ladies have worn it through the years. Here's how Creed describes it:
The scent is inspired by Olivier Creed's travels on the high seas, "an element of nature that connects all humanity." and according to Creed, the bottle evokes "the shoulders of a feminine figure as she rests upon white sands caressed by the ocean's gentle current. A silver ribbon at the neck conveys sunshine dancing on the Aegean sea".
I bought it in Neiman Marcus on a day when I had a terrible cold and could smell nothing–another blind buy. When my cold finally went away and I could smell, I didn't really like it. I thought something was wrong with it and on my next visit to NM, I stopped by their fragrance counter to make sure that was really how it was supposed to smell.
Yup, it really did smell that way, there was nothing wrong with my bottle. Maybe my sniffer is just broken, I don't know why it's not a fave for me. It has such a great history so I wish I liked it more. Creed makes several other fragrances that I like much more, like their Spring Flower fragrance, it's wonderful! You can read about it here: Spring Flower. You'll find Love in White here: Love in White.
Update: I just gave Love in White another try and I'm actually liking it now. Go figure! Before it smelled kind of bitter to me, it actually smells good right now. I still think I like Spring Flower better, though.
Further back you'll see Light Blue by Dolce & Gabanna, a beautiful fragrance…very light and summery. Light Blue is available here: Light Blue. It's also available here: Light Blue.
That's iconic Chanel No. 5 just behind Coco, it needs no description. To the right of Chanel No. 5 is Carat by Cartier. It's okay, but not a real favorite. I really liked it when I smelled it in the store, but for some reason, it has not been a fave. I do wear it occasionally, though.
Moving down to the bottom shelf…
That's Lolita Lempicka in the purple and gold bottle on the left. I love the adorable bottle and tried it after a reader shared her love for it. I not sure the perfume works on me, probably need to wear it more often and give it more of a chance.
Behind Lolita Lempicka, you'll see the start of a line of heart-shaped bottles. I purchased several versions of Princess by Vera Wang mostly because they were inexpensive and I loved the heart-shaped bottles. The scents are beautiful, too! Some were purchased in Marshalls, some online and one was a gift. It just goes to show, a fragrance doesn't have to be expensive to be beautiful and something you enjoy wearing. Sometimes it's the expensive scents that can be a big miss!
The bottle to the right of Lolita Lempicka is a backup bottle of one of my faves, Flowerbomb by Viktor & Rolf. If you love a feminine scent and you're not super adventurous when it comes to perfume, I think you'll enjoy Flowerbomb. It's a unique, never copied or duplicated scent that has lasted the test of time. It's still a favorite with sooo many people though it's been around for many years now. I love it and will always have it in my collection. FlowerBomb is available here: FlowerBomb.
The perfume at the very back left corner with the fancy floral top is Lola by Marc Jacobs. It's another one that I purchased after hearing many rave reviews and do love it. I think it may have been discontinued so it's harder to find these days. I still found it available here: Lola by Marc Jacobs.
The diamond-shaped purplish bottle to the right of Flowerbomb is La Nuit by Tresor. I purchased it in the gift shop of the ship when I took the Property Brother's cruise back in 2015. I bought it mainly for the bottle but the perfume is beautiful! You'll find it available here: La Nuit.
Do you see the five heart-shaped bottles down the middle of the bottom shelf? Those are the Vera Wang fragrances I purchased in Marshalls that were all blind buys but turned out to be really nice.
You can see two of them a bit closer in this photo. The one with the silver crown is Princess Flower while the one with the gold crown is just called Princess, I think. One unique feature of all the Princess perfumes is when you remove the top, the bottom part of the crown is an actual ring that you can wear. I've never worn one, but they are really cute! I'm sure these were meant for teens, but I don't care. I love how they look and they do smell lovely! You'll find all the Princess Perfumes here: Princess Perfume by Vera Wang.
Pretty Petals in the background is a fragrance that was shared with me by a lovely BNOTP reader. I found it in Marshalls and liked it so much, I went back and bought a second bottle as a backup, which is the bottle below. It's the perfect fragrance for spring and summer! Pretty Petals is available here: Pretty Petals.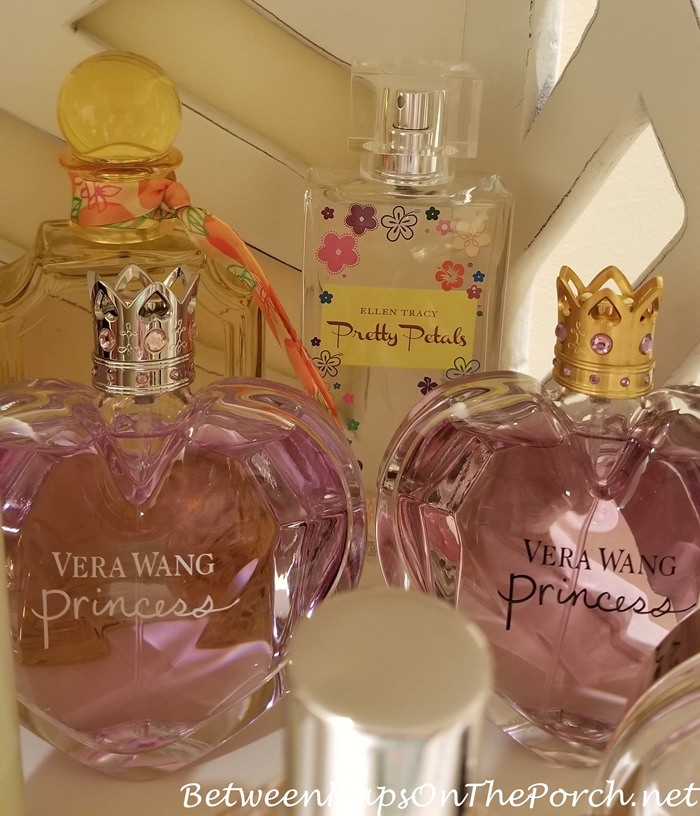 Behind the black glitter heart bottle of Princess Night by Vera Wang, you'll see a pink bottle and a yellow bottle, both wearing little scarves. Those are both by Lilly Pulitzer. The pink bottle is Wink and the yellow bottle is Squeeze and I love both fragrances. There was a third fragrance in a teal/aqua-colored bottle named Beachy. I found someone with a bunch of the samples and decanted them into a large atomizer. It smells wonderful, as well!
Since all of these have been discontinued, the only place you can find them is places like eBay. I'm not sure why Lilly discontinued selling perfume, wish they would start back up! (Find them here now: Lilly Pulitzer Perfume.)
These are the two perfumes I tend to wear the most out because they tend to be crowd-pleasers. Every single time I wear Chanel Chance Eau Tendre, someone will stop me to ask what I'm wearing. I don't care if I'm in HomeDepot, Old Navy, or Michaels–wherever I am, total strangers will compliment my fragrance and ask what I'm wearing–and it's always Chanel Chance Eau Tendre. So anytime I'm going out to a party or someplace where I'm likely to be around other people, it's usually the perfume of choice since it always a big hit. If you buy it, get ready for the compliments! You'll find it available here: Chanel Chance Eau Tendre. It's also available here: Chanel Chance Eau Tendre.
The bottle to the left is the current bottle of FlowerBomb that I using, you just saw my backup bottle a few photos up in this post. Love Flowerbomb! It's available here: FlowerBomb.
If you're a perfume lover like me, I hope you found this post a lot of fun! Please leave me a comment with your favorite fragrance! I love learning about new fragrances from you. I think that's how I learned about Amazing Grace several years ago–a recommendation from a lovely BNOTP reader!
See you tomorrow for Tablescape Thursday!
*If a post is sponsored or a product was provided at no charge, it will be stated in post. Some links may be affiliate links and as an Amazon Associate, I may earn from qualifying purchases. *