Welcome to the 651st Metamorphosis Monday!
How was your weekend? Hope you had a wonderful one! Last week I shared a lamp I had ordered for my guest room. I've had the same lamp here in the guest room for many years and had been hoping to eventually replace it with something that better suited the colors/fabrics in this space.
You may remember this photo of the lamp from that previous post. So with what did I replace it?
This was the lamp I ordered. I came across it and several more blue and white lamps that day that were really pretty. I loved the design but wasn't sure how it would work here in the guest room, but since returns were easy, I decided to give it a try.
It's always a challenge to take a photo of this room since cameras don't like facing into windows but this is pretty accurate of the wall color in person.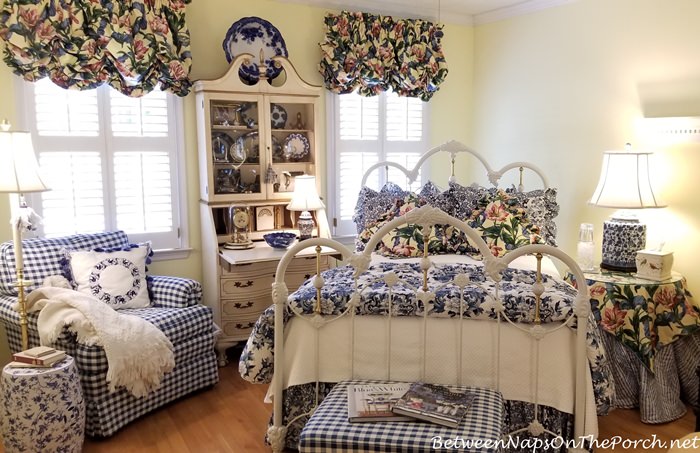 When I first ordered this lamp, I was unsure of the measurements because most of the other blue and white lamps this company had for sale were around 22 inches tall, and this one was listed as being 29 inches tall. I wondered if that was a typo. Thankfully, it wasn't! This lamp is 29 inches tall to the top of the finial and 27-1/2 inches tall to the top of the shade. I do really like the size for this space!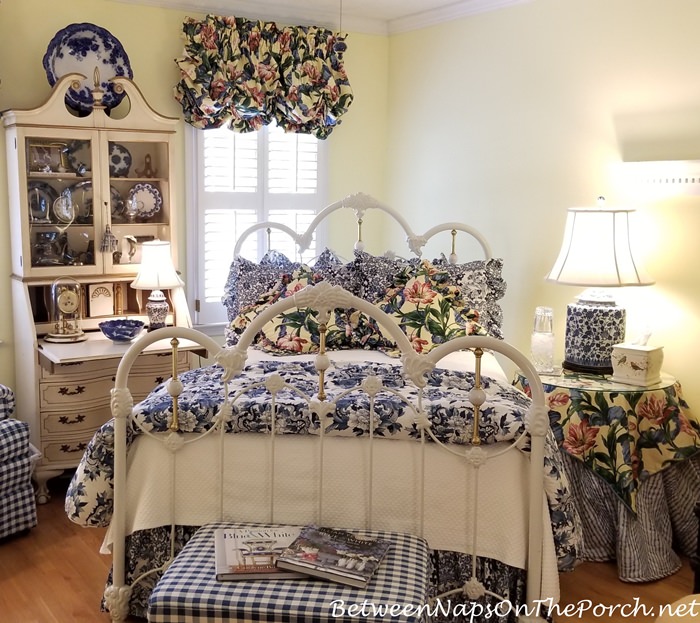 Here's how it looks when off.
And here's how it looks when on. I tried to get a photo that would let you see how it looks with the bedding and decorative pillows. I love layering patterns if/when they work well together. I am loving how the blue and white chinoiserie design of the lamp looks with the other fabrics in this room.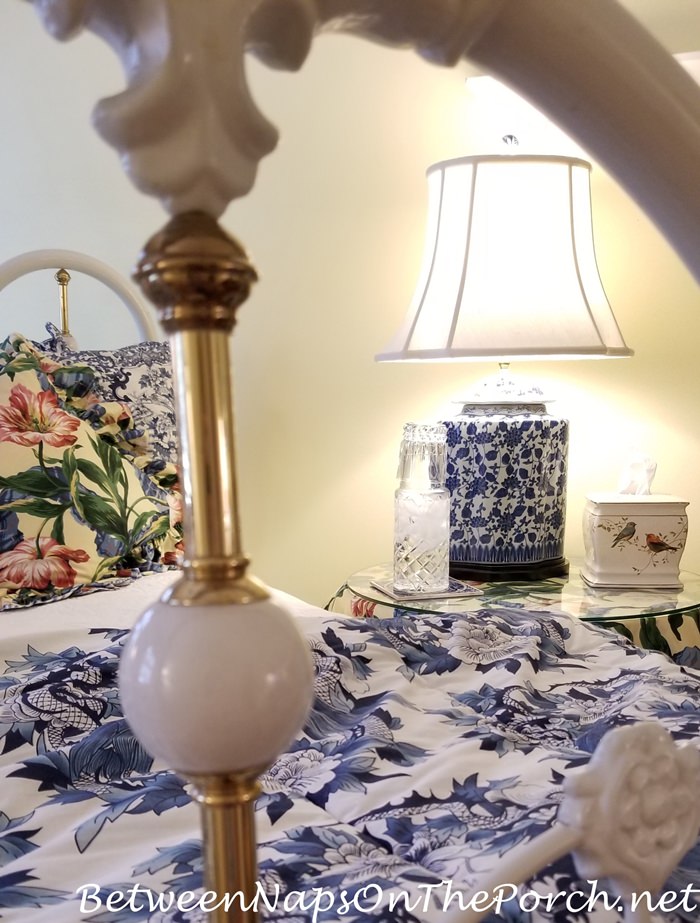 Here's a view looking down so you can see how the lamp looks against the floral Sanderson fabric I chose for this room so many years ago. I still love this fabric as much as the day I chose it. I can't remember the pattern name but I think it had the words "blue ribbon" in the name since the pattern has a blue ribbon running throughout.
Not claiming to be an expert at mixing patterns, but I've found over the years that I can be more adventurous as long as the patterns vary enough in size/scale. I think the Chinoiserie pattern in the lamp works here because it is significantly smaller in size than the floral-ribbon pattern in the Sanderson fabric.
I know someone mentioned in my previous post that I may need to change out the tissue box. Initially, I was thinking the same thing when I first ordered the lamp–that the tissue box would possibly be too "ivory" for the lamp. But I think it looks fine since the shade is not a stark white and the tabletop fabric has a soft, yellow background. Since it's not overly patterned, I think it still works fine here.
The one thing that really surprised me about this lamp is the quality! Because the price was so reasonable, I was half-expecting the porcelain base to feel a bit rough and not as smooth as what you would find in more expensive lamps. I also anticipated that the fabric shade would be okay but that the metal stays (or whatever you call the supports in a shade) would probably show through when the lamp was turned on. That's been my experience with lamps in this price range and lower in the past. Thankfully, I was wrong on both accounts!
The porcelain base is silky smooth and the pattern is crisp and clear.
The shade is beautiful and the supports do not show through at all when the lamp is turned on. Maybe they wrapped them in fabric before they were added to the shade. I'm so glad they don't show through!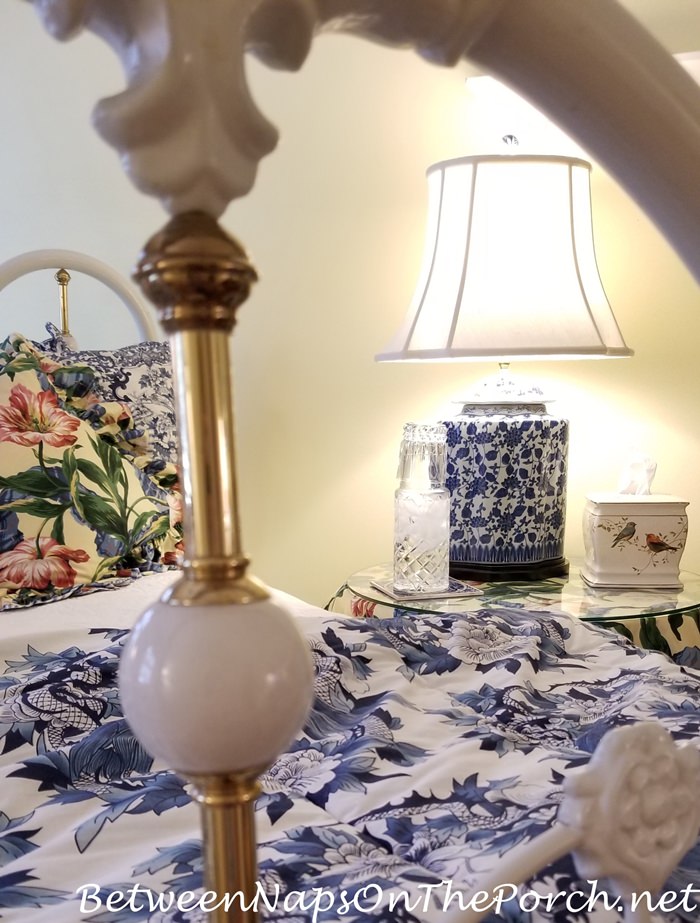 I really could not be more pleased with the quality of this lamp. Lamps of this quality were usually double or triple the cost in the beautiful furniture stores I used to love walking through here in the Atlanta area before they all vanished. This lamp is currently showing out of stock, but here's the link if you wish to check back. I bet it will eventually be back in stock: Blue and White Chinoiserie Lamp.
After I unboxed this lamp, I was so impressed with the quality, I immediately went online to look at their other lamp designs. I love lamps, they truly are the jewelry of a room, and it's so hard to find nice ones these days. (If you love a bit of Chinoiserie design in your decor, you'll find all the lamps they currently have available online here: Elegant Porcelain Lamps.)
I may be changing this room up a bit in the future…still undecided about that. You may remember from my previous post that I've ordered two pretty cabinets for this wall, so I've moved the trunk that was on this wall to another wall in this room.
The trunk is crowding out the bedside table so I'm contemplating placing the bed/headboard against the wall instead of having it in the corner.
I've always loved how it looked in the corner, but if I place it against the wall to the right, I can place the trunk with the dollhouse underneath the window to the right of the secretary. Moving this bed is quite the challenge, but I may slide it over just to see how that looks in this room. Not sure yet–just thinking.
I never like walking into a room and seeing the side view of a bed, but since the door to this room is at one end, if I do move the bed against the right wall, that would place the view more at the foot of the bed when walking in. Hope that makes sense.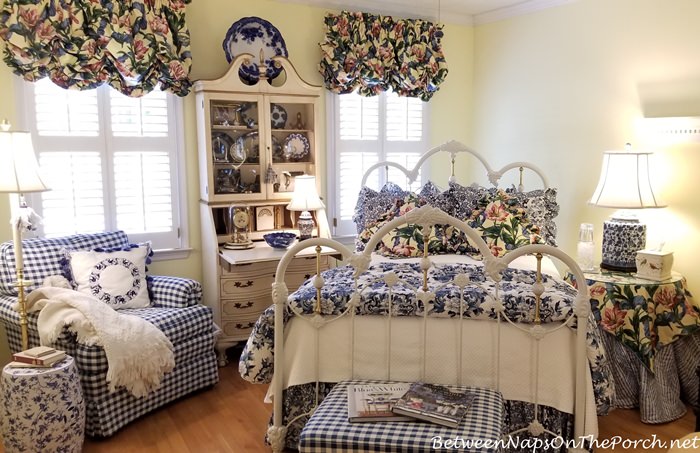 Do you love decorating in blue and white? If so, here are two books I think you'll enjoy. I love both of these! A Passion for Blue & White AND William Yeoward Blue & White.
Hope you enjoyed this little guest-room update. I'm looking forward to all the great Before and Afters linked for this week's Metamorphosis Monday!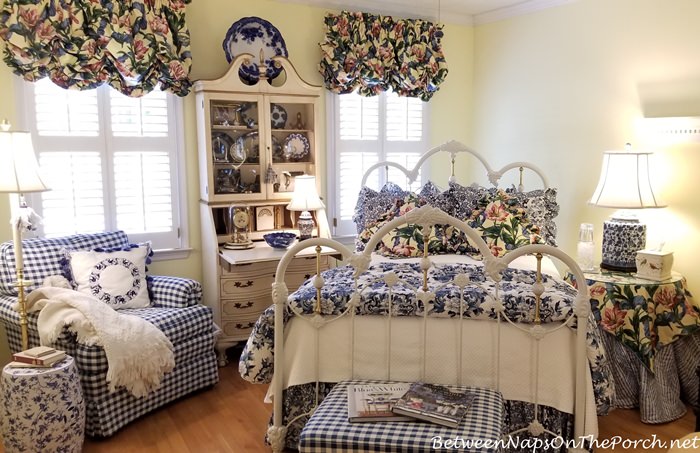 Pssst: Did you know Between Naps On The Porch is on Instagram? You'll find me on Instagram here: Between Naps On The Porch.
Like to know when a new blog post is up and available to read? Subscribe for email updates, it's free and your email will never be shared.
Subscribe for free post updates via email here: Subscribe.
Metamorphosis Monday
Metamorphosis Monday is a party that's all about Before and Afters. Please link up your Before and After projects like DIY projects, room makeovers, craft projects even recipes. Any Before and After is great! Please do not link up Table Settings, save those for our Tablescape Thursday party on Thursday.
If you are participating in Met Monday, please link up using the "permalink" to your MM post and not your general blog address. To get your permalink, click on your post name, then just copy and paste the address that shows up in the address bar at the top of your blog, into the "url" box for InLinkz when prompted.
In order to link up, you'll need to include a link in your MM post back to the party so the other participants will have an opportunity to receive visits from your wonderful blog readers.
This party has ended, click button below for the links to all who participated.
*If a post is sponsored or a product was provided at no charge, it will be stated in post. Some links may be affiliate links and as an Amazon Associate, I may earn from qualifying purchases. *