If you've been following BNOTP for a while, you may remember approximately 3 years ago I set up these cabinets in my garage so I could corral all my dishes into one place instead of having them spread out over several cabinets/closets. My fine china is still stored inside, but these cabinets have worked great for my everyday dinnerware. (See that previous post here: The Great Dish Storage Experiment, Plus Some New Chargers & Napkin Rings. and one more here: Tablescaping Storage for Dishware, Flatware, Napkin Rings and Glassware.)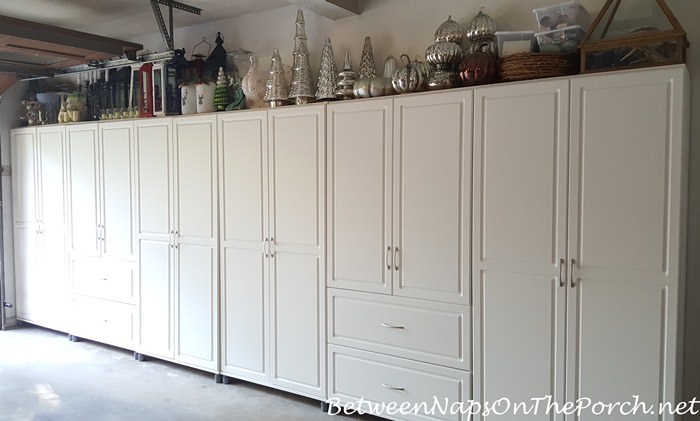 I have so enjoyed this storage area and it gets constant use. You may remember that it was a real hassle getting all the cabinets here because the four cabinets that do not have drawers were being delivered via UPS and the UPS guy complained that they didn't have the right equipment in their warehouse to move boxes of this size around. He was repeatedly, over and over, bringing out boxes that were broken in half…literally broken in half with the side pieces of the cabinets broken in half, as well. The boxes weighed around 138 lbs and the UPS delivery guy said the cut-off for UPS delivery was 140 lbs, if I'm remembering correctly. So the four drawerless cabinets were within 1-2 lbs of UPS's max delivery weight.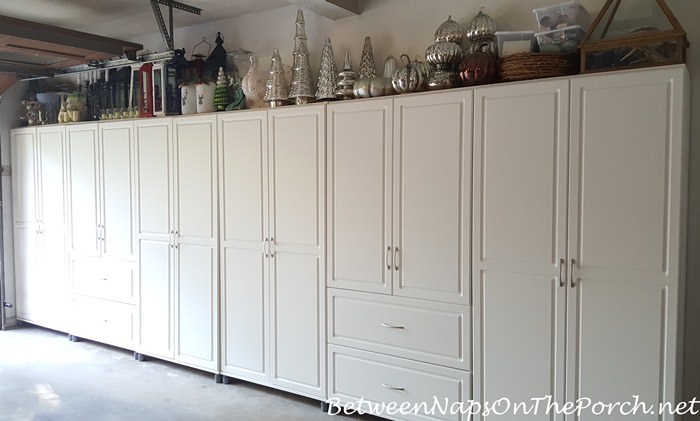 The two cabinets with drawers were being delivered via a big truck with a lift so those always arrived undamaged. I finally managed to get the four "drawerless" cabinets to my home in one piece by ordering them from Wally World online and having them delivered to a nearby Walmart Market where I picked each box up individually and brought it home in the back of my SUV. What a hassle!
Then, you may remember, I had to replace every single shelf in every single cabinet with shelving I purchased from Home Depot because the shelves that came with the cabinets would not hold the 35-pound weight stated in Ameriwood's literature without the shelves bowing/sagging terribly. I literally weighed everything before placing it on the shelves to make sure I didn't exceed the weight limit, and the shelves still bowed. That was an expensive upgrade (over $200) having to buy all new shelving from Home Depot at $7 per shelf. It was worth it in the end because I have very much enjoyed and used this storage! But now a new issue has popped up. Argggh.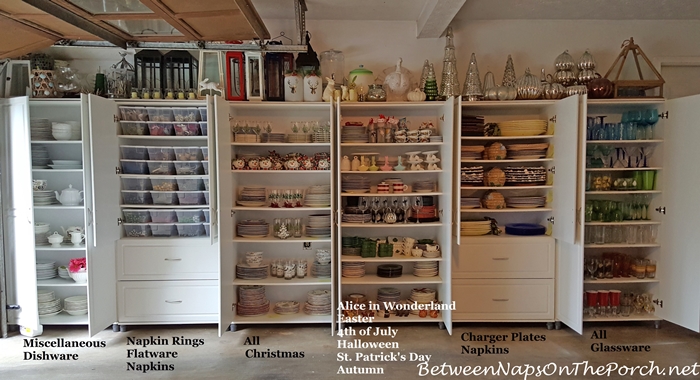 The fronts of the four drawers (on the two cabinets with drawers) have started sagging or separating. It's as if the front surface/covering of the drawer is acting like wallpaper that wasn't applied with enough glue. I have this issue with three of the drawers, you can see the sagging/separating in this photo below.
I have no idea what would be causing this since it only started last year after I had been using the cabinets for around 3 years. It has nothing to do with using them in a garage because these cabinets are designed to be used either inside or outside in garages, as their ad states. Plus, there are plenty of photos showing them in use in garages in all their ads/literature.
Also, my garage doesn't get really, really hot or really, really cold because it is surrounded on 4 of its 6 sides by heated/cooled spaces. The laundry room is directly behind the wall the cabinets are on, the bonus/upstairs living room is above the garage, part of the basement runs underneath the garage and the kitchen is against the front wall of the garage. So it's never freezing cold or extremely hot in the garage. Regardless, these cabinets were designed to be used in garages, anyway.
At one point, I attempted to fix the fronts myself. Since the covering (not sure what else to call it) across the front of each drawer was sagging out and loose, I gently pulled it away from the bottom where it was quite loose and sprayed some spray adhesive inside as best I could. It didn't work, this was the result. 🙁
I contacted Dorel Ameriwood, the company that makes these Systembuild cabinets and they had no idea why the sagging was occurring. I was not impressed with their customer service. They talk in uncaring, robotic tones and had no sympathy for the situation. Even though I sent them the exact link to the cabinets where they were purchased and told them the month/year they were purchased, they robotically informed me that they needed the exact part number from the booklet (from 3 years back) in order to send me the correct part. It took me a few days to locate it (I'm still amazed that I kept it!) and I ordered 4 new drawer fronts. They charged me $100 since the warranty for the cabinets is just one year.
I replaced two of the fronts a few nights ago. It involved completely disassembling the drawers–it's the only way to replace the front.
I haven't replaced the third one, yet. It's not sagging as badly as the other two were so I may just wait on replacing it. I have a fourth drawer front in case the 4th drawer on the bottom starts to sag, too.
If I had to guess, since it's just the four drawer fronts that are sagging/separating, I am guessing that not enough adhesive (or whatever is used in the manufacturing process) was applied to the drawer fronts when they were first constructed because none of the other surfaces of the cabinets is sagging or separating.
If you ever buy these Ameriwood Systembuild cabinets, be sure to keep the booklet that comes with the cabinets FOREVER or Ameriwood will not have a clue what part to ship you when one part of the cabinet fails as the drawers did on my two cabinets. I hope I never have to replace the drawer fronts again, only time will tell.
Other posts mentioned in this post:
The Great Dish Storage Experiment, Plus Some New Chargers & Napkin Rings.
Tablescaping Storage for Dishware, Flatware, Napkin Rings and Glassware.)
*If a post is sponsored or a product was provided at no charge, it will be stated in post. Some links may be affiliate links and as an Amazon Associate, I may earn from qualifying purchases. *