When you were a kid growing up, did you ever hear someone say, "Don't give me that evil eye!" Often it was said jokingly to make you smile or cheer you up right after you've just been told "No" to something you wanted to do. I remember hearing it a lot growing up in the south, and though I knew well what it meant, I never knew its origin.
Wikipedia says:
The evil eye is a curse or legend believed to be cast by a malevolent glare, usually given to a person when they are unaware. Many cultures believe that receiving the evil eye will cause misfortune or injury. Talismans created to protect against the evil eye are also frequently called "evil eyes"
Wikipedia goes on to say that the "evil eye" was mainly a concept in Mediterranean and Asian cultures. Some of the countries where you'll often find charms or decorations believed to have the power to ward off the evil eye are Turkey, Israel, Egypt, Morocco, Spain, Italy Green and a bunch more…too many to list them all.
I'm not the superstitious type, so I don't personally believe someone can do you harm with a dirty look, but I do love some of the fun evil eye bracelets I've been seeing on Instagram and online. Have you noticed them popping up everywhere?
I love necklaces and rings, but I think my favorite kind of jewelry is the bracelet. I love how you can see and enjoy a bracelet all day long as you type on a computer, cook, clean, drive a car or just sit reading or watching a movie. I can see why "stacking" bracelets has become such "a thing" in the last few years. Maybe it's always been a thing and I'm just noticing it more with all these creative combinations I'm seeing on Instagram.
I've been on a bit of jewelry kick lately. I ended up purchasing a couple of new bracelets, so I've been stalking Instagram pics for some cute "stacking" ideas. I've really fallen in love with some of the whimsical Evil Eye bracelets I've been seeing online. I figured EE bracelets wouldn't be that expensive since they are a fun, playful look. Well, what I discovered is that it all depends on how they are made, some are actually made with 18k gold and real diamonds.
After a bit of research, I settled on two Evil Eye bracelets that were within the budget I had in mind. In this photo from Gemma Azzurro online, I went with the second bracelet from the right. I love how it looks paired with the Cartier Love bracelet. Love that contrast of the elegant with the whimsical!
That particular EE bracelet is Sterling Silver with 18k gold plating. It was $105 and I used the code "julyfourth" to get 15% off. So my total cost with shipping was $94.24. Not too bad to satisfy my Evil Eye yearning. lol
Here's one more photo showing the bracelet I ordered–it's in the middle below. It hasn't come yet, should arrive one day next week based on tracking. There are so many pretty EE bracelets on that website, it was hard choosing!
I love it in the aqua green color shown below. I was super tempted by the Evil Eye bracelets with the baguettes. I also love the pink one and it would pair well with another pink bracelet I already own.
Here's another view of the EE bracelets with the baguettes. They are also Sterling Silver with 18k gold plating. I'm not sure what type CZ they use for the baguettes but the bracelets are $75.
By the way, I've never talked or communicated with Gemma Azzurro, just sharing these because I think they are really cute and affordable. Again, I have no idea what they look like in person, will find out soon when my bracelet arrives.
This is the other Evil Eye bracelet that I've ordered. I love how small the little eyes are, I think it will be easy to stack alongside my other bracelets. It's 14k gold but still very affordable. It's available here: Evil Eye Bracelet. You'll find a ton of affordable, handcrafted Evil Eye bracelets here: EE Bracelets. I could spend hours looking through them all!
Here are a few more of the Evil Eye bracelets I've found on Instagram and online. There are so many different styles! This photo below is from the shop: Evileye Supplies. I think they sell both the bracelets and the supplies to make your own. The prices looked really reasonable.
Love these EE bracelets from Kaj Jewellery online. I especially love the clover-shaped one on the far left made from Mother of Pearl, 14K Rose Gold and diamonds. It comes in two sizes and the smallest one is around $582, if I did the conversion to dollars correctly. As much as I love it, I wasn't sure I wanted to spend that much.
Do you think the Evil Eye jewelry will be around for a while? In my research online, it appears it has really seen an increase in popularity over the last 2 years.
Love this Evil Eye bracelet below on the left. This photo is from the Instagram account, Watch_Fashionista, if I'm remembering correctly. I've forgotten now where she found here EE bracelet, but I love the simplicity of it. That's a gorgeous pavé Cartier Love bracelet to the right of it.
Love the idea of pairing something elegant and high-end alongside one of these fun EE bracelets, love the contrast it creates and how it says, "I don't take my jewelry too seriously." If you love watches and beautiful jewelry, check out Watch_Fashionista on Instagram at the link above. Had no idea there were so many gorgeous watches out there!
A few more really beautiful Evil Eye bracelets-jewelry:
Affordable Evil Eye Jewelry A lot of very affordable pieces at this link.
This one is also very reasonably priced…it's available here: Evil Eye Bracelet.
If you prefer higher end pieces, check out these below:
Evil Eye Pendants, Earring and Bracelets (Scroll down the page at that link for these pretty earrings)
Evil Eye Jewelry Scroll down the page at that link for this bracelet. I love the turquoise stones with that little eye charm attached! Turquoise is really seeing an increase in popularity right now. I remember the first turquoise piece I ever purchased, it was when I was in elementary school. We went on a field trip to the local Museum of Arts and Science and after the presentation, we were allowed to visit the gift shop. I purchased a little silver and turquoise ring that day, I think I still have it. Have always loved turquoise…such a beautiful stone!
Ohh, just discovered David Yurman makes an Evil Eye Bracelet and Necklace in both white and yellow gold. You'll find them here: Evil Eye Jewelry by David Yurman.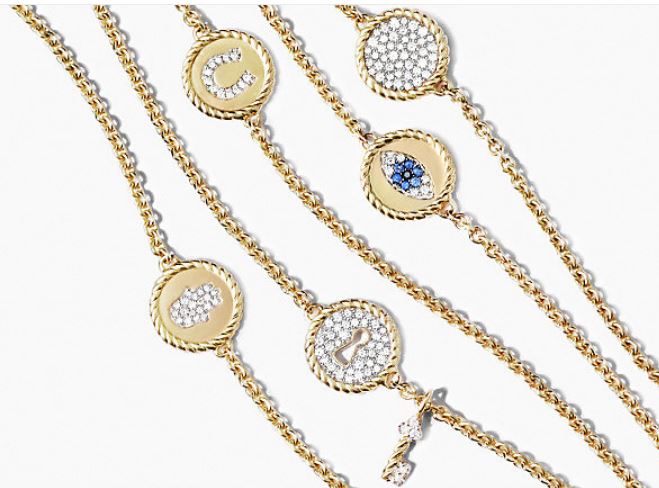 Do you own any Evil Eye jewelry? I'm looking forward to getting the two bracelets I ordered to see how they will stack with my other bracelets.
Have a great weekend, dear Friends! See you on Monday for Metamorphosis Monday! I have a wee DIY transformation to share involving paint. 🙂
*If a post is sponsored or a product was provided at no charge, it will be stated in post. Some links may be affiliate links and as an Amazon Associate, I may earn from qualifying purchases. *