I've never been a serious fashionista, but last summer I began to catch the bug. I had come across a cute fashion blogger named Sarah, who blogs at Classy Girls Wear Pearls. I subscribed to her blog posts and over the past year while reading her blog, I began to learn about so many clothing brands and stores I'd never heard of before.
Finding Sarah's blog has put a bit of a dent in my wallet, but in a good way. My wardrobe definitely needed some expanding, especially in the area of winter clothing. I already had a lot of summer shirts and skirts, but I had very few outfits or clothing options for winter.
What I especially love about Sarah's blog and the brands she features is though many of the clothes she wears are not inexpensive, most are the kind you buy and wear forever. No, seriously…forever! Unless they shrink hanging in the closet, like my clothes occasionally do, (have no idea how that happens!) the styles and brands she blogs about are classic and timeless.
I don't mind spending a little more for a sweater or coat if I know it will be in style forever and I'll probably still be wearing it for years to come. I'd much rather have a few really quality pieces in my closet that I love, than a closet full of clothes I'll be donating or tossing after a season or two when they are faded, worn or no longer in style.
After seeing the coat in several posts, I decided to investigate further. What was it that was so special about this waxed coat from Barbour? And what the heck is a "waxed" coat anyway?
What I learned was pretty amazing. Barbour has been making their waxed coats and jackets in the coastal town of South Shields (England) since 1894. The outer part of the coat is 100% cotton that's been waxed in a special process Barbour does that makes the coat basically waterproof. It's designed to keep you nice and dry in all kinds of rainy/misty weather.
These coats are so well-loved by the folks who wear them, they are often passed down from generation to generation. In fact, it's not unusual for someone to wear their Barbour coat for 20-30 years, then send it into the Barbour factory where they repair or rebuild the coat, (if it's been damaged or torn) taking it back to almost like-new status for future generations.
The coat Sarah and Carly have is the Barbour Beadnell, a style that's more fitted and was designed especially for women. It comes in several colors: black, navy, sage, bark and rustic. There's also a Classic Beadnell that's only available in Olive.
I have a navy, wool peacoat I purchased about 12 years ago from a chain store that's no longer in business. It's fine for non-rainy days but doesn't work well at all for rainy weather. So, I decided to purchase a Beadnell for those rainy days we frequently see in Georgia.
Several stores carry the Beadnell but unfortunately, by this late in the winter most stores were sold out, all except for Orvis. I ordered two (since I had no idea what size I'd need) with plans to return whichever coat didn't fit to a nearby Orvis.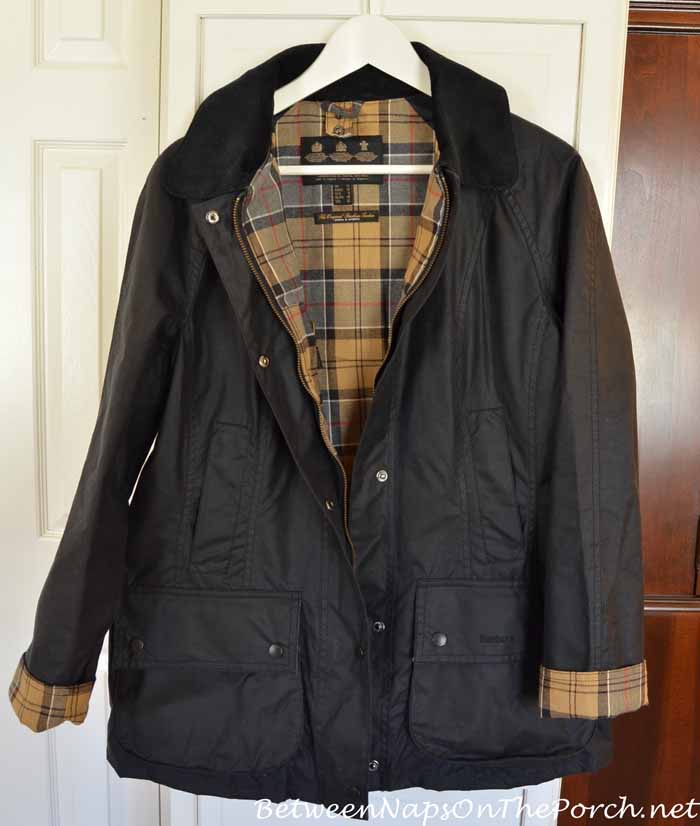 I ordered a size 8 and a size 10. I usually wear either a 6 or an 8 in tops/jackets but I knew I 'd be wearing this coat with multiple layers underneath. Since I'm so cold-natured, I normally wear a thin long-sleeve shirt, followed by a regular shirt, with a sweater over that. So I wanted a coat that would comfortably fit over all those layers. Once it arrived and I tried on both sizes, I decided the 8 was plenty big enough to work over multiple layers and drove to a nearby store to return the other coat.
I thought I knew a lot about this coat until I returned the one I didn't need. The associate who helped me with the return had the opportunity to tour the factory a while back and she shared some fascinating information about the coat.
I had read Barbour coats are all hand-made and are a favorite of the royal family as seen in the pictures below of Queen Elizabeth, Princess Diana and the Duchess of Cambridge-Kate Middleton, all wearing various Barbour coats. Barbour makes a lot of different styles including several quilted options like Kate is wearing below. The Barbour coat Princess Diana is wearing may be the Barbour Bedale. They make a hood that can be purchased separately for the Bedale and the Beadnell, as seen on Princess Diana's coat.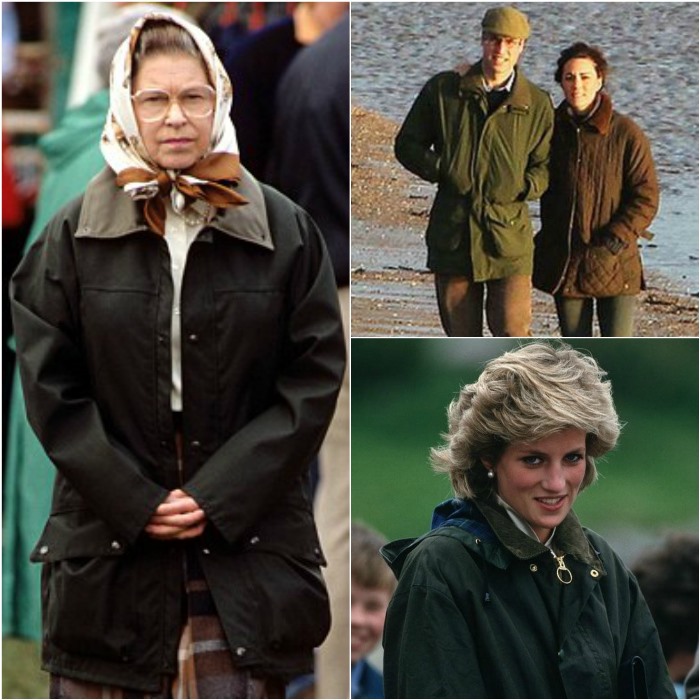 From having read and watched a few videos on YouTube about the making of Barbour coats, I knew that every single feature on the coat is designed the way it is for a reason. This is a coat that's meant to work and work hard.
The collar is made from corduroy so it wicks water away from the face.
The signature round Barbour zipper pull will serve as a bottle opener in a pinch. The associate helping me jokingly said she wore her coat to a party once and she was the most popular person at the party. She got stuck opening bottles all night long. 🙂
I forgot to take a picture of this, but the zipper unzips from both the top and bottom, so when you sit down you can easily unzip the bottom for comfort.
The pockets are designed in a "bellow" style so they can easily carry things you may need while working outdoors or while hunting. I have a huge Otter Box case on my cell phone and it completely fit inside the pocket with room to spare. The flaps keep the rain out.
Oh, almost forgot, see the slit above the pocket? That's a "hand-warming" pocket and there's one on each side of the coat. They are nice and deep and are lined with moleskin, which isn't really the skin of a mole but is instead a cotton fabric that's been sheared to create a short, soft pile on one side. Apparently, it's called moleskin because it's as soft as the skin of a mole. I had to look it up since I'd never heard of moleskin. 🙂 They are super warm!
I love this story: the associate who had an opportunity to tour the factory in person told me that Queen Elizabeth's father, King George VI, liked to hunt. Whenever he returned his jacket to the Barbour factory to have it rewaxed or serviced (they recommend you have it rewaxed every 2-3 years, depending on how much you wear it) the factory would notice it had holes in the bottom of the bellow pockets. Each time they would sew in new bottoms and each time when the jacket came back for rewaxing a few years later, there were more holes cut into the bottoms of the pockets.
It turned out, King George was cutting holes into the bottom of the pockets so when he placed his shells (or whatever he was hunting with) inside the pockets, if the shells were wet from rain, he wanted the water to have a way to drain away. So, he was intentionally cutting holes into the bottoms of the pockets on his Barbour coat. At that point, Barbour started making the pockets with built-in eyelet holes for drainage.
Don't you love that story! Everything on this coat is designed with a purpose. I love the history/heritage behind Barbour jackets!
There's an interior zipper so if you live where it gets super cold, you can add a Barbour quilted vest inside. I may buy one of those at some point. I already wear so many layers during the winter, I'm not sure I'll need it. Of course, if I had a vest, I might not need all those layers. lol
This is one of my favorite features…a big pocket with a zipper closure, hidden just inside the left front panel of the jacket. It's the perfect size to stow away a wallet or passport while traveling.
The associate and I were talking about how attached folks get to their Barbour jackets, which is the reason they keep them forever instead of just buying a new one. She said that often jackets have so many memories from college days, from years of traveling, etc… folks don't want to part with them. I hope to eventually start doing some traveling, so this really resonated with me.
The Barbour Bedale and Beadnell coats are designed with rear vents that un-snap when needed for sitting, horseback riding, etc…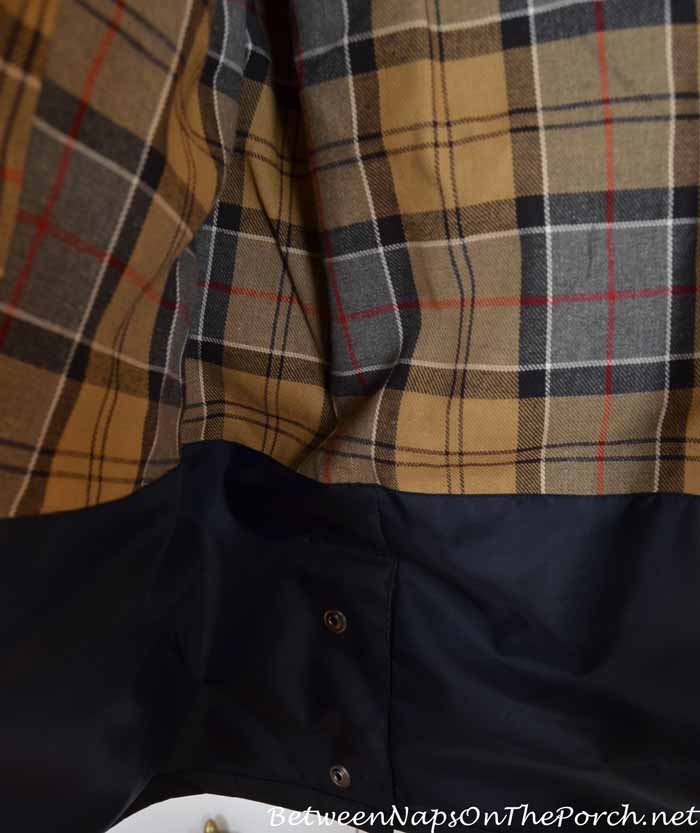 Every few years when you begin to notice your jacket is in need of waxing or reproofing, Orvis is one of the places that will send it back to the factory in South Shields to have it waxed for you for just $38, and the jacket doesn't have to have been purchased there.
There are some videos online of folks waxing their own jackets but from what I've read and heard, it is way better to let the Barbour factory do it. Plus, they can make any necessary repairs while it's there if it's been accidentally torn or damaged somehow.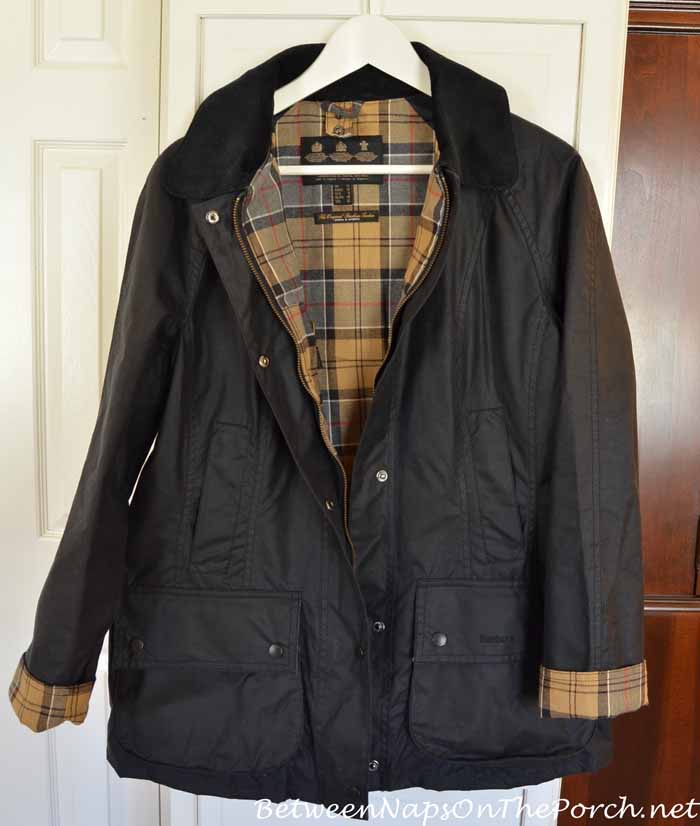 Do you own a Barbour coat or jacket? Does it carry a lot of good memories? Please share about your Barbour!
I'm super excited to have my Beadnell and I'm looking forward to the memories I'll be making in it. I hope a lot of them involve travel since I've never been to Europe or anywhere outside the U.S. I have some serious wanderlust, can you tell?
Barbour Beadnell Jackets can be purchased (currently on sale) here: Barbour Beadnell
If you would like to learn more about Barbour or the Beadnell jacket, check out this video A Jacket For Life. It was so funny hearing all the stuff they find in the pockets of jackets when they are sent back to the factory for repairs/rewaxing.
*If a post is sponsored or a product was provided at no charge, it will be stated in post. Some links may be affiliate links and as an Amazon Associate, I may earn from qualifying purchases. *