Welcome to the 493rd Metamorphosis Monday!
Did you go out of town for the July 4th week? This past week always seems like a big week for travel. This weekend has been a productive one for me as I've worked on a few things I've been putting off for a while. One chore I had been procrastinating on was giving the wicker seating group a good cleaning. I've had the two chairs and the settee (all made of outdoor wicker) cleaned in past when I was having the porch pressured washed, but the swing had never been cleaned since I thought it would involve disconnecting it from the chains so it could be carried out onto one of the decks.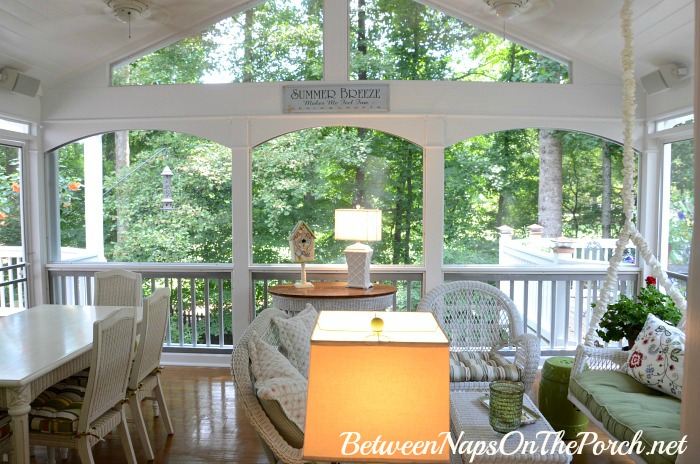 I knew it was dirty but I didn't realize just how dirty until I took a closer look. I rarely sit on the swing, I normally sit in the chair nearest the door that goes into the living room, so I was surprised when I looked closer.
Yuck!
I thought I took photos of the system I came up with for cleaning the swing, but I guess I didn't since I couldn't find them when I sat down to write this post. It really wasn't that complicated. I didn't want to take the time/effort to remove the swing from the chains which would have involved unscrewing bolts that haven't been touched in 10 years.
So to clean the swing, I spread a plastic drop cloth under the swing, along with a thick fabric drop cloth on top. The plastic drop cloth is visible in the photos above. The flooring is outdoor porch flooring, so it can get wet, but this helped prevent having such a big mess to clean up.
Then using a good scrubbing brush and a tub of hot water mixed with Dawn dishwashing detergent, and the occasional spray of Formula 409, I went over the entire swing from top to bottom. The excess water just dripped down onto the drop cloths underneath.
After the swing had been scrubbed from top to bottom, I used THESE cleaning clothes that hold a ton of water, and I rinsed off the entire swing with another tub of clean water.
For the two chairs that were only moderately dirty since they've been pressure washed in the past, I gave them the same scrubbing, then hosed them down in the front yard.
That left just the settee which I picked up and carried out onto one of the decks where I scrubbed it down and rinsed it off with the hose from the backyard. Here's how the swing looked after cleaning. Sooo much better!
Looked as nice as the day I first brought it all home! Clean and shiny! I love this outdoor wicker, it has really held up beautifully!
Here's one of the chairs after cleaning.
As mentioned, all the furniture in the seating area on the porch is all-weather wicker, so it has held up beautifully over the past ten years. I purchased all the furniture in the seating area (except the swing) here: Outdoor Furniture. The dining set where I set so many tables for Tablescape Thursday was purchased there, also.
The coffee table is actual wicker, not "outdoor" wicker. It already had a shabby, peeling-paint look when I purchased it at A Classy Flea ten years ago for $23. Over the years it has continued to age a bit more, but nothing horrible. I like that it's not perfect, love its slightly shabby look.
There was another little project I worked on this past week.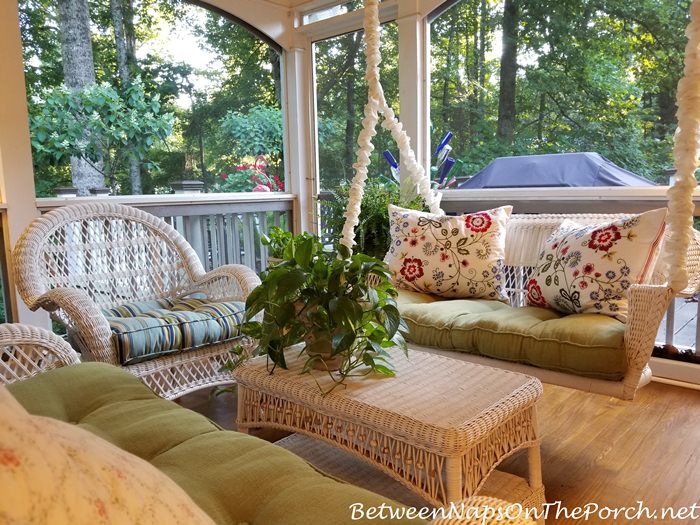 Garden Seat Transformation
I always grow a geranium in this large pot here on the deck. Whenever I use the umbrella in the table…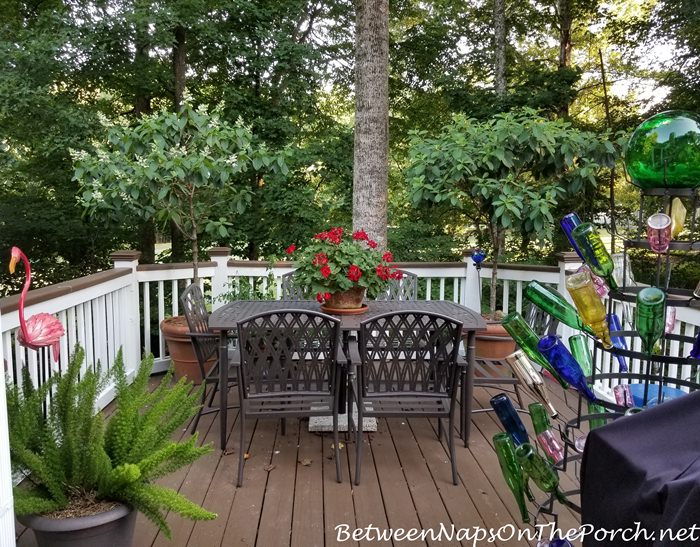 …I move the geranium over to this outdoor garden stool purchased at Home Depot many years ago. The garden seat has held up well, especially considering it has always been outside here on the deck, but over the years it has really faded. I was never that crazy about its original peachy color, once it faded, I liked the color even less.
When choosing a new color to paint it, I kept my umbrella in mind.
Here's how this same umbrella looks when paired with a table. This was taken at my son and daughter-in-law's home earlier in the spring. So what color did I go with for the garden stool? Hold onto your hats, it's pretty bold! lol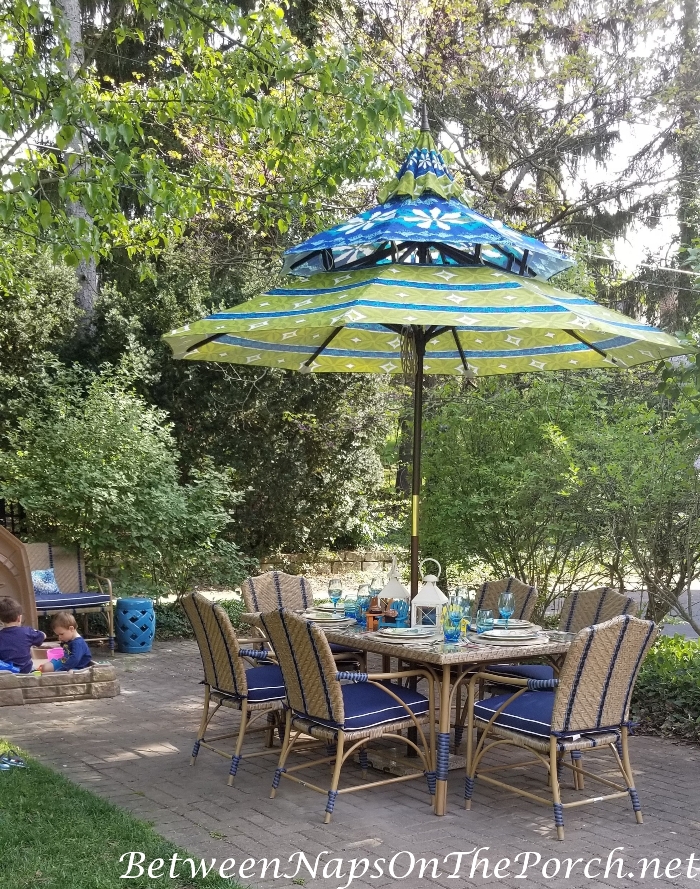 I decided to go with one of the bright blue colors in the umbrella. Quite a change from its previous pale, peachy color, isn't it?
This was the color I chose: Rust-0leum Ultra Cover Paint & Primer in the color, Gloss Deep Blue. I liked that it had the primer already included so I didn't have to first prime before painting.
It took one full can to paint both the inside and outside of the garden seat. I wore a mask while spray painting the seat on a dropcloth in the driveway. Always do your painting outdoors where you will have plenty of ventilation and be sure to wear a mask to be safe.
Whenever I use the umbrella in the table, this is where the geranium will go. I like the contrast of the red flowers with the blue garden stool. I think the blue will look pretty with the umbrella nearby. I've never had the need to put the umbrella out this year. We've been getting daily storms now for what seems like weeks. The plants have really loved it!
Secret Weapon to Growing Healthy Plants with Lots of Blooms
Recently I was asked in a comment how I get my plants to grow so well, especially the ones I winter over in the garage each year.
My secret weapon is Osmocote. Many years ago a friend who is a professional landscaper shared that tip with me. She said Osmocote was what all the landscapers used who did commercial work like the entrances to subdivisions/shopping areas, etc… Since Osmocote is a time-release fertilizer, each time it rains or the flowers are watered via a sprinkler system or by hand, a little Osmocote gets released into the soil. I've been using it ever since she shared that tip and love it!
I got a late start this spring, but when I finally got around to putting the plants out here on the deck, I first watered them with a little Miracle Grow in the water to give them a jumpstart. At the same time, I sprinkled a little Osmocote around each plant, pushing the little pellets into the surface of the soil. I knew I wouldn't need to worry about fertilizing them again for 3-4 months.
Osmocote keeps my flowers blooming all spring and summer…couldn't do without it! You can purchase it here: Osmocote. I buy the large size pictured below because I use it in the garden as well as for my potted plants. It's not the cheapest fertilizer, but then it doesn't take very much and lasts a long, long time, so totally worth it!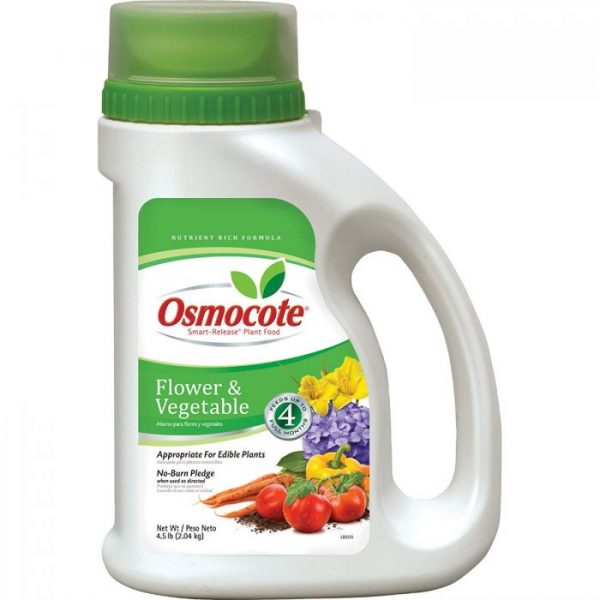 When I brought this Foxtail fern out from the garage this spring, it was looking pretty sad. The center of the plant had died out. I fed it a little Osmocote and it has really perked back up after its long winter hibernation. Over the past month, it has continued to put on new growth. Here's how it looked when I first shared it on June 4th in THIS post.
You can see how much more it has grown and filled out just since that post one month ago. Osmocote is awesome! Can't say enough good things about it!
Looking forward to all the great Before and Afters for this week's Metamorphosis Monday!
I post regularly on Instagram. Follow Between Naps on the Porch on Instagram here: Between Naps On The Porch.
If you enjoyed this post, subscribe for free email updates when a new post is up here: Subscribe for post updates.
Metamorphosis Monday
Metamorphosis Monday is a party that's all about Before and Afters. If you are participating in Met Monday, please link up using the "permalink" to your MM post and not your general blog address. To get your permalink, click on your post name, then just copy and paste the address that shows up in the address bar at the top of your blog, into the "url" box for InLinkz.
In order to link up, you'll need to include a link in your MM post back to the party so the other participants will have an opportunity to receive visits from your wonderful blog readers.
Please observe these few rules:
Please link up Before and After posts that are home, gardening, decorating, crafting, painting, sewing, cooking, fashion or DIY related.
Be sure to include a link back to the party in your post, so your readers will be able to find and visit the other bloggers who are participating.
Do not link up to the party if you're only doing so to promote or sell a product.
To those who are linking up: If you notice a shop or online store linking up to sell products (yes, unfortunately, that does happen) please let me know so I can remove their link and block them from participating in future parties. No one wants to click a link expecting a Before and After, only to find a spam link to an online business/store.
*If a post is sponsored or a product was provided at no charge, it will be stated in post. Some links may be affiliate links and as an Amazon Associate, I may earn from qualifying purchases. *