Welcome to the 664th Tablescape Thursday, a blog party sharing beautiful table settings for all occasions!
The gardenia shrub just outside my garage is blooming up a storm right now. If you've ever smelled gardenias, you know how wonderfully fragrant they are! This shrub almost died during an ice storm a few years back. It has taken a while to recover but it seems to be fully back now, laden down with big, white blossoms just like the old days prior to the ice storm.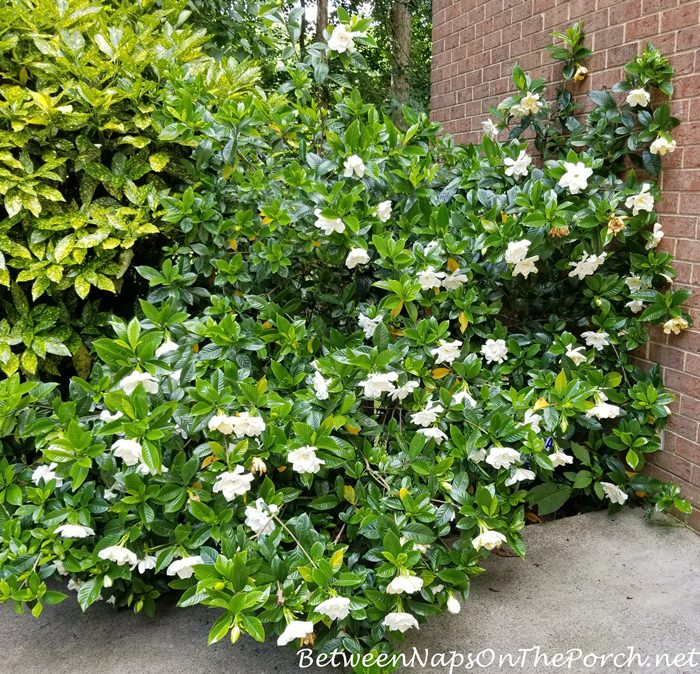 Some of those beautiful blooms found their way to the center of my table setting yesterday.
We had a bit of a heatwave move through this past week, but yesterday wasn't bad at all, or at least it wasn't out on the porch. This morning when I rehung the bird feeders, it was only 61° out on the porch! It felt so good, I threw open both of the doors to the screened porch and let all that cool air pour into the downstairs.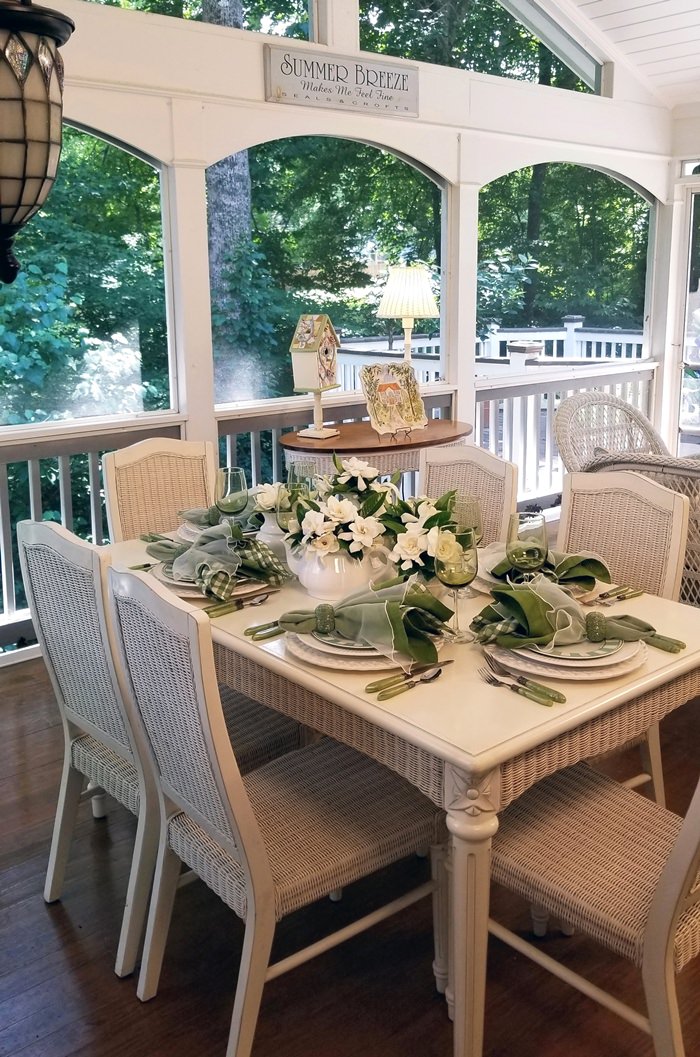 The gardenias put me in a green and white mood yesterday. lol
Green is my favorite color so I always love using it in a table setting.
I wish there was some internet magic I could wield to make the sweet scent of the gardenias come right through the computer and into your home.
With so many blooms, I was able to fill four teapots and one small pitcher. I randomly placed them down the center of the table for a simple but elegant centerpiece.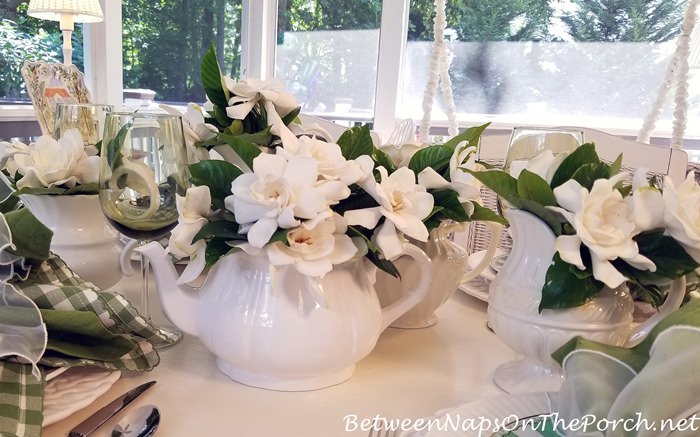 Notice how the forks on the right side of the picture below are nice and straight. Well, they didn't stay that way. I must have bumped them when I removed the napkin from this setting below for a picture of the salad plate.
Going from memory, I think the beaded napkin rings were a find in Old Time Pottery many years ago…or it may have been Pier 1. The glasses are from Dollar Tree–love their colorful glassware! I don't remember where I found the green flatware, probably Marshalls, HomeGoods, or Tuesday Morning. Napkins (plaid and solid-colored) were from Pier 1. Chargers are from Horchow online back in 2008. They always have great chargers! (See their current charger selection here: Charger Plates.)
The pretty salad plates are from Noritake a few years back. A few months ago, Noritake asked me to put together a collection of some of my favorite dish patterns. There are so many I love by Noritake, starting with Colburn, the pattern I chose as a young bride so many years ago. You'll find just a few of my favorites here: Between Naps On The Porch Favorites. I know you'll recognize many of the ones I chose since I've used them in table settings over the years.
I wish this pattern, Carnivale, was still available. It's one of my favorites and came in lavender, pink, blue, and green when it was still available.
There's that crooked flatware! lol
Confession: I LOVE springtime because during spring, the daylight stays with us just a tiny bit longer with each passing day. Summer arrives this Sunday and sadly the daylight will gradually begin to decrease with each passing day. I don't like that, I want it to be springtime forever! Is that too much to ask?! I wish I didn't know that, that the daylight starts to lessen a little each day once summer arrives. Does anyone else ever think about these things are is it just weirdo me? 😉
Looking forward to all the wonderful table settings linked for this week's Tablescape Thursday! ♥
Did you know Between Naps On The Porch is on Instagram? You'll find me on Instagram here: Between Naps On The Porch.
Like to know when a new blog post is up and available to read? Subscribe for email updates, it's free and your email will never be shared. Subscribe for free post updates via email here: Subscribe for Post Updates.
Tablescape Thursday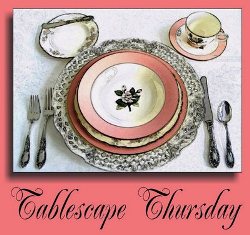 If you are participating in Tablescape Thursday, please be sure to add your permalink below, and not your general blog address. To get your permalink, click on your post name, then copy and paste the address showing in the address bar, into the "url" box when you link up.
You'll need to include a link in your post back to the party to link up and participate. That's so visitors to your blog will be able to find the party and the other Tablescape Thursday participants. Please, don't add your post name/blog name ALL IN CAPS…it tends to create big spaces between the rows of links.
This party has ended, click button below for the links to all who participated.
*If a post is sponsored or a product was provided at no charge, it will be stated in post. Some links may be affiliate links and as an Amazon Associate, I may earn from qualifying purchases. *