I came across something recently that I thought those of you who enjoy following Tablescape Thursday, would enjoy seeing. It's a receipt from January 2008. Over the years as I've created table settings for Tablescape Thursday, the most often asked about item that I use in many of the tables I set are these cream, pierced chargers. (Table setting below can be viewed here: Limelight Hydrangeas in a Summer Table Setting.)
These chargers were purchased back in January 2008 from Horchow online. Back then, I was entertaining a good bit and really enjoyed having friends over for dinner parties. I had not yet started blogging. I don't think I even knew what a blog was at that time. I first learned about blogging from several, lovely ladies/friends I met at the HGTV website, Rate My Space. That was in the spring of 2008, if I'm remembering correctly. I remember it was right around the time the porch was completed and that was in April 2008.
After being prompted to start a blog by the dearhearts I was following at Rate My Space, I created Between Naps On The Porch in August of 2008 so I'd have a troll-free place to share decorating ideas and table settings. The trolls were really getting bad at RMS back then. (Table setting below can be viewed in detail here: Thanksgiving Tablescape.)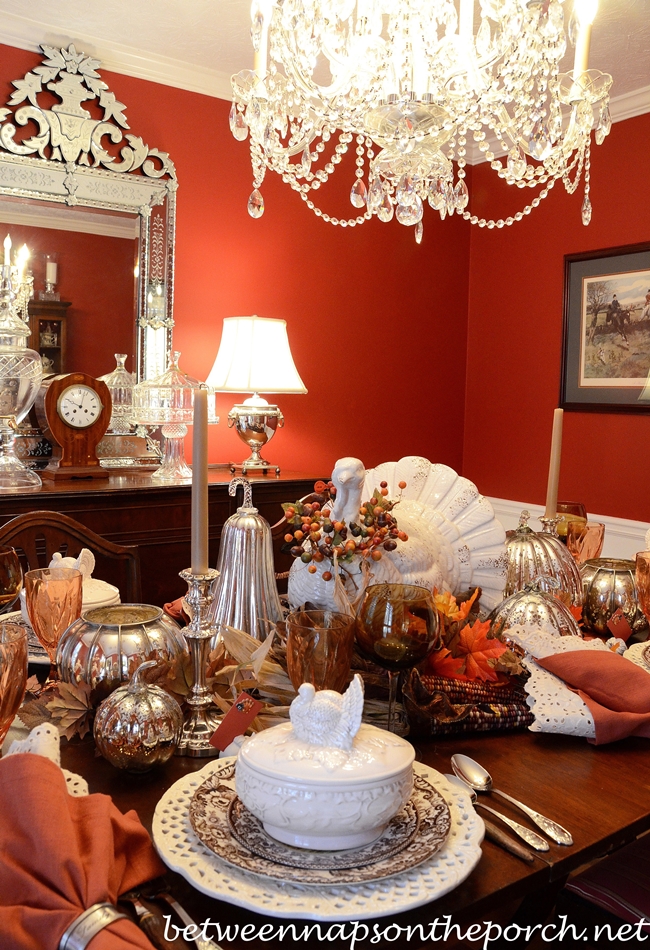 I'm not sure how charger plates came to be on my radar, it was probably something I saw on HGTV, if I had to guess. I used to watch HGTV a lot back in the day. Anyway, whatever the catalyst, after looking over the china/dish patterns I owned back then, I came to the conclusion that a set of chargers in a cream color and a set in white was what I needed for all my table setting needs. I figured between those two colors, I would have enough charger plates to work with all my current china and any future dishware sets I might purchase. (Table setting below can be viewed here: Valentine's Day Table with Vintage Spode Copeland, Tower.)
This was the cream charger I purchased back then. This charger is THE item I am most often asked about in the tables I set for Tablescape Thursday. Usually, BNOTP readers will ask where I found them and the brand name.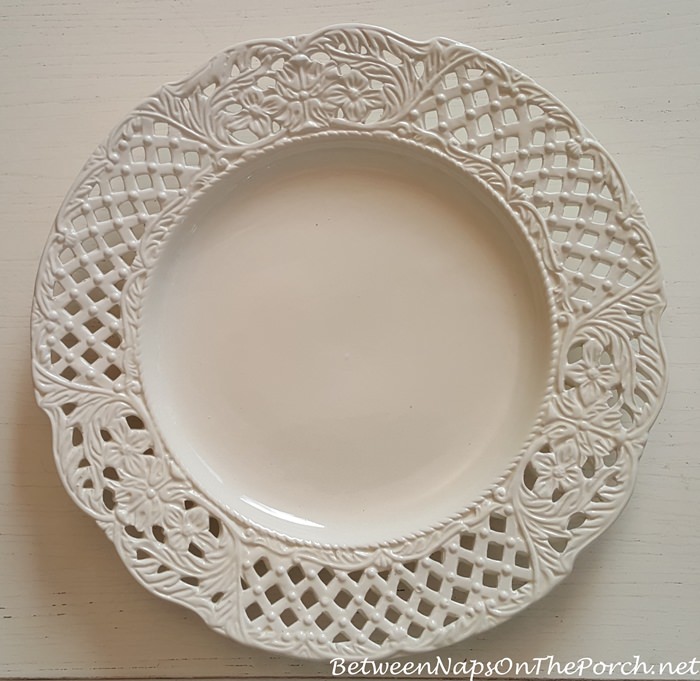 As you can see by this Horchow receipt, they came in sets of four and I purchased 3 sets for a total of 12 chargers. Back then, I always purchased tableware or table-related item (napkins, napkin rings, etc…) in sets of 12 since I normally bought 12-place-settings whenever I bought a new set of dishware/china.
These pierced chargers are not hallmarked/branded and I remember being surprised about that when they came packaged in plain, unmarked, brown boxes. I thought that was kinda odd considering how much they cost, and it made me wonder if they had been created just for Horchow. $269.70 for chargers seemed like a fortune back in 2008, but I really liked them and knew that they would see a lot of use since they would go with so many dish designs.
This was the other charger I purchased at that time–it's the white charger listed on that same receipt. Again, I purchased three (4-piece) sets for a total of 12 chargers.
I use these every bit as often, if not more, than the cream/pierced chargers. (Table setting below can be viewed here: Spring Table Setting.)
They are perfect for when I need a pure white background behind dinnerware with a white base. (Table setting below can be viewed here: Tulips and Butterflies: Entertaining on the Porch with a Spring Tablescape.)
As you can see from the receipt, they were $158.70 for 12. I don't think they are ceramic (they aren't heavy like ceramic) and feel like some type of porcelain or china. So that really was pretty reasonable back then for 12 charger plates. Wish we could find those prices today!
Both Horchow and Neiman Marcus carry some of the most beautiful charger plates you will ever see. I love these nautical/crab chargers that are currently in stock and come in sets of two. Very tempted to get some for use in summer tables! (See those here: Charger Plates.)
I hope this answers your questions about these two chargers. Now when someone asks, I can just refer them to this post for the details. I keep hoping that Horchow will bring the pierced chargers back in stock, they would probably sell out pretty quickly, if they did. I was eyeing some gorgeous blue and white Spode chargers recently at Horchow and they are already gone when I checked today. Maybe everyone is just so happy to be gathering again, they are planning lots of dinner parties.
Summer is here–let's party!
Update: Just discovered the big Talbots sale ends today! You'll find everything that's included in the sale here: Big Talbots Sale.
*If a post is sponsored or a product was provided at no charge, it will be stated in post. Some links may be affiliate links and as an Amazon Associate, I may earn from qualifying purchases. *