Welcome the 511th Metamorphosis Monday! If you've been reading BNTOP for a while, I know you're familiar with this view of my home office.
On the other side of my office, there's a cozy, little reading corner.
Several years ago I hung a Bucket List Travel Map above the chair here in the office, hoping it would keep me inspired and focused on seeing more of our big, beautiful world.
Sick though I was the day I returned from my recent trip, I couldn't wait to scratch off Egypt to see what was hidden underneath.
This is what I found. 🙂 If you would like a fun way to keep up with all your wanderlust adventures, you'll find this map here: Bucket List Travel Map. I started traveling very late in life so there's still a ton of gray on my map, but it's fun seeing it come to life after each trip. I just realized looking at this picture, I need to uncover the rest of the Nile River. lol That's what I get for scraping it off when I was sick…missed clearing off all of the River Nile!
Pssst: These maps also make awesome Christmas gifts. I gave one to a friend many years ago who has traveled extensively and he loved it! He ended up framing his, as I did mine.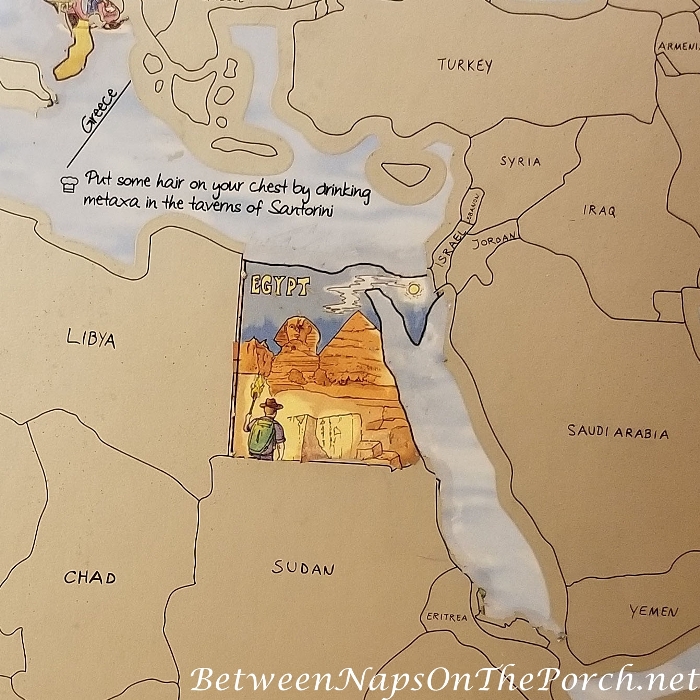 A Great Way to Store Collectibles of Any Kind
A while back I came across a YouTube video that blew me away. Elaine Hau has an incredible handbag collection and she's found a fabulous way to store them all. Though I don't have that many handbags, I thought this was an incredible way to store ANYTHING a person may wish to collect. Plus, the cost to create this beautiful lit storage is actually pretty reasonable!
Elaine purchased all her storage cabinets from Ikea, as well as the glass shelves and lighting she used inside to light up her collection. I don't have enough handbags to fill even one cabinet, but I was so inspired by her ingenuity in designing this brilliant storage system, I jotted down notes on how she created it, in case I ever want to create this storage system for something I collect.
This system could be used to store or display many types of collectibles, not just handbags, but I truly do love how this works for a handbag collection. Often handbags get stored away in dust bags in the back of closets where they are soon forgotten. Not only is this storage beautiful to view for us handbag lovers, it's also a great way to remember what bags you own so they don't remain hidden away in a closet, never used. Again, this storage system could be used for almost any type of collectible, not just handbags.
If you would love to put together a similar storage system for something you collect, here's the information I was able to gather from Elaine's video, which can be found here: Elaine Hau's video on Handbag Storage.
Note: Elaine offers English Subtitles on many of her videos, but I've had a hard time figuring out how to get them to work. YouTube doesn't make it easy! I can't remember now if I ever did get them to work on her video I've linked above, but I'm pretty sure I was able to figure out what products she used to create this storage system.
As best I can tell, here are the products I think Elaine purchased from Ikea to create her handbag storage system:
The cabinets are Billy Bookcases from Ikea with Ikea's Oxberg glass doors which are purchased separately.
Elaine replaced all of the shelves that came with the Billy Bookcase cabinets with glass shelves, except for the fixed shelf that's necessary for stability. The way Ikea shelves are designed, when you assemble them there's always a "fixed" shelf midway down the bookshelf for stability. All the other shelves are removable/adjustable, except for that one fixed shelf.
I believe the glass shelves she used are known as the "Ikea Billy Extra Book Glass Shelf" on the Ikea website. It appears she used 3 glass shelves above and 2 below the fixed center shelf, for a total of 5 glass shelves per cabinet.
Elaine appears to have used 4 of Ikea's Omlopp Puck Lights in each cabinet, attaching two underneath the top part of the cabinet and two underneath the fixed shelf midway down. That may require a bit of drilling to run the wiring, but I'm sure it's something that can be easily figured out during the assembly process.
Two cords plugged into a power strip turns everything on with the flip of a button on the powerstrip. Love that! It appears she used Ikea's Ansluta Power Supply Cord and the Ikea Ansluta Electronic Transformer for this.
I think she found the crystal knobs she has on some of the doors at Walmart online. They appear to be the "GlideRite Hardware Crystal Knob" on the Walmart website.
I just had to share this storage system because I think it's a genius idea and truly beautiful to view, plus it's much less expensive than hiring someone to come in and build custom bookshelves! Again, you'll find Elaine's video of this storage system here: Elaine Hau's Handbag Storage Video.
Here's a breakdown of the costs below using the products I detailed above. Of course, if you didn't add the glass shelves or the lighting, it would cost even less. The cost without the glass shelves and lighting would be approximately $477, before tax. I do love how the glass shelves allow the lighting to shine down through all the shelves. I think the lighting adds so much to this display, like turning this storage into a wall of art!
If you created this storage, what would you store there? It could even be used for shoes by adding additional shelves, something you can easily do with the Billy Bookshelf.
Looking forward to all the fabulous Before and Afters linked for this week's Metamorphosis Monday!
Pssst: I post almost daily to Instagram. Follow Between Naps on the Porch on Instagram here: Between Naps On The Porch.
If you enjoyed this post, subscribe for free email updates when a new post is up here: Subscribe for post updates.
Tip: If possible, please do not use a Hotmail e-mail address to subscribe. Hotmail's servers are notorious for filtering out perfectly good emails.
Metamorphosis Monday
Metamorphosis Monday is a party that's all about Before and Afters. If you are participating in Met Monday, please link up using the "permalink" to your MM post and not your general blog address. To get your permalink, click on your post name, then just copy and paste the address that shows up in the address bar at the top of your blog, into the "url" box for InLinkz when prompted.
In order to link up, you'll need to include a link in your MM post back to the party so the other participants will have an opportunity to receive visits from your wonderful blog readers.
Feel free to link up Before and After posts that are home, gardening, decorating, crafting, painting, sewing, cooking, fashion, travel or DIY related.
Be sure to include a link back to the party in your post, so your readers will be able to find and visit the other bloggers who are participating.
Do not link up to the party if you're only doing so to promote or sell a product.
To those linking up, if you notice a shop or online store linking up to sell products (yes, unfortunately, that happens) please let me know so I can remove their link and block them from participating in future parties. No one wants to visit a link expecting a Before and After, only to find a spam link to an online business/store.
*If a post is sponsored or a product was provided at no charge, it will be stated in post. Some links may be affiliate links and as an Amazon Associate, I may earn from qualifying purchases. *