I've been working on a lot of little small projects around the house lately. One of the projects I have going right now involves the chandelier in my dining room. In a previous post, I mentioned there was a little story that goes with this piece so I thought today might be a good day to share it. Do you like little stories? If so, grab a cup of coffee or a glass a wine and I'll share my chandelier tale.
Many years ago I worked as a sales person with a shutter company that made plantation shutters. I worked there for five years and absolutely loved it. The owners were super nice folks. Each year they set up a booth at the annual home show held in Atlanta at the World Congress Center. As part of the team I would man the booth for around four hours on my designated day.
Once my shift was over, I would always make a beeline to visit one particular booth at the home show. The booth wasn't very large and didn't contain a lot of product but what it did have, sparkled with a gorgeous fire. It contained a handful of beautiful crystal chandeliers. I oohed and aahed and dreamed of the day I could buy one for my dining room. (Tablescape available here: Thanksgiving Tablescape with Nature Themed, Tiered Centerpiece)

There was one particular chandelier that was always my fave. If I had dreamed up or designed the perfect chandelier in my head, that chandelier would have been it. It was way out of my price range, priced right around a $1,000 and this was around 15 years ago. Not sure what that would be in today's dollars.
I thought about that chandelier a lot and each year when the home show came back, I would stop by to make sure it was still available. All the chandeliers in the booth were custom made by the man who ran the booth. He could make whatever kind of chandelier a person wanted. (Tablescape available here: Thanksgiving Tablescape)
After several years of working at the home show and stalking my fave chandelier, the time finally came when I was financially ready to buy it. I searched for the chandelier booth, praying the chandelier guy would be there. I always had a fear in the back of mind that by the time I could afford my chandelier, he would no longer be around and I would have missed my chance. Happy Day! He was there and so was my chandelier.
We talked and I found out he was actually a farmer from a small town in Georgia. During the winter when he didn't have a lot going on, he created beautiful chandeliers using the very best crystal. It seemed kind of odd, buying a crystal chandelier from a farmer, but I just had a gut feeling he was telling me the truth. The sparkle, the fire, just everything about them spoke of quality.
He told me the story about how he came to design the chandelier I loved so much. He said a customer came to him once with two pictures torn from a magazine. She told him she liked THIS feature from one chandelier and THAT feature from the other chandelier. She asked him to build a chandelier incorporating both, and he did. I could just kiss the woman who did that because it was perfect. He told me the chandelier I loved was his number 1 selling chandelier.
He gave me a little discount, can't remember now how much or why…may have been a discount for ordering at the show. I gulped hard and wrote a check for $1,041.00 which included tax and delivery of the chandelier to my home, as well as installation. A few weeks later, I got a call. The chandelier was ready. (Tablescape can be viewed here: Christmas Tablescape with a Colonial Williamsburg Apple Lemon Tree Centerpiece.)
I'm not sure what I expected, did I expect him to come walking down my walkway carrying a big ole chandelier in his arms? He arrived with several boxes and inside each box were the parts to the chandelier, all carefully stowed away for the trip. First he hung (hanged?) the body of the chandelier and then carefully assembled the rest of it here in the dining room. It took him an hour or so to hang it and to build it. It was exciting watching it fill out and come to life and it didn't disappoint. It was just as pretty in the dining room as it had been at the home show. (Thanksgiving tablescape can be viewed here: Thanksgiving Tablescape with Spode Woodland)
Buy One Spectacular "to-die-for" Piece for Each Room of Your Home
One of my little decorating philosophies, if you can call it that, is to have at least one really fabulous, "I'd-marry-it-if-I-could" piece in each room of your home. If you have at least one really beautiful, quality piece in each room of your home, no matter what else you use in that room, it will elevate the whole space. That's something I slowly learned as I've decorated the rooms in my own home.
In my home you may find a coffee table from a local antique/thrift store that only costs $92, sitting right along side a quality piece by Baker or Council Craftsman. I think those kinds of rooms are the most interesting and they have a sense of history inherent in them.
Shop the antique and thrift stores and give your rooms a soul by incorporating those less-than-perfect, time worn pieces. If you find a piece you love but it's out of your budget, ask the shop owner if you can pay for it over a few months. I did that with the dresser in my guest room and the grandfather clock in the entry. They are normally very accommodating and happy to work something out. You'll cherish those pieces forever and they will become family heirlooms passed down from generation to generation. (Stepping off soapbox, now.)
Back to my chandelier project…over the years the candle covers on my dining room chandelier have gradually darkened. It didn't really bother me that much since it was a natural aging process and didn't look that bad. But, (you knew there was a but coming)
Beeswax Candle Covers:
A few months ago I was reading the blog, Things That Inspire and Holly mentioned two things she really loves incorporating into her chandeliers: wax candle covers and silk-wrapped bulbs. Have you heard of those? I had seen wax candle covers but never really knew what they were. I had never heard of silk wrapped bulbs.
I purchased a wax candle cover from a local Atlanta store on Saturday, just to see how it would look on my chandelier. We knew it would need to be cut down a tad since my candle covers are around 4 3/4 inches tall and the wax one is 5 inches tall. It's a bit too "fat" but it was the only size they had.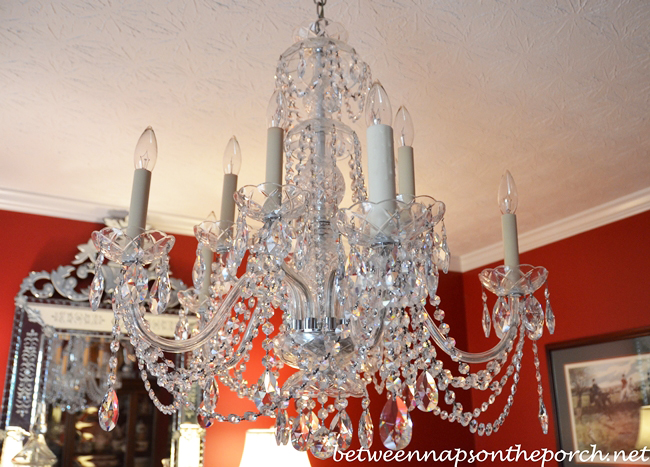 Do you see it there on the right, with the little drippy things running down the sides? Original chandeliers were lit by candle-light and that's what the wax candle covers are simulating. Wax covers can vary in price. Online they are pretty reasonably priced as compared to buying them in a lamp store.
Resin Candle Covers:
It also turns out, they make resin candle covers that look very much like the wax ones. Here's a photo of one below. The owner of a lighting/antique store I sometimes visit told me he absolutely will NOT sell the actual wax covers because they are always trouble. He said dust sticks to them and they are impossible to clean. I know how dusty my chandelier gets, so I can't imagine trying to get dust off a beeswax candle cover. Plus, they can melt from the heat of the bulbs. I noticed online it said you can only use a 25 watt bulb with them. That would probably be the deal breaker for me…more on that in a sec.
My antique/lighting store friend also pointed out, the "drips" are more prominent on the resin candle covers so when you're standing looking up at a chandelier, you can see them much better than you can on the beewax candle covers. He was right! He had several antique chandeliers on display in his shop with the resin candle covers and they were beautiful! So, I decided to go with the resin covers and not the wax ones. They should be ordered this week so hopefully I'll have them before too long. They also carry them in a darker shades for bronze/brass chandeliers. Lots of choices.
If you love the look of the resin covers, I found a place online that will cut them to the exact height you need. I purchased mine at Lumiere Candles.
Update: Lumiere Candles saw a post I had written about the resin covers I ordered from them for my bedroom chandelier. You can read that post here: Resin Candle Covers and Silk Wrapped Bulbs for the Bedroom Chandelier. They e-mailed to say, when ordering from them, if you use the code BNOTP at checkout, you'll receive 10% off your order. And just so you know, I'm not affiliated with Lumiere Candles and do not receive anything in compensation from them. Just passing along that discount since they were nice enough to offer it.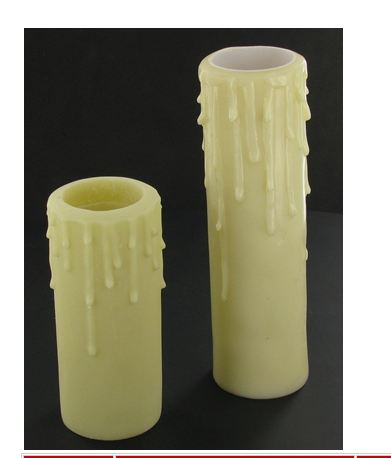 Satin or Silk-Wrapped or Spun-Thread Bulbs:
Now, about those silk or satin-wrapped bulbs, also known as spun-thread bulbs…have you ever heard of them? They are bulbs covered with a a satin finish or silk-like thread made from silicone thread that's been spun around the bulb. It gives the bulbs a warm glow like that of an old gas light. Here's how Satco describes the satin-wrapped bulbs at this site:
"Satin string bulbs simulate the feel and charm of an old style gas light. The unique, silk-like threading wraps around the bulb and distorts the image of the filament into an elongated glow. Perfect for use in outdoor lanterns and exposed bulb chandeliers."
They are a bit pricey, but I've been told they last for a long time. I ordered 15 of those, 10 plus 5 spares. I hope I didn't order the wrong wattage. I read the thread really tones down the light and since the chandelier is on a dimmer, I ordered them in the 60 watt size. It was going to be either that or the 40 watt size and my antique/lighting store friend suggested going with 60 watt bulbs. Another reason I don't think I'd be to happy with beeswax candle covers…they recommend you only use 25 watt bulbs and 25 watt satin-wrapped bulbs would be way too dim.
Chandelier in Dining Room of Historic Brumby Hall:
Speaking of chandeliers, check out this gorgeous specimen in historic Brumby Hall. Wonder if those are satin wrapped bulbs? The tips are almost always exposed on the satin wrapped bulbs and they sort of look that way on this chandelier. Ummm, I'll be paying more attention now when I'm on home tours, watching for the satin wrapped bulbs and wax candle covers. (Tour Brumby Hall in this post: Elegant Dining in Brumby Hall)
Do you use wax candle covers or the resin candle covers? How about the satin-wrapped bulbs? If not, do you think you'll try them? I hope I like mine. If not, I can always go back.
*If a post is sponsored or a product was provided at no charge, it will be stated in post. Some links may be affiliate links and as an Amazon Associate, I may earn from qualifying purchases. *