Back in September, I was on an all-out mirror search for the office. I wanted a mirror to go above the chest in my little reading corner, something that would reflect the light coming in through the windows .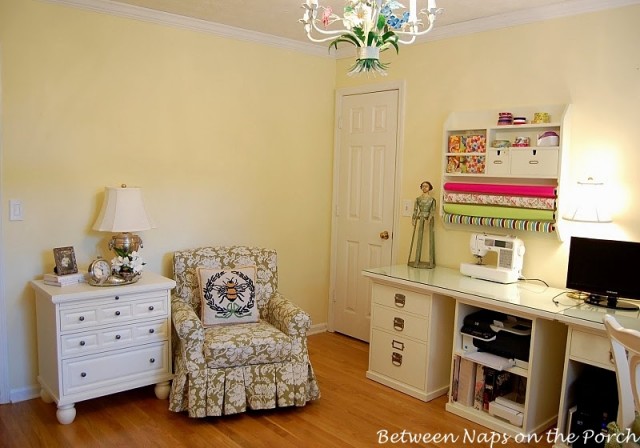 I found this silver one at Marshalls for just $20 and brought it home to try it out. You may remember it from THIS previous Metamorphosis Monday.
It looked pretty good except for one thing. It was too wide. It wasn't much too wide, just barely, but I never like for a mirror to be wider than the furniture beneath it. The chest is 28″ wide and the mirror was 29″.

For a while I left it resting on the chest, not wanting to fully commit. Eventually I hung it, but I continued to keep a look out for a mirror that would be a better fit for the chest.

Yesterday, I stopped by Marshalls and while there I spotted a potential candidate. After giving it some thought last night, this morning I decided to go back and get it.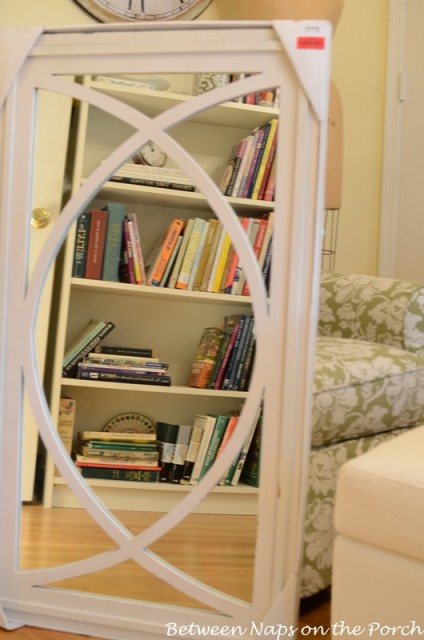 It was on sale for $43. I peeked under the tag once I got it home and discovered it had originally been priced at $99.99, then $59.99.
Time to say goodbye to the "too wide" silver mirror.
The old mirror had been hanging from two 20# Ooks, meaning they would support 40 pounds total. You may remember, Ooks made it into my "Top 20 Products I Can't Live Without" post back in February. Love 'em!
I weighed myself (ugh) and then I weighed me with the mirror (really ugh). The mirror weighed 20 pounds, I'm not sharing what I weighed! 😉 So the two, 20# Ooks were going to be more than enough support for the new mirror. It sure felt a lot heavier than 20 pounds when I was lugging it up the stairs from the car!
The new mirror is 4o inches tall which is 4 inches taller than the old one. I like that. Best of all, the new mirror isn't wider than the chest below it. I think it's a keeper.
I'm still looking for a non-brass lamp for this spot. I like brass lamps but brass just doesn't look that great with the oil-rubbed bronze knobs on the chest. (Info about the chest can be found in this post: Another Piece of the Puzzle.) Update: Found a new lamp for the chest. Check it out in this post: A New Lamp for the Office
I like the silver lamp you saw in one of the pics above, but it lives in the dining room with its sister (see below) and needs to stay there. I'll find the right lamp eventually…just have to be patient.
Here's a mouse-over of the change from the old mirror to the new one. Just run your mouse/cursor on and off of the picture below to see the "Before and After."
Just when you think I can't do another thing to this room, I think of something else. 😉 I hung the mirror just a few inches above the chest. I stacked a few books on the chest and placed the mirror atop the books, adding and taking books of various sizes away until I had it at a height I liked. Then I marked the wall where the hooks touched the wall on back. I don't know if there are any "official" rules about how high a mirror should be above a chest/furniture, but I always like mine low enough to reflect some of the items on the furniture below. This one is hanging approximately 3 inches above the chest and it "feels" right in person.
I've been keeping an eye out for an inexpensive garden stool to place over just in front of the bookshelves in this room.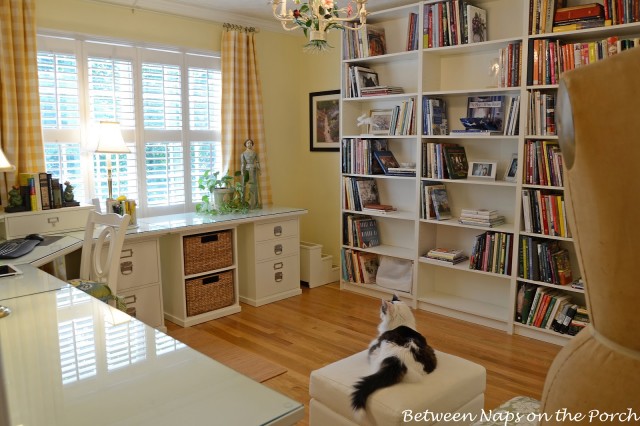 Something like the green one I have here on the porch would work. And the price was right at just $30. I tried the porch garden seat up in the office with a little stack of books on top. It looked great there, but I like it too much on the porch to bring it up to the office. At one time I tried a very small table there, but it just felt like it crowded up the office too much. I think a garden seat would be a nice little accent…casually placed. It's those little tweaks that are so much fun. Right?

What are you tweaking in your home these days? Umm, I think I need to lower the clock a tad. Pictures see what we don't see in person. Ever notice that?
*If a post is sponsored or a product was provided at no charge, it will be stated in post. Some links may be affiliate links and as an Amazon Associate, I may earn from qualifying purchases. *