One of my favorite houses is this wonderful home that was once located on North Carolina's Inner Banks (River Dunes) in Oriental, North Carolina. It was designed by Historical Concepts, an Atlanta Architecture and Design firm, to commemorate the 10th anniversary of Coastal Living magazine.
Historical Concepts was inspired by nineteenth century coastal design and envisioned a home that could have belonged to a sea captain back in the day. They named the home, Captain's Watch, and it had everything you could ever want in a home, including lots of great porches. It even had a crow's nest up top to take in the great views.
Sadly, this happened. Lightening got it, or at least that's what they think happened since there was a lot of lightening in the area at the time. 🙁 It burned all the way to the ground in about 30 minutes.
Source: Compass News360
I wish someone would wave a fist in the face of Mother Nature and rebuild it, if not where it stood, at least in a new place.
Here's how the entry looked. The beautiful interiors were created by designer, Tammy Connor.
Love the striped runner going up the main staircase.
The information at Historical Concepts (where these photos were found) states it has wood walls and custom millwork. The cabinetry is painted in a sailcloth white. I love the softness of that color, so pretty!
Beautiful living room!
The color palette of the home's interior, furnishings and art was drawn from the colors found in the ocean, wetlands and coastal vegetation.
Notice the front of the refrigerator…very unique.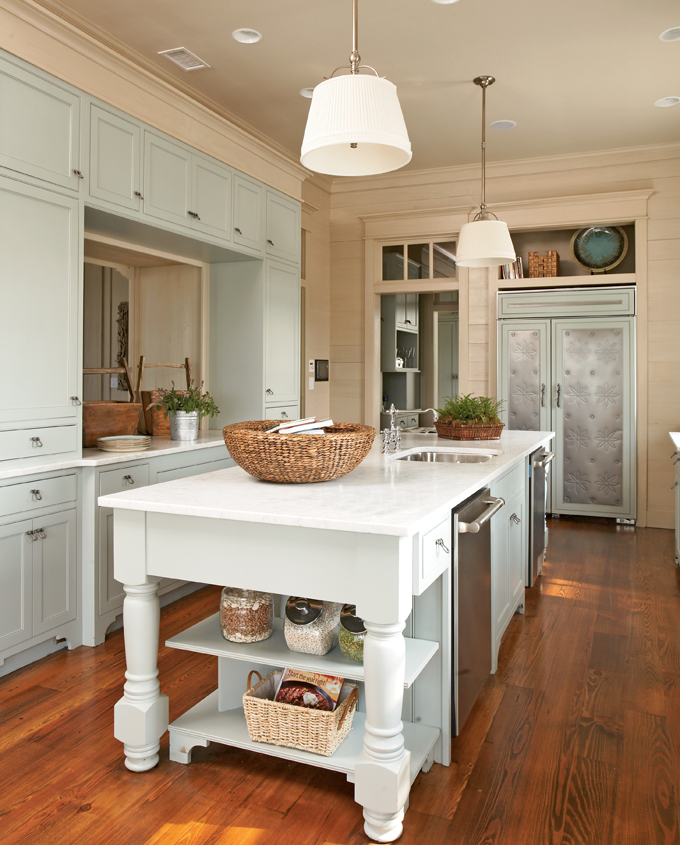 I think this is the breakfast area since the home has a separate dining room.
The dining room had a wonderful coffered ceiling. Notice the shelf built near the ceiling for displaying pretty bottles.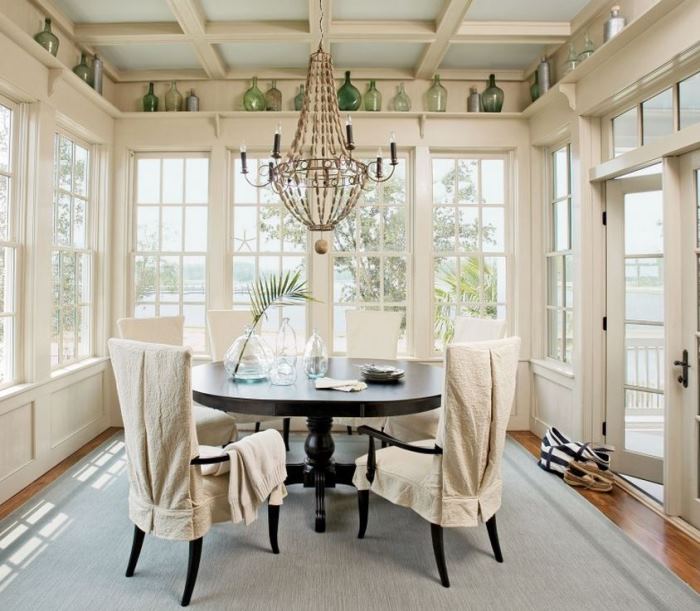 The dining room leads out onto one of several porches.
Here's a fun idea for beds. You could gently sway yourself to sleep at night.
See that third level with the dormer windows…let's check it out.
It's almost like another little apartment. Notice the amazing floor painted with nautical stripes and a compass design.
It has a small living room area and a mini kitchen with a place to eat. Notice the stairs there on the right, those lead up to the Crow's Nest.
The bedroom on this level was decorated in a nautical motif with sleeping quarters for two.
Great design in vibrant red, white and blue.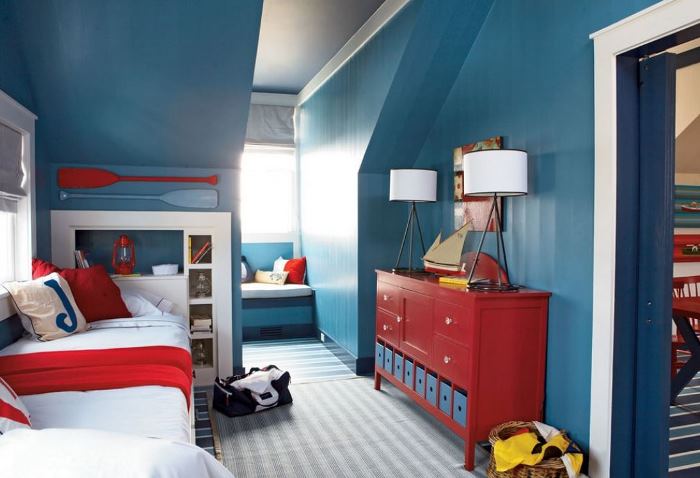 See the screened porch there on the left?
It had a fireplace for chilly evenings.
The ceiling on the upper porch (2nd story) was painted a soft haint blue.
Hard to believe this house is no more. Hope someone rebuilds it some day.
You can read more about this beautiful home at Historical Concepts where these photos were found.
Tour another wonderful home designed by Historical Concepts here: Beach Cottage Overflowing with Charm
*If a post is sponsored or a product was provided at no charge, it will be stated in post. Some links may be affiliate links and as an Amazon Associate, I may earn from qualifying purchases. *