Recently I mentioned that I was going to start antiquing more. I used to go antiquing every single weekend, but as my home filled up with lovely finds, I started slacking off. I have really missed it so I'm enjoying getting back out on these beautiful, sunny days and seeing what treasures I can find.
This weekend I decided to visit the Queen of Hearts antique shop that's about 30 to 40 minutes away from me. The one we visited recently in another post is much closer. As I walked in, I noticed the booth that always has a lot of beautiful vintage/antique china and transferware was still there.
The prices in this booth are always higher than I would want to pay, but it made me happy to see that it is still here.
Look at all that glorious transferware! ♥♥♥ I didn't dare walk into the booth, was too afraid I would bump into something and start a cascade of broken transferware!
Continuing my shopping, I came across these beautiful blue and silver eggs.
They appear to be metal, they were huge (5″) and really pretty. $11.50 each.
Was very tempted by these green, white, and brown napkins decorated with greenery and cute bunnies.
I saw two of these guys while shopping, they were in different booths. Do you recognize him?
I purchased one many years ago in an antique store and had it made into a lamp by a lamp shop that is sadly no longer in business.
Then later, Mary, a lovely BNOTP reader, decided to do the same thing when she came across this cute dog. (Read that post here: Make a Lamp from a Treasured Piece. See how Vikki made a lamp from a beautiful vase in this post: Make a Lamp From a Beautiful Vase or Figurine.)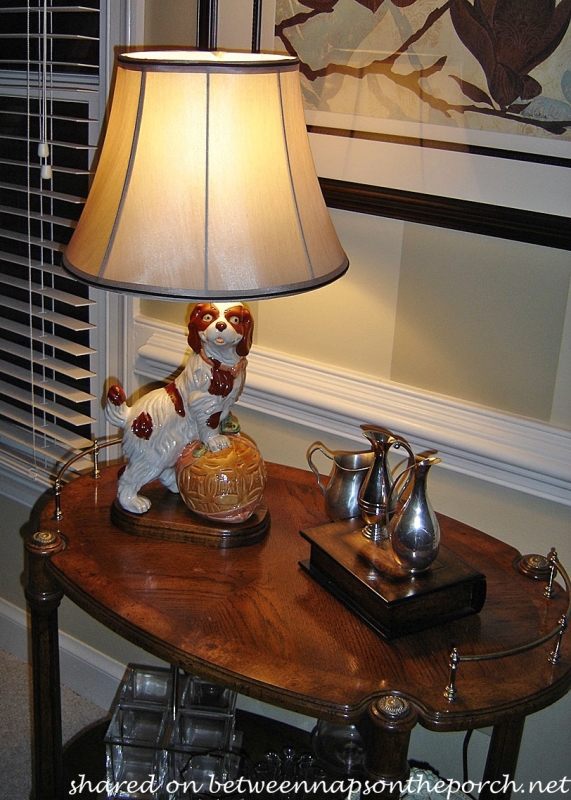 Lots of pretty chandeliers!
In the room with the chandeliers, I came across this beautiful mirror. Wouldn't it be great above a fireplace or sideboard? It was priced at $699.
This velvet upholstered bench was very pretty, I could see it at the foot of a bed. It was $399.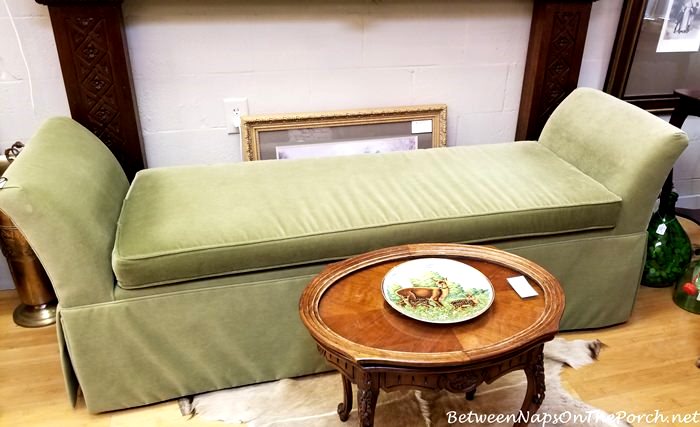 What a stunning chest! The tag said, "Beautiful three-drawer marquetry chest with bronze mounts, painted porcelain pulls, and specimen marble made by Hilda Flack." $2950.00.
The tag attached to this piece said, "Lovely vintage French Louis XV style, two-over-two Bombe Chest with bronze mounts and marble top." It was priced at $1,195.
This Chippendale Wingback chair tempted me because I think the colors would work perfectly in my bedroom with both my winter and summer bedding. $399
Saw lots of beautiful antique clocks!
Came across this sweet St. Patrick's Day garland: $29.99.
This was probably my favorite booth in this antique mall. I'm a pillow nut and they had so many big, fat, fluffy ones in really unique fabrics.
I may have purchased the green plaid ones if I had a place to use them in my home. I love those! Notice the adorable bunny basket. I didn't notice it when I was there. I just zoomed in on the picture and the tag says: $34.99. Cute, cute!
All the pillows I saw in this booth were priced at $69.99 each.
Another beautiful pillow…there seemed to always be two of each design.
I really loved this one, too!
Beautiful bird pillow! I could so see these in a sunroom or on a screened porch.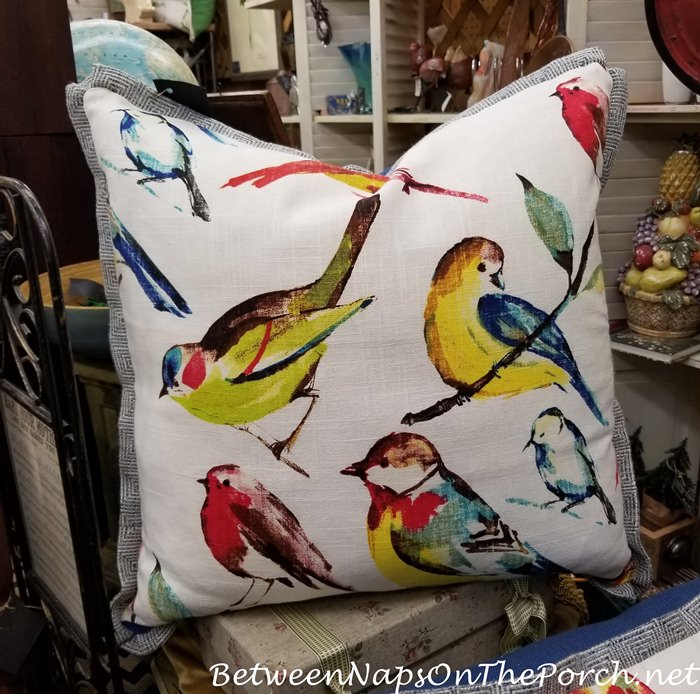 These would be great in a room with neutral colors. I love the buffalo plaid!
Hope you enjoyed this little antiquing adventure through the Queen of Hearts in Alpharetta, Georgia.
*If a post is sponsored or a product was provided at no charge, it will be stated in post. Some links may be affiliate links and as an Amazon Associate, I may earn from qualifying purchases. *