I LOVED all the stories you shared in the comments of yesterday's post. They were awesome and some had me laughing! Thanks so much for those!
Yesterday I shared some pics of a yummy party beverage I made on Sunday for a porch party with friends. Today I'm sharing the recipe, including a printable copy below.
Note: The Sangria looks a little darker in this picture than it does once it's served because just before you serve it, you add a bit of club soda. The Club Soda gives it that extra zip that makes this beverage even more refreshing for summertime.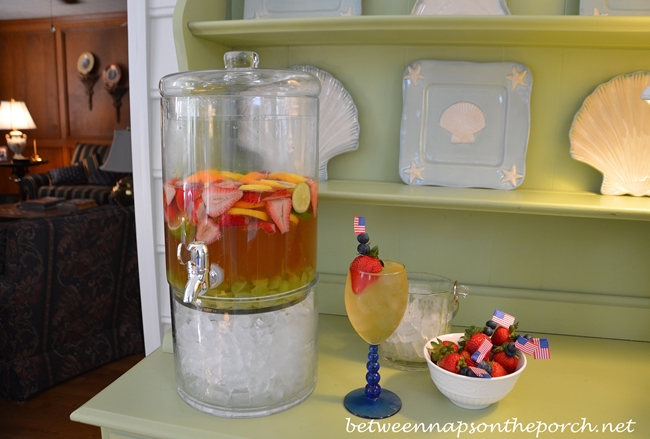 I have to confess, I've never like Sangria because all of the Sangria drinks I've tasted before reminded me of cherry flavored cough syrup. Yuck. This Sangria is nothing like that at all. In fact, that's what drew me to the recipe; it was touted as being totally different and not sicky sweet like most Sangrias.
This drink was definitely a big hit with my guests, they loved it and kept coming back for refills. It's also super easy and doesn't take long to make. It's one of those beverages you prepare the night before the party, too which means you won't be rushing around at the last minute when guests are arriving, unless of course you have gremlins in your refrigerator like I did! See yesterday's post for an explanation on that! 😉
I'm not sure if the ice in the lower part of the server I used helped to keep the beverage cold or not. It melted pretty quickly so I doubt it helped to keep the Sangria cold. If you have a beverage server like this one, you may just want to put something decorative in the bottom part, like lemons and/or limes since this drink gets served over ice, anyway.
Also, for smaller gatherings where you'll only be making one or two batches of this beverage, you will probably want to serve the Sangria from a pitcher. I mixed up 4 batches at once and we had already filled our glasses by the time I took the photo below…so that gives you an idea of how much it takes to partially fill up a large beverage server.
If you have any questions about this recipe, just let me know. It comes from a book I purchased while touring historic homes in Louisiana and Mississippi. I'll be sharing the name and some information about the book this evening in a BNOTP Library post because it has fast become one of my faves. That post will go up around 7:00 PM this evening.
Update: I had a great question about when to add the club soda. The recipe says to serve the Sangria over ice and to "top off" the glasses with the club soda. I'm guessing they have you do it that way so it will be nice and fizzy.
You definitely would not want to add it in the night before when everything else is mixed up because it would be flat by the next day when you would be serving it. It may be okay to add the 2 cups of club soda into the batch right at serving time. But if in doubt, just follow the recipe exactly and add to the beverage in the amount desired when serving.
Print Recipe
Refreshing Sangria
This drink is great for a summer party, especially one outdoors. It's cool and refreshing, not too sweet and your guests will be coming back for more.
Ingredients
1

750-ml Bottle Dry White Wine

1/2

Cup

Orange Liqueur

1/4

Cup

Sugar

1

Unpeeled Lime

Thinly Sliced (remove seeds)

1

Unpeeled Lemon

Thinly Sliced (remove seeds)

1

Unpeeled Small Orange

Thinly Sliced (remove seeds)

1-1/2

Cups

Sliced Fresh Strawberries

1-1/2

Cups

Halved Green Grapes

2

Cups

Chilled Sparkling Water or Club Soda or more to taste

Strawberries With Hulls

For Garnish
Instructions
Combine the wine, liqueur, sugar and fruit in a large, clear pitcher or beverage server.

Refrigerate overnight.

At serving time, pour into cocktail glasses filled with ice and top off with club soda.

Garnish with strawberries by slicing them part-way up from the bottom and place on the rim of the glass. Or, just spear a couple of blueberries with a decorative toothpick, then stick that into the strawberry and place it on top of the ice in the glass. That's how I garnished mine. The blueberries add a bit of blue for those patriotic holidays.
Notes
Recipe from book, Southern Cocktails by Denise Gee
Pssst: You'll find more recipes under the "Recipe" category here at BNOTP, including some additional great party-beverage recipes.
*If a post is sponsored or a product was provided at no charge, it will be stated in post. Some links may be affiliate links and as an Amazon Associate, I may earn from qualifying purchases. *