Thoughts become things, this I do believe.
Do you remember when the book/video called "The Secret" was all in the news? Though I couldn't get on board with much of what it espoused, one premise I took to heart was the idea that our day-to-day thoughts do greatly impact almost every facet of our lives. I truly believe, that which you focus on will often come to pass, be it good or bad.
Of course, I'm not talking about those things over which we have no control like the death of a loved one or perhaps an unexpected layoff from a job. Some things are totally out of our control, and at that point, all we can do is control how we recover and move forward which is often easier said than done.
Today I'm talking about the things we can control, like the thoughts we think and say to ourselves each day, including if those thoughts are uplifting and positive, or if they are negative and defeating. I try to catch myself if I'm falling into a negative vein and squash it right on the spot. Seems like the time I'm most prone to do that is when my head hits the pillow at night. My mind is no longer busy with the projects and events of the day, so it's easy to let the mind wander to any concerns or worries. There couldn't be a worse time for that than when you've just laid down for some much-needed rest.
When that happens and a worry starts to creep in as I'm trying to fall asleep, I stop it immediately with a big, "Stop that!" said emphatically in my head. Say it out loud if you need to. It works! It brings me right back to reality and reminds me that this is rest time, not worry time. If I want to worry about something, I have 16 waking hours during which I can do that the next day.
I love this quote from Mark Twain, it describes me. lol
A Vision Board
Since I believe my thoughts do very much control my reality and can bring either good or bad into my life, I've always loved the idea of creating a "Vision Board." Have you heard about those? I don't remember when I first heard about vision boards, but I've never actually followed through in creating one until recently when I saw someone I follow on YouTube share her Vision Board.
A Vision Board is nothing more than a board (like a bulletin board) where you pin photos of anything your heart desires. Anything! It can be spiritual or material…whatever goal or desire you have. Important: The board needs to be right where you can see it every day, not hidden away where it's soon forgotten.
I loved this idea but despite wishing to create a VB for a long time, I've had one small obstacle standing in the way: my office printer only prints in black and white. I just couldn't imagine a vision board covered in all black and white images. I would not find that exciting or inspiring, and a vision board really needs to excite and inspire. Of course, you can cut out pictures from magazines, but the only magazine I take these days is Birds and Blooms.
A few days ago, still focused on the idea of creating a Vision Board, I purchased an inexpensive printer online that prints in color. (See what I mean, thoughts become things…perfect example!) When the printer arrived, I placed it in the dressing area off my master bedroom where my travel laptop lives on a little built-in desk. Later that day I got busy printing out some of my goals and dreams for the future.
I thought I'd share my Vision Board with you today and some of the surprising "Ah-ha" moments it's already given me. My board mostly reflects fashion/jewelry items I would love to acquire over the next few years, along with some travel, home renovation and landscaping goals. There are some pretty lofty goals on there, but that's what a VB is all about…dreaming! Your Vision Board may look very different, depending on your wishes and dreams.
Usually, a VB just holds photos of the things/goals you wish to achieve. I decided to split mine in half and put my wishes/dreams on the left side, moving them over to the right side once they are achieved. I thought it would be fun and help keep me motivated if I could see some progress. I recently purchased a bracelet I had been drooling over for a while, so I moved it over to the right side of the board.
As mentioned, some of my dreams are pretty lofty and I may change my mind on a few. That's already happened a couple of times as I was creating this board. It's amazing how creating a Vision Board forces you to really narrow down what you think you want. I'm sure it's going to change again in the future.
Starting at the top, I placed a photo of an SUV I'm thinking of purchasing at some point. Since I drive a car until the wheels fall off, I try to purchase one I really like because I know I will be driving it for a very long time.
I drove my first car (inherited when my father passed away when I was in college) for 11 years. When the transmission started going, I replaced it with a 2-year-old car that I drove for 16 years. It was 18 years old had 325,000 miles on it when I replaced it with an SUV.
I drove the SUV for 11+ years until it would no longer pass the required emission inspection. It had 189,000 miles on it when I traded it in for a more practical SUV (or so I thought) a hybrid that got much better gas mileage.
At the time I bought the hybrid SUV, I was working as a Case Manager and driving a lot of miles each week. That's the car I'm still driving, but recently I found out something disturbing. Apparently, the hybrid batteries in my SUV can croak any time after 120,000 miles, and it currently has 126,000 on the odometer. A new hybrid battery is $7,000. Arggg! I'm never buying another hybrid vehicle!
So far it's still going strong but I know its hybrid battery days are numbered. I have my sights set on the SUV on my Vision Board and I expect it to be the last car I ever purchase since I don't put many miles on a car these days.
To the right of the car, I've pinned a photo of Machu Picchu, a place that's been near the top of my bucket list for years. Below that you'll see two houses to remind me that I may want to move to Ohio one day to be closer to my son, dil and grandchildren. One is a little cottage that I thought was really cute. I could see it with a front porch added to the front.
I'm really struggling with this decision because I love Georgia. It's where I was born and where I've lived my whole life except for a brief 4-year period when we were stationed in Alabama with the U.S. Army.
I love the weather in Georgia and I like my current home, so it's very hard to think of pulling up and leaving a place I love and the home I've lived in for almost 30 years to start all over in a state where snow is a semi-regular thing in the wintertime. That SUV I'm thinking of buying had better be all-wheel drive!
So though I'm not quite ready to put my home on the market (need to complete some bath renovations first) the houses on my Vision Board remind me that I may want to move or downsize one day. Maybe.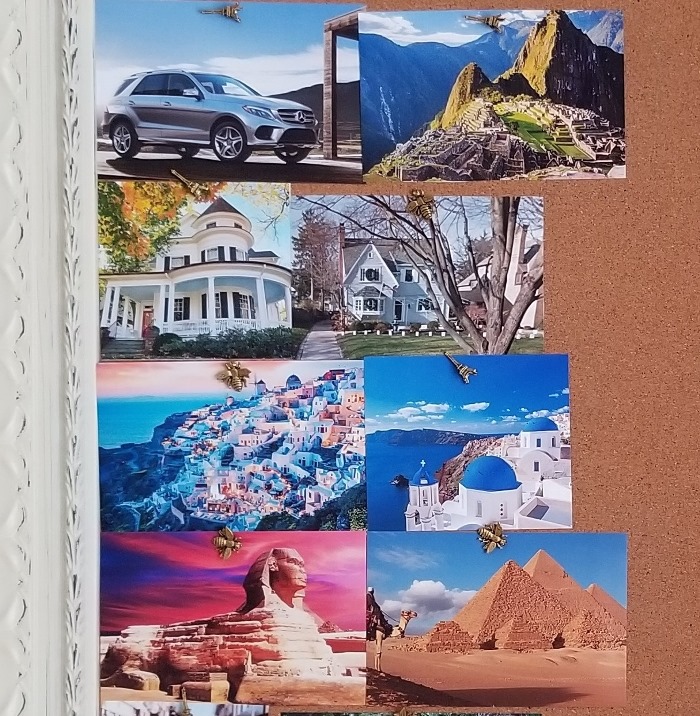 Below the houses are two photos of Santorini, I would so love to visit Athens and some of the beautiful islands of Greece. It's on the bucket list! Below the photos of Santorini are photos of the pyramids and the Sphinx in Egypt. I should be able to move this goal from the left side of the board to the right with the trip I have planned for this autumn.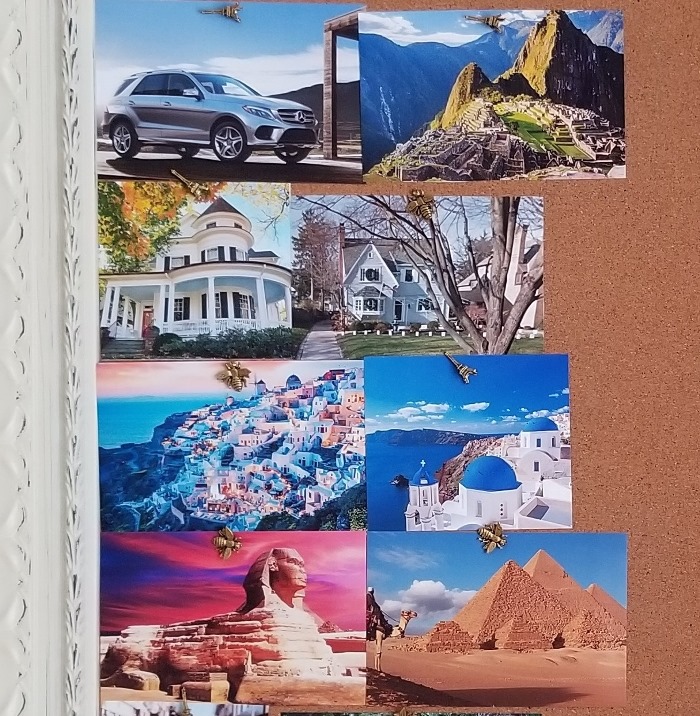 Moving on down the board, I've pinned a photo of a ring I saw on Ring Concierge's feed on Instagram. It's called a "Wrap Ring" because it appears to wrap around your finger. Love how it looks on Nicole's index finger in the photo below!
To the right of the wrap ring, I've pinned a couple of landscaping photos to encourage me to start planning a backyard renovation. You may remember my failed "sod" attempt back there. That really discouraged me since it was a pricey failure, so now I'm thinking more along the lines of paths and some shade gardening.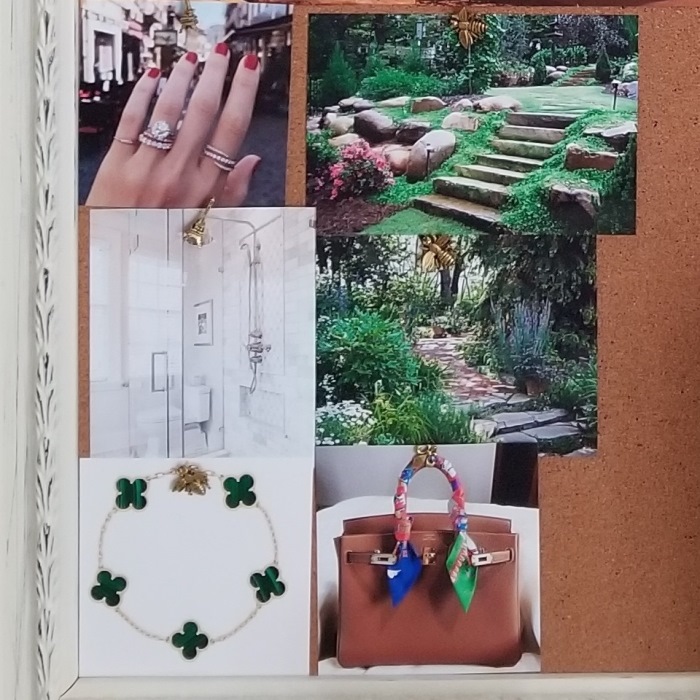 The white bathroom photo is not a great photo but it's the only one I have printed out so far to remind me that I need to renovate both the upstairs bathrooms in my home, especially before I place it on the market one day. I love the shower in that photo.
Just creating this Vision Board has forced me to realize a few things. For example, bathrooms do not excite me. I don't really care what they look like, as long as they function. So I'm having a hard time getting inspired/excited to redo them, and maybe that's partly because I only have one photo for inspiration. I need to start looking online and on Pinterest for more inspiration, or those bathrooms may never get done!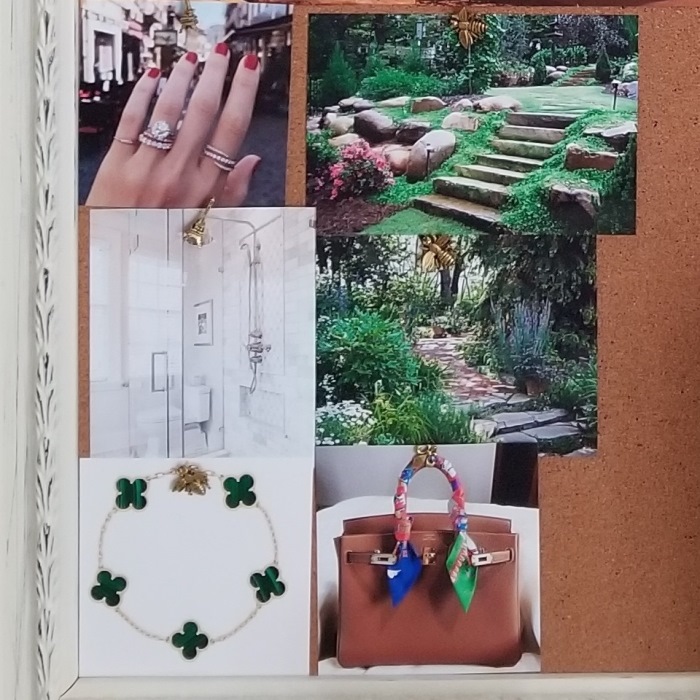 Below the landscaping and bath renovation pics is a bracelet I've always loved. Recently a blogger I follow purchased this bracelet so I've had a chance to see how it looks when paired with a lot of different outfits.
The handbag is a sort of a tongue-in-cheek goal. I don't know if I could ever bring myself to actually purchase a Hermes Birkin bag, but if the moment presented itself it would be hard to pass up if for no other reason than I would love to pass it down to my daughter-in law one day. I know they are considered good investments (see THIS article) but I don't often carry a hand-held bag. I love my crossbody bags, but if I was ever offered one, not sure I could pass it up. You have to have a couple of those lofty, over-the-top dream pics on your board for it to really be a Vision Board.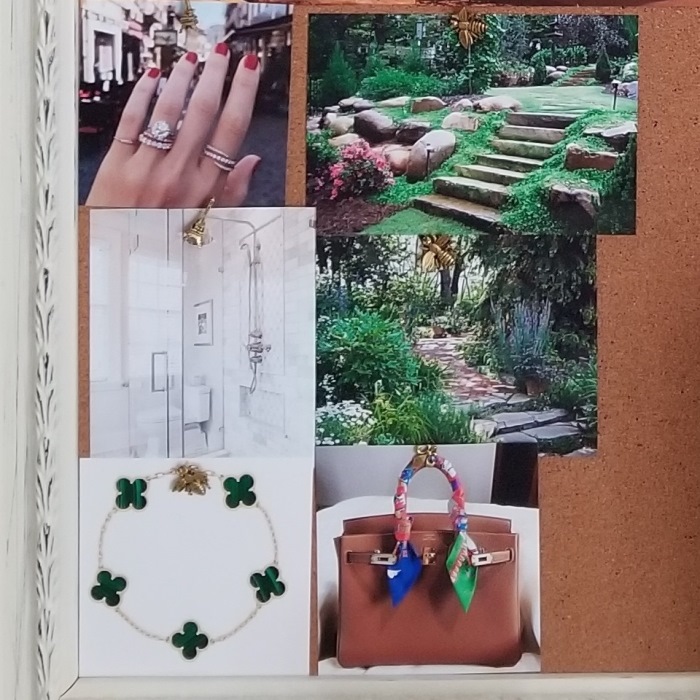 I think it will be fun to take a look at this Vision Board a year from now, in two years, and then in five. Vision Boards are not static, they are always changing as our goals and vision for our future changes. What you place on your VB doesn't have to be set in stone and it's most likely going to change and evolve with time.
If you created a Vision Board today, what would you pin to it? If you're trying to shed a few pounds or just eat better for your health, perhaps your board would have pictures motivating you in that direction. If you have certain financial goals, like paying off a credit card, your board could reflect those. Maybe you would like to move to a new house, add on a porch, renovate a room or makeover your wardrobe. Whatever goals you have, think about creating a Vision Board to give you that daily reminder of what you would like to accomplish, what you're working toward.
If nothing else, it really forces you to think about what your immediate or long-term goals are for the future. As I get older, I feel more of an urgency to fulfill my goals and to live my life to the fullest. It's all going by way too fast!
I saw this on Instagram recently and it really hit home.
*If a post is sponsored or a product was provided at no charge, it will be stated in post. Some links may be affiliate links and as an Amazon Associate, I may earn from qualifying purchases. *