Welcome to the 722nd Metamorphosis Monday! Have you started or completed your holiday decorating? I got my wreaths up a few days before Thanksgiving, but that's about as far as I've gotten. If you would like more info about how I hang my wreaths each year, you'll find a post where I share the details here: How to Hang Wreaths on Exterior Windows.
So, it took me a while but I finally figured out how this Dyson cordless vacuum business is apparently supposed to work. Ha! You may remember a few months I purchased a cordless Dyson vacuum after first buying a less expensive cordless vacuum on Amazon here: Cordless Vacuum. I liked the one I purchased on Amazon so much, I decided to go for one with a bit more power and a longer-lasting battery.
When I first purchased the Dyson vacuum, I thought I would buy a second battery so if I was mid-vacuuming and the battery died, I could pop in a second, fully-charged battery. That's how it works with my DeWalt blower so I thought the Dyson vacuum would probably work in a similar fashion. Uhhh—Nope! When I looked online at the Dyson website, the info I found discouraged you from swapping out your battery unless there was something actually wrong with the one that came with the vacuum. Also, swapping it out is nothing at all like it is with a leaf blower where you just pop one out and pop another one in. No, you have to literally unscrew and remove the battery that's built into the vacuum. It's definitely a process and not something you would do on a regular basis.
Ummm, okay. In the meantime, I was storing the vacuum with its hefty bag of attachments in an upstairs bedroom closet. Each time I used it and put it away, I had to remove the motor part since there was no way to just lean it against a wall and have it not fall over. Awkward.
Over the past week, I've been cleaning out alllll the closets in my home like a mad woman. Ever since I painted and organized this storage room in the basement, I've made it a mission to try and only store items in closets that pertain specifically to that room or area where the closet is located. That means not storing a ceramic Christmas Goose in the guest room closet or ceramic bunnies in the guest bathroom closet. lol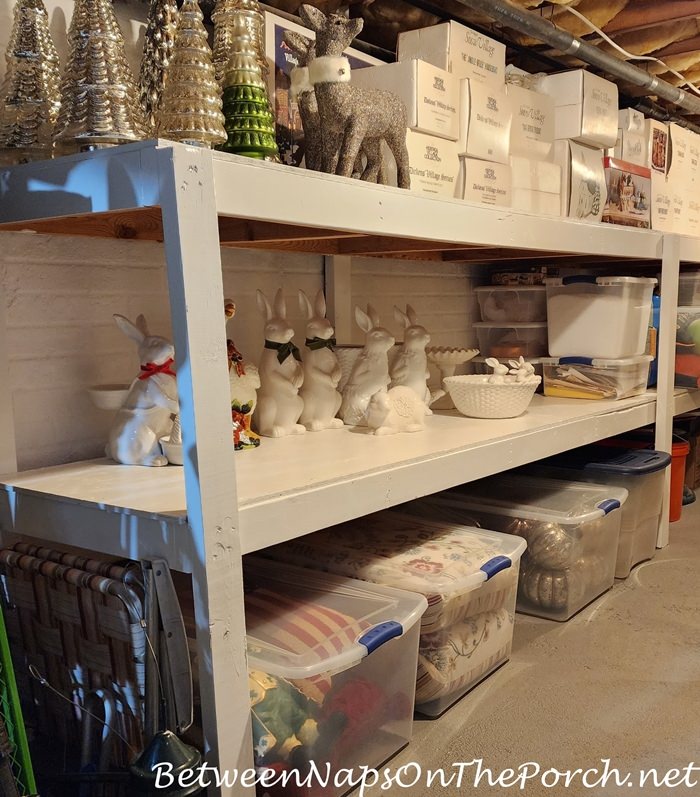 Clearing out all the closets spurred me on to finally consider hanging my Dyson vacuum, as I now fully understand is THE way it was really designed to operate. If you purchase a Dyson cordless vac, or any cordless vacuum that comes with a storage unit for hanging, once you make the decision to hang it as I did, the first thing you notice is the vacuum has to be stored near an electrical outlet, otherwise, you can't plug it in. That finally made me realize (I'm slow sometimes) that THIS is what this vacuum is actually all about–convenience! By hanging it on the wall as it's designed to be stored, it is always fully charged and ready to go when you need it. Apparently, Dyson vacuums don't have the type of battery that gets damaged by repeated and frequent charging. I'm pretty sure I could vacuum my entire house on one charge, or at least the main level and the upstairs since I was able to almost do that with my smaller, less-expensive cordless vac that's now being used for the basement/terrace level.
Here's where I decided to hang it–here in my laundry room near the only available outlet in this room. The installation of the docking base went well, although I did have to use the wall anchors that came with it since I didn't have a stud available in the exact spot on the wall where the vacuum needed to go. It's working great here and doesn't interfere with accessing the food pantry on the right. I really like how it looks here and it's so much more convenient than trying to store it away in a closet someplace and worrying if it's charged up enough to vacuum all the areas I need to vacuum that day.
Just wanted to share this in case it's helpful for someone else who purchases a Dyson vacuum. This is really how this vacuum was designed to work–to be hung on the wall near an outlet where it's fully charged and ready to go when you need it, not awkwardly stored away in a closet someplace where it's not being continuously charged. Before you take my word for it though, check the Dyson website or a Dyson manual for your peace of mind. Hopefully, the battery won't have a shortened life from hanging full-time on its charger. It probably stops charging once it's full, like our cell phones do. I must say, this storage system is super convenient and a snap to access when you need it for a quick vacuuming or cleanup. Definitely loving this change! (The Dyson model I went with is still available here: Dyson Vacuum.)
Freezer Update: After reading all the comments on the post where I shared the decision to buy a chest freezer, I was a bit worried I had not done enough research and had made a hasty decision since so many of you prefer an upright freezer over a chest freezer. I guess only time will tell if I'm a chest freezer fan.
Here's how the GE freezer I ordered looked on arrival. (Freezer is available here: GE Freezer.) Fortunately, the delivery went flawlessly and the freezer was delivered on time and in pristine condition. It's incredibly quiet and practically never runs. So far, I really love it!
Fortunately, one of the issues many of you mentioned has turned out to not be an issue with this freezer. Though I'm only 5'4″ tall, I can easily reach all the way to the bottom of the freezer, so much so that I can just about place my hand/palm flat on the bottom, and that's without standing on my tiptoes. So though this freezer is a generous size, 15.7 cu ft, it's not overly deep–so no issue there.
I ordered 4 additional baskets from GE (two for the top rail and two for the bottom rail) to take full advantage of the rail/basket organizational system that's designed into this freezer. Those arrived on Friday and I've been busy adding a few things to the baskets this weekend.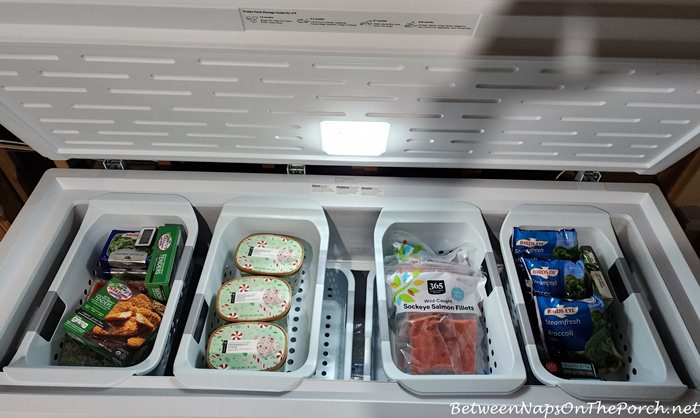 The first thing I added to the freezer was 4 bags of ice across the bottom because I read that a full freezer performs better than one that's mostly empty, and I knew it could be a while before I had it mostly stocked up. Prior to ordering this freezer, in looking at photos online, I had thought that area underneath the bottom row of baskets was pretty shallow, but it's not! It can easily hold multiple large items (like a big fat turkey) under that bottom row of baskets.
Of course, the first order of business after adding some temporary bags of ice along the bottom was to stock up on my favorite Limited Edition Peppermint Stick Ice Cream from Publix. Priorities, people! Ha!
Get it while you can because it will be all gone by the first week of January! This weekend it was on sale, 2 for $10. Last year, I purchased 8 half-gallon cartons and was enjoying Peppermint Stick Ice Cream all the way through August. Despite the warnings on Instagram, that last carton was just as awesome as the first. I had no issue when it was stored upstairs in my side-by-side refrigerator-freezer, so I expect it to last at least that well in this freezer. Any Peppermint Stick Ice Cream fans out there? My favorite is by Graeter's out of Ohio, but sadly I haven't found anywhere that sells their half-gallon size here in the south.
One of my favorite foods to keep on hand are these individually packaged salmon fillets from Whole Foods. I've been buying their farm-raised fillets because I hadn't realized they also carried the wild-caught. I've read that wild-caught is better for you, so I purchased a couple of bags to try.
This weekend, I stopped by Trader Joe's and picked up some of their organic brown rice. I tried it a few months back and love how easy it is to prepare. The rice comes out beautifully every time. I decided to try a few more varieties this time since their organic brown rice is so good.
Over the next few weeks, I'll make some homemade soups to put away. My daughter-in-love especially loves a Roasted Butternut Squash soup that I sometimes make when I visit them in Ohio. It would be a nice surprise to have some already made for her the next time they visit. Thanks for all your wonderful suggestions in the comments of my previous post when I asked for your recommendations of foods to make that store well in a freezer. If you missed that previous post, you'll find it here: Buying My First Freezer. (Freezer is available for purchase here: GE Freezer.)
Looking forward to all the great Before and Afters linked for this week's Met Monday! Pssst: Did you know Between Naps On The Porch is on Instagram? You'll find me on Instagram here: Between Naps On The Porch. Like to know when a new blog post is up and available to read? Subscribe for email updates, it's free and your email will never be shared. Subscribe for free post updates via email here: Subscribe.
Metamorphosis Monday: Metamorphosis Monday is a party that's all about Before and Afters. Please link up your Before and After projects like DIY projects, room makeovers, craft projects even recipes. Please do not link up Table Settings, save those for our Tablescape Thursday party on Thursday. If you are participating in Met Monday, you'll need to link your post to the party using the "permalink" to your MM post and not your general blog address. To get your permalink, click on the name of your post, then copy and paste the address that shows in the address bar at the top of your blog, into the "url" box for InLinkz when prompted. NOTE: Please do not link up more than 3 posts from your blog. In order to link up, you'll need to include a link in your post back to the party so visitors to your blog can find the other party participants. When linking up to the party, give the InLinkz system time to find the link in your post to avoid having your link held for moderation/approval. Thanks!
This party has ended, click button below for the links to all who participated.
*If a post is sponsored or a product was provided at no charge, it will be stated in post. Some links may be affiliate links and as an Amazon Associate, I may earn from qualifying purchases. *