Welcome to the 725th Metamorphosis Monday! A couple of months ago I shared this photo of the semi-finished side of my basement prior to having it painted. Everything seen in the photo below was moved over to the unfinished side during the painting process.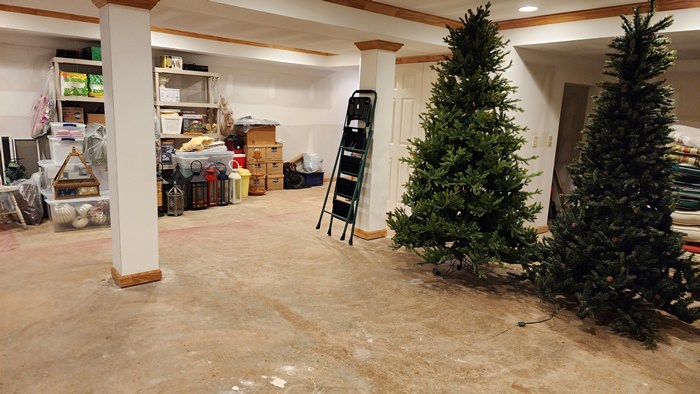 In January, the walls on the unfinished side will be dry-walled/sheetrocked.
After talking with several drywall companies, the general consensus was to leave the two concrete walls with the pretty brick pattern, as is. I liked that idea since I do like how the painted brick pattern looks on those two walls.
Once the drywall is finished, Granite Garage will be installing the same flooring I had installed when I completed the garage makeover. I can't wait to see this installed on the unfinished side of the basement!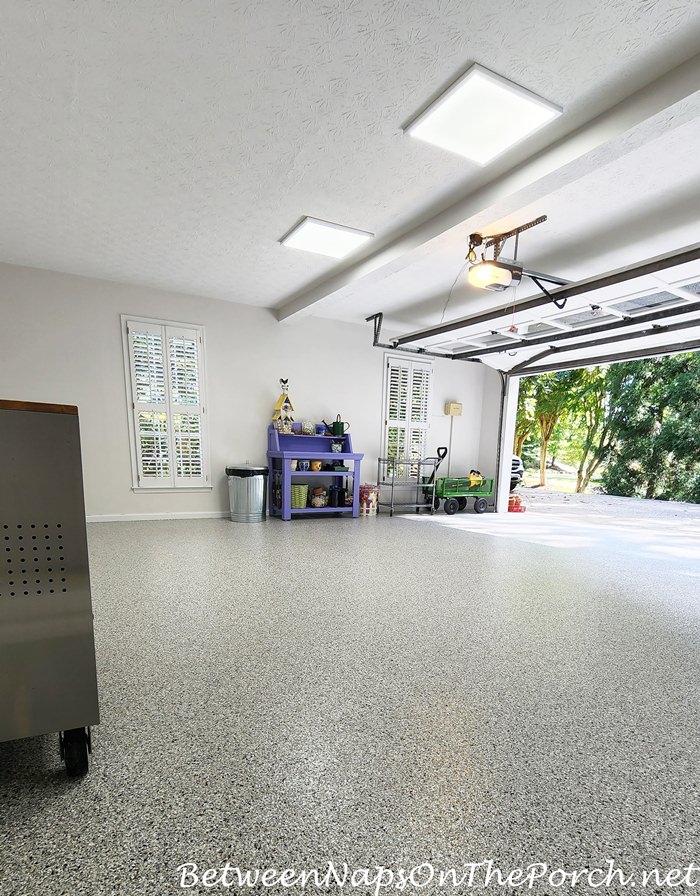 Once the drywall is done and the flooring is installed, I'd really like to do something about the storage along this wall. Currently, I'm using two, 5-tiered, open-shelving units that used to be in the garage. They're okay, but I'd prefer 3-5 cabinets with doors for a neater appearance, even if this is just the "unfinished" side of the basement. I'd like the cabinets to be a couple of inches deeper than my current shelving which is 18 inches deep.
I saw this photo on Ikea's website in an inspiration photo collage, but I've been unable to find these cabinets on their website. I'm not sure what they're called, they may be part of the Pax System since they are shown in a bedroom. I would prefer them to be all one color though–not two-toned.
This Besta cabinet looks similar, but it's only 16-1/2 inches deep which is definitely too shallow. I like how it looks, though!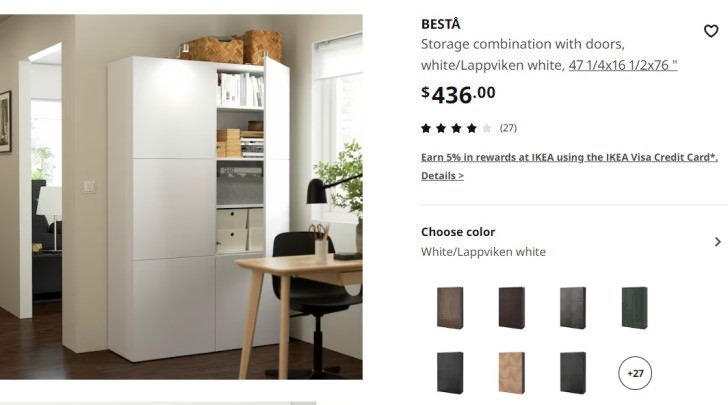 I've found the search feature of the Ikea website super frustrating. It pulls up hundreds and sometimes thousands of results no matter what term I type in. Arggh. So I've ended up using Google which isn't much better. I found something called Platsa, but it doesn't appear to be available on the US website. It doesn't look deep enough either. Again, I'd like the cabinets to be at least 18 inches deep and preferably 20-22 inches deep.
Do you recognize these cabinets or know what they are called? I may just have to visit the Atlanta store in person in January or February to find out what these are. If they are Pax, that may not work since Pax is designed to use for wardrobe storage, I think.
Can't wait to get these basement updates going in January! Looking forward to all the great Before and Afters linked for this week's Met Monday!
Pssst: Did you know Between Naps On The Porch is on Instagram? You'll find me on Instagram here: Between Naps On The Porch. Like to know when a new blog post is up and available to read? Subscribe for email updates, it's free and your email will never be shared. Subscribe for free post updates via email here: Subscribe.
Metamorphosis Monday: Metamorphosis Monday is a party that's all about Before and Afters. Please link up your Before and After projects like DIY projects, room makeovers, craft projects even recipes. Please do not link up Table Settings, save those for our Tablescape Thursday party on Thursday. If you are participating in Met Monday, you'll need to link your post to the party using the "permalink" to your MM post and not your general blog address. To get your permalink, click on the name of your post, then copy and paste the address that shows in the address bar at the top of your blog, into the "url" box for InLinkz when prompted. NOTE: Please do not link up more than 3 posts from your blog. In order to link up, you'll need to include a link in your post back to the party so visitors to your blog can find the other party participants. When linking up to the party, give the InLinkz system time to find the link in your post to avoid having your link held for moderation/approval. Thanks!
This party has ended, click button below for the links to all who participated.
*If a post is sponsored or a product was provided at no charge, it will be stated in post. Some links may be affiliate links and as an Amazon Associate, I may earn from qualifying purchases. *