So, ya know that storybook cottage I dream of finding one day? (Read more about it here: Storybook Cottage.)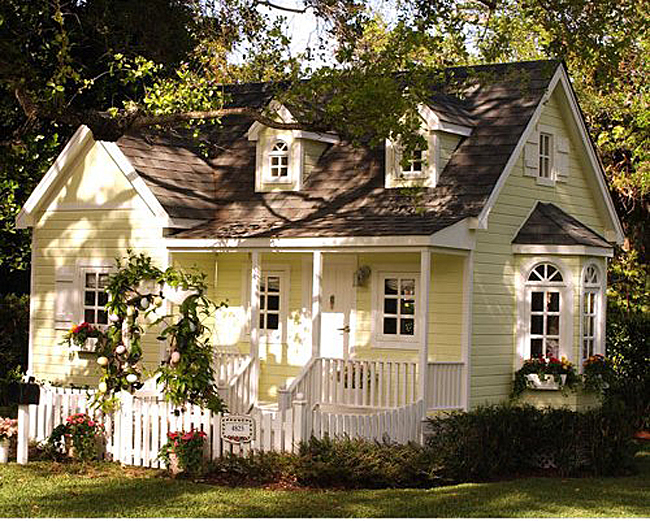 I'm pretty sure it will have a chest like this inside someplace.
You may remember, my daughter-in-law and I just added this chest to my grandsons' bedroom. I'm obsessed with the color!
Here's a closer view of the color…just a perfect shade of blue…cottage blue.
Determined to squeeze one into my home somewhere now (so I'll have it if the fairytale cottage ever becomes a reality) I've been thinking of where it might work. Maybe it would work here in the upstairs family room/bonus room.
Wonder if it will fit against the wall by the Grandfather clock.
Don't think it would work in the guest room, probably not the right shade of blue.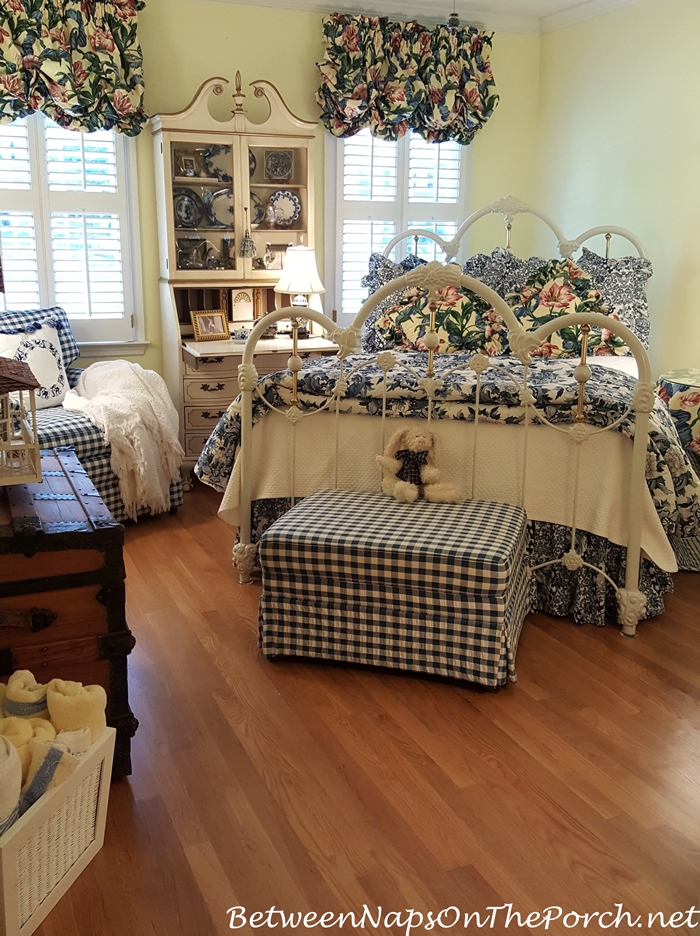 Plus, there's really no room for it here.
It's not often I purchase a piece not knowing exactly where I'll use it, but this chest was just too cute and priced too reasonably to pass up. (Chest is available here: Blue Chest.)
Worst-case scenario, it ends up here in the upstairs hallway with a pretty mirror above it. Maybe it would make a pretty focal point when coming up the stairs…will have to see. I could return it if I had to, but there's no way I'll want to do that. I like it too much!
It was supposed to be delivered last week but my visit to Ohio was extended a few more days, so it will now arrive this coming week. Looking forward to seeing it and playing around with it a bit. I'll keep you posted where it ends up.
I also ordered a set of the dinosaur bookends. Yes, I know…a grown woman ordering dinosaur bookends! I will have to find a fun place for them in my home office…maybe supporting all my travel books.
Ever thought of going on a dinosaur or archeological dig? People with real-life jobs volunteer for those all the time. I think it would be pretty awesome, though it can be hard work digging in the hot, summer sun.
I just looked and unfortunately, the dinosaur bookends are all sold out. Sure hope the ones I ordered have arrived okay at home because I can't reorder them if they are broken. Keeping my fingers crossed. They were available here before they sold out: Dinosaur Bookends.
Hopefully, they will get more in because I think they super cool. If you're in need of bookends, you'll find a lot of reasonably priced, cute "themed" bookends here: Bookends.
I kinda like the sculls/crows for Halloween. Ha! Imagine adding those to the top of a chest in your entry with some fun, Halloween-themed books in between…Edgar Allen Poe for the adults or kid-themed Halloween books for the little ones. Would make a cute Halloween decoration for the of month October. Wonder how these would look in the center of a Halloween-themed table. Ummm…enough said!
Fall Wardrobe Updates
We've had the windows open here, the weather has cooled down and it feels glorious. Definitely hints of fall in the air, now. I've been shopping some of the fall sales hoping to find a few new things to update my fall wardrobe.
This vest is calling my name, I really got into wearing vests more this past fall/winter, so I'm glad to see them coming back again this year. I love the color of this vest! It comes in several beautiful colors and would make a great transition piece from summer to fall. It's currently on sale 25% off here: Aqua Blue Vest.
These adorable fish/beachy crop pants I purchased earlier in the summer are on clearance, 60% off. I love these so much. I ordered Misses size and they are ankle-length pants on me since I'm only 5'3″ They are super comfortable (have a bit of stretch) and I get tons of compliments every time I wear them. They would be so cute with the vest above on those chillier summer evenings. You'll find them on clearance here: Crop Pants.
This beautiful tweed jacket with a Chanel/Jackie-O vibe would also work great transitioning into autumn. You'll find it on sale here: Tweed Jacket.
Love this houndstooth cardigan! It would be great with black jeans or dressy black slacks! I could see adding a bright-colored top underneath for a pop of color. You'll find it on sale here: Houndstooth Cardigan.
The cardigan would be so cute paired with these shoes below! Such a cute design and I love the height of the heel…it's perfect! you'll find it available here: Houndstooth Flats.
Looking forward to sharing how the chest looks real soon and where it ends up. I'm still holding onto summer, but looking forward to decorating for autumn in another month or so. I can't think that far ahead when the trees are still so beautifully green and the Hostas and Limelight Hydrangeas are still blooming their hearts out!
Fall can wait a bit, right? We'll get our autumn fix for now with a few wardrobe updates, that's enough fall for now.
*If a post is sponsored or a product was provided at no charge, it will be stated in post. Some links may be affiliate links and as an Amazon Associate, I may earn from qualifying purchases. *