Work continues on the decks but they are getting close now to being done. The basement door-staining project inside has been a nail biter. I gave my painters a stained piece of trim (left over from when the hardwood flooring was installed in the living room) so they would have something for matching the door stain to the surrounding judges paneling. The first stain they tried on the door wasn't remotely close–like night and day.
Next, they had the paint store do a custom match. After three coats, it's starting to get close. If another coat doesn't work, they may have to add a touch of brown or something to the stain. Who knew matching stain could be so difficult! Be so glad when that part is done. Hoping when they apply the sealer at the end, it doesn't change the color. I'll share the progress (thus far) for Met Monday so you can get an idea of how things are turning out, even though they aren't quite finished yet.
The items I recently ordered from L.L. Bean arrived yesterday and something happened that almost never happens when I order several items at once: I liked every single thing that came and it all fits!
The item I was most concerned about was this cute color-block tunic. I was delighted to find it's even prettier in person than it is online. I love the length (covers the tush) and look awesome with jeans or jeggings. The color-block design is very flattering to the figure.
I like the neckline, too. I don't like round-neck sweaters or t-shirts normally, but this one doesn't hug the neck. The neck is wider so it's more relaxed and looks really nice worn with or without a shirt underneath.
I especially love the zippers on the sides. They aren't very long, just a few inches up the side, but they look really cute and give some play to how the sweater lays over the hips. Definitely a keeper! It's available here: Cotton Fisherman Sweater.
I've never had any of L.L. Bean's flannel shirts but decided to give them a try since they've been on sale. Love both of these and the green "Princess Mary"color is again, much prettier in person than depicted at the L.L. Bean website. I think the lights the L.L. Bean photographers use when taking photos make the colors a lot brighter in their photos, because the green is really nice in person and not near as loud as it appears online.
The flannel is nice and heavy, feels wonderful! I should have known it would feel great since I have their flannel sheets and love them. You'll find both of these colors (Princess Mary and Navy Tartan) along with several other colors available here: Flannel Shirts.
The item I was most excited about getting was this fair isle sweater and it did not disappoint.
The navy and green colors are gorgeous and it feels like it would keep you warm at the North Pole! I like it so much, I'm going to start a Fair Isle collection and try to add one Fair Isle sweater to my winter wardrobe each year.
BTW, I find that L.L. Bean sweaters are pretty generously cut. Normally I buy sweaters in size Medium at Talbots so I can wear them over shirts and not have them be at all snug. A medium at L.L. Bean swallows me up, something I learned after I ordered my first sweater there this past spring. So smalls are plenty big, more like everyone else's medium. There's still plenty of room for a shirt underneath this fair isle sweater. You'll find it available here: Fair Isle Sweater.
Remember the lined corduroy jacket I ordered?
It is beyond cozy, so sumptuous and feels soooo good to the touch! Again, the sizing is very generous, I could easily layer a shirt and a sweater under it. You'll find this beautiful corduroy jacket in several colors here: Corduroy Jacket.
Recently I ordered two pairs of Frye boots, hoping to find a pair that I could wear with jeggings and would work well with the Frye Heidi Fringe bag I purchased a couple of years ago. These are the two pairs that I ordered: "Brown" on the left and "Cognac" on the right. You'll find these boots available on sale here: Frye Boots.
I hate to send the brown ones on the left back because they are so pretty, but the cognac (shown below) is pretty much a dead match for the Frye Heidi bag and for the Frye tote I purchased a few months ago. So if you have the Heidi Fringe bag in "Whiskey" or the tote in "Saddle," the Frye Melissa Boot in "Cognac" is a good match for either of those.
You can see how well they coordinate here with the tote on the left and the bag on the right. I may not be able to make myself return the darker brown ones–love them, too. And the price was excellent. Argggg!
Boot Supports
Since my fall/winter boot collection is growing, I decided to look for boot supports online. They stand up really nice on their own right now, but I don't want them to start losing their shape with the passage of time. Not sure if that if that would ever happen, but prefer to not take that chance.
I really liked these boot supports (available HERE) but they are kinda pricey at around $20 per set.
Then I came across these nifty things.
They are boot shapers and you just roll them up and stick them inside your boots! Plus, you get enough supports to fill 8 boots (4 pairs) for $20. That's what the other boot shaper cost and it only supports one pair of boots.
I purchased a set of 8 and they work great! That's what you see in my boots in this post. You'll find these boot shapers here: Boot Shaper.
Boot Socks
I'm a bit of a sock snob, I admit it. I don't like socks that are made from mostly acrylic or synthetic/other non-natural fibers. I know you have to have a little something stretchy mixed in to help keep socks up, but I like my socks to be as much cotton or wool as possible. Cotton and wool breaths. Synthetics-not so much.
It can be hard to find tall socks or boot socks that are mostly cotton or wool and are not expensive. I finally found some and they arrived yesterday. Love them! I ordered two pairs for myself and two pairs for my dil since she wears boots a lot during the winter. I remember last year she was on the hunt for tall boot socks and was having trouble finding them.
Since these are meant to be worn with boots, they come up really high. You can wear them stretched all the way up to above the knee or turn them down where they fall just under the knee. That's how I plan to wear them. They are 91% cotton, so they past my mostly-cotton test. lol You'll find them on sale here: Boot socks.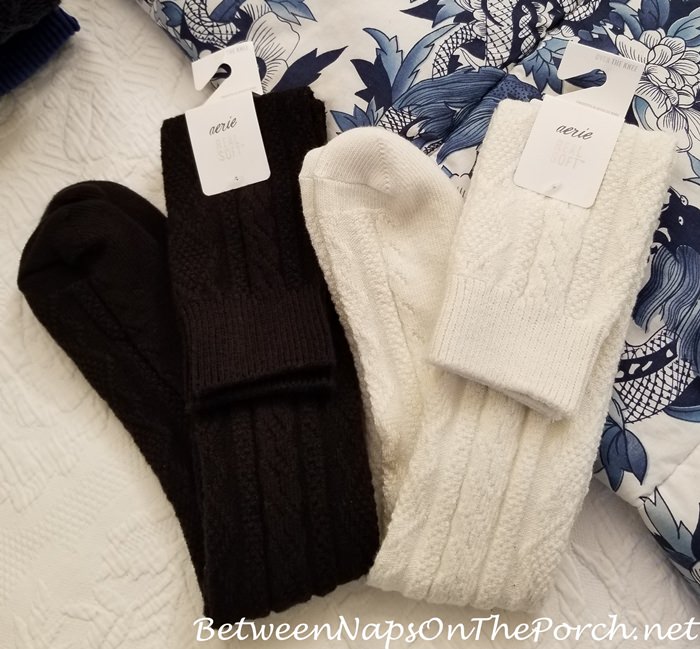 Cozy Throw on Sale
If you're looking for a cozy throw this fall/winter, I just picked this one up and love it! It would make a great Christmas gift, too. Sometime in the next few weeks, probably after Halloween, I'm going to put together a post sharing some items that I think would make wonderful gifts. This throw will definitely make that list!
I just noticed it's on sale now, too. Umm, I'm tempted to go back and ask for a price adjustment since I just purchased mine about a week and half ago. You'll find it on sale here with free shipping: Cozy Pom Pom Throw. It looks like all the throws on sale right now here: Throw Sale.
Looking forward to sharing some deck updates for Met Monday! Have a wonderful weekend!
Pssst: I post almost daily to Instagram. Follow Between Naps on the Porch on Instagram here: Between Naps On The Porch. If you enjoyed this post, subscribe for free email updates when a new post is up here: Subscribe for post updates.
*If a post is sponsored or a product was provided at no charge, it will be stated in post. Some links may be affiliate links and as an Amazon Associate, I may earn from qualifying purchases. *