Not that kind of frog, although he is totally cute!
Source
Have you noticed how ceramic garden seats seem to be available everywhere now? I remember years ago seeing them in decorating magazines but I could never find any back then, at least not at a price I was willing to pay.
Last spring I was on a quest to buy a garden seat for the screened porch.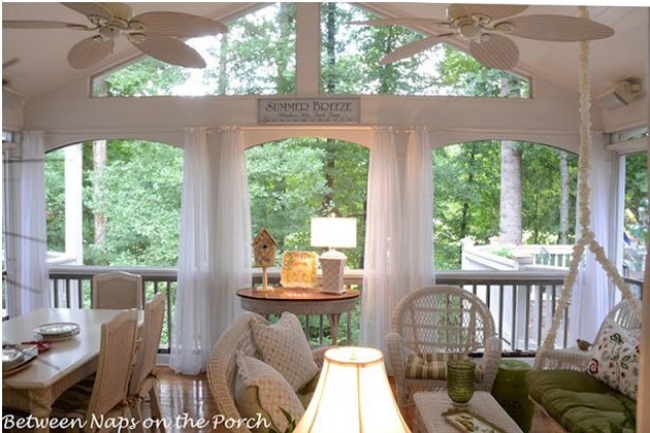 I found this one with a pretty quatrefoil design in HomeGoods and before putting it in its rightful place out on the porch, I had fun trying it out in various places around the house. It looked pretty good beside the sofa in the FROG. Thanks to Mary for teaching me that fun word, meaning "finished room over the garage."
It's really my upstairs family room/spill-over guest room, but FROG sounds a whole lot cuter.
I also liked it at the end of the window seat in that room, too.
But my favorite spot for it was here beside this chair in the guest room. I was super tempted to leave it there but I had purchased it for the porch.
So, after admiring it for a while in the guest room, I semi-reluctantly took it down to the porch.
You awesome guys told me Ross was a great place to look for inexpensive garden seats. I took your advice and a few weeks later I spotted this happy garden seat in Ross for just $30. I liked its green color even better for the porch.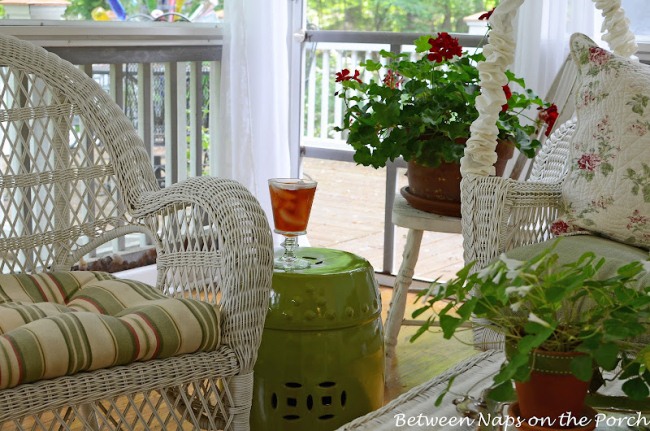 So, I took Mr. Quatrefoil back upstairs to live in the guest room and all was well. Except…
I still had a hankering for one in the upstairs family room, but only if I could find another bargain, meaning something in the $40 or under range. I really liked how the white one had looked in here.
It's been six months since I brought home the green garden seat last April. You can read about it here: A Garden Seat for the Porch.
I didn't have garden seats on the brain when I stopped by HomeGoods a couple of weeks ago, but once again, it was garden-seat city! They were everywhere, so many cute ones in so many great colors. And there it was, a white garden seat for just $39.99. I thought I'd bring it home to just see how it looked here in the FROG. Do you see it hiding out over there at the top of the back staircase?
It makes a nice little table there at the end of the windowseat.
It could hold almost anything, maybe a glass of tea.
Or, maybe a silly denim pumpkin.
I think what I love most about garden seats is how versatile they are. They will work well just about anywhere and can be whatever you want them to be…a table, a seat or just a decorative accent in a room. How many things can you buy for $40 that can do all that?
Are you a garden seat fan, too? If so, in what room do you use yours? Is it a table or does it actually get used as a seat sometimes? What's your favorite way to use a garden seat?
*If a post is sponsored or a product was provided at no charge, it will be stated in post. Some links may be affiliate links and as an Amazon Associate, I may earn from qualifying purchases. *