I love visiting Mary Carol Garrity's online website for her shop, Nell Hill's. There are always so many beautiful things to see. This made my heart sing! If you have ever wondered if it was okay to mix brass/gold with silver, I think this answers that question once and for all. This is so much more beautiful than if the candlestick lamps had been all matchy matchy in brass.
Picture above and below from Nell Hill's
I love the look of a well-loved, aged leather sofa paired with plaid pillows. This sofa is new and was made to look old, but if you don't have 50 years to wait for a leather sofa to take on this beautiful aged appearance, this would do nicely. The pillows set my heart aflame once more for plaid, which is pretty easy to do since I'm basically obsessed with it anyway.
But I guess you kind of knew that already, huh?
I tried to look up the difference between tartan and plaid and the info I found was pretty involved. A whole blog post could be written just on that topic: Plaid vs Tartan. Basically the two terms have become interchangeable these days, but a look back in history tell us that "plaid' comes from the Gaelic word for "blanket" so it originally meant a large wrap or blanket. The word plaid always referred to clothing back in the day, no matter what the fabric was, even if it was a solid color.
Tartan is defined as, "Any of numerous textile patterns consisting of stripes of varying widths and colors crossed at right angles against a solid background, each forming a distinctive design worn by the members of a Scottish clan."
So for the purpose of this post, I'll just be calling everything plaid. 🙂
I keep thinking one day I'm going to come across the perfect plaid duvet and create a "winter" look for my master bedroom. It's pictures like this one from Ralph Lauren that keep me dreaming of plaid. Maybe this will be the year!
Another beautiful photo, this one of Ralph Lauren's home, I think. Wouldn't you love to curl up in this room in the evenings this winter with a good book?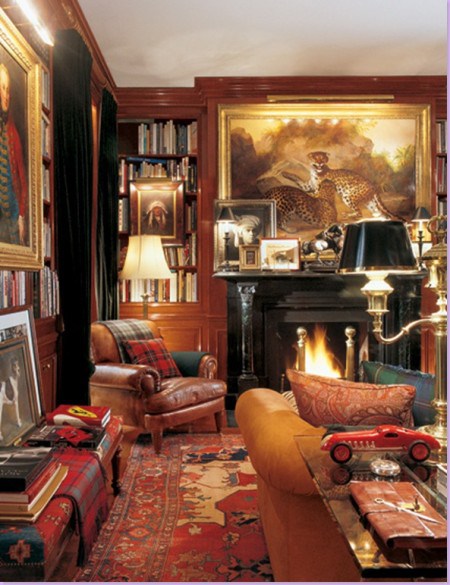 Source of Photo Unknown
Another one of my fave sites to visit when fall is knocking at the door is The Adventures of Tartanscot. If anyone knows their tartans and plaids, it's Scot. Lots of inspiration to be found there.
Plaid found its way into my dining room last year in this table setting: A Cozy Woodland Setting
Speaking of plaid in the dining room, do you remember Julio's beautiful dining room in his river cabin? If you missed that tablescape, you'll find it here: Christmas Dinner in a River Dacha
Plaid played such an important part in the design throughout his wonderful cabin on the Russian River.

What a warm and beautiful place to spend the holiday season! Take the full tour of this room in this previous post where you'll also find a link to Julio's blog: A Cabin Renovation & Restoration on the Russian River
I'll leave you with this beautiful image of Mary Carol Garrity's front door. (Picture from her website.)
The gorgeous molding, the beautiful lanterns, the amazing fan light above the door–I love it all!
Have you ever decorated with square wreaths? I love how this one looks on Mary Carol's door.
*If a post is sponsored or a product was provided at no charge, it will be stated in post. Some links may be affiliate links and as an Amazon Associate, I may earn from qualifying purchases. *