Several months ago I decided to give Netflix a spin. One of the first movies Netflix recommended for me was Death at a Funeral. The movie poster definitely grabs your attention, doesn't it? You can read a detailed synopsis of the plot for this movie at Wikipedia, but in general, the Patriarch of a well-to-do British family dies and his son, Daniel (Matthew Macfadyen) has been given the task of planning and organizing the funeral. Other cast members include: Keeley Hawes, Ewen Bremner, Kris Marshall, Daisy Donovan, Peter Egan, Peter Dinklage, Rupert Graves and Jane Asher. The funeral is held in the family home and during the course of the movie, lots of family secrets are revealed, some quite shocking!
Much of the movie is set in this ivy-covered, English Country estate in Henley, Oxforshire. The house is located about an hour outside of London. Doesn't it look positively enchanting? Straight out of a fairy tale!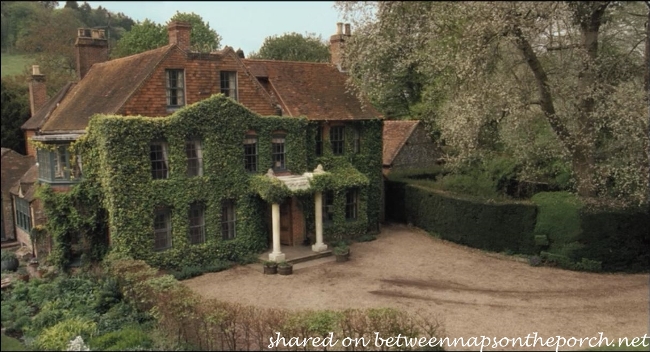 The exterior scenes are filmed there but per Wikipedia and movielocationsdotcom, the interior scenes were filmed at Ealing Studios in London. Some scenes were shot at Chenie Manor House in Chenie, Buckinghamshire, England.

I loved this rustic, old side porch covered with wisteria. It really does look and feel like an English Country house.
The home feels really grand, standing here in the doorway looking out through the beautiful old doors, past the stately pillars on the front porch.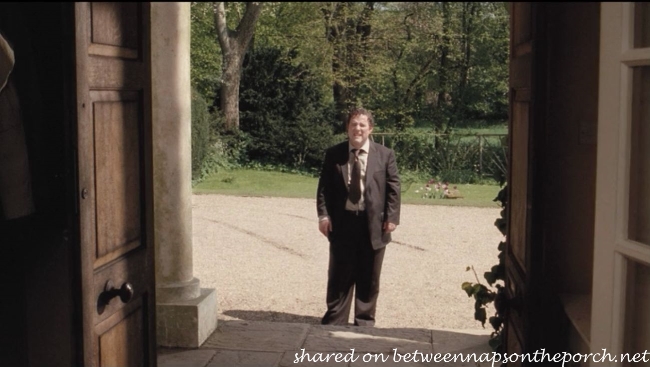 It's hard to believe the interior scenes were shot in a studio when you see the views outside the windows. One of my favorite things about this movie was how they created this beautiful, elegant, serene interior as the backdrop for all the shenanigans and craziness that occurs in the movie. The contrast was perfect and really enhanced the movie for me.
I wonder if the room we see off in the distance is a conservatory. I adore a conservatory, almost as much as I love a screened-in porch. Remember the beautiful conservatory in Practical Magic…loved it! You can see it here: Practical Magic: Tour This Beautiful Victorian Movie Home
During the movie the house looks so elegant while total mayhem is occurring throughout the home, nicely hidden behind closed doors. This movie is a British farce in the grandest way, completely wacky and very funny! How do you like the powder blue walls with the fresh, white trim? It really feels elegant and airy, doesn't it? Notice how the doorway on this side is rectangle/square while across the way, the doorway is arched. I like that!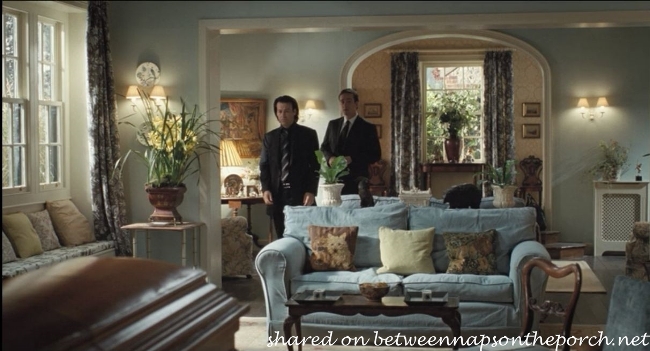 Beautiful palladium windows.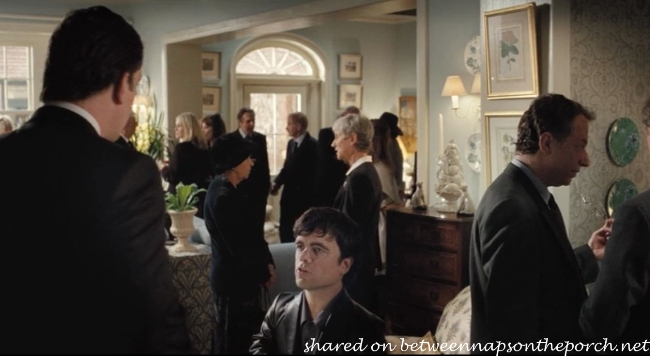 This home is rich in window seats, they appear in a number of rooms. Windows seats add so much personality to any room or space. Any time you can naturally work one into a room, go for it! It adds instant character to a space.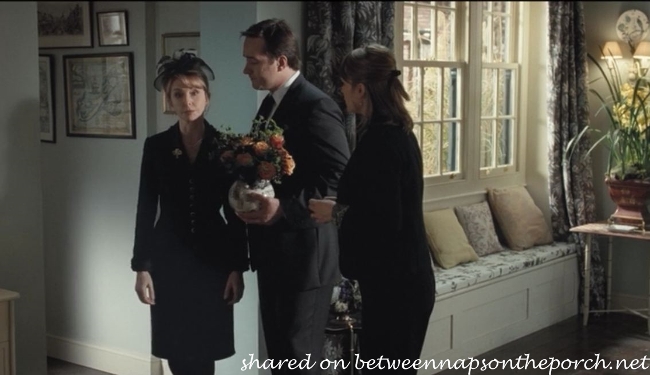 Here's a simple way to decorate a stairway that produces a big impact. Simple black frames are not expensive and the neutral, two-toned, double matting really lets the print/picture shine through.
Take a look at the mix of colors and patterns in this view: Damask yellow paper, soft, blue walls and black/white floral draperies. It all works, doesn't it? I really, really like the wallpaper.
I've long considered putting a similar damask paper in my entry and up my stairway. This movie made me want to do that even more. I'd have to choose something I'd love for a very long time since it would be a pain to remove it one day.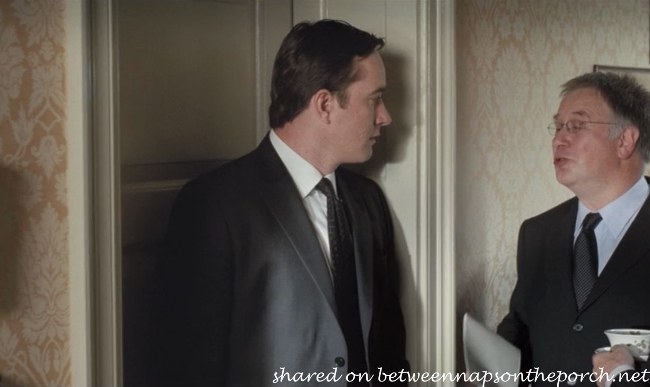 This room is where a good bit of the action in the movie takes place. It's the home office/den for our deceased Patriach and one of his well-hidden secrets is standing in the room. This movie has some interesting twists and turns, never a dull moment. There's even another death, hence the title of the movie, so we end up with two corpses by the end. Note the window seat, what a great use of that space!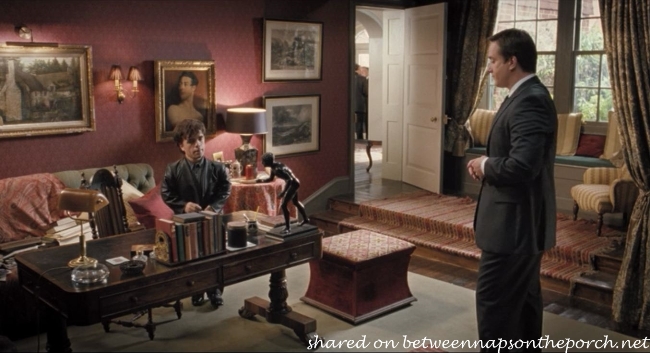 We get a few glimpses of this upstairs bedroom early on in the movie. I love the old fashioned floral draperies. Bedrooms need that softness around the windows. Just cozies up the whole room!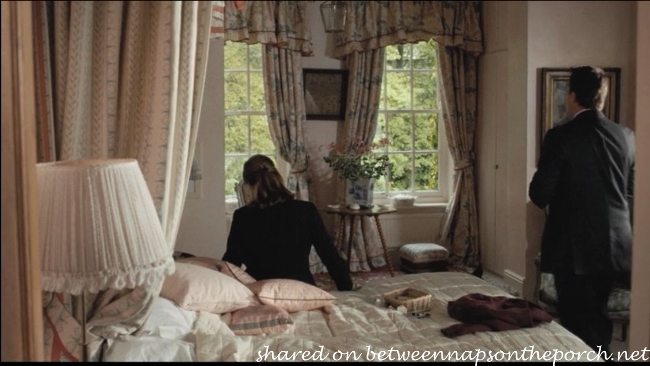 In this view you can see the wingback chair hidden by Daniel in the picture above. A cozy space.
Another view of the exterior with a "neked" man atop the roof. If you can see past the naked, crazy guy (yep, it's that kind of movie) isn't that an awesome bay window? Love those old chimneys, too.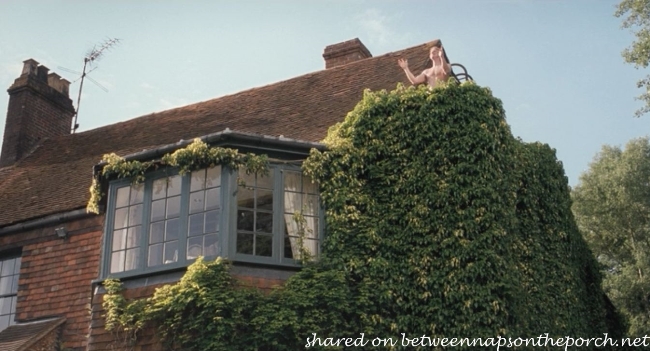 So what do you think, Love it or List it? Ha! I've been watching a little too much HGTV lately. 😉
Hard to believe all these beautiful rooms were created on a set at Ealing Studio, isn't it? Have you seen this movie? What was your favorite scene/part? Did you fall in love with the home, too?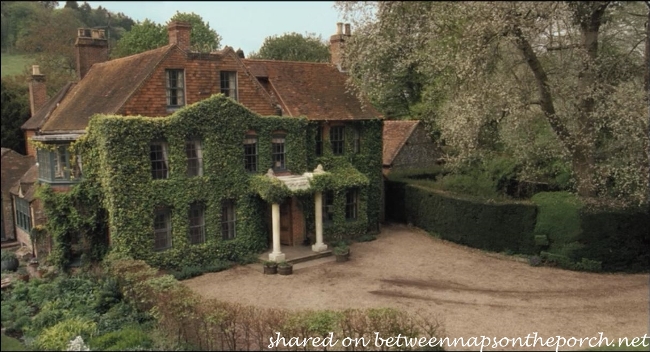 Enjoy touring movie houses? You'll find many of your favorites here: Movie House Tours
*If a post is sponsored or a product was provided at no charge, it will be stated in post. Some links may be affiliate links and as an Amazon Associate, I may earn from qualifying purchases. *