It's spring! The flowers are blooming, the birds and bees are busy do birdie and bee things and it's time for a garden tour! Phyllis who blogs at Around the House has one of the most beautiful backyards I've ever seen. Wait until you see what's behind this fabulous gate! I love the basket of flowers on the gate because it a small hint of the beauty just on the other side.
Ready? Let's go!
As we open the gate we find ourselves in "Bird Town." 🙂 This area is just outside the kitchen window so Phyllis can watch the birdies coming and going while she works inside.

As we pass through Bird Town, we are entering a backyard paradise. Is this not tantalizing? We're barely in the backyard and I'm already completely enchanted!
Phyllis has the perfect spot for entertaining, spring, summer or fall. If it gets a little chilly, just throw a log on the fire and cozy up with a throw.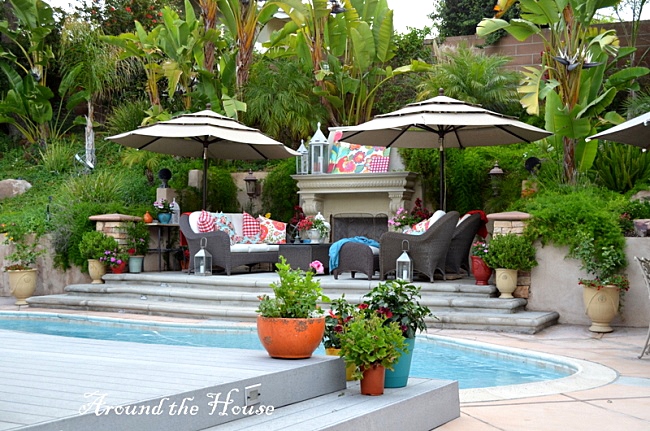 One of my favorite features in this area, besides that wonderful fireplace, is the outdoor art. Phyllis changes out the art she displays here regularly. She found the largest piece atop the fireplace at Pier 1 and she painted the small red and white one herself. Phyllis shares a trick on her blog about how you can use regular paintings outdoors and keep them from being damaged, so you'll want to check it out for the how-to and tips.
As evening approaches, Phyllis turns on the beautiful lanterns. Soooo romantic!
There are several water features in this backyard paradise. Can you just imagine how wonderful this must sound? I bet the birdies love it, too. We need to ask Phyllis what the flowers are that are blooming here. Anyone recognize them?
Update: The orange flower is lantana. That's such a great flower. Here in the Atlanta area it's more of an annual but it occasionally will winter over, although it never does in my yard. It spreads beautifully and grows quickly. One of my favorite lantanas is Miss Huff.
Oh, to be a bird living in Phyllis' backyard. Now that would be the life!
There are many more pics of this beautiful space at Around the House here: Backyard Garden Tour, 2013. In that post, Phyllis shares information about where she bought the colorful fabric she used to make her outdoor pillows and additional information about this wonderful backyard paradise.
Now all we need is a fruity umbrella drink and a good book. Life is good!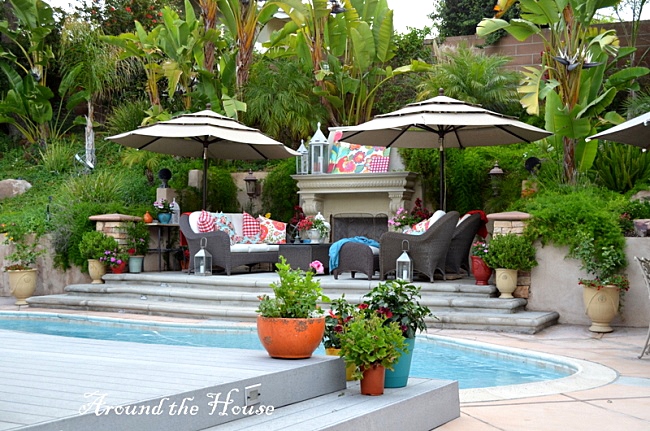 If you would like to refer back to this amazing backyard in the future, you'll find it linked under the category, In the Garden at the top of BNOTP.
*If a post is sponsored or a product was provided at no charge, it will be stated in post. Some links may be affiliate links and as an Amazon Associate, I may earn from qualifying purchases. *