Each year I love to decorate my glass front cabinets in my kitchen with little wreaths. I started doing this after seeing it on wood cabinet doors in a kitchen while on a Christmas home tour.
It can be hard to find wreaths in this smaller size. I had to search for quite a while to find these many years ago.
I've never been really thrilled with these. They aren't very full and don't remotely look like real wreaths but I bought them because they were the only ones I could find this size.
I've always admired preserved boxwood wreaths. They are closest thing you can get to using real, live wreaths (since they are real) but still have the convenience of being able to use them for years to come. Each year when Christmas comes around and I pull out my not-so-great small wreaths, I think about ordering some of the small, preserved boxwood wreaths. Unfortunately, they always seem to sell out before I get serious about doing it. This year I finally did it before they were all gone.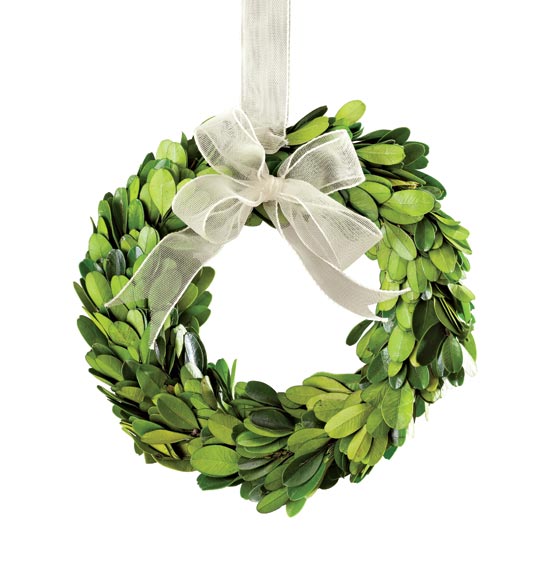 This isn't the greatest picture since it's been dark and gloomy here for days, but hopefully you can kind-of see how they look. This is the 8″ size. They also had a 10″ but I was worried they would be too big, plus they were a good bit more expensive.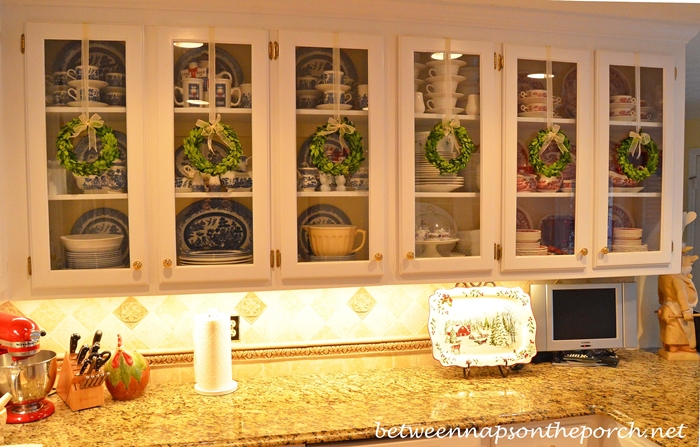 I definitely like them better than my scratchy, fake wreaths.
Notice the platter on the counter. That's the matching platter to the Better Homes and Garden Christmas dishware I've been using recently in my table settings. The prices on that dishware were ridiculously good. That huge platter was only $12.95!
Here's a zoomed in picture. Sorry it's so grainy…I had the ISO really cranked up since there was no sunshine the day I took these pics.
A little close-up of the platter… I love how it pulls out the various scenes from the four patterns available in the salad plates. The only thing missing are the birds that were featured on one of the plates.
I cleared off the top of the refrigerator and dressed it up with a few cake platters. You can see the wreaths a bit better in this photo.
Do you ever decorate with preserved boxwood? Do you love the look?
*If a post is sponsored or a product was provided at no charge, it will be stated in post. Some links may be affiliate links and as an Amazon Associate, I may earn from qualifying purchases. *