It's October and you know what that means! It's pumpkin time! Remember back in the day when the only kind of pumpkins you could find were orange. Now you can find them in so many different colors: blue, gray, green, even white. And if you're really feeling creative, you can make your own.
Recently, I was invited to participate in a pumpkin party with four talented Bloggers. Our only instruction was to create a "pumpkin craft" to share. I absolutely love how completely different all the pumpkins turned out. (You'll find links to all the pumpkin tutorials at the end of this post.)
If you've been reading BNOTP over the last few months, you know I've been having a blast this summer thinking up craft ideas I could create with some old, out-of-style, too-small jeans. So far the jeans have been used to make flatware pocket holders for a tablescape, a 4th of July banner for the porch and napkin rings for a casual table setting.
For this latest project, I couldn't resist the power of the denim. It was pulling me in, challenging me to make something else.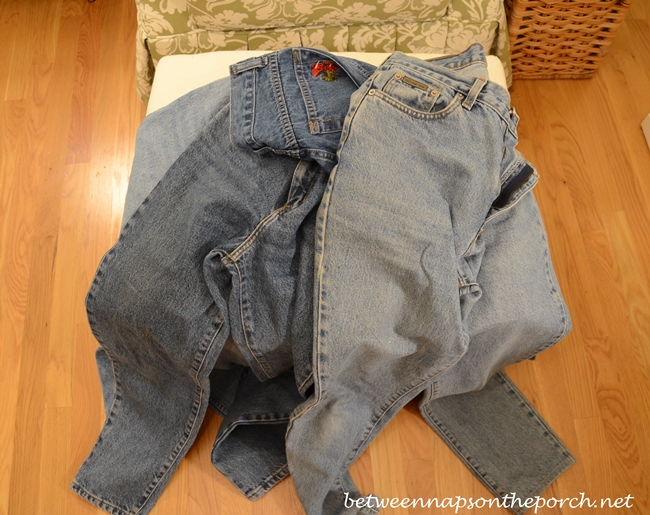 How about a denim pumpkin! I purchased a craft pumpkin in Michaels where they were 40% off for a cost of $7.49. This project required few additional supplies, just Mod Podge and a brush with which to apply it. I had both of these already, left over from previous projects. I pulled out some ribbon I had on hand along with some cute little flowers I found in Michaels for $4.99 a dozen.
To get started, I cut up some of the recycled jean fabric into strips around 2 inches wide. I roughly measured, putting a small mark on the fabric every couple of inches.
Since pumpkins are curved and bumpy, there's not much point in measuring the fabric strips exactly. Just have fun and go with the flow of the pumpkin.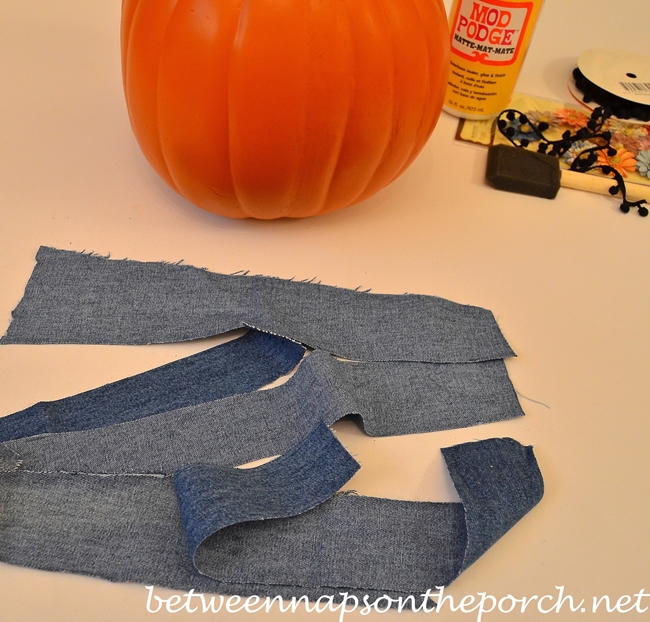 Next, I slathered Mod Podge on to the back side of the denim fabric pieces, working with one piece at the time since it dries quickly.
The Mod Podge did a great job of adhering the fabric to the pumpkin and smoothing out wrinkles as they occurred was really easy.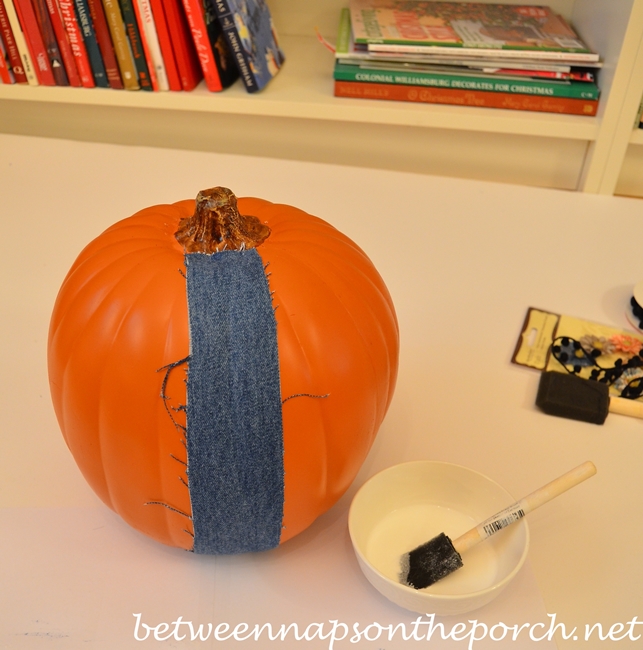 A little "in-progress" shot…
Here's how our pumpkin looked fully dressed in denim. I wish you could feel it through the screen…the denim is sooo soft. No wonder we love jeans so much!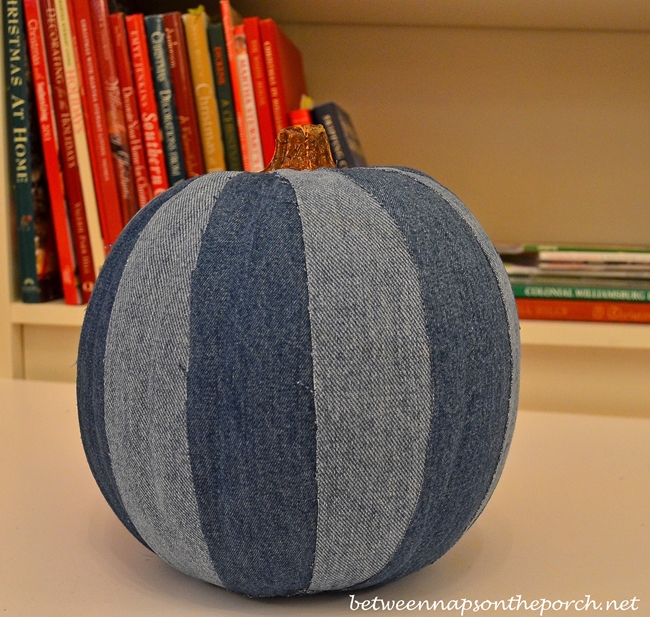 Next, I sat down at my desk in the office and played, draping various kinds of ribbon/trim along the seams where the denim strips met. I've been busting to find a use for this ribbon I bought a while back that looks like a measuring tape. It looks great with denim, doesn't it? In the end I decided against using any ribbon or trim.
Instead, I decided to add some Flower Power–there's a phrase from the past! Each flower was applied with a little drop of hot glue.
Since I loved the feeling and softness of the denim, I didn't apply a coat of Mod Podge to the top of the fabric, just left it as it was. I did dress up the pumpkin stem, though–more on that in a sec.
Once completed, I had to see how it looked in the one room of my home sporting some denim, the upstairs family room.
Looks right at home here with the denim sofa, doesn't it?
I wasn't too crazy about the plastic, brown stem so I wrapped jute yarn around it to create a more natural looking stem. Starting at the base of the stem, while applying hot glue sparingly, I wrapped the yarn around and around, working my way to the top.
The lighting on the porch is usually best for picture-taking so I headed down to the porch for a couple of photos in natural light.
Almost forgot to mention, I had three of those small pockets from my recycled jeans, you know-the tiny little pocket that's always tucked inside a larger pocket on jeans. Using Mod Podge, I attached the back side of the white pocket fabric to one side of the pumpkin. I added a touch of hot glue near the top edge on either side. Once dry, it became a fully functioning pocket. Could be a great place to stow away some candy for emergencies. 😉
Do you know why that little pocket was originally designed into jeans? I was curious and Googled it. Turns out, it was originally created to hold a pocket watch back in the day when it was common for a man to carry one. Now folks tend to use it for change or to hold a key.
It would be fun to do one of these in a patch-work design with denim. Ummm, just thinking.
Happy Fall, dear Friends!
Love crafting and sewing with repurposed denim? You'll find more denim projects at my other blog, Denim Do Over and many are No-Sew projects! You'll find Denim Do Over here: Denim Do Over
*If a post is sponsored or a product was provided at no charge, it will be stated in post. Some links may be affiliate links and as an Amazon Associate, I may earn from qualifying purchases. *