Welcome to the 536th Tablescape Thursday!
Last October, I spent 15 days traveling across Egypt with my friend, Teresa. That trip was definitely one of the most exciting and mysterious, bucket-list trips I've ever been on. In a word, it was awesome–Disney Rash and all! lol
During the trip to Egypt, we had a rather interesting adventure during a visit to the Sofitel Legend Old Cataract Hotel in Aswan. The Old Cataract is well-known for many things, including all the famous folks who have stayed there over the years.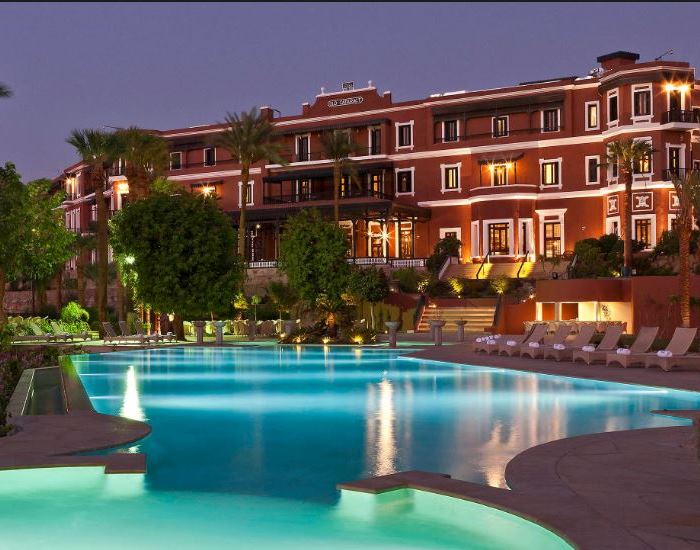 It was the Old Cataract Hotel where Agatha Christie set many of the scenes from her novel, Death on the Nile. She stayed there for several months during the period she was writing Death on the Nile.
Take a tour of Agatha Christie's suite at the Old Cataract in this previous post. In the Footsteps of Agatha Christie: A Visit to the Old Cataract Hotel.
The Moorish architecture inside the hotel is stunning! Walking through this hotel is a visual delight with so many beautiful antiques and lovely architecture to enjoy. It could take a full day just to see all the fascinating photographs on the walls from years past.
It took a miracle–actually, it took the clever wits and determination of Teresa, but we managed to have dinner in their famous 1902 restaurant. (Read more about the wits and determination part in this previous post: In the Footsteps of Agatha Christie: A Visit to the Old Cataract Hotel.)
The lighting was turned down very, very low inside the restaurant, which is actually the way I like it while dining, but it made taking photos a bit of a challenge.
A view of our table when we first sat down.
Lots of elegant flatware…
I love the monogrammed china…
So pretty with the Cataract Hotel monogram.
The napkin rings remind you of the name of the restaurant…1902. The Old Cataract Hotel was originally built in 1899 by Thomas Cook, so I'm not sure where the restaurant gets its 1902 name. Maybe that's the year the restaurant actually opened.
The hotel has three restaurants but we only had a chance to dine in the 1902 restaurant.
Wine was served with bottled water. Best to drink bottled water while traveling in Egypt to avoid tummy upset.
This was how our dinners were served! I snapped a quick photo before the top was removed.
I wish I could remember what I had to eat that night, I should have taken a photo of the menu! I can't remember if this was the appetizer or the entrée, I think it was the entrée.
Dessert…again, not sure what I had, just remember it was delicious.
Dining in the Old Cataract was truly a wonderful experience and I very much recommend it if you ever find yourself in Aswan during a trip to Egypt. It's not often we get the opportunity to dine in the same restaurant Agatha Christie dined in while writing, Death on the Nile!
Pssst: Take a tour of Agatha Christies' suite at the Old Cataract in this previous post. In the Footsteps of Agatha Christie: A Visit to the Old Cataract Hotel.
Pssst: This July I'm heading off to England on a Literary tour…read more about the tour in this post: Literary Tour of Southern England. I'm not positive but I think there are still a few slots left open if you're a Jane Austen/English Lit fan.
Looking forward to the beautiful tables linked for this week's Tablescape Thursday!
Pssst: I post almost daily to Instagram. Follow Between Naps on the Porch on Instagram here: Between Naps On The Porch.
If you enjoyed this post, subscribe for free email updates when a new post is up here: Subscribe for post updates.
Tip: Please do not use a Hotmail e-mail address to subscribe if you can avoid it. Hotmail is notorious for filtering out perfectly good emails. I've found Gmail to be awesome, it's what I use and it's free! Plus, they don't filter out good e-mails in error.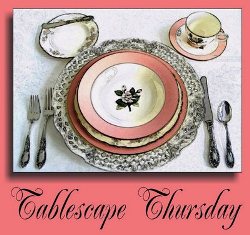 Tablescape Thursday
If you are participating in Tablescape Thursday, please be sure to add your permalink below, and not your general blog address. To get your permalink, click on your post name, then copy and paste the address showing in the address bar, into the "url" box when you link up.
You'll need to include a link in your post back to the party to link up and participate. That's so visitors to your blog will be able to find the party and the other Tablescape Thursday participants. Requiring a link back also prevents businesses and scammers from linking up to sell their products. (Yup, that really happens, unfortunately.)
*If a post is sponsored or a product was provided at no charge, it will be stated in post. Some links may be affiliate links and as an Amazon Associate, I may earn from qualifying purchases. *