In some of my recent posts, we've been playing here in the guest room a lot. In one post I shared a new lamp I had purchased for this room. (See that post here: New Lamp for the Guest Room.)
A week or two later, I added some Ikea Oxberg cabinets down one wall as a fun, attractive way to corral all my handbags into one area. The guest room is so rarely used since family prefers the larger queen-size sleeper in my upstairs living room over the full-size bed here in the guest room, so this room is finally seeing a lot more use now. (See that post here: Handbag Lovers & Fashionista: Here's a Great Way to Organize Your Favorite Bags)
Whenever I share a post involving this room, I always get a few comments complaining about the balloon valances in this room and how I need to remove/change them for another type of window treatment. For the most part, the comments are said in a helpful, constructive way, which I really appreciate, but occasionally, they are just outright trollish and mean. The troll comments get deleted because I'd never subject you, the BNOTP readers, to that kind of drama when you visit, but the others, the helpful, suggestive comments always get published. I'll often reply to those comments explaining how much I appreciate the suggestion but that I really do still like the floral valances I had custom-made for this room so many years ago.
Today, I thought I'd share a bit more about these somewhat controversial window treatments. lol Many years ago, I stumbled across a floral fabric in a custom drapery shoppe. At the time, I was in the process of decorating the guest room and had already purchased the Ralph Lauren "Porcelain" bedding.
I wanted a mostly blue and white room, or so I thought, but I was finding a two-color scheme just a bit too plain. Blue and white is one of my favorite combinations, but I couldn't see decorating an entire room in just two colors. I knew the room needed something else but I just wasn't sure what that "something else" was.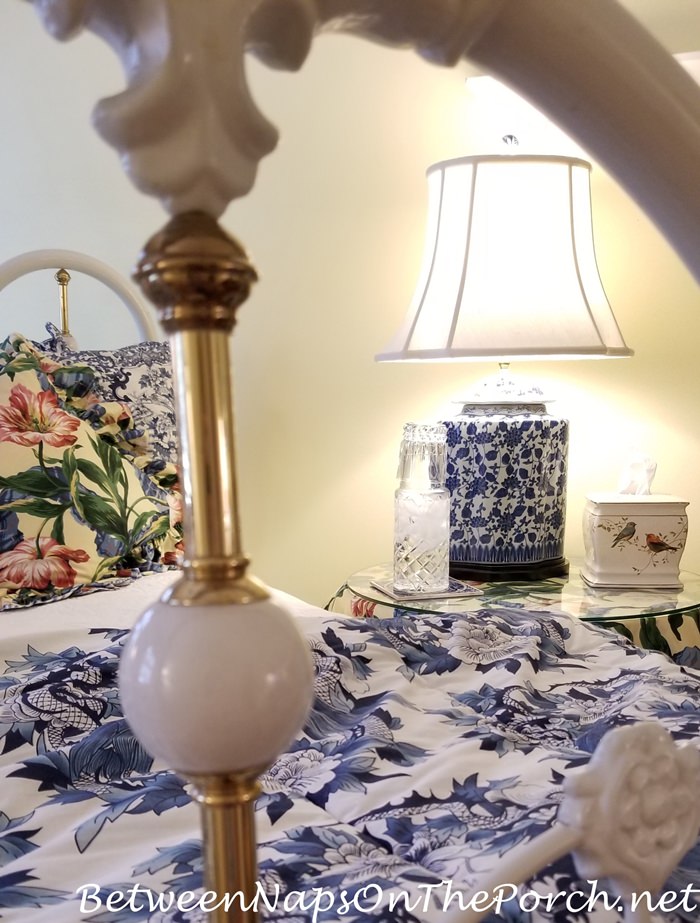 I had never had custom window treatments made but I fell hard for this floral fabric the first day I saw it. I loved how it looked with the RL Porcelain fabric so much, I decided to have balloon valances, a table topper, and a few pillows made for the guest room. I was pretty shocked by how much all of that cost, having never had custom treatments or pillows made before, but I swallowed hard and wrote the check, hoping I would love it.
Not sure if you can see it, but the two pillows I had made in the floral fabric are trimmed out in the same fabric that's on the bedside table underneath the table topper. The fabric on the other side of the pillow is still the same floral fabric, it's only the edging that's different. It's a subtle accent that I really do love.
The striped, blue and white fabric (that coordinates with the edging on the pillow) is visible on the bedside table below.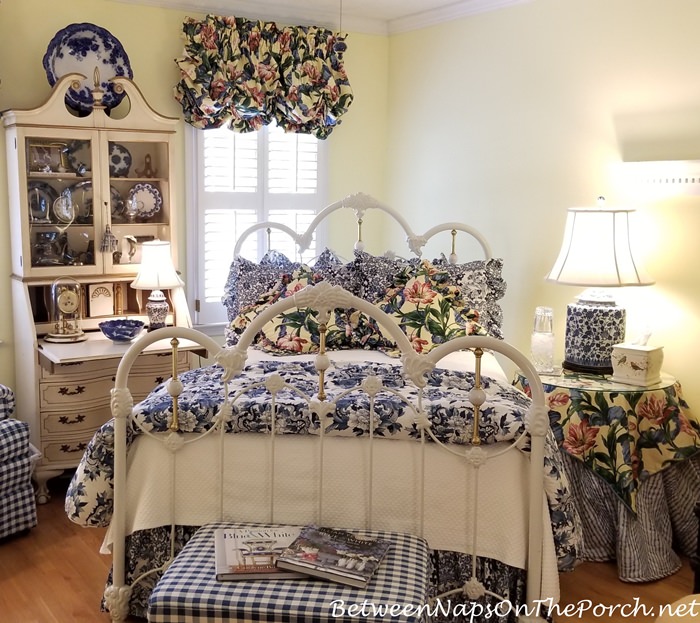 Another view of the table topper…
A view showing the Ralph Lauren Porcelain fabric and the floral fabric of the pillow and the table topper…
Sorry about the quality of this photo from my early years of blogging, but it's the only one I could find of the sweet kitty pillow I had made from the Sanderson fabric. They had kitty pillows in the custom drapery shoppe so I couldn't resist having one of those made, as well. He needs a blue or red ribbon around his neck, doesn't he?
Balloon valances may not be as popular now as they were back in the day, but if you've been following BNOTP for a while, you know that I really don't worry about trends. I prefer to decorate with more classic designs, that's just what normally appeals to me.
Also, if you're always trying to follow the latest trend, you'll find that you're forever unsatisfied with the rooms in your home since the trends are almost constantly changing. The industry has to keep changing or the designers would be out of work, as would the companies that manufacturer the latest new designs. It can be fun to add something in the latest clothing style to your wardrobe, but redoing your decor every time the trend winds blow would be costly and frankly, exhausting.
Do I have balloon valances in all my rooms? No, in my "formal" dining area, I went with draperies I found for a steal in the Ballard Designs outlet.
In the living room, I went with these scrumptious, deep-green, velvet draperies.
They were another affordable find in one of the local Ballard Designs Outlets.
In the office, I have yellow and cream buffalo-plaid draperies from Country Curtains. Sadly, they are no longer in business. That was one of those companies that I thought would be around forever.
If I ever get around to adding draperies to the master bedroom (and I would love to do that) I may go with some type of neutral, silk-taffeta drapery panels. I love the look of over-the-top, very full, silk taffeta draperies in a bedroom!
Whatever I choose, it will need to work with both my summer and winter bedding.
Going back to this floral fabric in the guest room–this fabric was designed by the British company, Sanderson. Sanderson has been around for 160 years. That's a long, long time!
Their first showroom was located in London's Soho Square. It appears they've just opened a showroom in Chelsea. I'm not totally sure if they sell to everyone or if they are only available to designers, aka the trade.
They have stayed fairly true to their roots, producing some truly beautiful floral designs that have me dreaming of beautiful English Gardens
So pretty and fresh!
You can't get more English than this classic "Hunt" wallpaper/fabric called "Tally Ho."
Here's how it looks made into draperies, pillows, and on a chair.
A lot of Sanderson designs are pulled from nature and I love that! Notice the fabric on this chair featuring woodland creatures.
Their floral wallpapers are to die for!
Beautiful! I love an enveloping big, bold print in an entry or hallway. Notice the wonderful trim/panels on the door…I've never seen that before but I love it!
This happy birdie print would be stunning in a white bathroom!
I would love this in a bathroom or perhaps even in a laundry room or mudroom.
Another adorable wallpaper/fabric for the bird lover.
They make fabrics and wallpapers suitable for all ages and all rooms!
Love this sweet rocking horse fabric! Notice how they've paired it with a smaller scale, floral fabric for the windows. So pretty!
This rose print is cute as wallpaper but it really steals my heart in fabric form. Or, maybe those are peonies.
Sanderson has created some great fabrics for coastal or beach homes. I love this shade of blue and the sailboat motif!
This lobster fabric in draperies cracks me up! Soo fun for a beach house! So happy to see Sanderson, the British company that made the fabric I've used in my guest bedroom, is still going strong and still producing gorgeous fabrics (and wallpaper) for the home! Love the iconic, classic design firms–hope they are forever with us! See more of Sanderson's beautiful designs at their website here: Sanderson Design Group. Be sure to click on their "Collections" link to see some of the collections I've shared in this post.

*If a post is sponsored or a product was provided at no charge, it will be stated in post. Some links may be affiliate links and as an Amazon Associate, I may earn from qualifying purchases. *