Welcome to the 734th Tablescape Thursday! Back on June 1, 2017, I shared my entire charger plate collection in one post. Since then, I've added 7 new charger designs to my collection and donated two sets.
The two sets I decided to no longer keep are the large corn platter (top right corner) and the watermelon platter at the bottom right corner. The reason I decided to part with those is that over the years I found that I was never using them in tables. Since they are platters and quite large, they took up a lot of space and my tables just aren't that big. I ended up keeping two of each platter to use as actual platters for summer cookouts and donated the rest. I've left them in this post so you can see how they looked in a previous table setting–in case it gives you ideas for how you could use a smaller platter as a charger plate.
So, here is my current charger collection. (Warning: This is a long post!) I managed to squeeze all the chargers together on my dining room table for a family photo. Ha! For this week's Tablescape Thursday, I'm sharing this full collection, along with a picture and a link to a table in which they were previously used. Some have been used so many times, it was really hard to choose just one table to share. Okay, let's go!
1. White Swirl Charger: This white charger is a staple in my charger collection since it goes with many dish patterns. I purchased a dozen back in early 2008 from Horchow. On the back, it's hallmarked: Vintage Garden, Ambiance Collections.
Spring Easter Table Setting with Wisteria Centerpiece (Click title to view table.) I've used this charger many times over the years whenever I've needed a crisp, white charger for a table setting.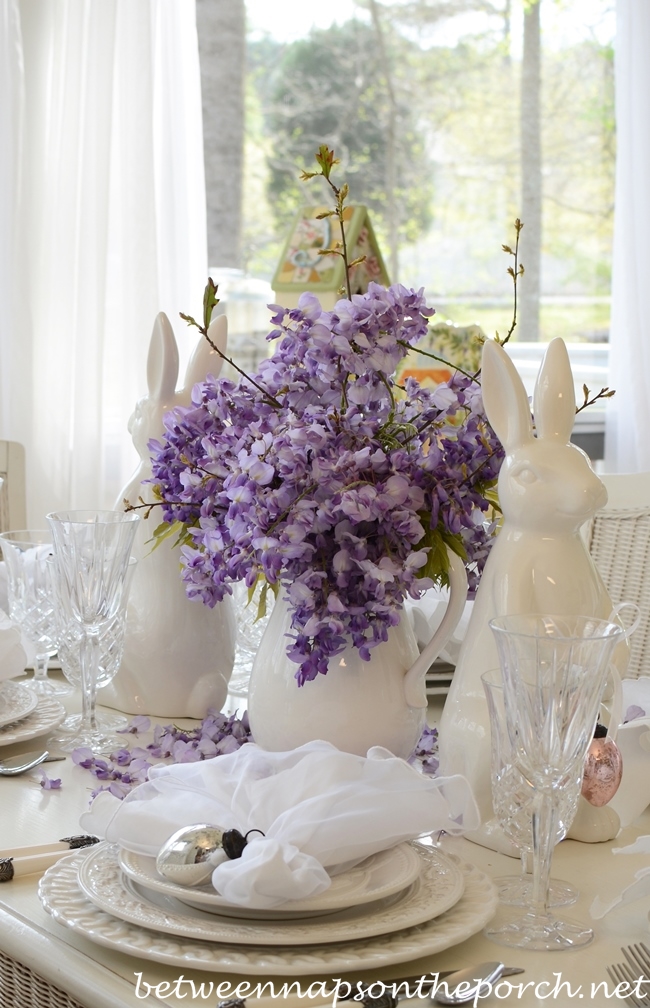 2. Pierced, Filigree, Lattice Charger: This was the other charger I purchased from Horchow online back in early 2008. Again, I ordered a dozen. Back then I always purchased twelve place settings whenever I bought new dinnerware. I had done that with my everyday pattern and with my fine china when I married, so when I purchased chargers for the first time, I purchased twelve so I'd have enough for each of the dinnerware sets that I already owned. These days I normally just purchase six or eight, but occasionally I still do purchase a dozen. It just depends on how I think I'll be using them and the cost.
I get more questions about this charger than any other charger I use in table settings for Tablescape Thursday. Unfortunately, it doesn't have a pattern name or any markings on the back. I remember when they arrived, they were in plain boxes without a brand name or anything on the box. That made me think they were probably produced exclusively for Horchow and Neiman Marcus.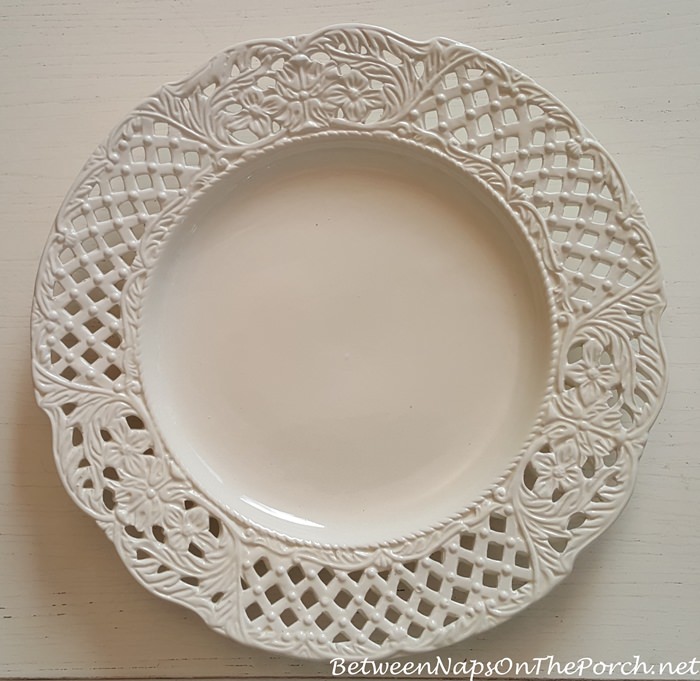 Valentine's Day Table with DIY Heart Tree (Click title to view table.)
3. Straw-Colored, Woven Charger: I purchased these in Steinmart right after adding on the screened porch in 2008. I had purchased some beachy dishware to use on the porch and these were the chargers they had paired with that set in the store. I rarely use them since I don't have a lot of square plates, plus they are relatively small in size.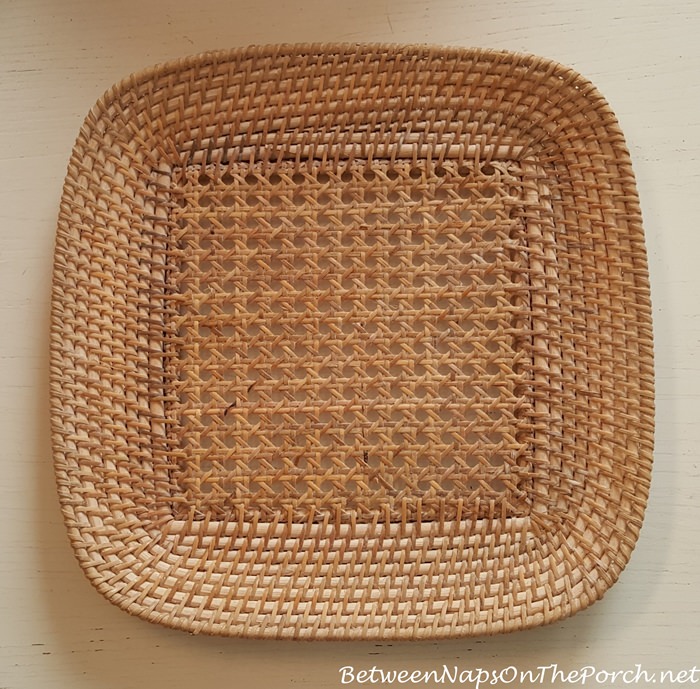 Beach-Nautical Table with Candlelit Centerpiece (Click title to view table.)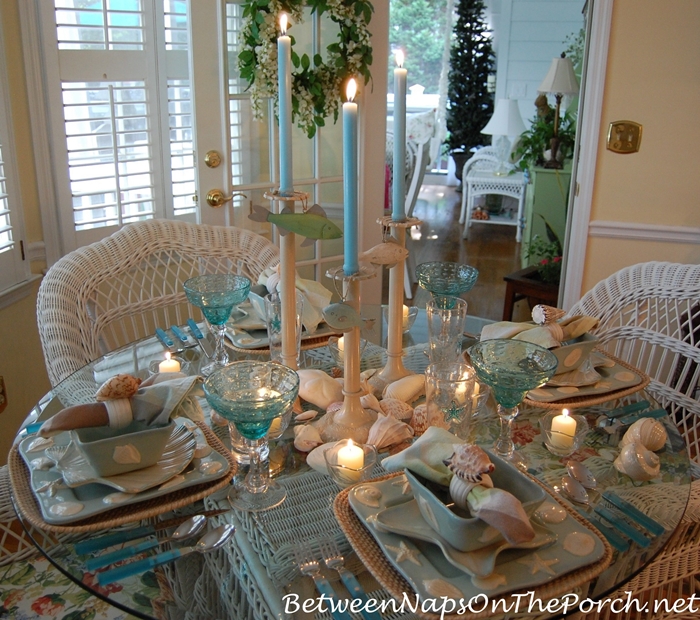 4. Gold, Glass Charger: I came across these in the clearance aisle in Hobby Lobby. They were drastically reduced to (I think) $2 or $3 a plate. They are heavy glass and work great in fall table settings. I've even used them in Halloween and Christmas settings.
Halloween Table Setting (Click title to view table.)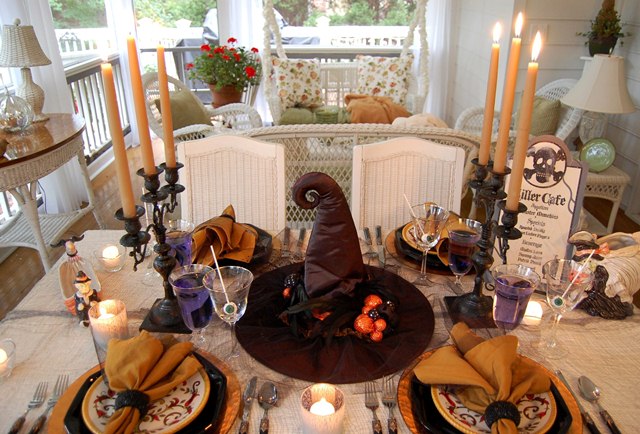 Santa Claus is Coming to Town (Click title to view table.)
5. Corn Platter Charger: This is actually a large platter. I found these on sale half-off in Old Time Pottery many, many years ago. I purchased six of these and six of another style thinking they would make cute chargers for a summer table. Hard to remember, but I think they were marked down to around $6 each.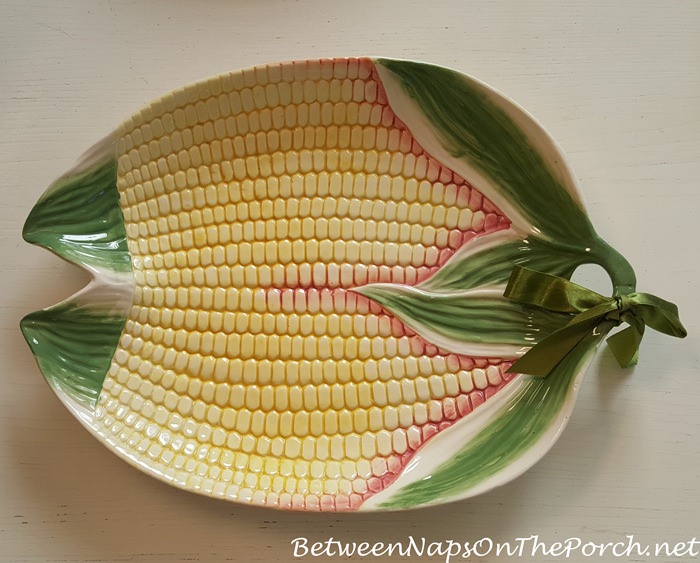 Country Style Tablescape with Corn on the Cob and a Clever Scarecrow (Click title to view table.)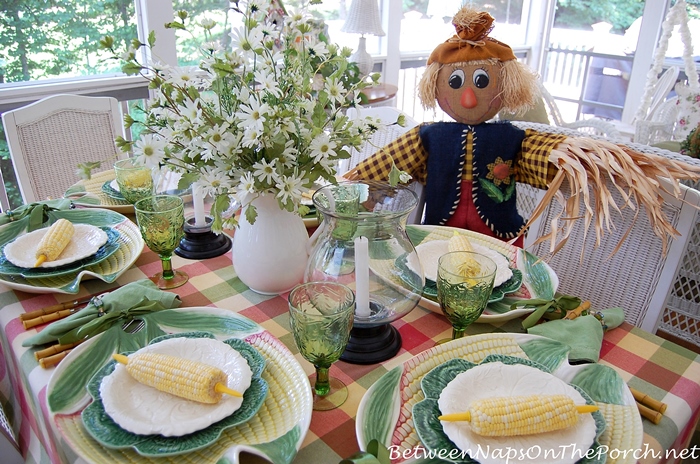 6. Watermelon Platter Charger: This was the other large platter that was on sale that day in Old Time Pottery. I love the watermelon pattern!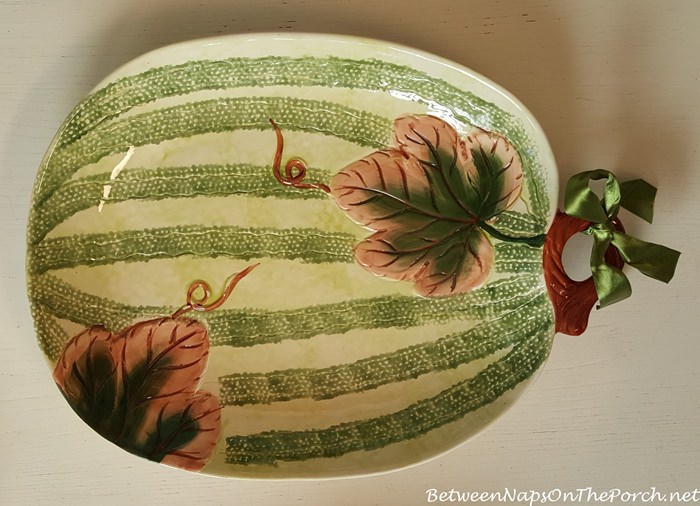 Summer Table with Carved Watermelon Centerpiece (Click title to view table.)
7. Brown, Rattan Charger: Found these on sale in Pier 1 and added them to my charger collection to work with fall place settings. I definitely recommend having a set of brown, rattan, or woven chargers to work with patterns that need that darker base or background. They are still available here: Rattan Chargers.
Dashing Through the Snow (Click title to view table.)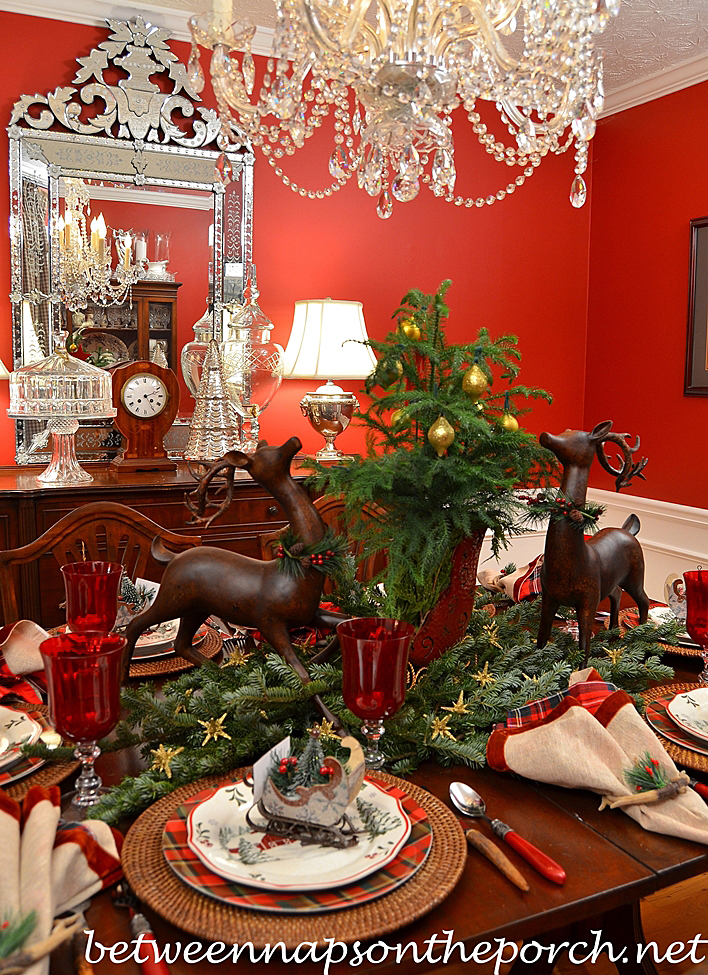 8. Blue, Glass Charger: There's a story that goes with these but I'll just share the quick version. I came across three of these blue, glass chargers in Marshalls for $1.99 each. I purchased them hoping to find more in another Marshalls but was never able to find anymore. I reluctantly returned them, then ended up coming across one in a Marshalls several weeks later in another town. I hurried back to the original Marshalls and fortunately the three I had returned were still there. I really wanted six and mentioned that in a post when I ended up using the four that I had in a tablescape. (See that tablescape HERE.) A lovely reader spied two more in a Marshalls near her home and mailed them to me. So appreciative of the lovely Dearheart who helped me complete this set!
Nautical Table Setting (Click title to view table.)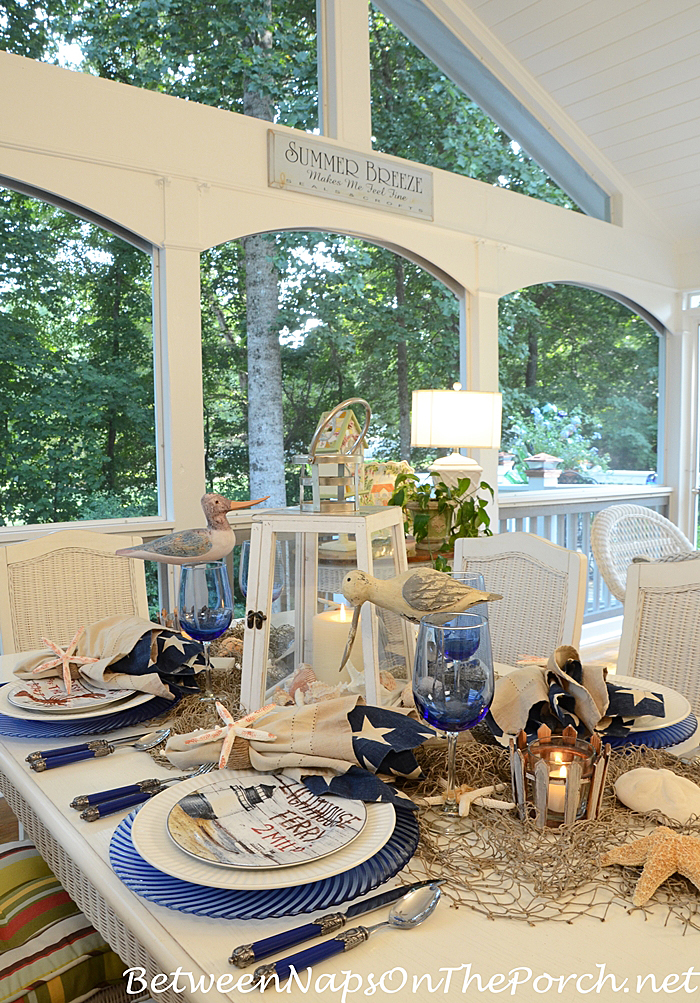 9. Kim Parker Emma's Garden Floral Charger: Came across these in Marshalls one year and it was love at first site. They were only $2-3 each and I bought all that they had, which I think was six. Later I found three more in another store and bought those, as well. I didn't realize what an amazing deal that was until later when I saw them on sale someplace online for drastically more than what I had paid. They are one of my absolute favorite chargers. The colors just make my heart sing!
A Romantic Dinner in the Garden (Click title to view table.)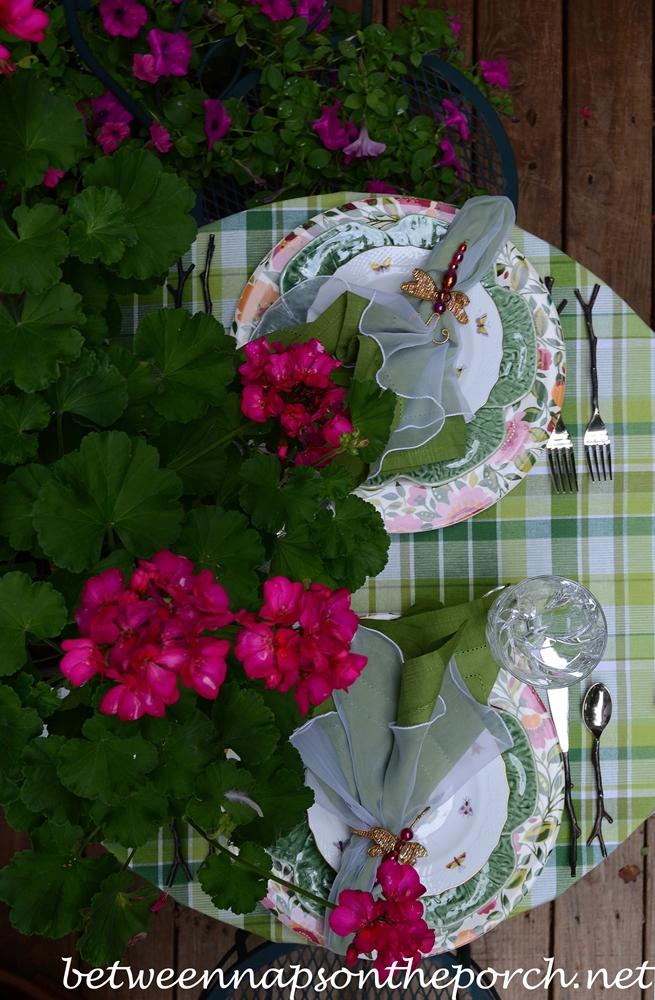 10. Grapevine Charger: I think I purchased these from William-Sonoma. I remember they were on sale, greatly reduced. The price was so good I posted about it on the BNOTP Facebook page so anyone who was interested could get a set. As I recall, they were on sale for just a few dollars each.
Halloween in Pumpkin Hollow (Click title to view table.)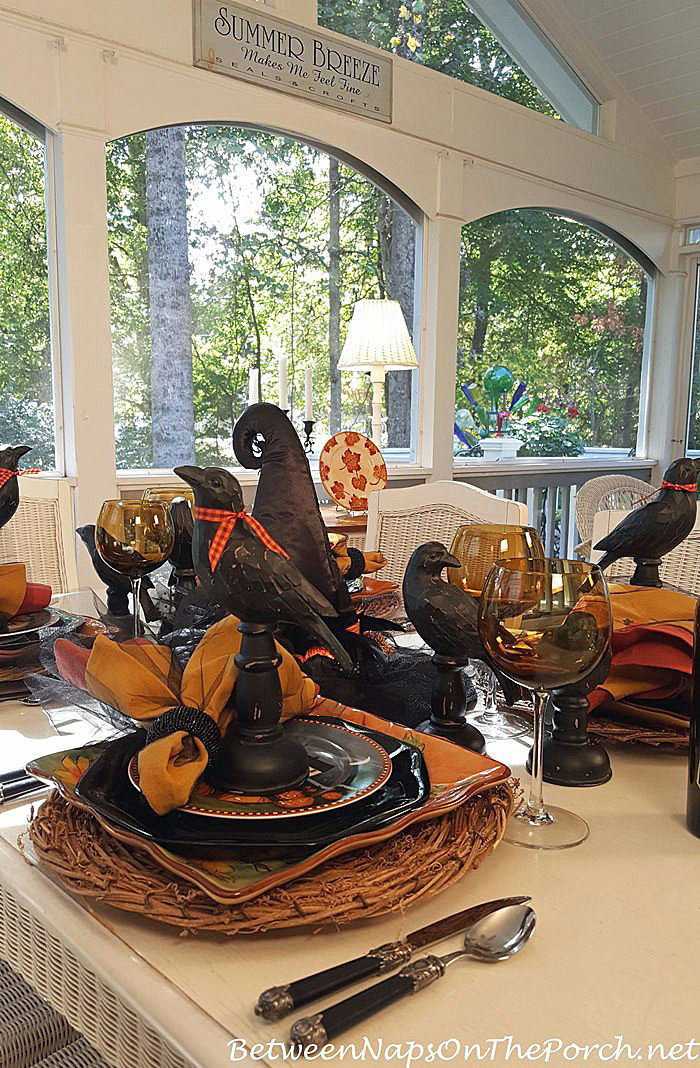 Woodland Themed Valentine's Day Table Setting
11. Green & Red Plaid Charger: Found these on sale online at Williams-Sonoma one Christmas. I love plaid dishware and had purchased dinner plates in the exact same pattern the year before, so I was thrilled to add the chargers to my collection.
Christmas Table Setting, Toy's Delight (Click title to view table.)
When Williams-Sonoma does a theme, they go all out, often making table and bed linens in the same pattern. I love red and green together, so I also purchased the bedding to use as my winter bedding. I had the bed skirt custom-made from the heavy-weight tablecloths since they didn't make a bed skirt in this pattern. The tablecloths were the exact same fabric as the comforter and shams, so it all worked out well. Read more about this project here: Tartan Bedding for Winter.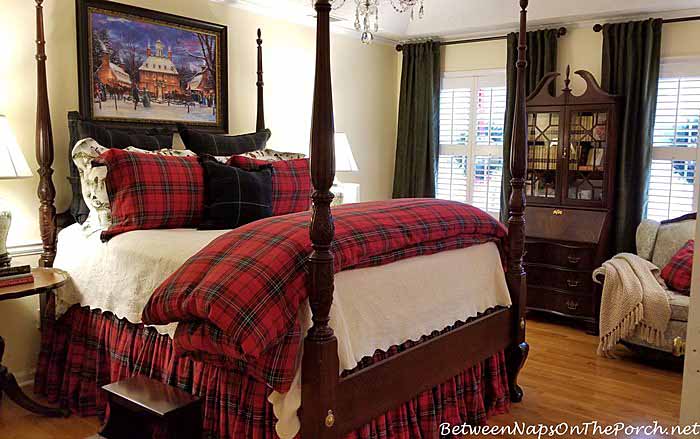 12. DIY Shell Charger: I came across shell chargers on eBay one year and loved them. They were originally from Pottery Barn. The auction sky-rocketed to over $200 for six chargers. Ugh.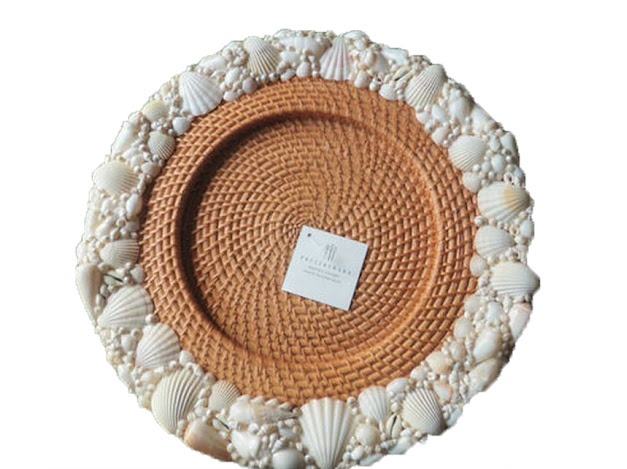 I decided to make my own using inexpensive plastic chargers that I already had as the base. The majority of the shells were collected during a family trip to Sanibel and Captiva Islands back in 1983. I had kept the shells all those years, never knowing exactly what to do with them. I filled in the tiny gaps with little shells found in Marshalls and purchased online. Tutorial for making these shell chargers can be found here: Shell Chargers.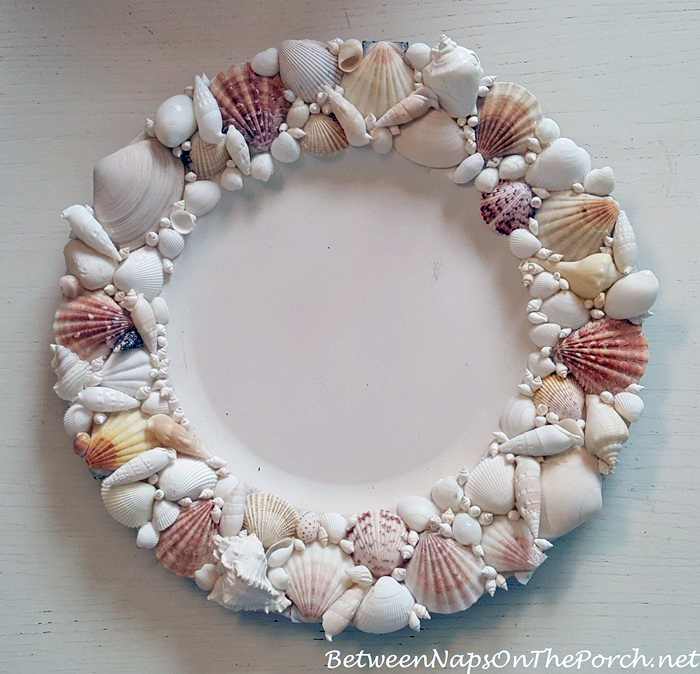 Lobster & Crab Fest: Beach Party Table Setting (Click title to view table.)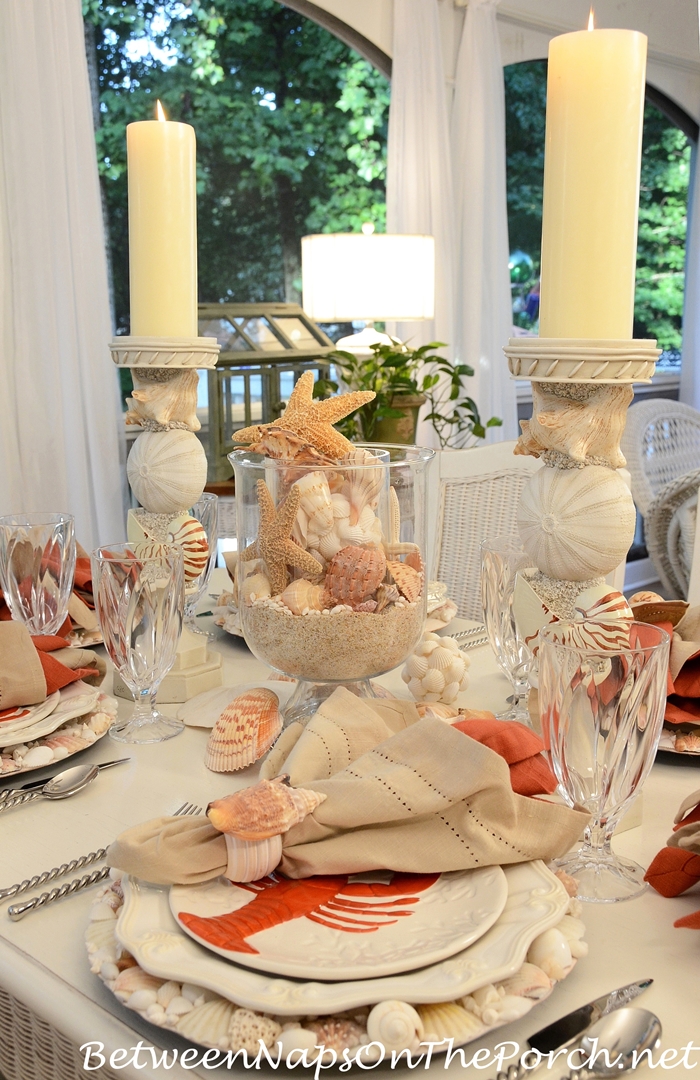 13. DIY Shell and Sea Glass Charger: I had always wondered how the shell chargers I made would look with a bit of sea glass mixed in. When I spotted this "sea glass" in Marshalls one summer, I decided to make six more shell chargers, this time incorporating in the pretty blue glass.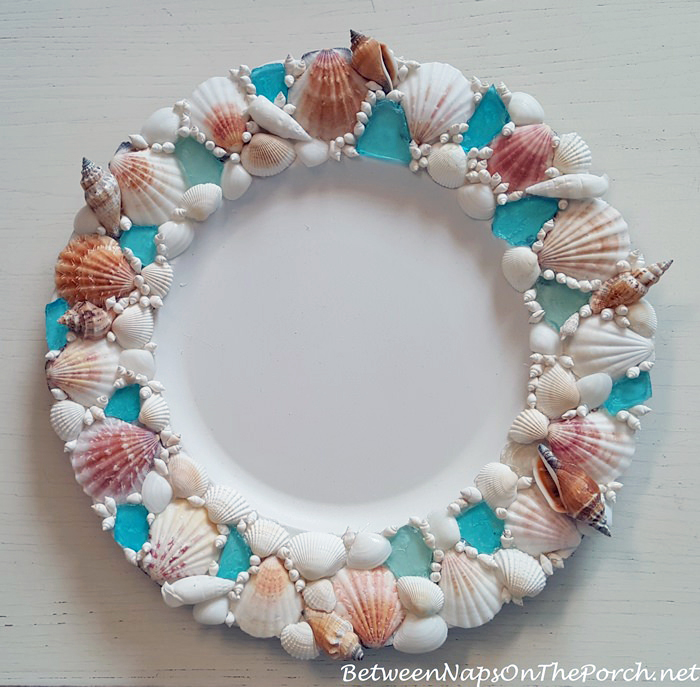 Surf's Up! Beach Vacation Time! (Click title to view table.)
14. Giraffe Charger: After bringing back six giraffe wine glasses from the gift shop during my visit to Giraffe Manor, I came across these giraffe chargers on sale online and knew they would be perfect in an "African Safari" table setting. I think I purchased these in Bed, Bath and Beyond.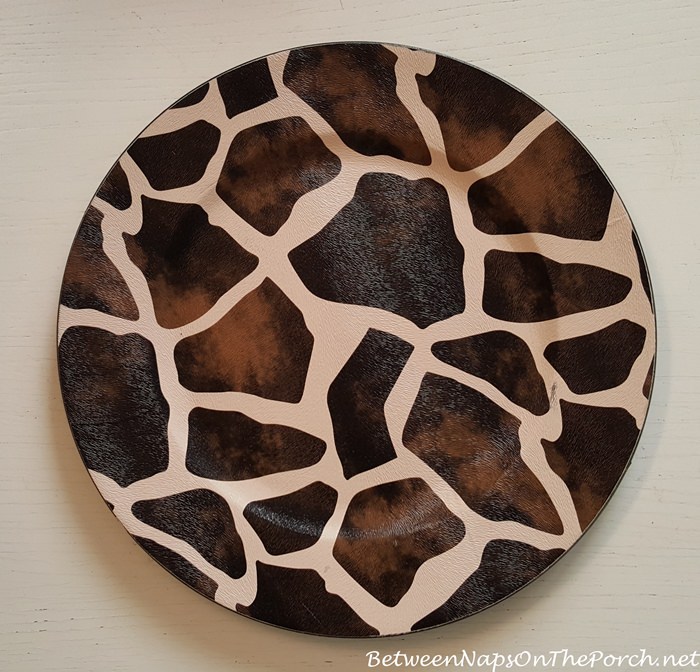 On Safari: An African Safari-Themed Tablescape (Click title to view table.)
15. Green and Gold Braided Glass Charger: These green and gold braided charger plates were a find in Williams Sonoma a few years back. Initially, I purchased them in red and gold but you guys convinced me to go back for the green and gold, too. I'm so glad you did since I've never used the red and gold–yet, but I've used the green and gold several times.
Daffodils, Daisies, and 4-Leaf Clover for St. Patrick's Day (Click title to view table.)
Christmas Table Setting with Magnolia Centerpiece (Click title to view table.) I couldn't resist sharing two tables where the green and gold were used because they are so versatile for my holidays/occasions than I initially anticipated.
16. Red and Gold Braided Glass Chargers: Here's the red and gold version I initially purchased before going back for the green.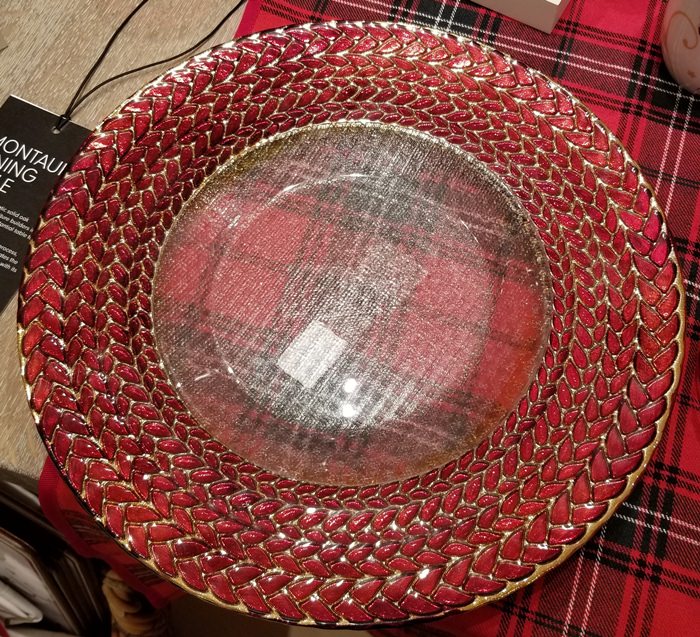 Though I haven't used them in a table setting yet, you can see how beautifully they pair with Lenox Holiday. These would be beautiful in a Valentine's Day table setting, as well.
17. Pumpkin Charger: These cute hand-painted, pumpkin chargers were a find in Pier 1 many years ago. Love using them in Halloween tables although I wish they were a tad larger.
Celebrating October with a Colorful Halloween Table Setting (Click title to view table.)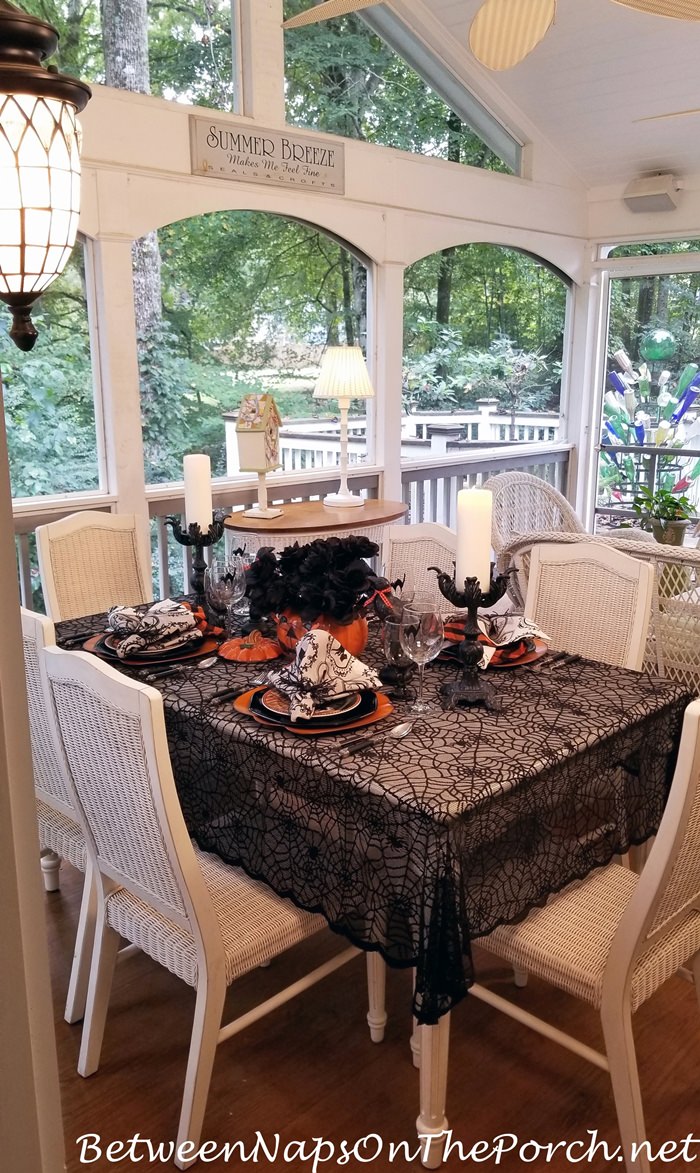 18. Pinecone and Berries Charger: This beautiful charger is one of my absolute favorites. They are just so pretty and so beautifully made! They must have been a huge hit because I just noticed they are available again this year! That so rarely happens, so I'm happy to see they are back. You'll find them available here: Pine and Berry Charger.
19. Driftwood Chargers: I loved the summery vibe of these driftwood chargers when I spotted them one summer while shopping in a Pier 1 in Ohio. I bought a set that summer for my son and DIL, and loved how they looked in a summer table so much, I purchased a set for myself once I was back home.
Outdoor Dining: Child-Friendly Beachy Table Setting (Click title to view table.)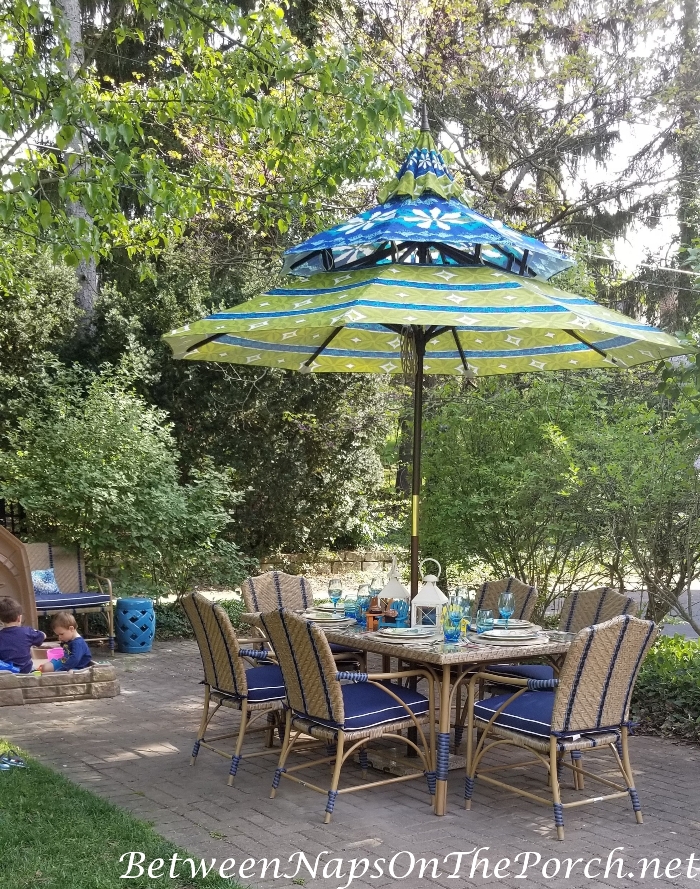 20. Bark-Edged Charger: If you've been following BNOTP for a while, you know I use these bark-edged chargers in tables a lot. I've been surprised by how much I use them, never dreamed they would work for so many different tables. Target no longer has them but they are still available here: Bark Edged Charger Plate.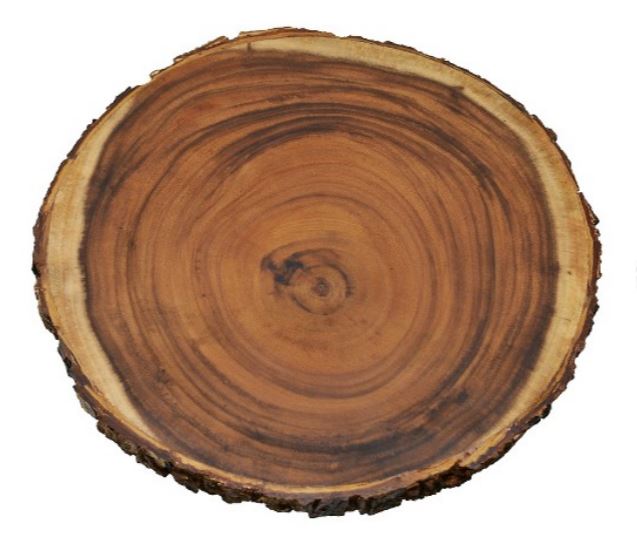 Autumn Table Setting with Blue Willow (Click title to view table.)
Christmas Table for Cat Lovers (Click title to view table.)
21. Square Rattan Charger: I just purchased these square, rattan chargers a couple of weeks ago to go with a fun, beachy dinnerware pattern I've had for many years. I probably won't be using these in a table until next summer–but decided to get them while the getting was good. I doubt they'll still be around by next summer. (You'll find them available here: Rattan Charger Plates.)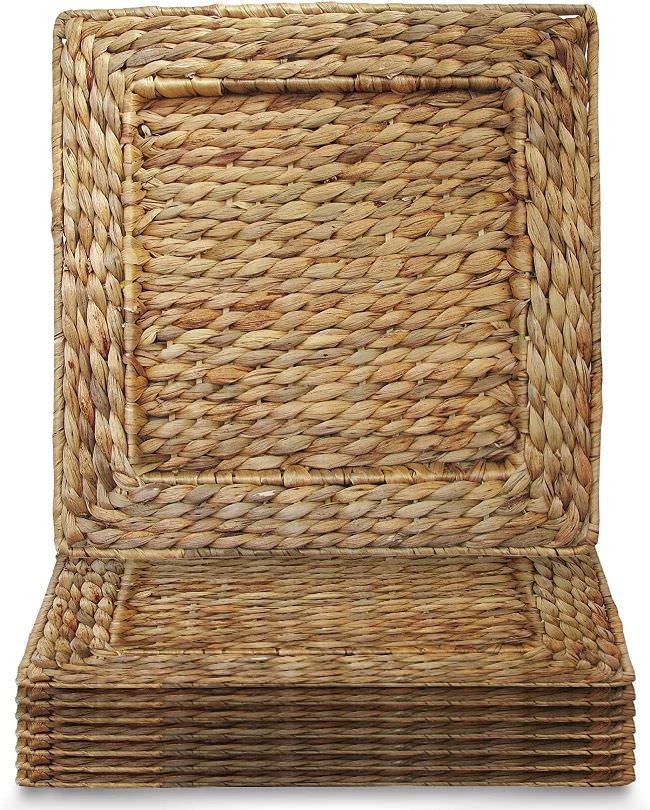 Here's the dinnerware I plan to pair them with for next summer. Love how they look with this beachy pattern!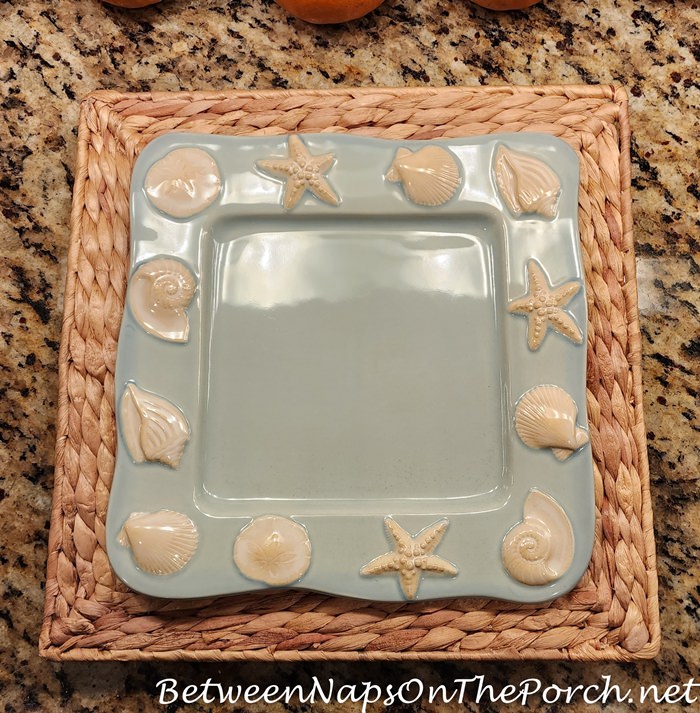 22. Magnolia Leaf Chargers (Click title to view table.) Sometimes it's fun to improvise and create your own chargers from whatever is handy in the garden at that moment.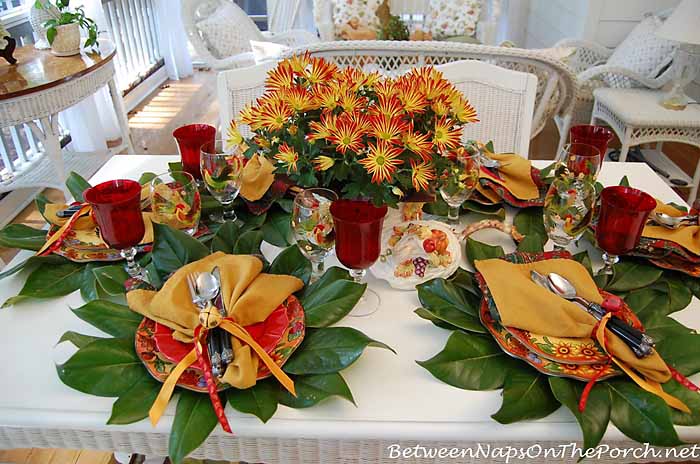 23. Queen-of-Hearts Card Chargers (Click title to view table.) Playing cards from the dollar store worked great as whimsical chargers for this Alice in Wonderland table setting. They were 2 packs for $1 and the ♥ cards were the only ones I needed from each pack for this "Queen of Hearts" table setting.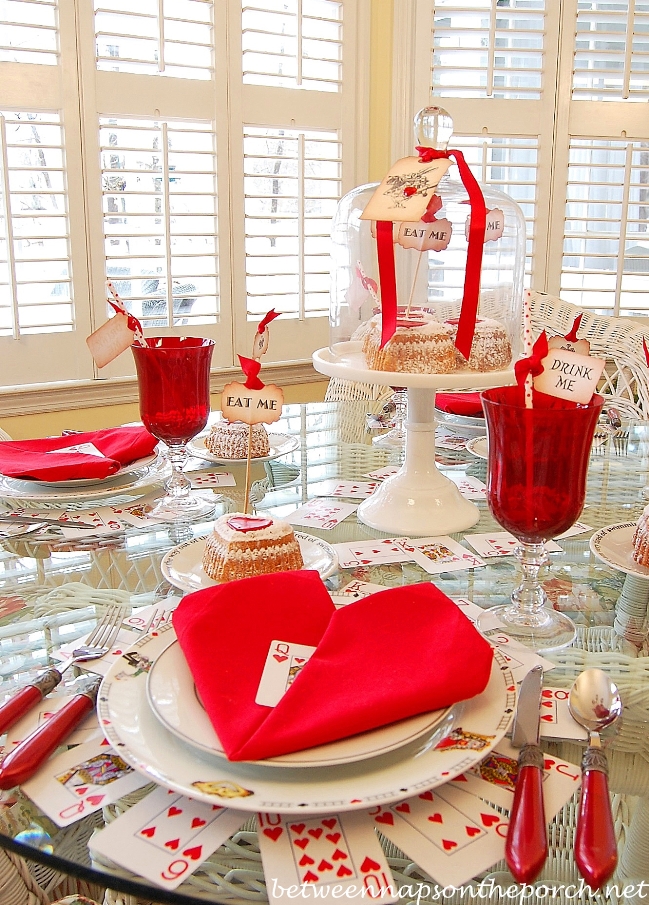 24. Clay Saucers (Click title to view table) Clay saucers from your local garden center are perfect for a garden party table setting. Just measure your dinner plates first so you'll know what size saucer to purchase.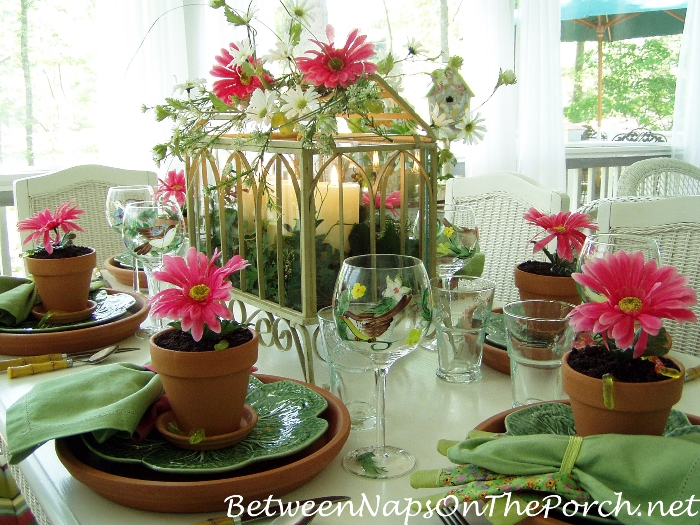 Hope you enjoyed seeing how I use the charger plates I've collected over the past 14 years. I have to really, really love a charger plate to add it to my collection since my current collection fits my needs pretty well. If you're curious to see my flatware collection, check out this post: Flatware for All Seasons and Holidays. I think I've only added one set of flatware since that post was written, but I may need to update it sometime soon.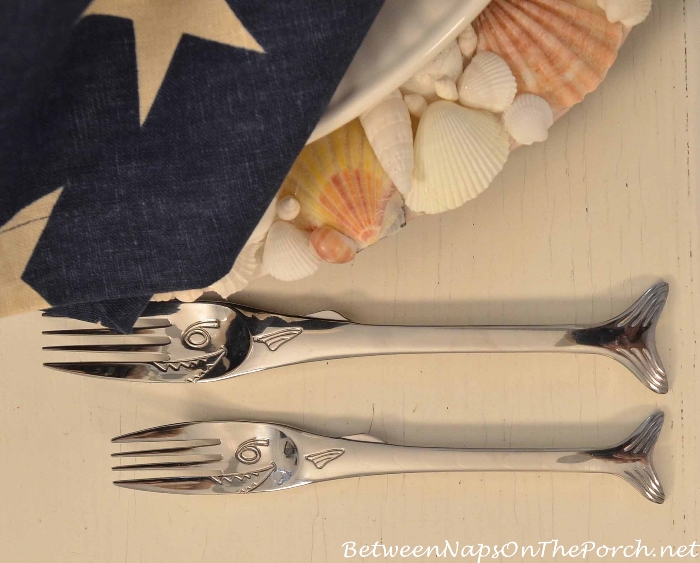 Looking forward to all the beautiful table settings linked for this week's Tablescape Thursday!
Did you know Between Naps On The Porch is on Instagram? You'll find me on Instagram here: Between Naps On The Porch.
Like to know when a new blog post is up and available to read? Subscribe for email updates, it's free and your email will never be shared. Subscribe for free post updates via email here: Subscribe for Post Updates.
Tablescape Thursday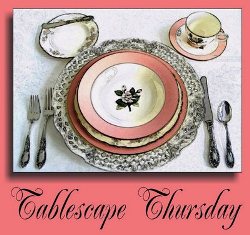 If you are participating in Tablescape Thursday, please be sure to add your permalink below, and not your general blog address. To get your permalink, click on your post name, then copy and paste the address showing in the address bar, into the "url" box when you link up. You'll need to include a link in your post back to the party to link up and participate. That's so visitors to your blog will be able to find the party and the other Tablescape Thursday participants. Please link up table-setting related posts only for Tablescape Thursday.
This party has ended, click button below for the links to all who participated.
*If a post is sponsored or a product was provided at no charge, it will be stated in post. Some links may be affiliate links and as an Amazon Associate, I may earn from qualifying purchases. *