Welcome to the 731st Metamorphosis Monday! Do you wear glasses or contacts? Back in May 2017, the progressive glasses I had been wearing for quite a few years, broke apart right in the center. It turned out to be a blessing in disguise because it led me to a local eyeglass retailer/optometrist where for the first time ever I learned about "workstation" glasses.
To say my workstation (or workspace glasses as they called them during my recent eye appointment) have changed my life is not an exaggeration! Since it's been 5 years since I first learned about workspace glasses, you have probably heard about them by now. I'm not sure if they were a new concept back when I first found out about them five years ago or if they had been around for a while at that point. In case you're not familiar with "workspace" glasses, they are progressive lens glasses that are designed to meet the needs a person would have in an office environment, which by the way turns out to work great for pretty much everything I do here at home. The workspace glasses (on the right below) have the majority of the lens (especially the part in the center) dedicated to seeing just a few feet out, which is perfect for viewing a computer screen. It turns out it's also perfect for cooking, ironing, and almost everything else I do around the house.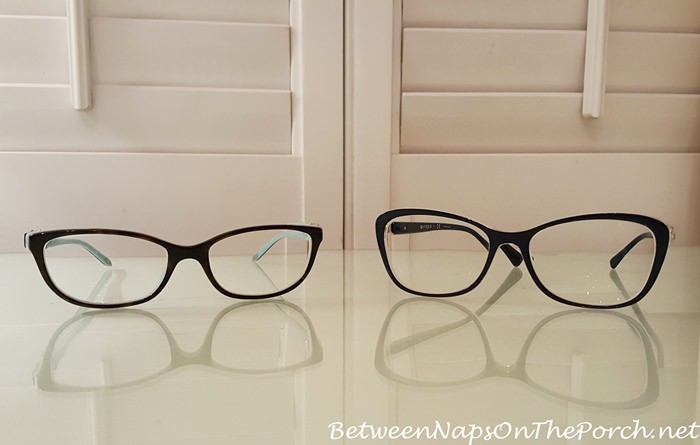 The top section of workstation glasses is designed to see much further out so if you're sitting/working at a desk and someone walks into your office or workspace, when you look up at them through the top part of the glasses, they will be in focus. The bottom of the lenses is still designed for reading. It's a brilliant concept because it gives us exactly what we need when viewing a computer screen–no more tilting our heads way back to view the computer screen through the bottom half of the glasses.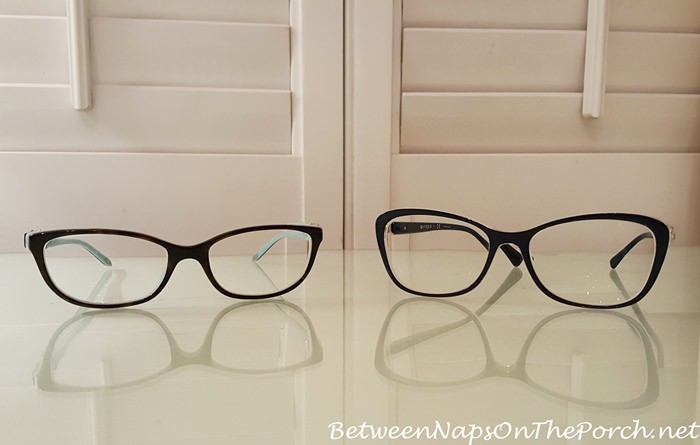 I have become the biggest cheerleader in the world for workspace glasses! Of course, I would prefer to not wear any glasses at all and wore hard lenses, followed by gas-permeable contacts for the majority of my life–that is until the monovision gas-perm contacts I was wearing no longer worked for all my needs. I've been in some form of progressive lens glasses full-time for at least 10-15 years now and figured I was stuck in them for the rest of my life. Recently, I had a huge epiphany! It dawned on me that I should try gas perm contacts again since I no longer need contacts to do everything for me as I thought I did when I bought my first pair of workspace glasses.
So here's the new plan and so far it seems to be working well. I purchased a brand new pair of gas-perm contacts and when I leave the house, I put those in. They work great for driving, seeing the dashboard, and for reading a lot of the things that I need to read when I'm away from home–like a menu, signs in a store, or my phone. The only thing they are not great for is when I need to see small things for a long period of time–like small writing on a computer screen for hours. That's where the workstation glasses come in. As soon as I arrive back home from running errands, I take out my contacts and put my workspace glasses back on since they are great for everything I do here at home.
For reading a book or anything I can hold a bit closer, I just take the glasses off since I don't need any correction/eyewear for that. I'm so nearsighted, I can read the inscription inside a ring or thread a needle without glasses or contacts. That's one of the reasons I've never opted for laser eye surgery since it would take away the close-up vision I currently have and I never want to lose that if I can avoid it. I love not having to wear glasses when working a puzzle, reading a book, reading mail, filling out forms, or anything paperwork here at my desk.
I don't know why it took me this long to realize I could do it this way: contacts for when I leave the house and workspace glasses when I'm at home. One thing I do notice is when I get home, it takes my eyes about an hour to return completely back to normal. Gas Perm contacts slightly change the shape of the eye, I think the cornea, that's why they typically offer better vision correction than soft contact lenses, especially for astigmatism which I definitely have in at least one eye. Fortunately, they don't change my eye enough that I can't still see the computer which means I can start working and using the computer as soon as I return home.
Before, I was trying to find contacts that would do everything I needed throughout the entire day so I could ditch glasses entirely. That just doesn't work for my nearsightedness and astigmatism. I think this is going to be a happy solution because it gets me out of glasses when I'm out and about, but gives me everything I need when I'm at home.
I wanted to share what's working for me in case there's anyone out there who hasn't heard about workspace/workstation glasses. I know everyone's situation is completely different, but if your situation is similar to mine, this has been the happiest compromise I've found. When I'm out driving around now, I feel like I've been set free! lol I don't like how I look in glasses so I'm really happy I can ditch them when I'm out amongst the world. Also, I'm looking forward to shopping for some fun, stylish sunglasses. I may get some silly-looking white ones for summer to go with my Lily Pulitzer shirts that I live in during the summer months.
New Workstation/Workspace Glasses: Though my prescription hasn't changed (for glasses or contacts) I went ahead and sprung for some new workspace glasses since I was really tired of my old ones after wearing them for five years. There's a YouTuber I occasionally watch whose glasses I really like. She did a Q & A a year or two back and the number one question she said that she got was, "What brand are your glasses?" So apparently I'm not the only one who loves how her glasses look on her. It turns out her glasses (shown below) are by Chanel–the model number is 3281, just in case you're interested.
The retailer where I'm getting my contacts doesn't carry Chanel. Actually, I was given two different answers when I asked if they carry Chanel frames with one employee saying they did but at another location, and another employee saying they no longer carried Chanel in any of their locations. I stopped by Warby Parker, which is in the same shopping center, to see if they had something similar to the Chanel glasses. I tried on these below and really liked them. I've discovered over the years that tortoiseshell frames work well for me–they go well with my hair color and my skin tone. I don't have my new workstation glasses yet, they should come in today or tomorrow. I can't wait to get them! In case you're interested, the Warby Parker tortoiseshell frames below are Clemens in the color, Striped Sassafras. They come in several colors.
Hope this information helps anyone who may be in a similar situation and is tired of being stuck in glasses full-time. I know there are worse things in life, but it's amazing how little tweaks can add to our happiness.
Before I close out this post, one more very important thing that I learned during my recent eye appointment is when you're outside, always wear polarized sunglasses. I've always done that since I knew polarized sunglasses were supposed to be a good thing, but I wasn't sure why. The doctor I saw said it actually helps avoid or delay getting cataracts. I asked him if it was inevitable–getting cataracts, and if everyone gets them. He said 8 out of 10 people will eventually have cataracts. I asked if there was a way to avoid them entirely because I'd like to be one of those two people who will never get them! He said the most important thing you can do is wear polarized sunglasses, but you have to be aware, that they can make it difficult to see your car's dashboard. I've always worn polarized sunglasses and haven't had an issue with seeing the dash, but that's important to keep in mind.
Looking forward to all the great Before and Afters linked for this week's Met Monday!
Pssst: Did you know Between Naps On The Porch is on Instagram? You'll find me on Instagram here: Between Naps On The Porch. Like to know when a new blog post is up and available to read? Subscribe for email updates, it's free and your email will never be shared. Subscribe for free post updates via email here: Subscribe.
Metamorphosis Monday: Metamorphosis Monday is a party that's all about Before and Afters. Please link up your Before and After projects like DIY projects, room makeovers, craft projects even recipes. Please do not link up Table Settings, save those for our Tablescape Thursday party on Thursday. If you are participating in Met Monday, you'll need to link your post to the party using the "permalink" to your MM post and not your general blog address. To get your permalink, click on the name of your post, then copy and paste the address that shows in the address bar at the top of your blog, into the "url" box for InLinkz when prompted. NOTE: Please do not link up more than 3 posts from your blog. In order to link up, you'll need to include a link in your post back to the party so visitors to your blog can find the other party participants. When linking up to the party, give the InLinkz system time to find the link in your post to avoid having your link held for moderation/approval. Thanks!
This party has ended, click button below for the links to all who participated.
*If a post is sponsored or a product was provided at no charge, it will be stated in post. Some links may be affiliate links and as an Amazon Associate, I may earn from qualifying purchases. *