Welcome to the 719th Tablescape Thursday!
A few days ago I shared plans to have my garage's concrete floor prettied up. I was trying to choose between two flooring systems: Epoxy vs Polyaspartic Polyurea.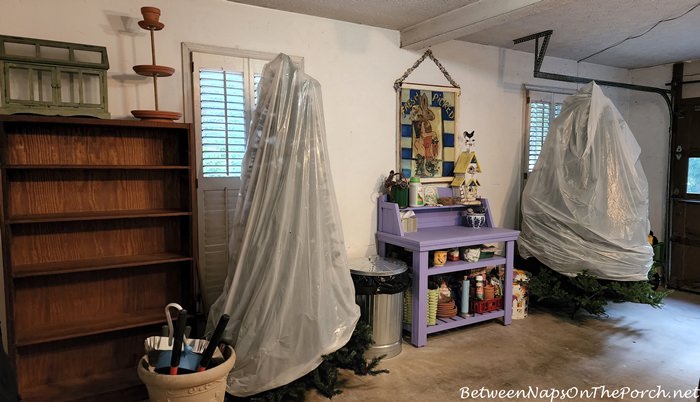 After getting estimates for both methods, I've decided to go with the Epoxy system which is also finished off with a topcoat of Polyaspartic. I know several of you asked that I share in a future post which flooring I chose and why. The "why" was a combination of facts/information and my gut intuition. The company that will be doing the Epoxy flooring (let's call them Company A) has been around for many years–since 2010. I think they are actually headquartered here in Atlanta. They have great Google reviews and I really liked this color below that wasn't available through the other company (Company B) that uses a Polyaspartic Polyurea flooring for garages.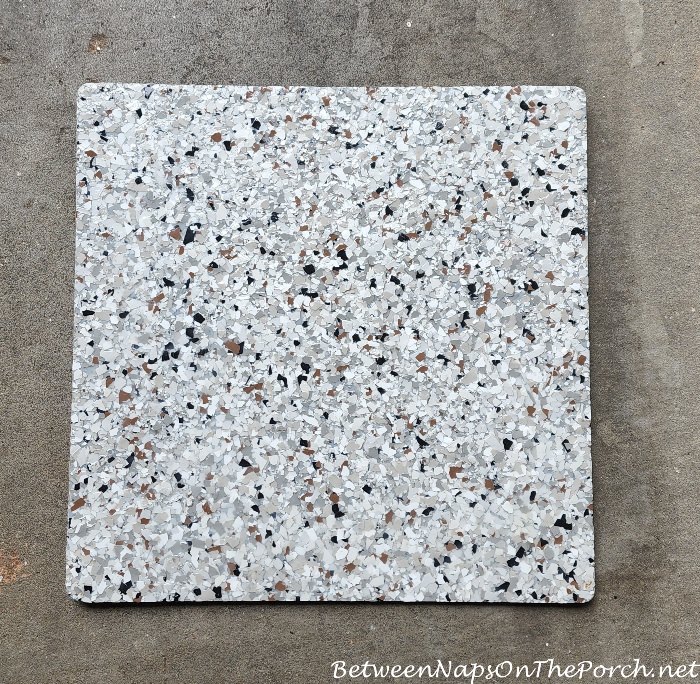 I really didn't enjoy the estimate process with Company B. The sales guy, a former Corporate Executive as he reminded me 3 times during his sales pitch, was condescending toward me throughout out much of his presentation. The whole estimate/sales pitch was very regimented–like a set formula he always followed as he flipped through the pages of a notebook he was showing me. It felt like I was sitting through a high-pressure, timeshare sales presentation. He acted really annoyed whenever I interrupted to ask questions. He finally ended his "presentation" by giving me the estimate and saying that it was only good if I signed right then. Oh, and he would need a 50% deposit "today." Company A doesn't ask for anything until the job is complete and you're satisfied…and there's no game-playing with the estimate/pricing.
So in the end, I decided to go with the company that's been in business for many years, has excellent reviews, and gave me a no-pressure estimate. They are booked out until the first week of August so I may try to get the garage painted in the meantime–I had originally planned to have that done after the floor was installed. I've already gotten one estimate (which was insanely high!) and I'm getting two more this week.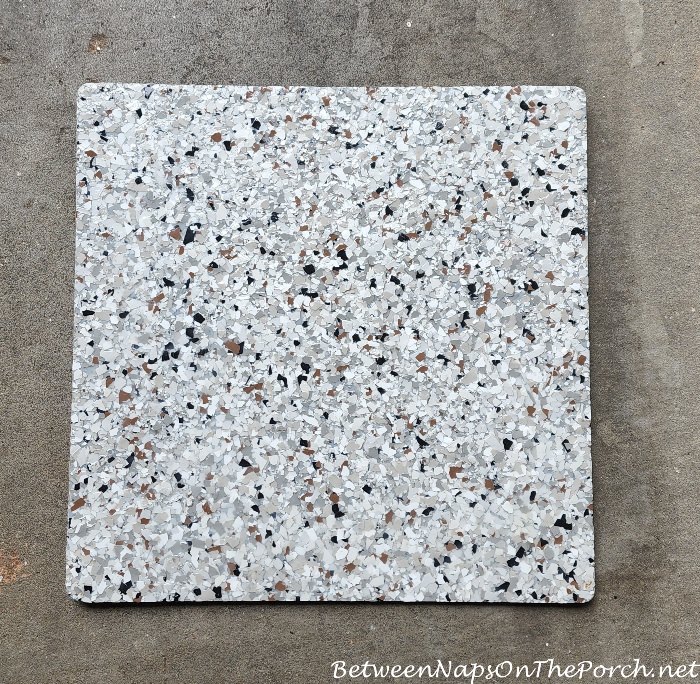 Crazy About This Cart!
I've often thought about purchasing a small cart to keep in the garage. I thought it would come in handy for loading groceries out of the back of my SUV all at once, then pushing them over to the kitchen door–thus saving a lot of trips back and forth. But one of the main reasons I've thought about getting one is because when I'm pulling out multiple boxes of flatware to try for table settings, they can be quite heavy and I have no place to set them as I'm trying to decide which one to use. Often I've resorted to opening the back door of my SUV and placing the flatware containers on the back seat while I'm trying to choose which one to use or when I'm putting several containers back away.
If I had a cart, I could wheel it along from cabinet to cabinet, choosing the dishes, flatware, napkins, napkin rings, etc… that I wanted, then push it all over to the breakfast room/kitchen door where I could unload it from inside to set a table in the breakfast room, dining room or on the porch.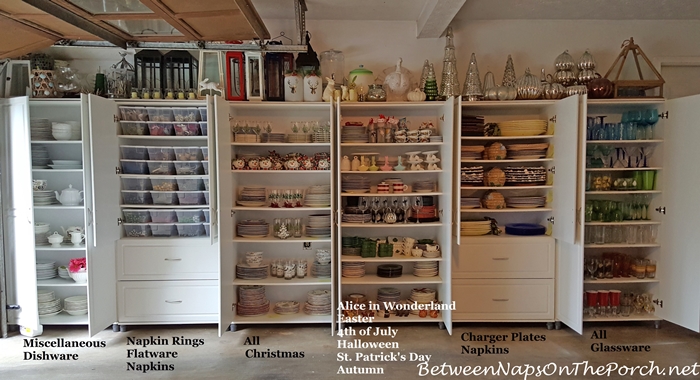 I ended up choosing this cart after reading a bunch of reviews. I liked the push handle on the end and that it was designed to hold heavy items–like dishes!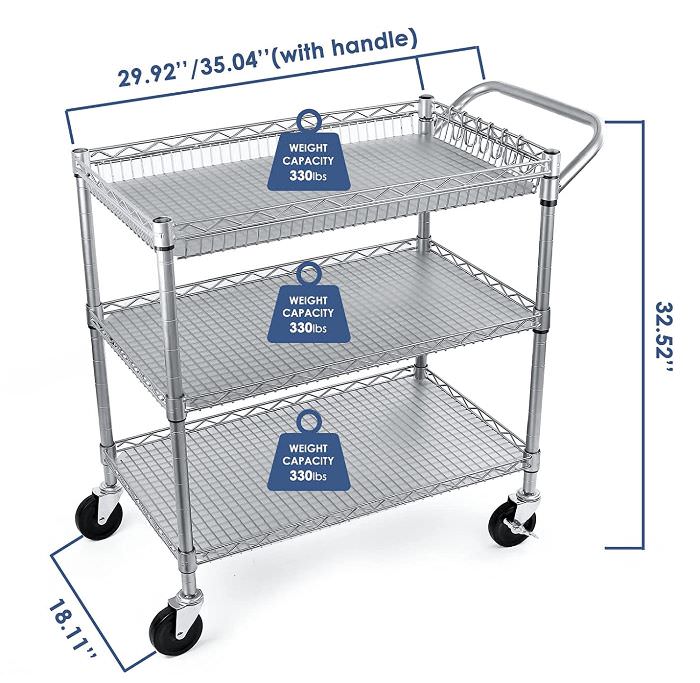 It looked a bit intimidating when it arrived, but it was actually very easy to assemble.
If you end up purchasing this cart, here are some tips/things I had to figure out on my own since instructions are never really complete for anything. These thingamabobs pictured below, those are just part of the packaging and not needed when putting the cart together–so they can be tossed.
After screwing on the wheels which was very straightforward, the next step is to place the bottom shelf onto the four legs. The diagram in the instructions makes it appear as if that first shelf is higher up on the leg, which is contrary to what the instructions actually say. I looked at the photos submitted by others who had purchased this cart, and they all placed the first shelf where you see in my photo–where the instructions actually indicate. So the pictures/diagrams in the instructions are not great.
Another thing that really threw me off is you start by placing these black slip sleeves onto the legs and snapping them into place. The instructions don't mention that they won't fully meet and no matter how hard you try, they will not fully come together around the leg. I think that's intentional so when you slide the shelf over the top of the slip sleeve, it probably pushes the sleeve further closed, but it also keeps everything nice and snug which keeps the shelf in place.
Another big tip I learned from watching a YouTube video of a guy assembling a similar but different cart is that when you see these double rings on the legs, that's the spot where the next shelf is really meant to go. So after placing the first shelf nice and low down near the wheels, this is where I placed the black slip sleeves on each leg to support the middle shelf. This tip is never mentioned in the instructions at all, instead, it says to place the slip sleeves at your "chosen height for the second shelf." But if you're like me and you would like some guidance, this is actually where the slip sleeves (and the second shelf) were originally designed to go.
So here's how it looks in its natural habitat. This cart comes with shelf liners. A lot of the carts I saw online didn't come with those and they had to be purchased separately. The wheels work sooo well! They turn effortlessly on a dime, basically, the way wheels work on high-end luggage. So it's super easy to turn it around to face the opposite direction when needed.
I placed a couple of stacks of very heavy chargers on the top shelf–just for demonstration purposes. I've already used the cart once for loading groceries out of the car, did that this morning and it worked great. One trip and I was done! If you could use a handy cart in your life for moving things around, I purchased this one here: Rolling Utility Cart.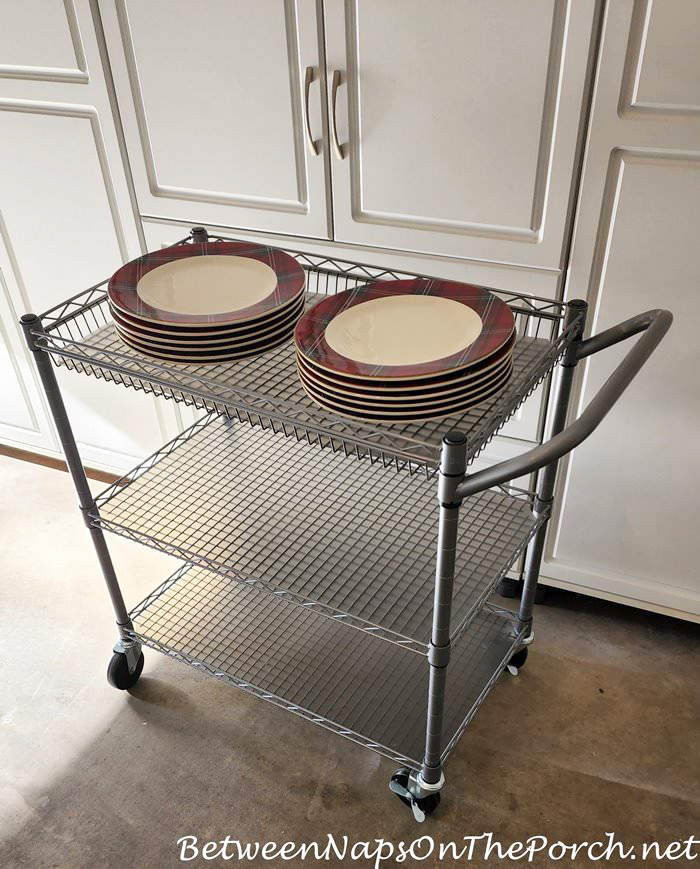 Looking forward to all the beautiful table settings linked for this week's Tablescape Thursday!
Did you know Between Naps On The Porch is on Instagram? You'll find me on Instagram here: Between Naps On The Porch.
Like to know when a new blog post is up and available to read? Subscribe for email updates, it's free and your email will never be shared. Subscribe for free post updates via email here: Subscribe for Post Updates.
Tablescape Thursday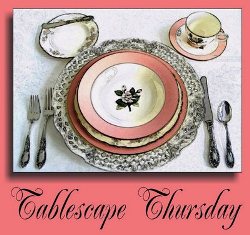 If you are participating in Tablescape Thursday, please be sure to add your permalink below, and not your general blog address. To get your permalink, click on your post name, then copy and paste the address showing in the address bar, into the "url" box when you link up. You'll need to include a link in your post back to the party to link up and participate. That's so visitors to your blog will be able to find the party and the other Tablescape Thursday participants. Please link up table-setting related posts only for Tablescape Thursday.
This party has ended, click button below for the links to all who participated.
*If a post is sponsored or a product was provided at no charge, it will be stated in post. Some links may be affiliate links and as an Amazon Associate, I may earn from qualifying purchases. *