Have you completed your autumn decorations? I didn't really decorate a lot this year since I was out of the country for most of October, then under the weather with a nasty cold/virus for 10+ days of November. About the only decorating I did prior to leaving for Egypt was to hang a fall wreath on my front door. (See more of this wreath in this previous post: Autumn Wreath for the Front Door.)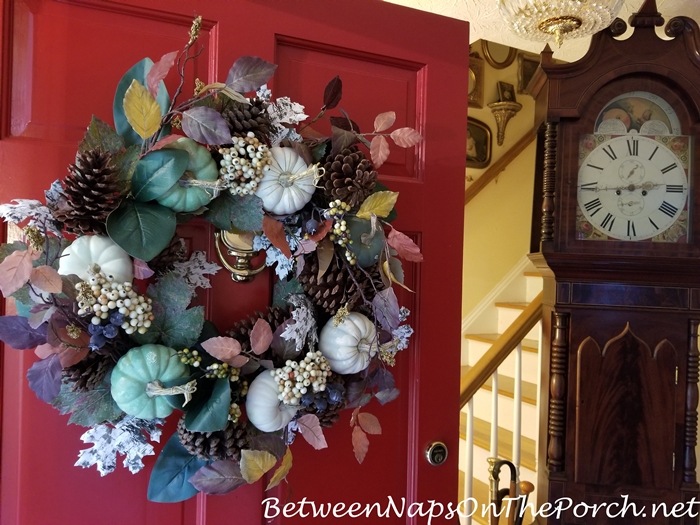 Well, that and adding a cute pumpkin to the bookshelves here in the office.
If you're having family over for Thanksgiving and you're looking for a little inspiration for your fall mantel, here's the link to a previous "Thanksgiving-themed" mantel from a few years back: Thanksgiving Mantel.
Another autumn mantel from the past: Autumn Mantel.
This is what I'll be working on this weekend. Today we've got lots of sunshine and temps in the 60's. That's much more normal November weather for Georgia.
I'm going to take advantage of this beautiful weather to get the wreaths up. I'll be spending Thanksgiving with family so it will be nice to come back home and have some of my Christmas decorating already done. If you're interested in hanging wreaths on the front of your home, here's a tutorial sharing how I hang mine, along with some tips for hanging them on windows that may not open from the top: Hang Wreaths on Exterior Windows.
Holiday Sales
Have you started your Christmas shopping? I've gotten a good bit done, but still have more to do. I'll be putting together a gift guide post with some ideas real soon. In the meantime, these are the sales I know are going on right now:
Brooks Brothers currently has 30% off Sports Coats and Dress Trousers, plus suits are on sale, too. You'll find that sale here: Brooks Brothers.
They also have cute jackets and sweaters on sale for women, too. Love this jacket that's currently on sale 50% off here: Jacket.
L.L. Bean
L.L. Bean has all their "Home" wares on sale right now, including their very best quality flannel sheets. I have them in the "Macbeth" plaid and in the solid "Natural" color and LOVE them! You'll find them here: Flannel Sheets. Don't forget to use the code HOME20 for the sale at checkout, although I think it will automatically apply.
I think I'll add the Stewart Victoria pattern to my collection this winter. I love their tartan patterns! The Stewart Victoria is the third one from the bottom in this stack below. The bottom one is the Macbeth pattern, the other tartan pattern I have.
If you love tartan, my bedding is all on sale right now.
You'll find it here: Tartan Bedding. It says, "One Day Deal." Not sure if that means the sale is only for one day or not.
I'm off to hang wreaths before the temps start dropping again. What are you doing for Thanksgiving? Are you staying home with family coming to your place, or will you be traveling? I can't wait to smother my grandsons in hugs and kisses in just a few days! ♥♥♥
*If a post is sponsored or a product was provided at no charge, it will be stated in post. Some links may be affiliate links and as an Amazon Associate, I may earn from qualifying purchases. *