Day 3 of my captivity.
This self-isolation stuff reminds me of the "Cat's Diary." Such strange times we're living in!
Just before I left for Ohio, I stopped into Pottery Barn and Williams Sonoma to check out their spring dinnerware and decor. I'm so glad I did now since almost all the stores have closed their doors. It's really weird to imagine all the stores out there filled with beautiful wares that no one can touch or purchase. I will continue shopping online to support as many businesses as I can. I hope they all weather this storm and come back stronger than ever this summer.
Pottery Barn has beautiful, whimsical dishware in stock for spring and Easter online.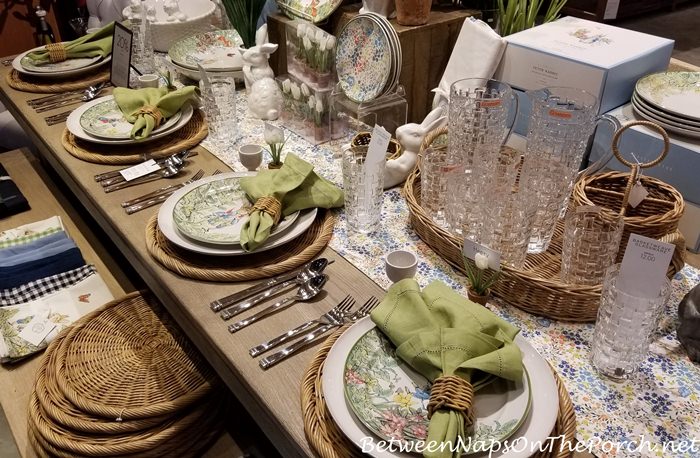 Love these darling plates with a Peter Rabbit theme.
These adorable bunny plates are currently on sale here: Peter Rabbit Salad Plates.
I think I'm going to jump on this sale because it's not often you see dishware 50% off.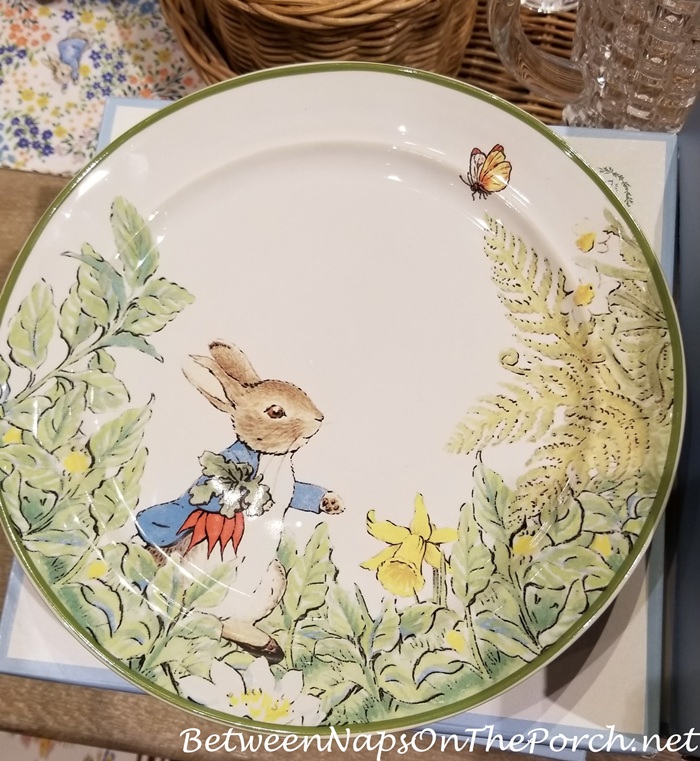 I love these napkins so much. They are currently on sale 50% off, too! You'll find them here: Napkins.
And these! I love how Peter is hiding, diving headfirst into the flowers. Sooo cute! You'll find them on sale 50% off here: Peter Rabbit Napkins.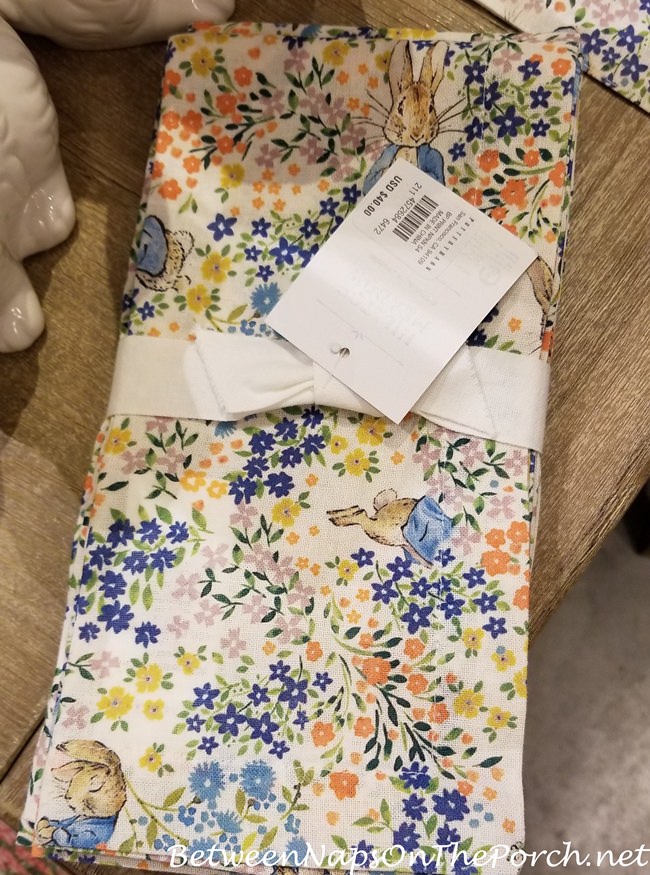 This cute bunny reminded me of the one I so often use in my spring/summer table settings. I think is sold out but you can see him here: Bunny with Basket.
I saw these beautiful eggs while I was in the store. They are currently on sale, too…again 50% off. You'll find them here: Decorative Egg.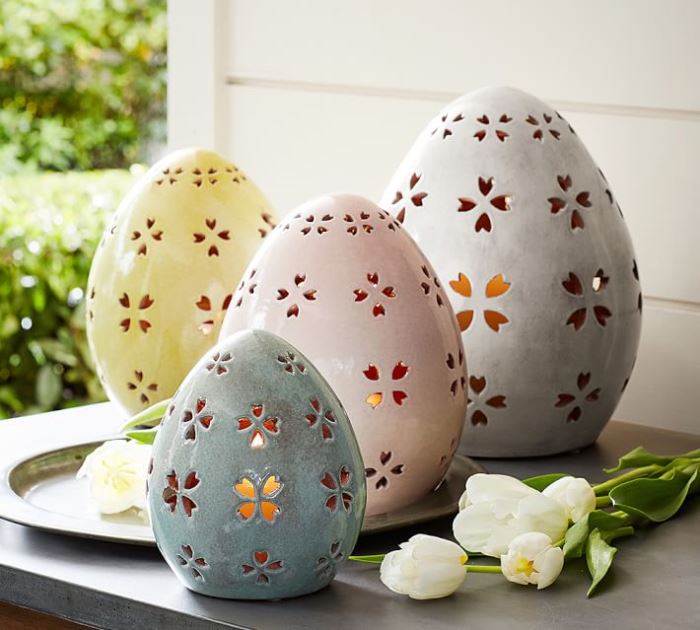 If white doesn't fit into your decor, these cuties are on sale here: Bunnies.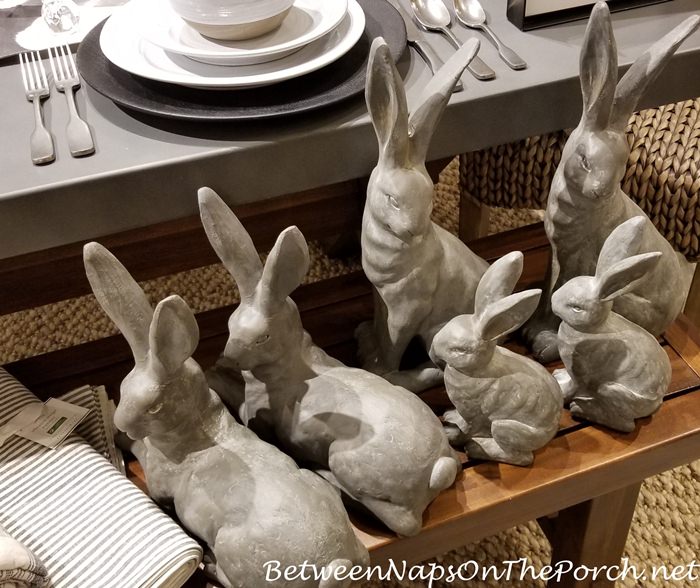 There weren't a lot of tables to see when I visited, just this simple table in gray and white.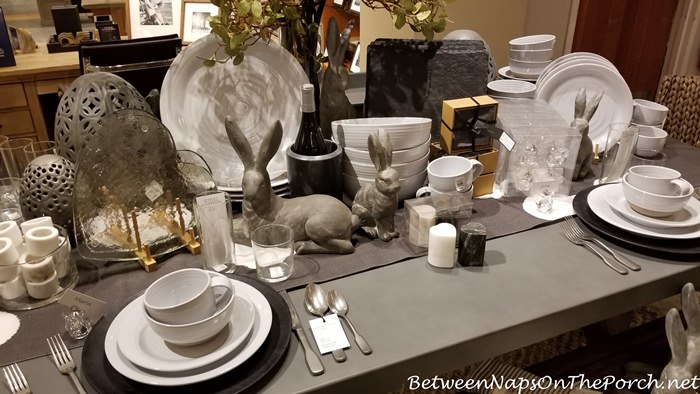 One more in white and soft blue…
I remember these plates from last year. They are back, at least online, and you'll find them on clearance here: Bunny Salad Plates.
Next, I headed over to Williams Sonoma just a few doors down. It's hard to believe that if I was there today, I wouldn't be able to shop in any of these stores. When I was there ohhing and ahhing over all the new spring dinnerware, I had no idea they would be closed just a week later.
They've brought back the cute Peter Rabbit plates I purchased last year.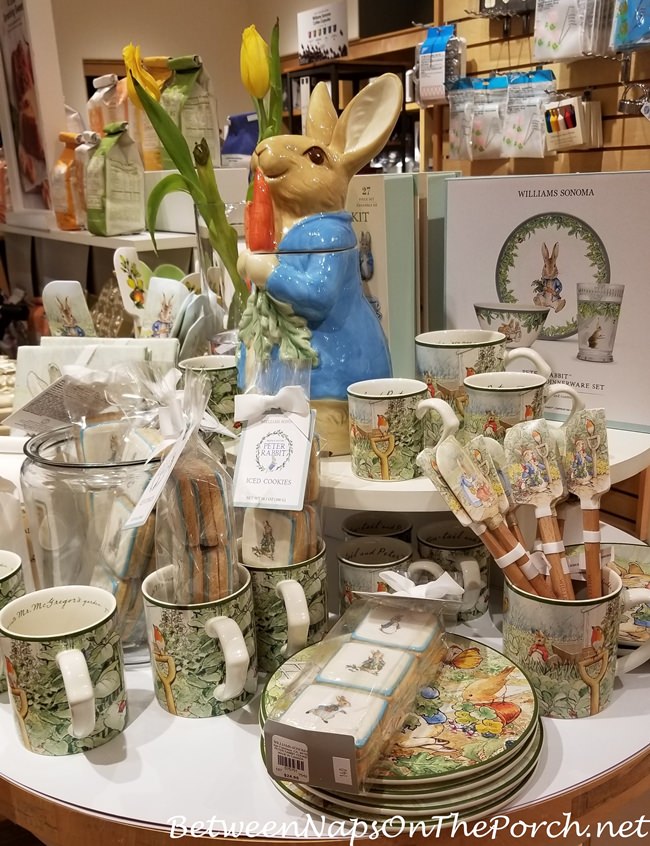 You may remember them from this previous table. (See this table in full here: Dining in Mr. McGregor's Garden: A Spring Table Setting with Peter Rabbit: Dining in Mr. McGregor's Garden: A Spring Table Setting with Peter Rabbit.)
You'll find the plates I used in the table setting below on sale here: Peter Rabbit Plates.
Another pattern that's been brought back this year is this beautiful damask bunny set.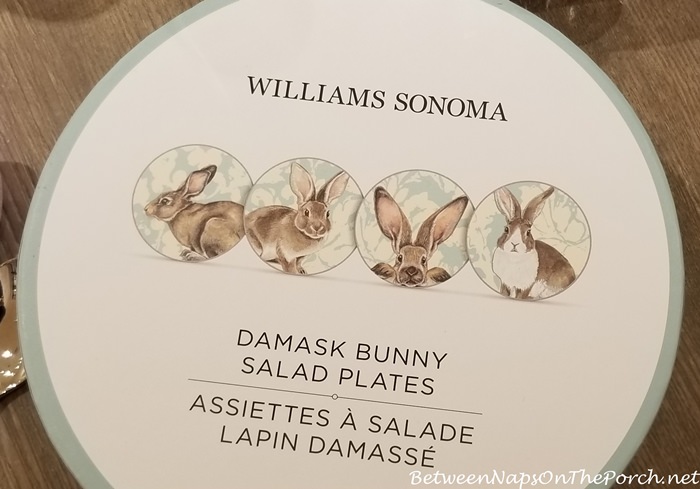 The colors are so soft and the bunnies look so real.
Adorable!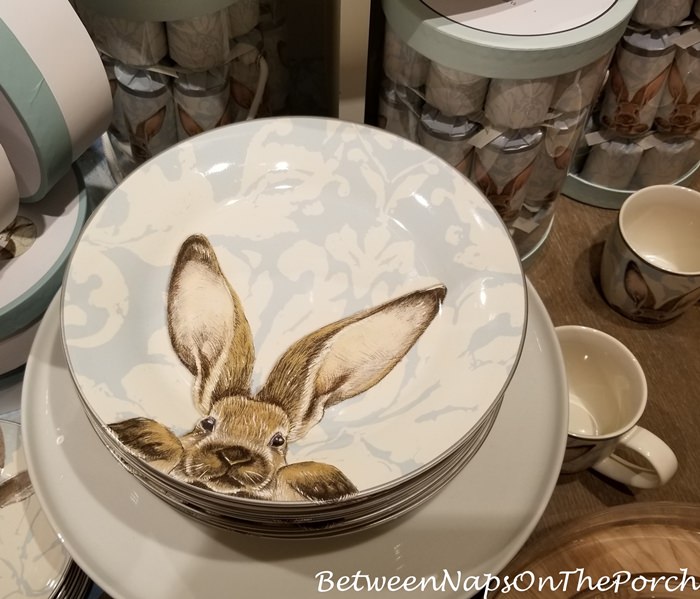 I came very, very close to buying the pitcher the evening I was there.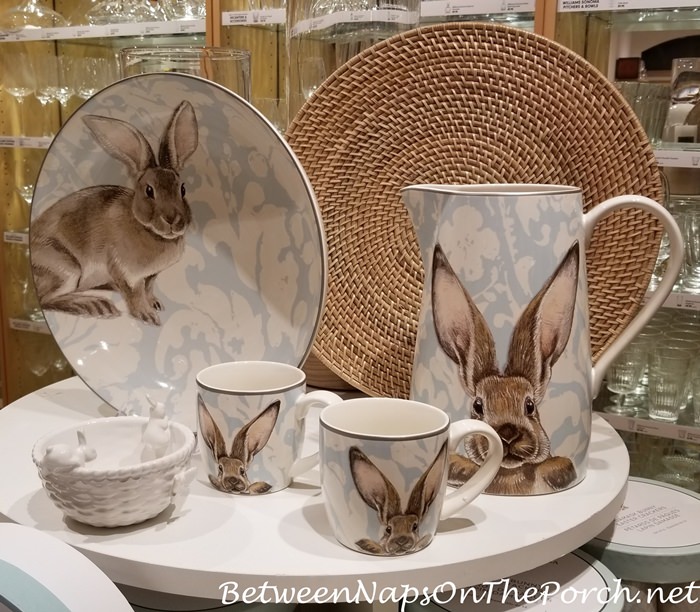 I mean, look at that face! Sooo sweet! You'll find all the dishware in this soft damask pattern (including the pitcher) on sale here: Bunny Dinnerware.
Loved this sweet bunny bowl! If I didn't already have a similar one from a previous year, I would have bought this one. It's on sale 30% off here: Family Bunny Bowl.
I don't ever remember seeing this pattern before. What a beautiful delicate pattern! They had it available in a lot of different pieces including platters, dinner and salad plates. You'll find it currently on sale here: Garden Bunny Dinnerware.
I loved this etched pitcher. It looks like an antique! I could see it filled with fresh-squeezed orange juice on a beautiful spring/summer morning. It's currently available here: Etched Pitcher.
Did you know Williams Sonoma carries MacKenzie Childs? I don't think I've seen it in my local store before. The pieces are so fanciful, yet functional. They have several of the MacKenzie Childs teapots here: MacKenzie Childs Teapots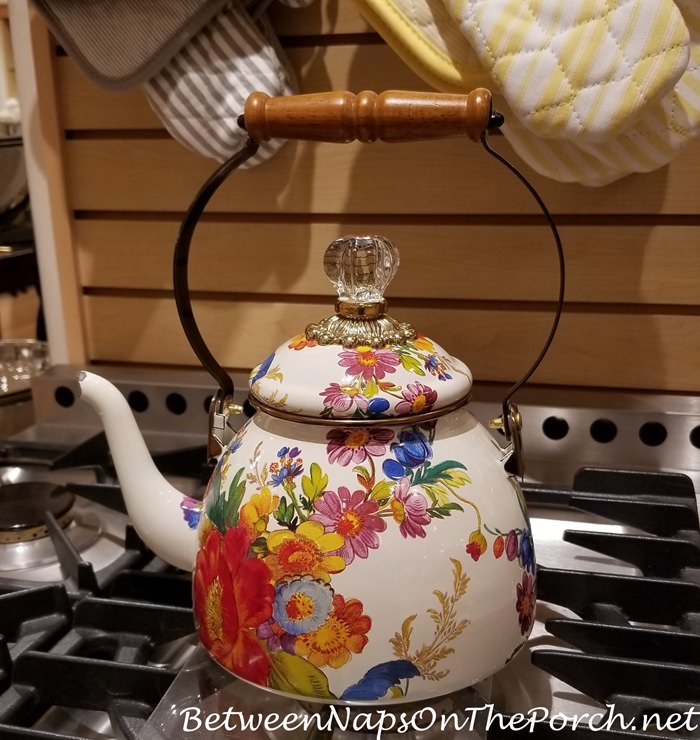 I would love to make dinner in a flower-covered pan with a birdie perched on the lid. So dreamy and enchanting! This adorable piece is available here: Floral Pan with Bird Handle.
I would never put it away, it would live on top of my stove full time.
Hope you enjoyed this virtual shopping tour. I wish I had more to share since it will be a while before we can shop again in person.
See you tomorrow for Tablescape Thursday!
*If a post is sponsored or a product was provided at no charge, it will be stated in post. Some links may be affiliate links and as an Amazon Associate, I may earn from qualifying purchases. *