Welcome to the 495th Tablescape Thursday!
Thanks so much for sharing all the wonderful dream-like places you've visited over the years. It makes me wish I could travel all the time just so I could see them all! If you're looking for ideas for your next travel adventure, be sure to read the comments left on yesterday's post. So many wonderful places to see in this big world!
I was so hoping I could place this week's table out on the porch, but unfortunately, it was a bit too cold for that. Though it's not feeling very spring-like outside, it's feeling very spring-like inside.
For this week's table, I needed a touch of pink in my centerpiece. That made me think of Miss Bunny who made her first appearance on the blog back in 2009.
You'll find that older table setting here: Spring-Easter Table Setting.
Miss Bunny always brings along a basket of flowers and a large, pink Easter egg when she stops by for a visit.
I love her sweet face and floral hairdressing. She stands completely unassisted, making her easy to use in a table setting centerpiece.
For this week's table I'm using the adorable bunny plates I shared recently in this post: Shopping Haul for Spring and Summer Entertaining.
Little egg-filled nests are cute place card holders from Pier 1. I noticed today, the little metal card holder can be removed to use them for decorative purposes when not needed as a place card holder.
I thought about using green flatware for this table but decided I liked the look of the cream-colored flatware better.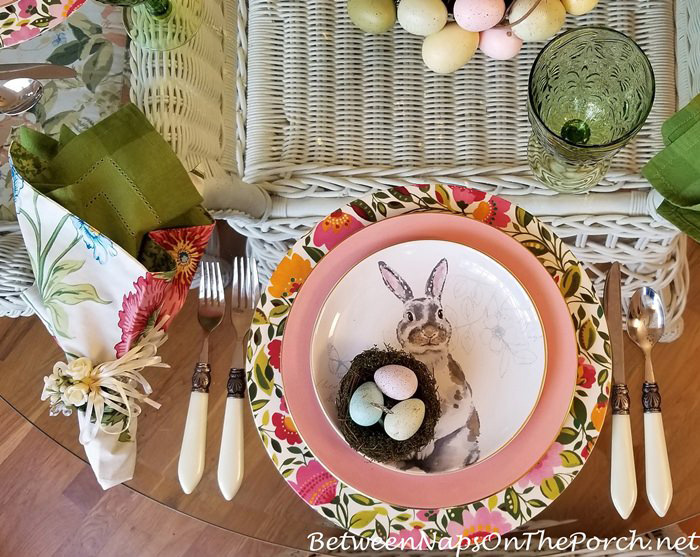 This set of porcelain bunny plates depicts four different bunnies, and all are adorable!
If you're not a fan of bright, bold colors, you would enjoy these plates since the colors in this pattern are soft shades of gray, tan, white and pink, with touches of black. The writing on each plate is in a different color, and again, all the colors are soft/subtle.
I tried each bunny plate on a white dinner plate and it looked fine, but I tend to like brighter colors so decided to pair the bunnies with pink plates.
Could you resist that adorable face?! ♥
Sooo sweet!
Three of the salad plates incorporate a little pink into the pattern–the cute bunny ears. Only one plate didn't have any visible pink.
The green glassware is from Pier 1 (I think) many years ago.
Cute, cute, cute! If these bunny plates are still available, you'll find them here: Bunny Plates.
This bunny plate was the only one without any pink in the design because the inside of his ears isn't visible. lol
He's adorable just the same, though.
Love this pattern!
The dinner plates are vintage International Glenwood, made in Alliance, Ohio. I found 20+ pieces while antiquing many years ago, then filled in with additional pieces found on eBay. I love this pattern and especially love that it depicts a Gardenia in the center, one of my favorite flowers. Gardenias smell sooo amazing and just a few in a vase will fill your whole house with their beautiful fragrance.
The charger is by Spode and the pattern is Emma's Garland. Found these in Marshalls for $3 each many years ago. I love the floral pattern so much, just such a happy pattern!
Forgotten now where I found the floral napkins, may have been HomeGoods. The green napkin underneath is from Pier 1.
Happy Spring to you my dear Friends! If you aren't already, I hope you'll be seeing signs of spring where you live very soon.
Looking forward to all the beautiful tables linked for this week's Tablescape Thursday!
Pssst: I post almost daily to Instagram. Follow Between Naps on the Porch on Instagram here: Between Naps On The Porch. If you enjoyed this post, subscribe for free email updates when a new post is up here: Subscribe for post updates.
Tablescape Thursday
If you are participating in Tablescape Thursday, please be sure to add your permalink below, and not your general blog address.To get your permalink, click on your post name, then copy and paste the address showing in the address bar, into the "url" box when you link up.
You'll need to include a link in your post back to the party to link up and participate. That's so visitors to your blog will be able to find the party and the other Tablescape Thursday participants. Requiring a link back also prevents businesses and scammers from linking up to sell their products. (Yup, that really happens, unfortunately.)
*If a post is sponsored or a product was provided at no charge, it will be stated in post. Some links may be affiliate links and as an Amazon Associate, I may earn from qualifying purchases. *