Welcome to the 732nd Tablescape Thursday! I rarely buy new dinnerware these days since I have plenty for entertaining and such, but every once in a while I'll stumble across some salad plates that steal my heart and I can't pass them up.
One of my favorite Halloween decorations, maybe even my favorite, are these spooky, blackbirds that I came across quite a few years back in Hobby Lobby. They had them in stock for a couple of years in a row and I loved them so much, I bought some both years. I wonder if they have them this year?
When I spotted this whimsical raven dinnerware, I knew I needed a set! (Tablecloth is available here: Halloween Tablecloth.)
One of my favorite ravens in this set is the one looking back over his shoulder. Somehow that makes him look extra spooky! Ha! So I placed one of the back-looking crows at each setting. They started out atop the salad plate, but somewhere along the way, I decided to move them to the table alongside the stemware. I'm always moving things and trying them in different spots when setting the table so things don't always end up where they start out.
The charger plates came from Horchow online back in 2008. This porcelain dinnerware with its gold rim would be interesting contrasting against rustic, grapevine/woven chargers, too.
I love this pattern so much! It's just the right amount of spooky for Halloween! (Dinnerware is available here: Raven/Crow Porcelain China.)
The orange and black buffalo check napkins are still available here: Buffalo Check Plaid Napkins. Unfortunately, the black and white Halloween napkins were a find a few years back and I don't think they are still available. I found them here: Halloween Napkins. A tablecloth and a table runner are still available in this Halloween print here: Halloween Tablecloth/Table Runner. The beaded, black napkin rings are from Old Time Pottery many years ago.
The flatware is Cambridge Neapolitan and it is normally available in many different colors. Unfortunately, it seems to be sold out everywhere right now.
No Halloween table with ravens would be complete without some Edgar Allan Poe to spice things up. I love the cover of this book featuring his greatest works. You'll find it available here: Edgar Allan Poe Book.
Please note, the Low Branch House wine was made with "hand-pecked ingredients." Ha! I think I found the label in Michaels one year, but it's been a few years now so hard to remember.
Getting dark now. I almost missed getting photos of this table by candlelight. The cardinals love coming to the feeders hanging off the deck, late in the evening. They always arrive just as it's starting to get dark. I didn't want to frighten them away by moving close to the table/window to take photos, so I waited as long as I could. Finally, I had to take my photos because it was almost dark out. Thankfully, as I moved closer to light the candles and take pictures, they made the little chipping sounds they love to make and kept right on eating. I think they are used to seeing me inside throughout the day.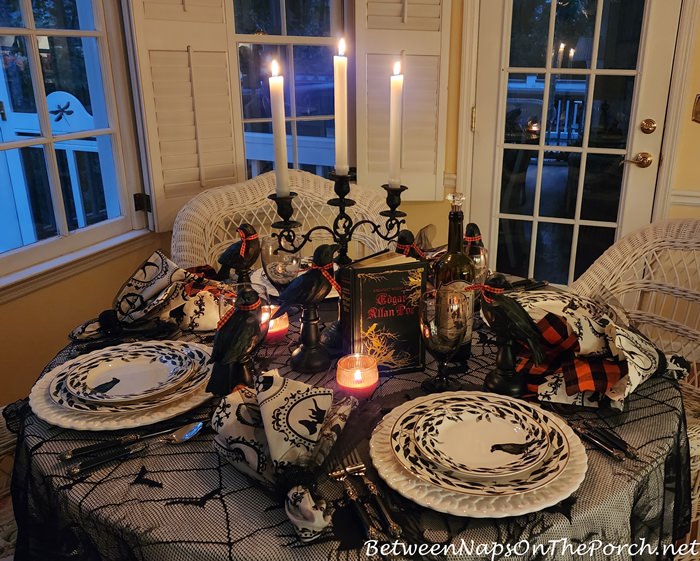 Halloween table settings are always best at night, aren't they?
I placed a white tablecloth underneath this fun, lacey, Halloween-themed tablecloth. (Tablecloth is available here: Halloween Tablecloth.)
The heavy, painted candelabra was a find many years ago in A Classy Flea. The black glassware is from Dollar Tree, I think.
The candles are from Colonial Candle–love the quality of their candles and how long they burn.
I really love the cover of this book! They did such a beautiful job designing it and it's perfect to have out somewhere this time of year. (Book is available here: Edgar Allan Poe Book.)
Another view of this whimsical china by candlelight… (Raven dinnerware can be found here: Raven Porcelain Dinnerware.)
Happy Halloween!
Looking forward to all the beautiful table settings linked for this week's Tablescape Thursday!
Did you know Between Naps On The Porch is on Instagram? You'll find me on Instagram here: Between Naps On The Porch.
Like to know when a new blog post is up and available to read? Subscribe for email updates, it's free and your email will never be shared. Subscribe for free post updates via email here: Subscribe for Post Updates.
Tablescape Thursday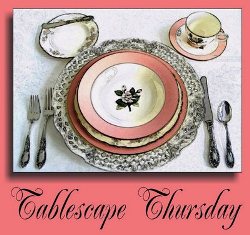 If you are participating in Tablescape Thursday, please be sure to add your permalink below, and not your general blog address. To get your permalink, click on your post name, then copy and paste the address showing in the address bar, into the "url" box when you link up. You'll need to include a link in your post back to the party to link up and participate. That's so visitors to your blog will be able to find the party and the other Tablescape Thursday participants. Please link up table-setting related posts only for Tablescape Thursday.
This party has ended, click button below for the links to all who participated.
*If a post is sponsored or a product was provided at no charge, it will be stated in post. Some links may be affiliate links and as an Amazon Associate, I may earn from qualifying purchases. *