Welcome to the 517th Tablescape Thursday!
Recently Cyndi left this lovely comment on my 5 Creative Tables for Summer post:
All of your summer tables are beautiful, but my favorite is the "Shades of blue" as it does put one in mind of water and beaches. I like your chargers, but LOVE your sea shell chargers the best! Please do a table with them and the large hurricane lanterns, love those! My shell chargers and hurricane lanterns are on my table now with my lighthouse dishes. I so enjoy putting out a beach theme for August. Our lake water has been awesome this year with the hot, high humidity days. I'm not ready to say good-bye to summer either, having too much fun in the sun and water. When Fall arrives, I will be happy to greet her, enjoying her beautiful color and decorating with fun pumpkins, but not just yet. "Summer breeze makes me feel fine…".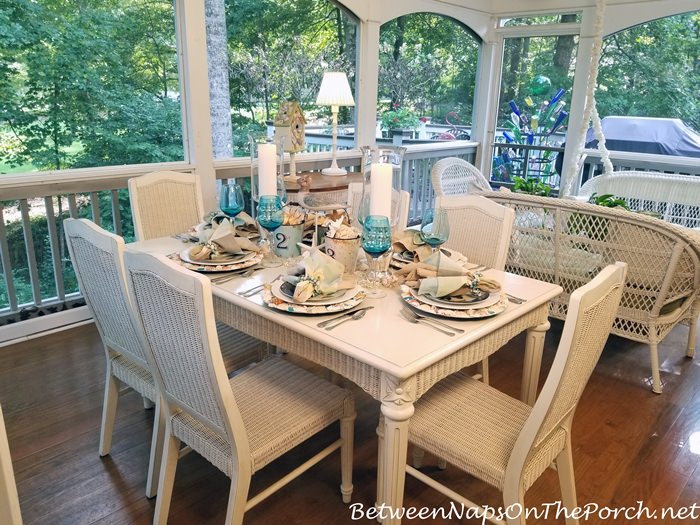 Cyndi, I loved your comment and I could not agree more. I have such a difficult time thinking ahead to fall when the temps here are still in the high 80's each day. Thanks so much for the suggestion for this week's table! I'm dedicating this table to you!
I wasn't sure if these were the hurricane lanterns Cyndi had mentioned in her comment, but since I hadn't used them in a while I decided to incorporate them into a beach-themed table.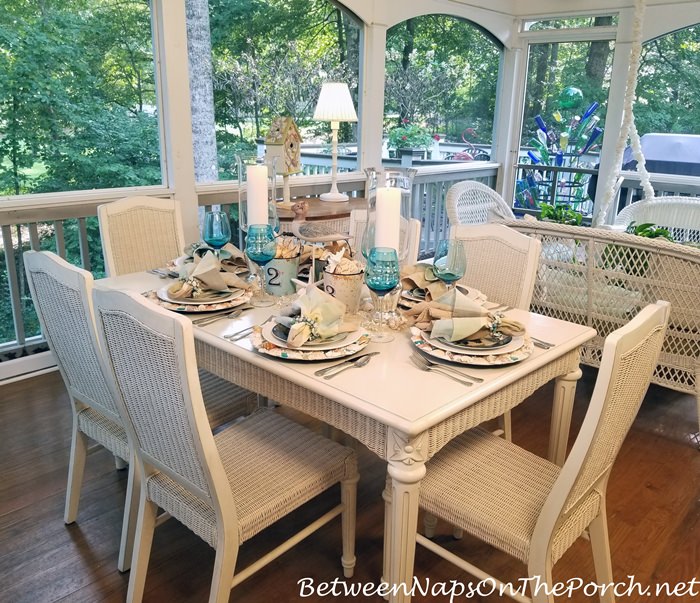 I actually created this table twice, which is pretty normal for me these days. I'll often get 2/3rds into a table and there will be some aspect that doesn't look right or perhaps I don't have a good idea for the centerpiece, then suddenly a new idea will hit and I'll dismantle the whole thing and start over. That definitely happened with this table.
I started with these shell chargers and the table began evolving with lots of pretty, soft neutrals, but neutrals weren't working with the two silver lanterns I had chosen for the table. (Find my tutorial for making these chargers here: DIY Shell Chargers.)
What goes well with silver? Blue! Blue works beautifully with silver. So I swapped out all the chargers for another set of shell/sea glass chargers I made a few years back. With new chargers and new dinner plates in place, the table took a whole new direction.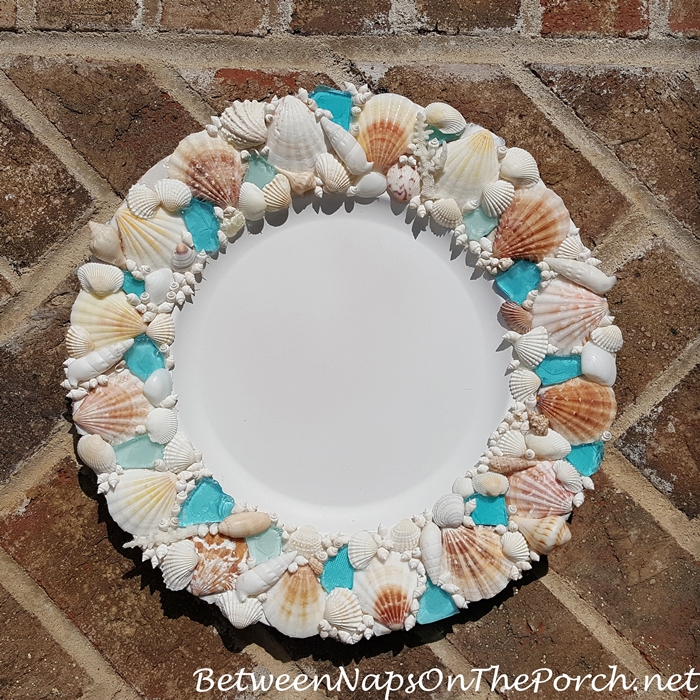 Earlier in the day I had emailed Cyndi to ask which lantern she had in mind. It turned out this was the lantern she was thinking of…a DIY Pottery Barn knock-off design I had put together several years back. Do you remember this centerpiece that involves placing a vase within a vase? (View the tutorial for this "double-bowl hurricane" centerpiece here: Double Bowl Hurricane Centerpiece: Pottery Barn Knock-off.)
Unfortunately, I had already set my table and taken photos when I heard back, so it was too late to change out the silver lanterns for this one. Ironically though, I did use a part of this centerpiece in today's table. Can you guess which part? (View this table below in detail here: Beach-Themed Table with Lobster & Crab Plates.)
Did you guess the sand? I had never dismantled that centerpiece above so the sand was still inside. A lot of recycling takes place around here when it comes to creating new tables each week! 🙂
This centerpiece would work a little better on a wider table, no one wants to place a glass down on sand. Or, do they? That would definitely give those dining here a true beach vibe. Ha!
The blue wine glasses are from Pier 1 many years ago. Shell napkin rings were purchased on sale in Cracker Barrell earlier in the summer.
The cute, numbered pails are from Marshalls several years ago–if I'm remembering correctly.
You may remember them from previous table settings like this Easter tablescape below. (View this table here: Easter Table with Debutante Camellia Centerpiece.)
This would be such a fun setting to create on a wider table. You could really go to town with the sand and shells on a wider table!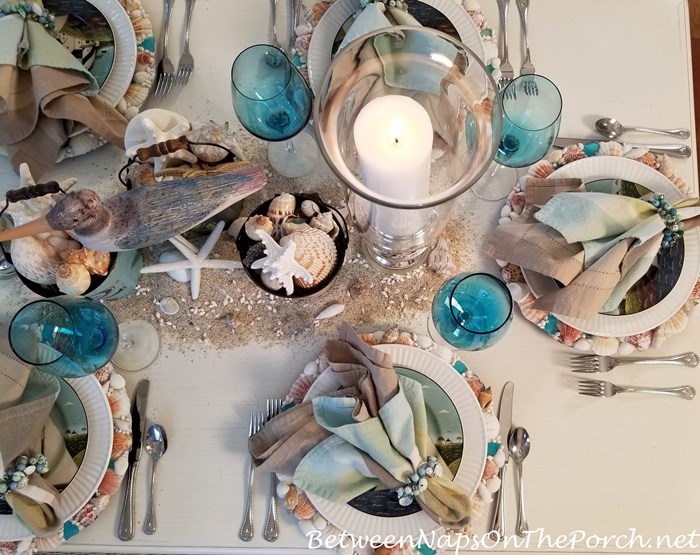 In case you ever need it for your own beachy table, I found the sand in Big Lots several years ago.
The sand-colored napkins are from Pier 1 a few years back. You'll find them here: Napkins. The plaid, blue/green/cream/tan napkins are from Kohls back in 2008 when the screened porch was first added on. They matched the beachy dishes I purchased there to use on the newly-built porch.
I always think of these Warren Kimble Coastal Breeze salad plates when setting a beach or nautical-themed table with soft blues.
They make me want to hop on a plane and fly to Cape Cod or Matha's Vineyard…someplace coastal with pretty lighthouses.
Sailboat flatware worked well in this table setting.
Here's a better view of the sailboat design. This delightful pattern is still available for a steal here: Sailboat Flatware. I like its nautical rope eding.
Evening was closing in as I took these pictures.
The birds are mad at me right now. I was gone for 10 days and their feeders hung empty for probably 7 of those. The feeders were absolutely covered in birds before I left.
I filled them up on Monday after my return late Sunday evening. Since then I've seen one Gold Finch, two Piliated Woodpeckers who stopped by for some suet and a tiny brown bird that I didn't get a good look at through the kitchen window. I think they are boycotting me. lol The hummingbirds forgave me, though. They were happy to see their feeder refilled with fresh nectar.
Happy Summer, dear Friends…because it is still summer and I so love this time of year! I'll leave you with Cyndi's beautiful words:
When Fall arrives, I will be happy to greet her, enjoying her beautiful color and decorating with fun pumpkins, but not just yet. "Summer breeze makes me feel fine…"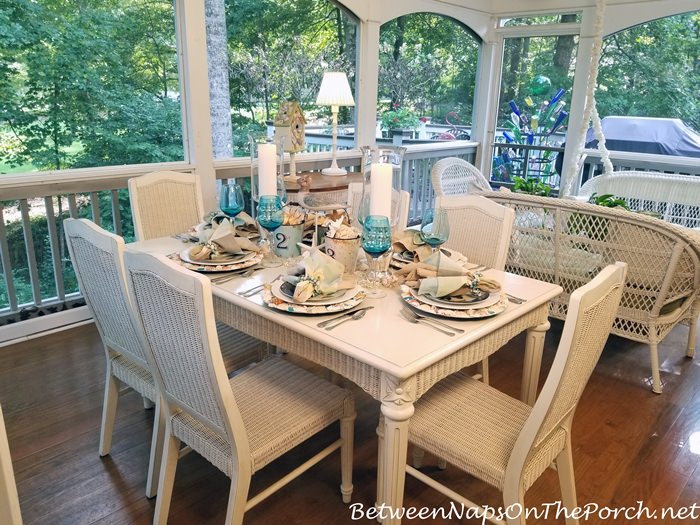 Looking forward to all the beautiful tables linked for today's Tablescape Thursday!
Pssst: I post almost daily to Instagram. Follow Between Naps on the Porch on Instagram here: Between Naps On The Porch.
If you enjoyed this post, subscribe for free email updates when a new post is up here: Subscribe for post updates.
Tip: Please do not use a Hotmail e-mail address to subscribe. Hotmail is notorious for filtering out perfectly good emails. Google and you'll find tons of people complaining about this. I regularly hear from subscribers who used a Hotmail address to subscribe and are not getting blog post updates, so please use another email to subscribe if possible. I've found Gmail to be awesome, it's what I use and it's free! Plus, they don't filter out the e-mails you want in error like Hotmail does.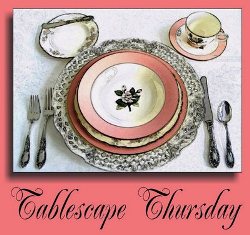 Tablescape Thursday
If you are participating in Tablescape Thursday, please be sure to add your permalink below, and not your general blog address. To get your permalink, click on your post name, then copy and paste the address showing in the address bar, into the "url" box when you link up.
You'll need to include a link in your post back to the party to link up and participate. That's so visitors to your blog will be able to find the party and the other Tablescape Thursday participants. Requiring a link back also prevents businesses and scammers from linking up to sell their products. (Yup, that really happens, unfortunately.)

*If a post is sponsored or a product was provided at no charge, it will be stated in post. Some links may be affiliate links and as an Amazon Associate, I may earn from qualifying purchases. *