Have you ever been out shopping and saw something that instantly reminded you of a scene from a movie? Or, maybe it reminded you of something from your childhood? Recently while shopping in HomeGoods I saw this lemon tree.
It instantly took me back to two Doris Day/Rock Hudson movies we've toured here on BNOTP. Do you remember this scene from the 1961 movie, Lover Come Back. Carol (Doris) has just realized that sweet Linus is an imposter and is actually Jerry Webster, a scheming ad executive, hence the look on her face. 🙂 (Tour Carol's New York Apartment here: Lover Come Back Movie House Tour)
Notice anything in the background?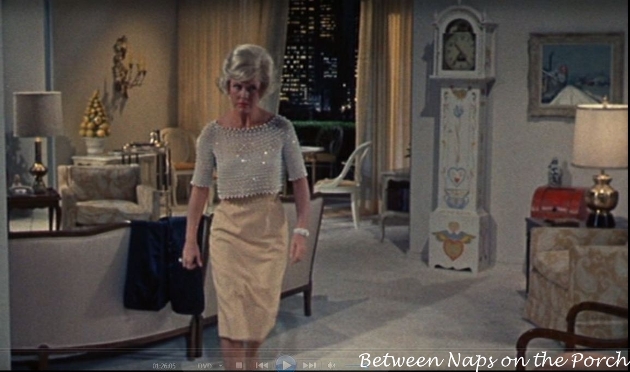 Here's a little closer view, see it there on the left? While we're here, notice the shape of the lamp shades. Those are back in style, too.
That same lemon tree was used a few years later in the 1964 movie, Send Me No Flowers, again staring Doris Day and Rock Hudson. There it is on the left. (Tour this movie house here: Send Me No Flowers Movie House Tour)
Here's a fuzzy close-up.
I have a similar one that was given to me by my sister a few years ago. It had once belonged to her mother-in-law and is probably from around the 1960's, I'm guessing. (Tablescape with accompanying video can be viewed here: Spring Table Featuring Metlox Poppytrail Sculptured Daisy)
Isn't it funny how things always come back. They may be slightly different, tweaked ever so much, but they seem to always return. Don't throw away anything! 😉
Have you seen anything lately that reminds you of something from an old movie or something from your childhood or younger years?
*If a post is sponsored or a product was provided at no charge, it will be stated in post. Some links may be affiliate links and as an Amazon Associate, I may earn from qualifying purchases. *