I'm in serious landscaping mode again and I may have bitten off more than I can chew. That's usually my modus operandi, dive in head first and when it appears I'm in over my head, start digging my way out. Only this time I'm just plain digging! 🙂
Before we get to the digging, I am busting to share some absolutely adorable stuff I found in a local nursery this weekend. I love shopping at a Pike Nursery near my home because it almost feels like I'm on one of those elegant garden tours. They have really pretty music playing at this particular location I visited so it's super relaxing strolling up and down all the isles looking at the pretties and imagining creating the garden of your dreams. It's amazing how much music can affect your mood when shopping.
I came across the neatest Hibiscus. If this was the beginning of summer, one of these babies would have gone home with me. It's called Luna Pink Swirl and the blossoms are huge! Per the Monrovia website, hummingbirds love it. I think I'll look for this one next spring…so pretty!
I didn't have my camera with me this day, so these pics were taken with my cell phone. Aren't these guys a hoot!
Oink!
I came really close to buying one of these…barely resisted. They remind me of a Chihuly piece. They each had a solar-battery thingy on them, so the battery absorbs sunlight during the day, then lights these beautiful glass pieces up at night. They came in a variety of colors…this was the blue/orange section. If I'm remembering correctly, they were around $40 each. Wouldn't they be wonderful throughout a garden in the evening? Imagine strolling a garden path at night and coming across one all lit up. I would so love that!
I wonder if the glass is strong enough to stand up to our occasional tornado hail. We had the best spring and summer this year. I don't remember the tornado sirens going off even once and the temps were so nice all summer. I wish every summer was like this past summer!
These I love! They had the cutest topiaries in various shapes. They would make a wonderful focal point along a garden path or in a special spot in the garden. Below you can see star shapes and a moon with a face/nose on the left.
This one was in the shape of a snowflake. Wouldn't he be cute on the front porch at Christmastime?! They look better in person than in my camera-phone pics.
It was the butterfly ones that reallllly captured my heart. This one was a medium size butterfly…still pretty big, though.
This butterfly was over near the entrance to their building/store and it was huge!
A view from the back.
I would love coming across this in a garden!
Okay, switching gears, remember when I had the front yard sodded last summer? At that time, I had a large holly removed from the right corner of the house. This is the "Before" picture before I reclaimed my home from the overgrowth of the trees and shrubs.
The holly was an original planting and despite having it cut way back a few years ago, it completely blocked the two windows (upstairs and downstairs) on that end of the house. You can see that in the picture below. It was just a giant blob of a shrub/tree and did nothing for the front of my home.
Also, notice the dark tunnel off on the right, that was my side-yard. Thiry-foot tall Leyland Cypress trees that were no longer looking so great created that dark side yard where nothing would grow, including grass.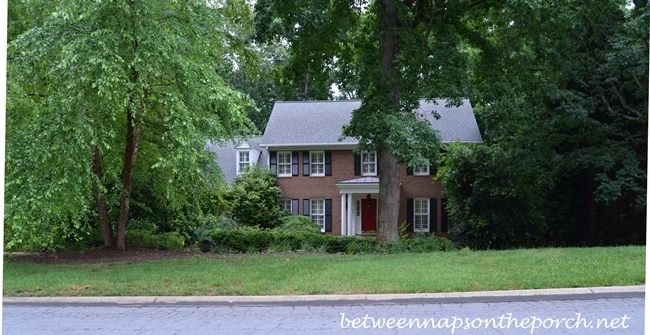 Here's how everything looked once the yard was sodded and the holly and Leyland Cypress trees were removed. I decided last year that I wanted a Savannah Holly on the right where the other holly used to be. I love a Savannah Holly. It's an evergreen and the foliage is the prettiest color of green. And I love the bright red berries it gets in fall/winter. They are beautiful covered in red berries. The birds love them, too!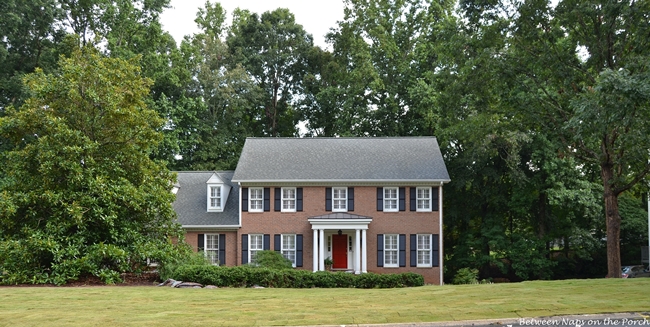 I also needed to put something back in the side-yard where the Leyland Cypress trees had been because this is the current view coming down the walkway…the side of the next door neighbor's home.
This morning Pike Nursery delivered four, 30-gallon Savannah Holly trees. I'm guessing they are around 12-15 feet tall. One will go here on the corner and will have shrubs in front and behind.
And the other three will go here in the side-yard near the lot line. They will be spread out across this area. I'll create a nice bed/island for them and I'm thinking I'll add some Encore azaleas in front once I have them in place since both love an acid soil.
I thought I might be able to plant them by myself but after seeing them here in the yard, I may be chickening out. It's going to take some really big holes for these 30-gallon trees.
Yesterday, I planted three much smaller Leyland Cypress trees along the lot line in the back yard and I was pretty exhausted after digging those holes! I'll share where those went real soon. Right now I'm headed back out to stare at the holly trees and think about the four monster holes I need to dig. Or, not.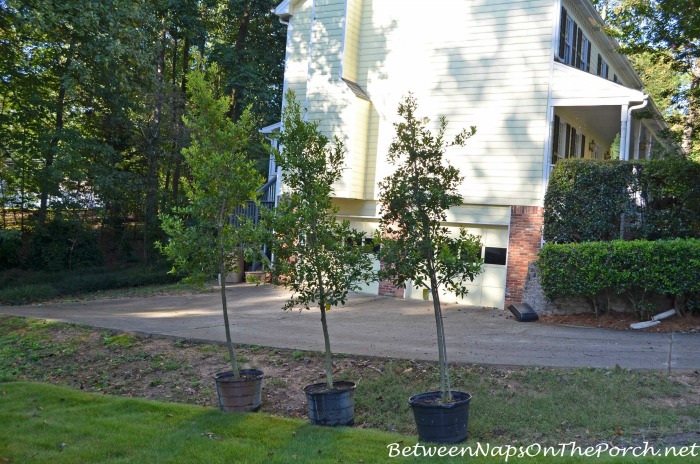 *If a post is sponsored or a product was provided at no charge, it will be stated in post. Some links may be affiliate links and as an Amazon Associate, I may earn from qualifying purchases. *