Recently I shared an adorable spoon I ordered online from a company that hand-stamps silver-plate spoons with delightful phases. You can purchase one of their designs or have them custom make a spoon with any saying that you like. (Read more about that in my previous post here: What Saying or Quote Would You Choose?)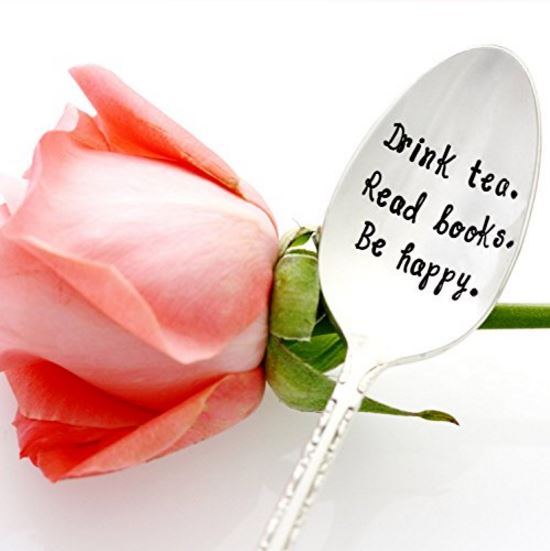 I was so happy with the first spoon I ordered, I decided to order several more from HERE, including some for the Cocoa Bar out on the porch. They arrived today and I love them!
Is this not the cutest?! I love how the "L" is slightly leaning, just adds to the whimsy! 🙂
Remember the sign I made for the Hot Cocoa bar on the porch? I've always loved the song, Let It Snow, Let It Snow, Let It Snow. So when I made the sign, I borrowed one of the lines from that song. (Sign tutorial can be found here: DIY Hot Cocoa Sign.)
I decided to have a couple of spoons stamped with that lyric. I asked if they could use different silver patterns if they had them available, and they did! 🙂
I chose this one from the examples available on their website. It will be perfect for the Hot Cocoa Bar, too.
I've always loved the book, The Secret Garden. It's been years since I read it and recently I discovered it was available on Audible. I had just finished listening to it when I discovered these cute spoons..
For one of my spoons I chose a phrase from the book. I love how it turned out, but there is one little change I will make if I order it again sometime. I think I would ask for a bird, instead of the heart that I requested. A bird would be perfect since a very clever robin plays a big role in the book. You may remember in the book, it's a robin who shows Mary where the key is buried that opens the gate to the secret garden.
Just wanted to share how all my spoons came out in case you're still looking for Christmas gift ideas. A gardener or book lover would love a copy of The Secret Garden and one of these cute spoons.
You can see all the designs available (or design your own) here: Silver-plate Spoons With Wonderful Phrases or Sayings.
Tonight, right before I wrote this post, I ordered one that you guys suggested in the comments on my previous post! I ordered a spoon with this phrase: Between Naps On The Porch. 🙂
I don't know why I didn't think of that last time I ordered, so thanks for the suggestion! I requested their little bird design for it (if it will fit) since I love bird watching from the porch.
Which reminds me, I don't think I ever shared this, but I saw my very first Scarlet Tanager this past summer! I almost died on the spot!
I first captured him with my cell phone and the picture was terrible. I made sure I had my real camera downstairs after that, just in case he returned. And he did!
I later read that Scarlet Tanagers never come to feeders and are even hard to see when out in the field. Apparently they prefer to hang out in the very tops of trees where they can't be seen at all. This guy stayed in the area for about a month or longer. I saw him eating at my suet feeder almost every day for several weeks. Some days he visited the suet feeder more than once! I relished every moment since I knew this was a rarity!
The birds are really returning to my feeders now that the weather has turned cold. Stay warm, dear Friends! It's cold here in Georgia!
*If a post is sponsored or a product was provided at no charge, it will be stated in post. Some links may be affiliate links and as an Amazon Associate, I may earn from qualifying purchases. *