It's been a while since we stopped by one of my favorite haunts, A Classy Flea. My timing today wasn't the greatest since they just had a huge Holiday Open House about a week ago. I didn't make it to the open house and I wasn't sure there would be anything left when I stopped in today.
I found a few things to share and picked up a couple of things for myself. One of the things I purchased was a kind of unique find and it's introduced me to a company I had no idea existed but am glad to discover. More on that toward the end of the post…let's check out some of the cute things I ran across.
I liked this baker's rack. If I had room for something like this in my kitchen, I would have been super tempted. I like that it has storage for wine. It was priced at $229 and marked down to $188.
Sorry about the way some of these photos look. My cell phone "flash" was turned on and I didn't realize it at first.
I've been on so many Christmas home tours where I've seen a Christmas goose in the decorations. When I've seen them for sale, they are always super expensive. This one was labeled "Carved Goose" and was super heavy. He was only $29 which is a great price if he is truly a carved piece. He felt like he was.
Cute bunny lamp…This lamp was much cuter in person than appears in the picture…blaming the flash! He was $28 and heavy!
I liked this woodland dishware…but they only had a couple of place settings.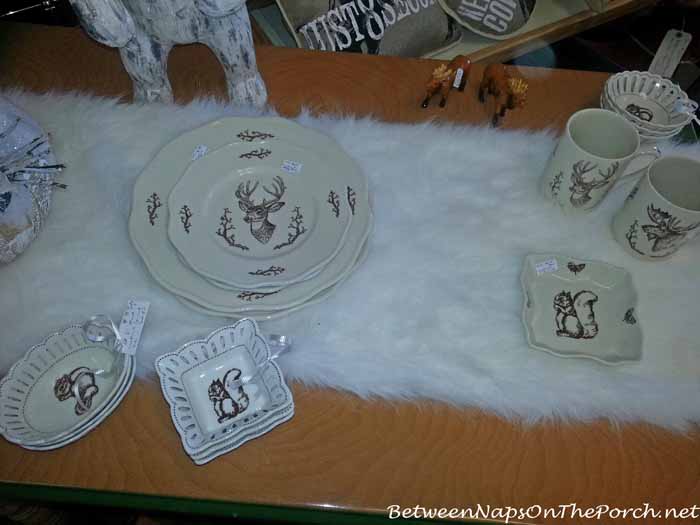 Finally, I realized the flash was going off and turned it off…pictures look more normal. This Santa bag was huge! I didn't see a price on it. Wouldn't it be cute to fill with gifts for someone special and place beside the tree on Christmas eve.
Lots of vintage ornaments…
I thought this little table with chairs would be cute in a garden…
This was marked as a "White Pottery Barn Desk Organizer with cubbies and 2 drawers." I don't think that included the cubbies underneath but it may have. It was priced at $69.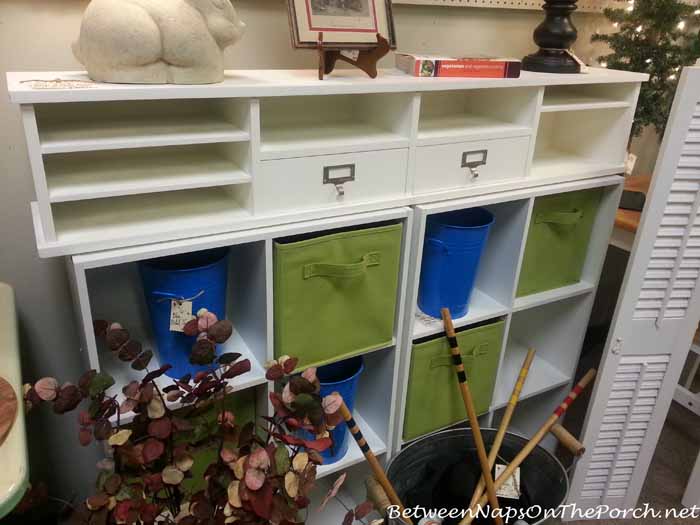 So what did I buy? Well, I guess I'm on a bedding kick. I saw this really pretty duvet that I couldn't pass up. It's from Maison du Linge which Google tells me is located in New York. I think the duvet is an older piece because I didn't see it among their current products. It's in perfect condition. It looks brand new as if it was never even used.
The tag states: Collection Duchatel, which I guess means it came from that particular collection when they were carrying it. Update: Found out that's not the name of this pattern…all the Maison du Linge bedding is part of the Collection Duchatel. It's apparently made in France.
You may remember from my post a few days ago, this is how my bed normally looks during the spring and summer months. I just purchased linens to use for fall and winter…you can see those in this post: Dressing the Bed in Tartan for Winter
Here's how the duvet looks against my summer bedskirt. The duvet is queen size and has piping running down either side where the duvet hits the edge of the bed on the sides. You can see the piping in the photo below. When I spread the duvet out on my bed, the piping fell exactly where it should, so it was definitely made for a queen size bed.
I think the colors are almost perfect to go with my bedskirt, except for one thing…my bedskirt doesn't have any blue in it. Since the blue is pretty subtle in the duvet, I may be able to get away with it if I want another look for summertime.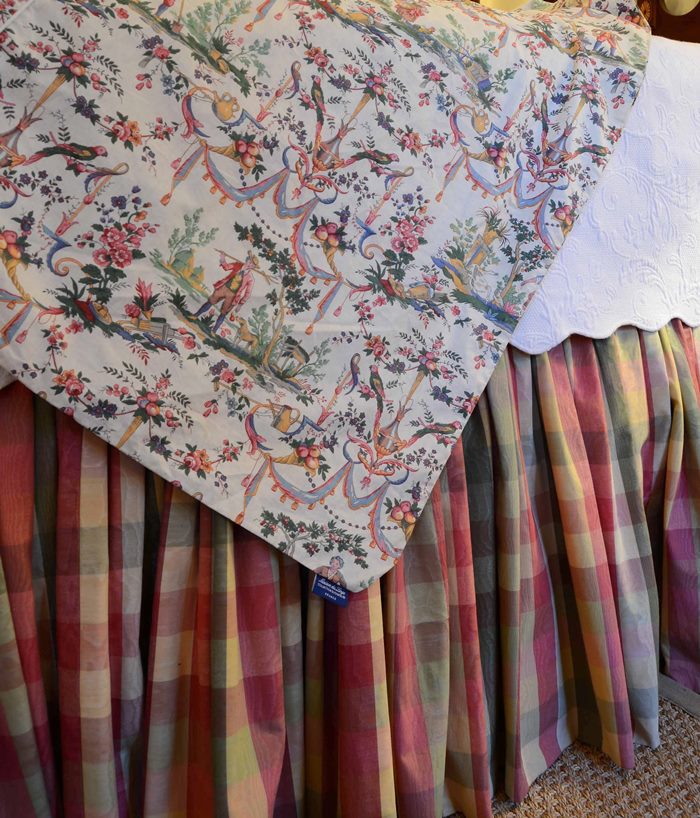 It came with two Euro shams trimmed in a cranberry-red, small-check ruffle. I don't think I'll use those unless I remake them with a different ruffle.
I thought it might be nice to have another summer look and for $29 for the duvet and two shams, I was willing to take a chance and try it.
Update: I just looked at the Maison du Linge website and Queen size duvets are $420, so $29 was definitely a great deal for the duvet and two Euro shams. All the bedding on their site is beautiful. You'll find the site here: Maison du Linge.
2nd Update: I was able to reach a lovely person at Maison du Linge via this number (212-988-9282) and she told me that all their fabrics are based on designs dating back to the 1800's. I think the design may be VincennesMulti shown under "other designs" on their site.
Not sure if I'll use this duvet next summer or not. Maybe it will inspire me to find a coordinating fabric and sew a bedskirt for it. The shams could be taken apart and the ruffle replaced with whatever fabric I buy for the bedskirt, if I decide to make a bedskirt. Maybe I'll even find the check fabric they used for the ruffle.
The other thing I purchased today was this book by Charles Faudree. It's the only book of his that I didn't already have. His books are wonderful so I was glad to find this one for just $6.
So what do you think…should I use my new French duvet with my existing bedskirt next summer when I'm in the mood for a different look, or shop for another coordinating fabric and make one for it?
*If a post is sponsored or a product was provided at no charge, it will be stated in post. Some links may be affiliate links and as an Amazon Associate, I may earn from qualifying purchases. *