Welcome to the 304th Metamorphosis Monday!
How was your weekend? Hope it was a great one!
Mine was busy. Unfortunately, there was a lot of "spinning my wheels" kind of stuff going on but in the end it was worth it because I learned some things I know will stick with me. You may remember I've been working on a little bedding makeover for the master bedroom.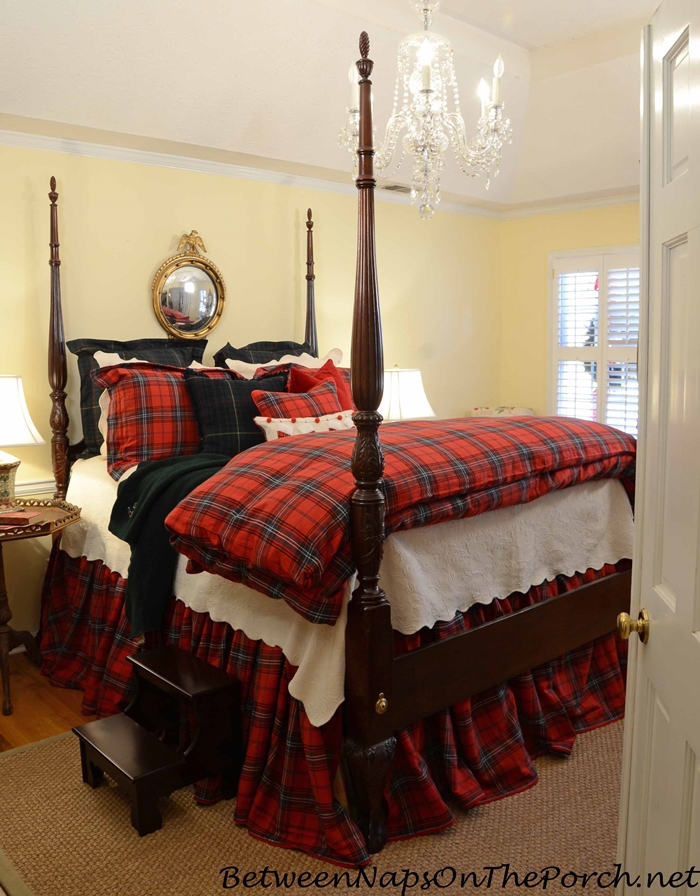 A few days after I shared my winter bedding makeover, ironically I came across a beautiful French duvet while out antiquing/thrifting that I knew would be perfect for summer. Even though I won't be using the duvet until next spring, I was eager to see how it would look filled out with a down comforter/insert. That's where my wheel-spinning first started, with some very faulty logic.
Since the French duvet will be used during the summer, I decided the down insert I'm using in my winter bedding would be way too warm for that time of year. The down comforter that's inside my winter duvet pictured above is labeled as "heavy weight" with a loft or "fill power" of 550-600. That's really warm!
So this weekend I purchased a duvet insert that was much lighter and considered appropriate for "year around" use. There was just one problem.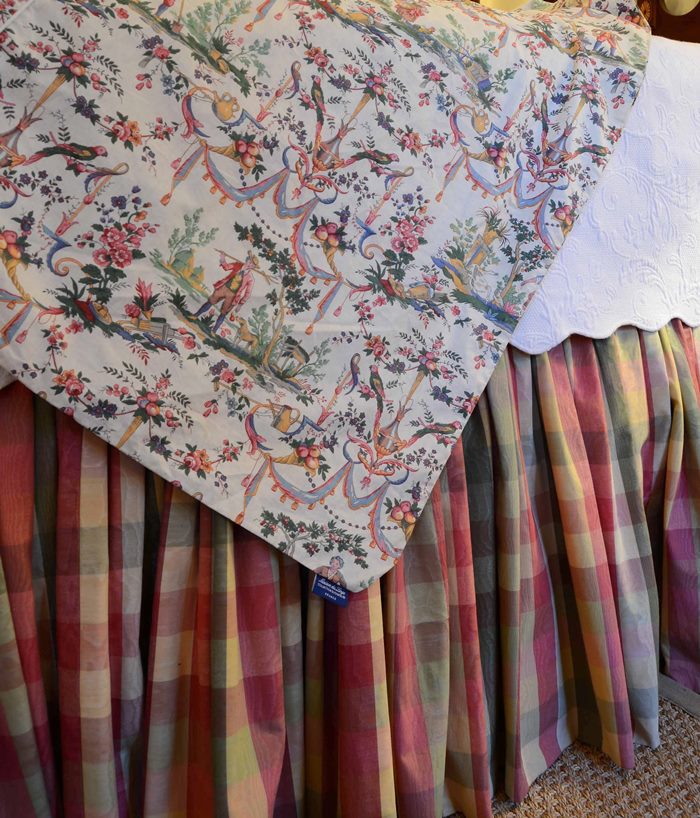 Here's how it looked inside the French duvet on my bed. Is that not the saddest looking thing? It doesn't even look like I have a comforter inside the duvet at all. Ummm. So I headed back to the store, returned the comforter and purchased a second one that had more "loft" a word I learned after doing a little reading online about duvets. I didn't even bother to take a picture to share the second comforter because it didn't look much better.
Then it hit me, I never sleep under a comforter or duvet during the summer anyway. It's usually too warm for that. Normally I remove the comforter I've been using or just leave it across the foot of the bed. The matelasse that I always have on the bed is usually all I need for summer. So it didn't really matter what was inside the summer duvet. Since it didn't matter, I might as well save the $ and use the one I had. Plus, it would fill the duvet out much better.
So I returned the second down insert and stuffed the down comforter I already had inside. Fortunately, the one I have is King size which is what the duvet needs. It's 106 inches wide by 92 inches long. The duvet insert I already have is 104 inches wide by 92 inches long, so pretty much a perfect fit.
Looks so much better! It filled out the duvet the way I had envisioned. When I change over to this bedding for summer, I'll just leave it across the foot of the bed.
So that was my first "light-bulb-moment" this weekend
Are you a duvet-savvy person, well-versed in the ways of duvets? I definitely am not but I think I may have figured something major out this weekend about how they work. But before I get to that, there are a couple of things I thought I'd share in case you've never had a duvet and are considering buying one.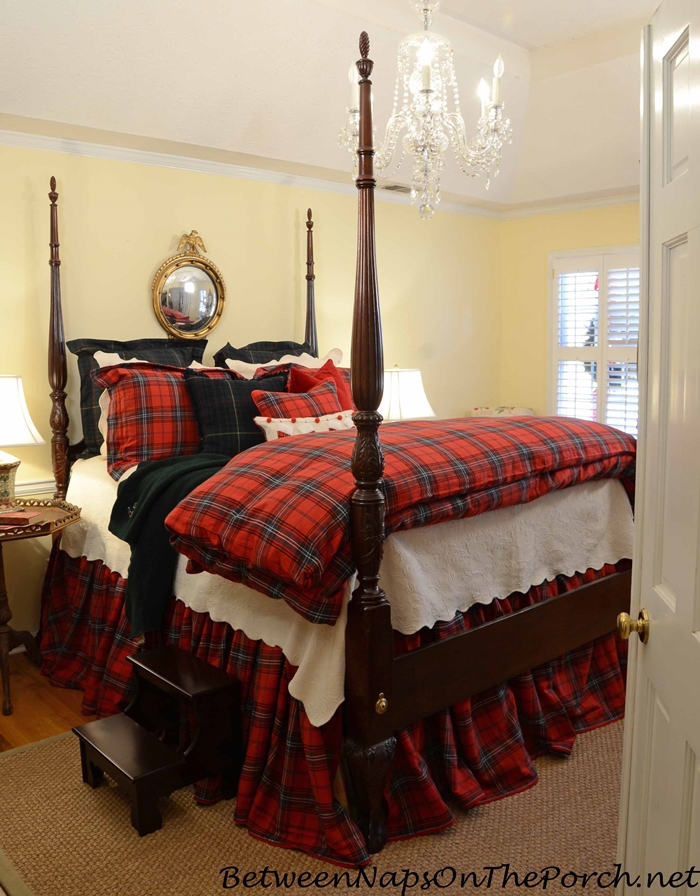 Some duvet inserts or duvet comforters (they go by both names…confusing, I know) come with these little tabs on each corner.
One of the duvet inserts I tried this weekend had those little tabs. They really come in handy when a duvet has ties sewn in at the corners like the tartan duvet does. You just tie those little straps around the tabs on the duvet insert and it keeps the comforter where it should be inside the cover.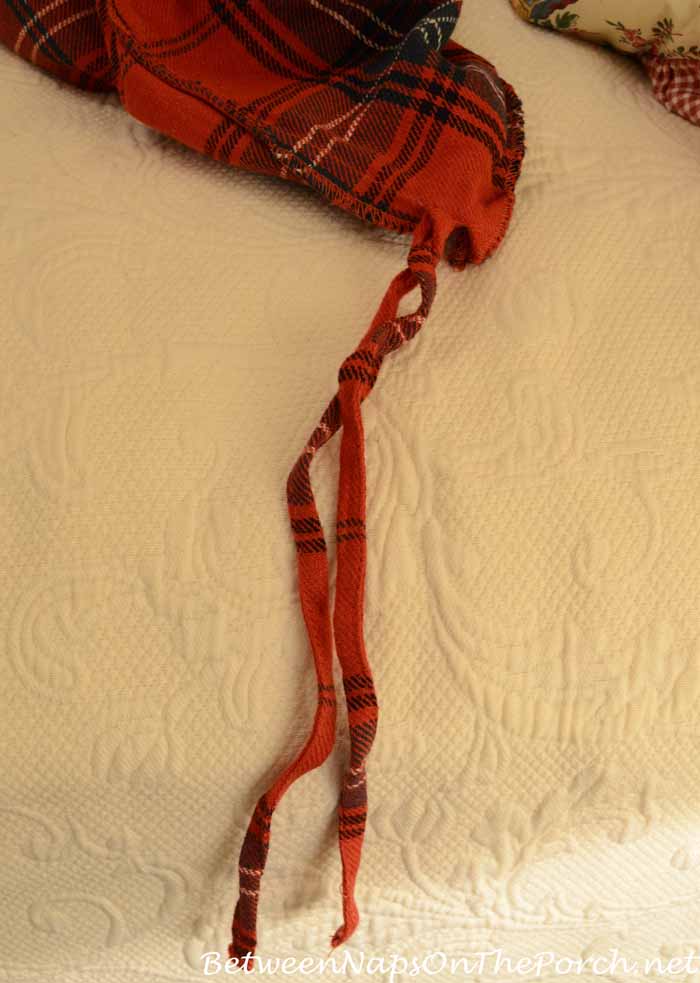 Since the French duvet I just purchased didn't have ties, I added them to two corners. To do that, I cut a strip of scrap fabric I had into one long piece and then sewed the center of it to the inside seam of two of the corners of the duvet cover. Even though my current duvet insert doesn't have the tabs, I can just tie the little straps around the corner of the insert and it will hold fine. I'll probably take the time to sew some tabs on the duvet insert one day, but tying it around the corner is working great.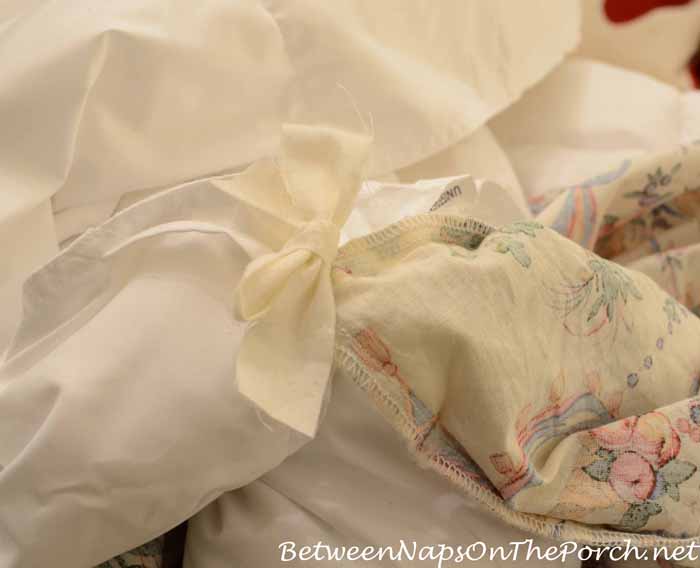 If your duvet doesn't have ties and you don't want to add them to the corners, you can purchase comforter clips, instead. I found these at Bed, Bath and Beyond. You can also find them online, too. Just Google for "Comforter Clips."
I used comforter clips to attach the other end of the duvet to the duvet cover seams.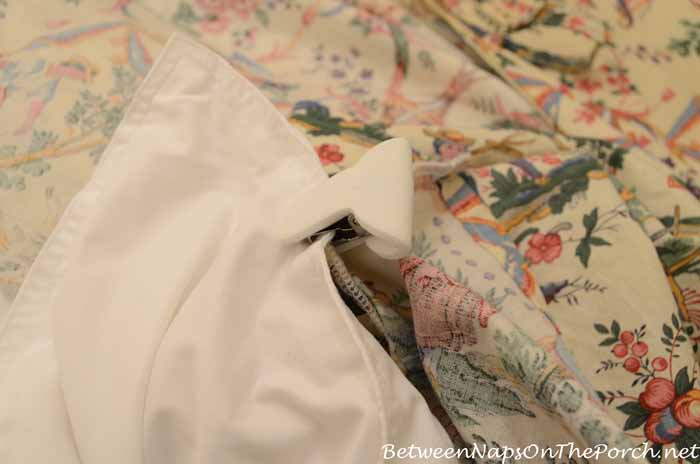 Epiphany!
Now, this is the part I'm most excited to share in today's post. After reading this, I bet a lot of you are going to say, "You didn't already know that?" lol
One of the things that has caused me great angst with this whole duvet thingamabob deal is how duvet covers have big honking gaps at the open end where you insert the comforter. My tartan duvet closes at one end with buttons but there are still plenty of gaps. It drives me bonkers how visible the duvet insert is inside the duvet cover.
Same goes for the new French duvet. Just look at that gap between two of the ties!!! Why don't they use more ties or more buttons to close these things up?
It bugs me so much that one of the things I did this weekend was stop by a fabric store to see if they had buttons to match the buttons on my tartan duvet shown below. I didn't find any but my plan was to have additional button holes added across the closure end so I could better button it up. I still may do that but I'm not near as worried about that now because I think I've figured something out. What am I talking about?
See that flap of fabric that's on the inside of the open end of the tartan duvet cover?
I noticed this weekend that the French duvet cover has one, too. Ummm, I see a trend here! I didn't think that much about it when I saw it on the tartan duvet. I figured it was just a way to finish it off…the way shirts sometimes have a flap of fabric like that at the neck in back. But when I saw the French duvet cover had one, too, a little idea popped into my head! Maybe that flap is there for a reason!
I tucked the end of the duvet comforter/insert up under it and using the two comforter clips I already had at that end, I reattached them a little lower on the inside seam just below the flap inside the cover.
Now when the duvet gapes open and you see into the end of the duvet cover, this is what you see. No more naked duvet insert showing! So much better!
Am I the only person out there who never noticed that flap before on duvets? Or, am I misappropriating that flap and using it in a way that's not intended? The duvet covers and inserts I've purchased have never come with instructions showing how to properly insert the duvet comforter so I have no idea if this is correct, but it seems to work! I still wish duvets came with more ties or buttons across the open end but if this works, I feel much better about how it looks.
So, all you duvet ninjas out there, is that what the little flap of fabric is designed to do–to hide the comforter/insert inside the duvet? I hope so because it seems to work great on both duvets!
Looking forward to the other Before and Afters for this Met Monday!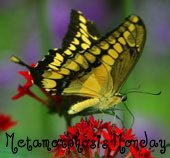 If you are participating in Metamorphosis Monday, you will need to link up the "permalink" to your MM post and not your general blog address. To get your permalink, click on your post name, then just copy and paste the address that shows up in the address bar at the top of your blog, into the "url" box for InLinkz.
In order to link up, you'll need to include a link in your MM post back to the party so the other participants will have an opportunity to receive visits from your wonderful blog readers.
Please observe these few rules:
Only link up Before and After posts that are home, gardening, crafting, painting, sewing, cooking, DIY related.
Do not link up if you're doing so to promote a website or product.
Do not link up a post that was just linked last week since a lot of readers will have already seen that post.
*If a post is sponsored or a product was provided at no charge, it will be stated in post. Some links may be affiliate links and as an Amazon Associate, I may earn from qualifying purchases. *