This past summer I've been seeing the cutest dresses on Instagram. The dresses were a brand that I had never heard of before called, Susan Albright. I loved the designs I was seeing, they were so fun and whimsical–perfect for summer.
Curious to see more, I checked out the website and fell hard for this adorable blue and white toile design depicting scenes around Pawleys Island. Have you ever heard of Pawleys Island, South Carolina? I had not but discovered it's around 70 miles north of Charleston and around 25 miles south of Myrtle Beach.
Besides the wonderful, whimsical designs, the thing that really intrigued me about the brand was that the dresses and other clothing pieces are all made there on Pawleys Island by the low country seamstresses who call the island home. The designs are first dreamed up and drawn by Susan, then those designs come to life in organic cotton fabrics that are then made into beautiful dresses, tops, skirts, coverups, towels, and other fun accessories.
There are so many pretty designs, I struggled to pick a favorite. I finally decided to go with this "shirt" dress that I was immediately drawn to each time I visited the website. It's called the Waverly Shirt Dress and the pattern/fabric is Pawleys Toile in blue and white.
I love blue and white and if you've been reading BNOTP for a while, you know I try to stick to cotton and linen fabrics during the summer months. Nothing is as comfortable or breathes like cotton in the hot, sticky summer temps. The description for this dress states, "Made of our soft organic cotton sateen, it's both polished and relaxed. Not meant to be fitted it's more like borrowing your husband or boyfriend's shirt." This dress is cute worn without a sash, but sashes are available to purchase separately if you prefer that look. I love it with a sash, but could see wearing it without for a more casual look.
The sash is quite long, so generously cut. I also saw it in a brighter blue color that was also gorgeous!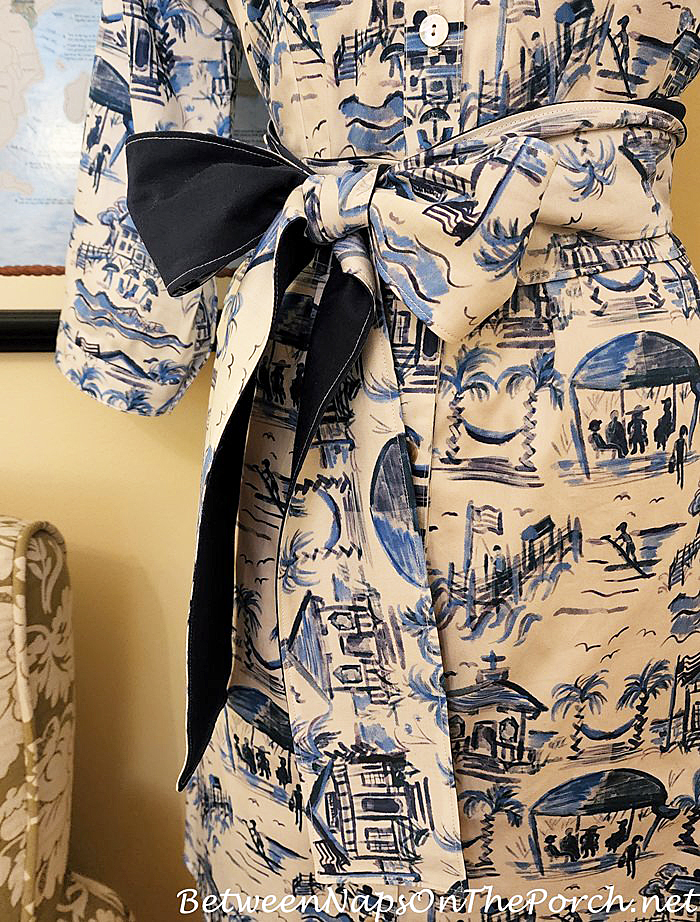 Here are a few close-ups of the Pawleys Island pattern created by Susan Albright.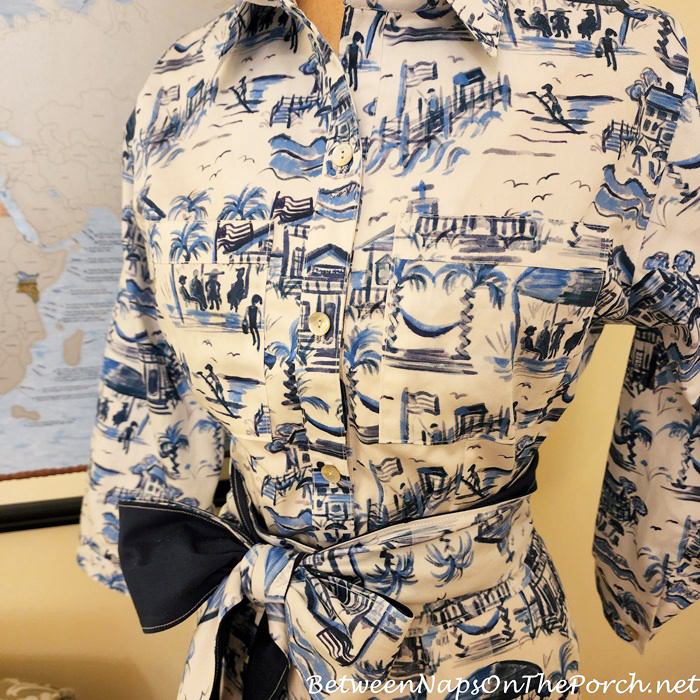 I love this blue and white toile design! It makes me wish summer would never end! Susan also designs fabrics in other patterns, not just toile.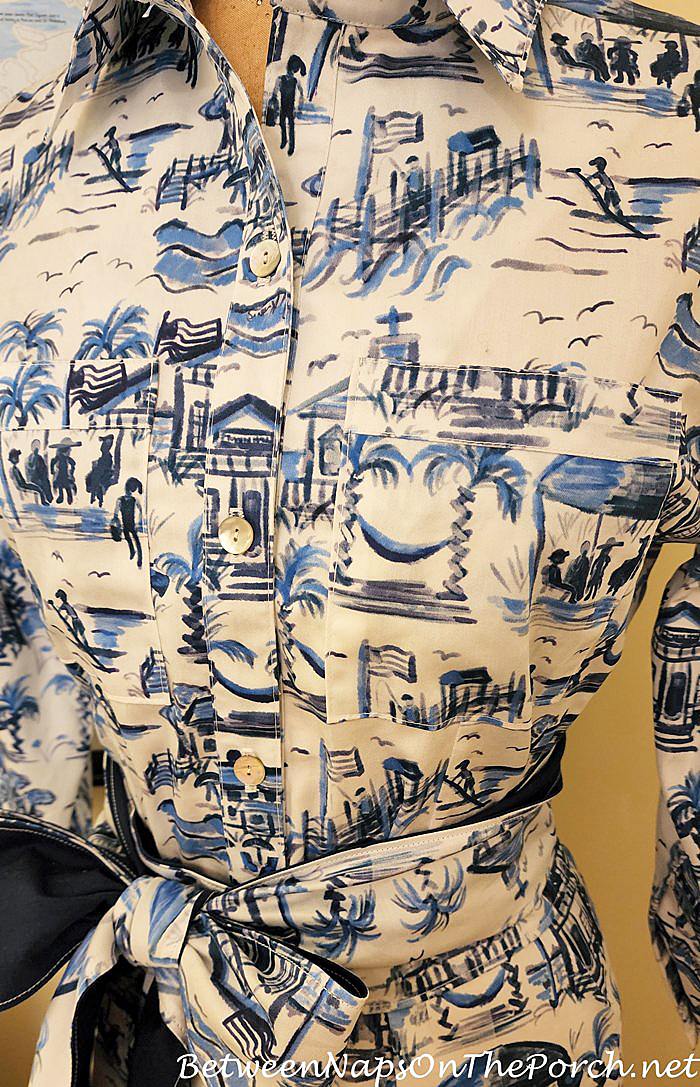 I didn't notice it at first since it's so subtle, but Susan's signature is included in the design in a few spots here and there. You have to really hunt for it to find it. Even her signature has been added in a whimsical way–like it's being swept in on the ocean waves. Love that!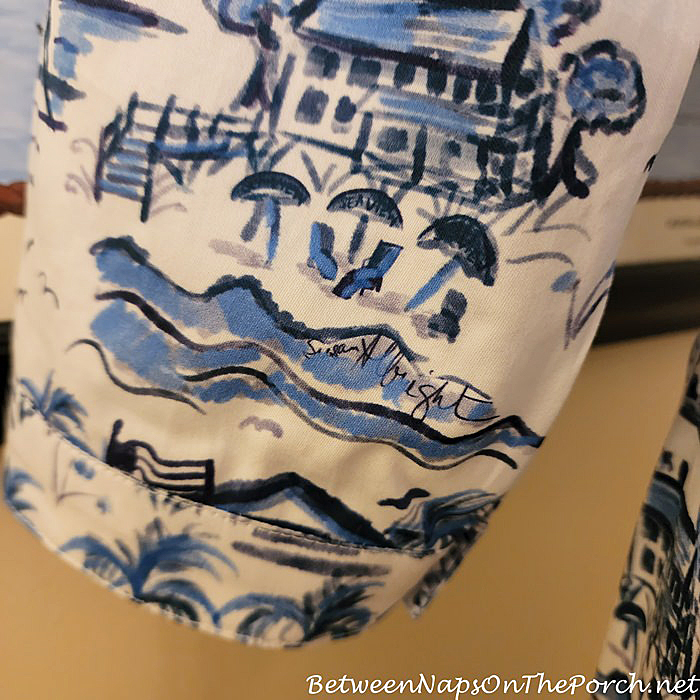 This isn't a sponsored post and Susan Albright has no idea I'm sharing her beautiful clothing. I just appreciate the story behind her brand and how she creates her own designs. If you would like to learn more about this particular dress, you'll find it available here: Pawleys Toile Dress. One thing to note, when you order a dress, you need to be patient since each dress is sewn/made to order by a seamstress there on Pawleys Island. I received my dress around 3-4 weeks after I placed my order online.
I would love to eventually order one of her "towel" dresses. They are designed to wear as a dress or they can be used as a coverup to throw over a wet bathing suit if you're leaving the beach for a bite in a local restaurant and there's no time to change. Perfect dress for a beach vaca! (See more of this dress here: Towel Dress.)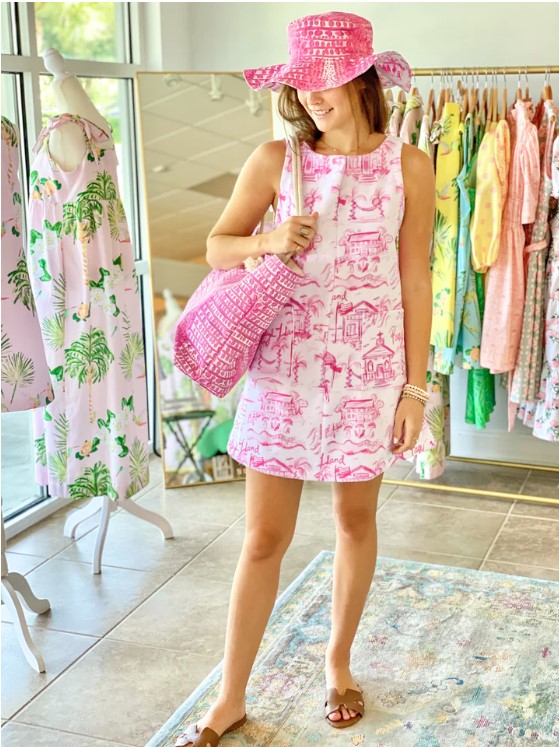 One of my favorite styles are the long dresses Susan designs, like this one worn by Susan herself. I love this combination of black and white toile with a bright pink sash! (You'll find it here: Black and White Toile Dress.) She has maxi dresses available in other fabrics, as well. I love all her designs!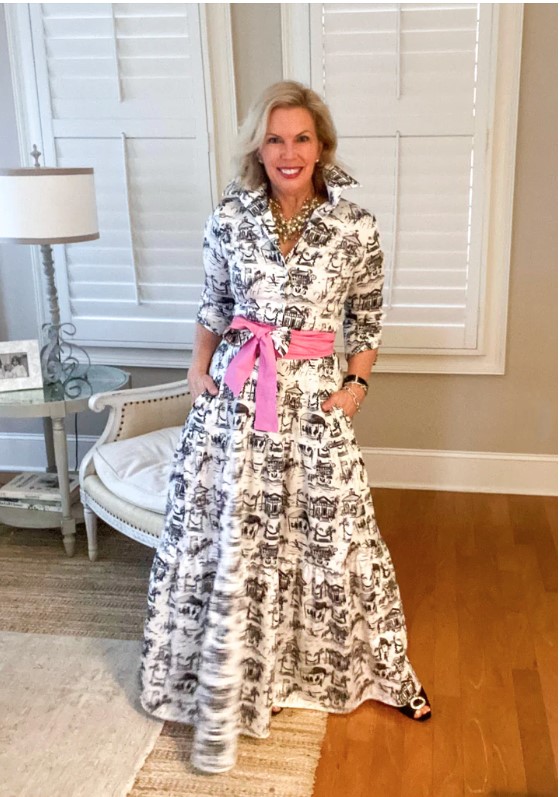 I noticed today that Susan has created designs based around other beachy towns and places like Charleston, Westport, and Sullivan's Island. I love the look of her beach towels, wish I was headed to the beach so I had a reason to buy one of these. Ha! You'll find these and other cute clothing designs and home goods by Susan Albright at her website here: Susan Albright.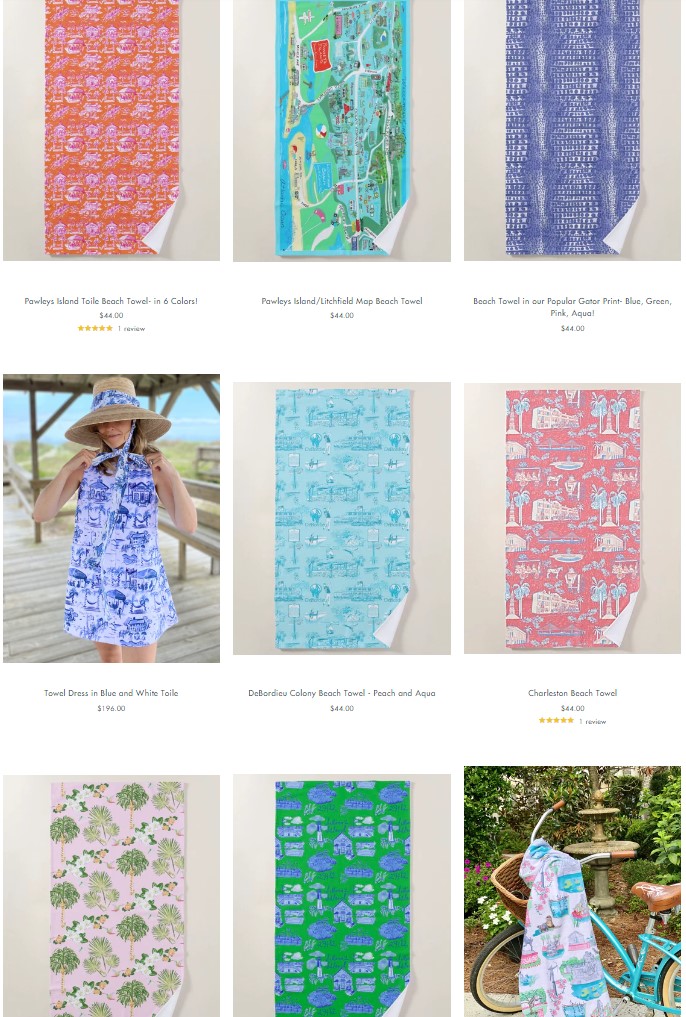 *If a post is sponsored or a product was provided at no charge, it will be stated in post. Some links may be affiliate links and as an Amazon Associate, I may earn from qualifying purchases. *